Strawberry Maple Butter
Three ingredients, one outstanding spread…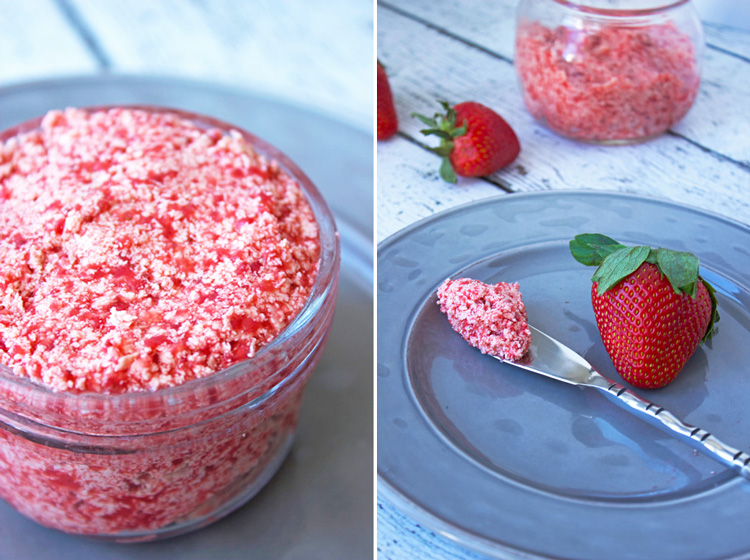 Strawberry Maple Butter is where it's at. Who woulda thunk it. It's like nothing I ever had before. I literally had to keep myself from eating it by the spoonful! When I love something I really really love it. Oh and don't mind my ultra awesome everything bagel made fresh from a local bakery.
When I first made the butter this type of bagel was the first thing that came to mind. However this is good on toast, crackers, the possibilities are endless. Oh and don't even get me started on muffins. Whoa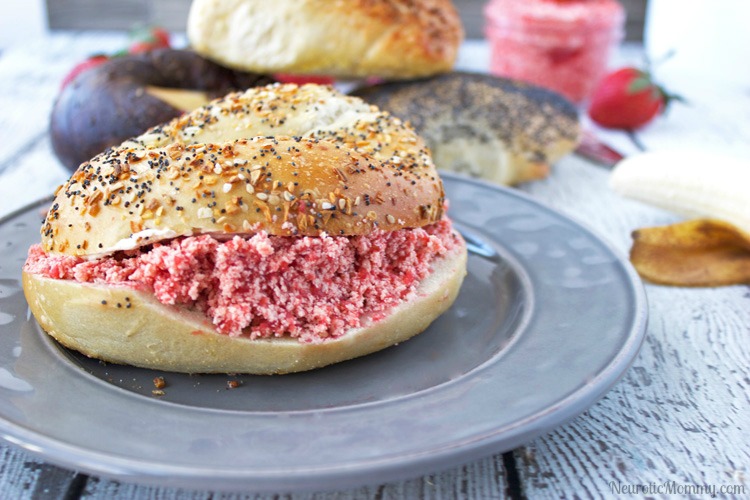 So the process to this takes a couple of steps. First you want to let your butter get to room temperature. Second, you'll need to hull the strawberries and puree them in a food processor. That tastes fantastical all on its own. But don't drink up the strawberries as tempting as it may be because what you're about to make is kinda sorta even better.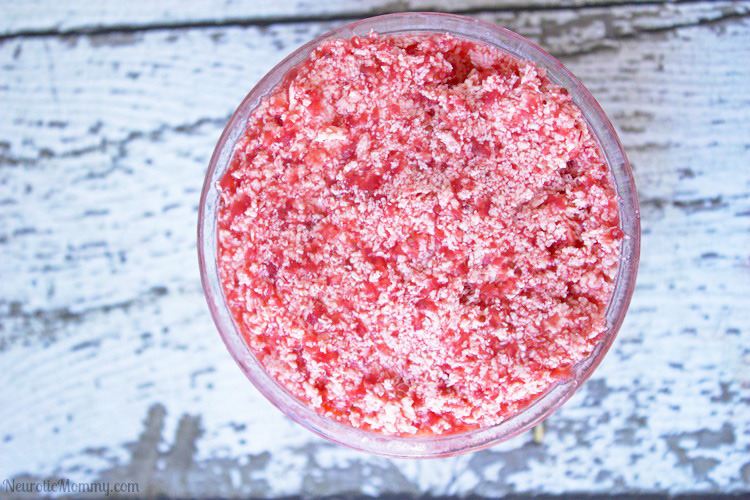 I looove butter. When I was younger I would eat butter straight up along with cream cheese. When you're young you don't think about clogged arteries and things of that nature. You just eat it because you like it. I won't even tell you about my infamous dorrito and cheese sandwiches that I use to throw back. *Bashfully covers face*
For this I used a coconut butter spread. However you can use any vegan butter of choice or regular butter too. They will both come out great. I was going to use the word good but that is a total understatement. Let me be completely real with you for a second, it's like a dessert and we all know how this gal feels about desserts. *Weak Spot* After you make this you're going to be all like "Regular Butta Whaa, Butta Who?" haha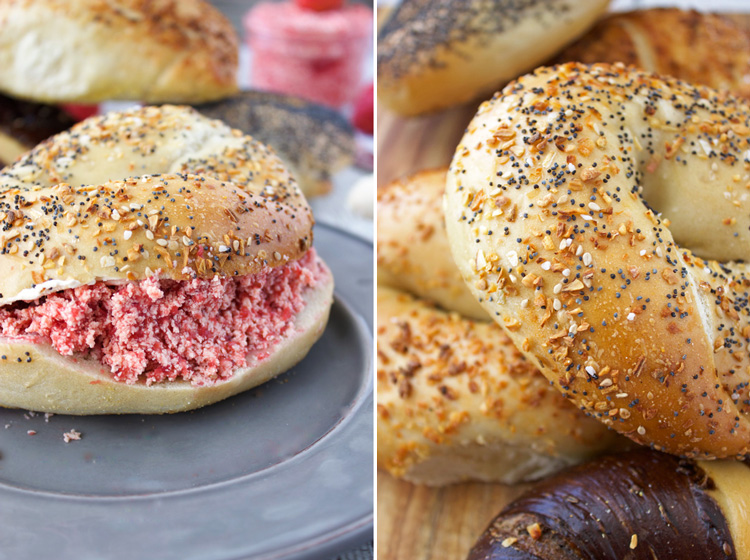 That bagel though
In even better news, besides the bagel the butter spread is full of antioxidants like vitamin C because of the strawberries. Do you know how awesome strawberries are for you? I don't want to bore you with this information. Oh who am I kidding I want you to know! When you're eating foods that nourish the body you feel so much better about eating it. Am I right!? If you're eating boxes of cake you're not going to feel so good (ok that's debatable). But when you are fueling your ultra amazing bod with nutrient packed foods you know you feel like doing a hair flip and perhaps having yourself a 5 second dance party. And for guys you know you want to be flexing those muscles. Ok maybe that's just me who does all that but whatever.  The coconut provides those healthy fats we need too! Wait, I have more news on coconut butter. Not only does it have the same nutrient characteristics of coconut oil but it also has a bit of fiber and potassium! See this Momma has done her research. So I think we've got a winner here.  I am all for a well-balanced breakfast or meal for that matter. And of course Nugs loves this! He's like "Mommy toassst pease with strawburray butta"…cute I tell ya.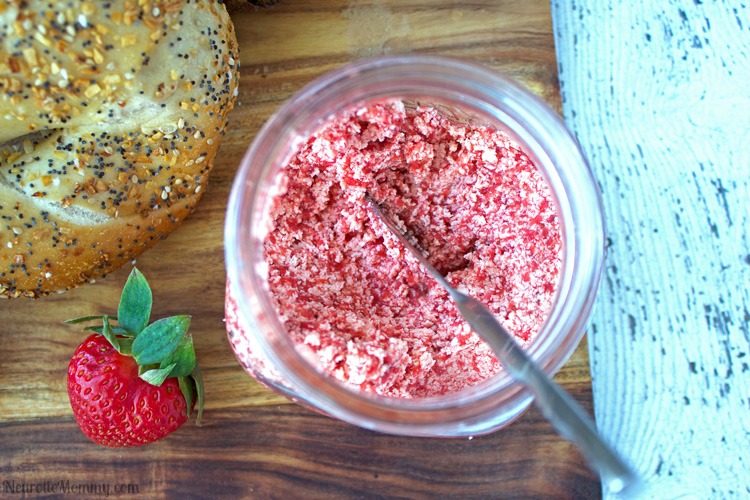 Bottom Line? This is a butter you can enjoy anytime and with a variety of different things. The juiciness from the strawberries, the oh so sweet yet subtle taste of maple and the overall smoothness from this homemade butter is something your whole family will love.  And how easy to make right! Come on! Not only does it taste flipping' fantastic, it packs nutrients that basically fight off free radicals! Getsta churning my peeps. (Haha there is no churning involved but that just happenes to fit this moment.)
Recipe adapted from Half Baked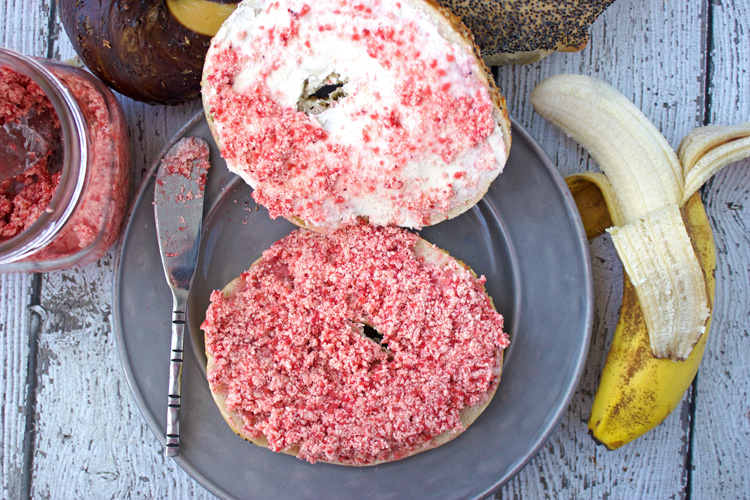 Strawberry Maple Butter
Author:
Prep time:
Cook time:
Total time:
Serves: 2 1/2 cups
Ingredients
1 pint of strawberries, cleaned and hulled
3 tbsp maple syrup
2 teaspoons fresh lemon juice
1 1/2 sticks butter, room temperature
Instructions
Puree strawberries in a food processor.
In a small to medium saucepan add in the pureed strawberries, honey and lemon juice.
Bring to a boil stirring frequently for 5 minutes or until you see it thicken up. It won't be super super thick so just keep that in mind.
Remove from heat and let cool to room temperature.
In a medium bowl, using a hand mixer, cream together softened butter and strawberry mixture.
Cover bowl with plastic wrap and let stand for 1 hour.
It will form into a butter consistency.
Store in the fridge in an air tight container.
Lasts up to two weeks.
Enjoy!