Chocolate Crunch Peanut Butter Mousse Parfaits
It's March 1st and that means it's National Peanut Butter Lover's Day!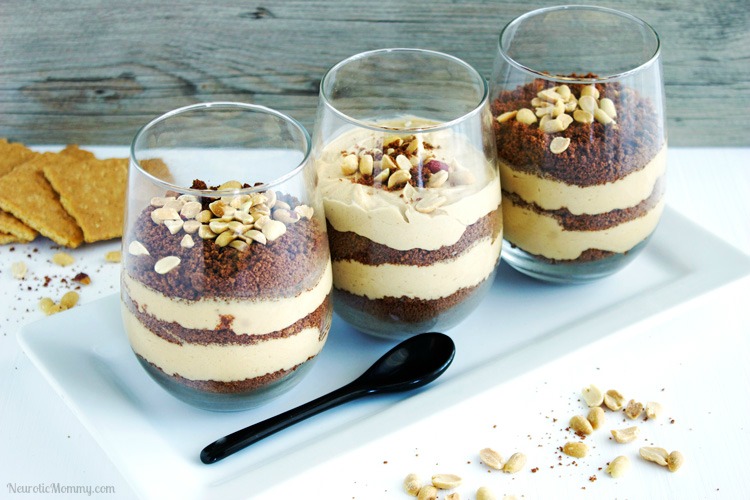 I love love love peanut butter. And I love that we get a day to celebrate it. All the food blogs are going cray for peanut butter. I was thinking what in the world can I make that's going to be not only amazeballs (yea I said it) but healthy too! I don't want to go to my 75 minute hot yoga class to come back home and fill my ultra sweet self up with junk food. I mean I can…but…naaah.
Ok so not only is it March 1st but it's also my Birthday month Yaaay! This month we have a lot of special birthdays. Any fellow Pisces out there? When is your birthday? Mine is March 12th. Prepare yourselves for some delicious cakes to come! All of which you can make at home. It's going to be Sweeet! (Pun intended)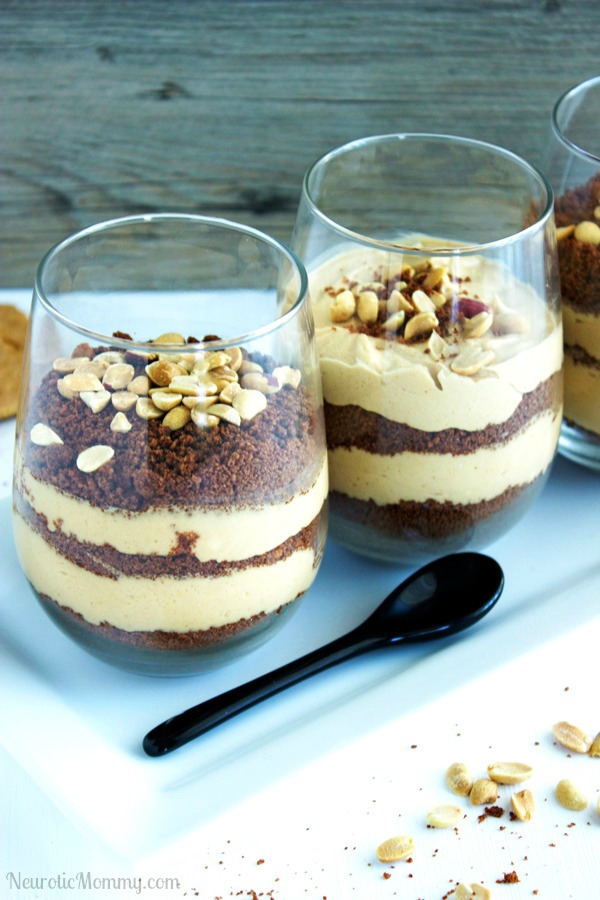 Back to this mousse because words cannot describe how mousse-a-licious it is. (I just made that up). As I was scrolling through recipes for inspiration on what to make for this glorious day I kept seeing a lot of sugar here and a lot of sugar there. I wanted to make something sweet, peanut buttery and chocolaty. But not leave you feeling guilty that you just added another dimple to your bum. (LOL we all have them or have had them at some point or another) Low and behold Chocolate Crunch Peanut Butter Mousse Parfaits were born. If you follow me on Instagram you know I love making parfaits. It's my thang.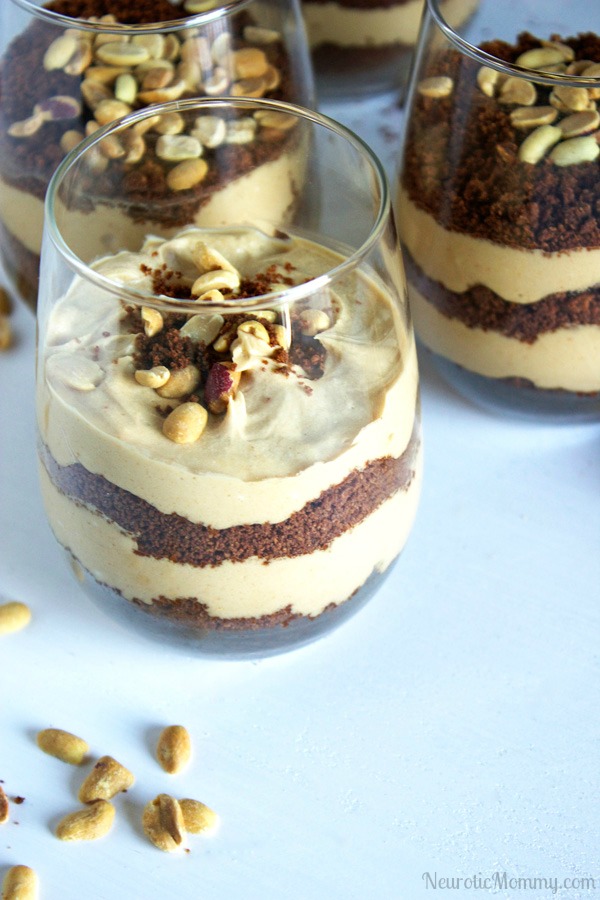 I'll let you in on a little secret. There's a superfood in there too! (*Gasps and covers mouth) Is that Cacao Powder I hear? Why, yes, yes it is. Chocolate is my homeboy what can I say and it just happens to come in a superfood form. Hello.
I wanted crunchies like the crunchies you eat in an ice cream cake. Errr ma gawd who else use to eat just that and leave out the ice cream as a kid (or adult)? I was all about the chocolate crunchies so I wanted something to mimic that with this parfait. Totes Yummy!
I used organic vegan graham crackers and made crumbs out of them. You can buy ready made crumbs but this is just what I had on hand so I went with it. I put about 20 sheets in a food processor and ground them up. Then I placed them in a bowl, added cacao powder, melted coconut butter and baked them for 15 minutes. (Full instructions will be in the recipe below)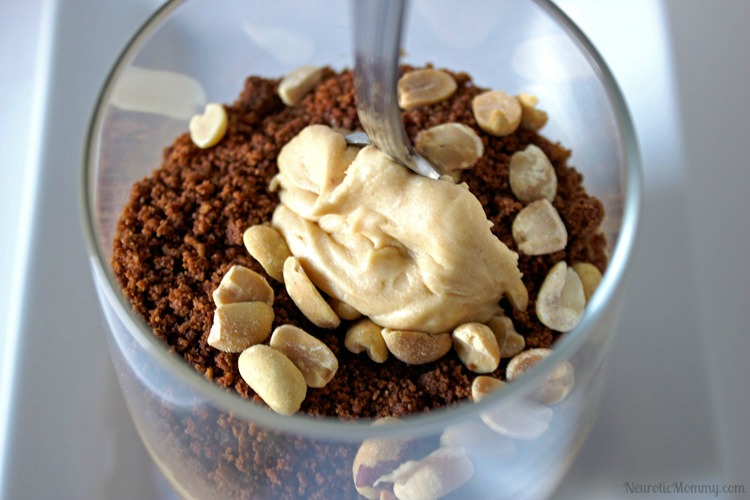 While they were baking I took my handy dandy cans of coconut cream in the fridge and made the peanut butter mousse. Un-freakin-believeable. You'll want to keep sticking your spoon in the bowl for more but it is very filling. Like that rich filling, even though you know you're totally full but can't stop "tasting" it. hahaha I don't know what you're talking about that hasn't ever happened to me (*Blushes)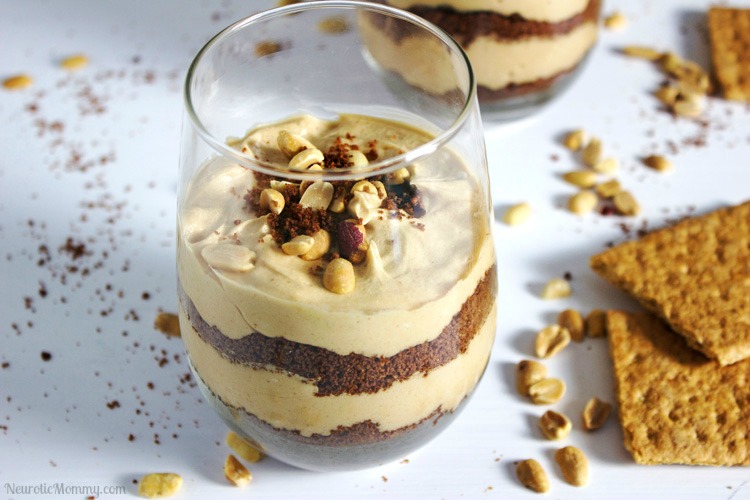 This whips up in zero point two five seconds. Well not faster than the speed of light but it's up there in the quickness department. I used two cans of full fat coconut cream so it made a ton. You can cut the recipe in half if you don't want to make that much. There are so many other things you can do with this mousse. In the future I'll post other recipes using this mousse to show you how many different ways you can have this healthy treat. And you will have crunchies leftover. They're great for toppings.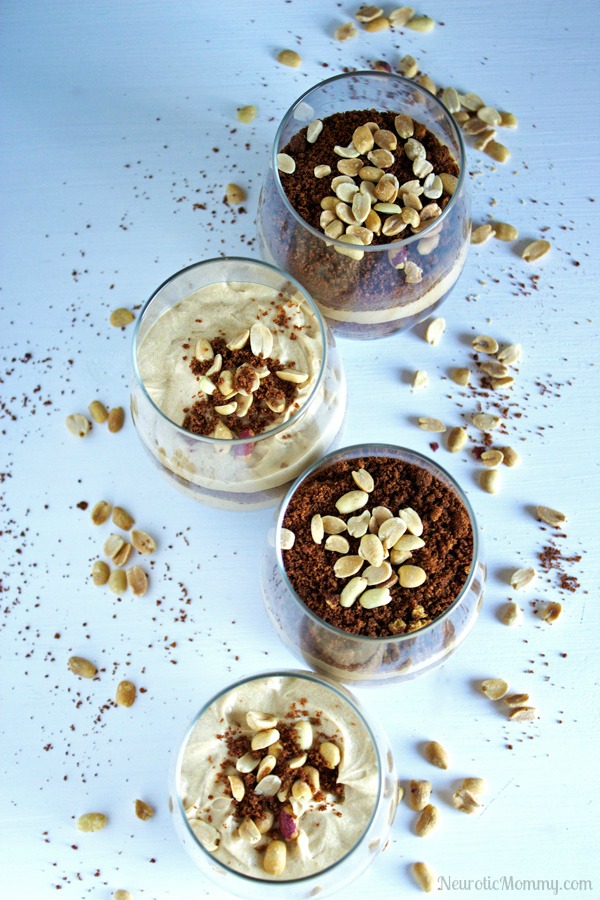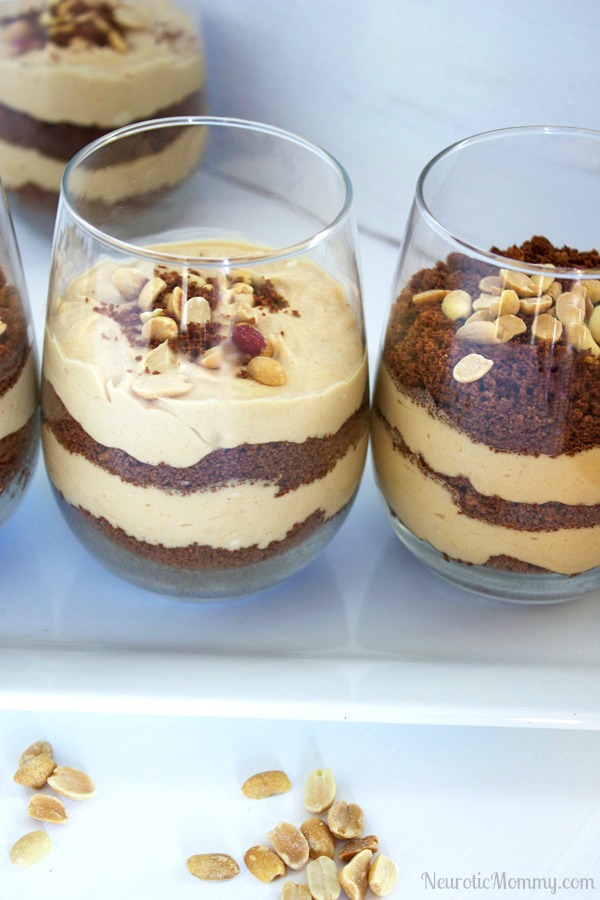 If you're not into the chocolate crunch no worries. You can have this without, no biggie. Another good thing about this is if you have a peanut allergy and lean towards almond butter you can absolutely replace the peanut butter for your sub of choice. I've made mousse with almond butter and it is as equally scrummy (short for scrumptious).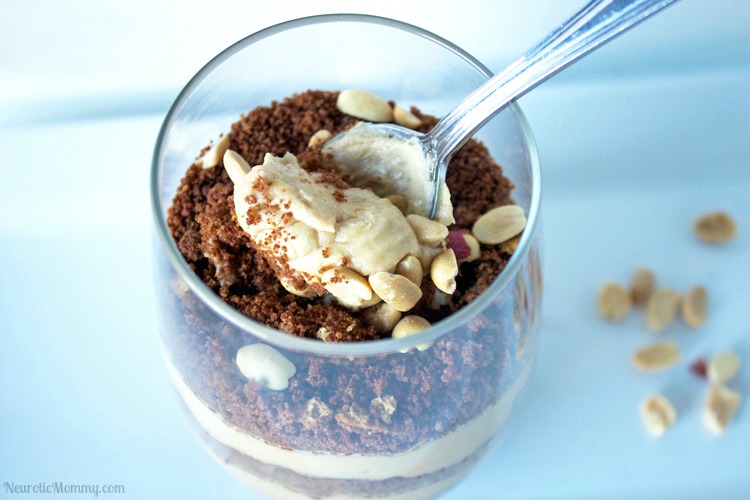 There you have it, my way of celebrating today (or everyday) with this healthy snack. It lasts 3-4 days in the fridge and it's my go to mousse. Not only can you eat it as is because it's phenomenal but you can even frost cakes and cupcakes with this.
Health Tip: Coconut Cream is a wonder food that not only has all the glorious benefits of coconut oil but it also stabilizes blood sugar, lowers cholesterol and is said to be the most powerful at breaking up plague hardening of the arteries. It's also high in vitamins B, C  and E and has all essential minerals.
Chocolate Crunch Peanut Butter Mousse Parfaits
Recipe Type: Desserts
Author:
Prep time:
Cook time:
Total time:
Serves: 4
Enjoy this sweet, decadent peanut butter mousse with a side of happiness and love. Not only can you eat this as is but you can use it to make other healthy treats too! A must have that packs a powerful nutritional punch!
Ingredients
[b]Crunchies[/b]
20 sheets graham crackers
(about 2 cups if you purchase ready made crumbs)
4 tbsp cacao powder
1/2 c melted coconut butter or any butter of choice
[b]Peanut Butter Mousse[/b]
2 cans full fat coconut cream
(refrigerated overnight)
5 tbsp rice malt or maple syrup
1/2 c unsalted creamy peanut butter
1 tsp pink rock salt (only if your peanut butter is unsalted)
Instructions
Preheat oven to 350F.
Lightly spray baking sheet with coconut oil spray or non stick cooking spray then wipe some off so it's not too much.
(If you bought ready made crumbs skip this next step.)
In a food processor, process graham crackers until they become crumbs. Takes less than a minute.
Place crumbs, cacao powder and melted butter into a bowl and mix until it becomes moist and crumbly.
Pour onto baking sheet and spread out evenly distributing it across the pan.
Bake for 15 minutes. (or longer if you prefer extra crunch)
While thats baking whip up the peanut butter mousse.
In a large bowl place coconut cream (discarding the water) from two cans left in the fridge overnight.
Using a hand mixer on medium speed, mix until smooth and whipped like consistency is formed.
Add in peanut butter and sweetener of choice. Mix on high speed until well combined.
Lick utensils.
To Assemble
Take 4, 8 to 16 ounce wine glasses or any glass of choice.
Start with adding crunchies first then mousse and continue layering. Go as high as you want in each glass. I stopped a little more than half way up.
Top with peanuts and extra crunchies. Enjoy!
Notes
Sub peanut butter for any nut butter of choice.[br][br]Mousse keeps well in the fridge for up to 4 days in an air tight container.[br][br]You can use the mousse right away or store it in the fridge. Once in the fridge it sets and becomes a bit firmer. That is ideal for frosting cakes or cupcakes. However for a desired mousse consistency just whip it back up with your hand mixer or a large spoon and some elbow grease =).