Mixed Berry Skillet Cake
Berries plus skillet equals cake. Sounds good to me…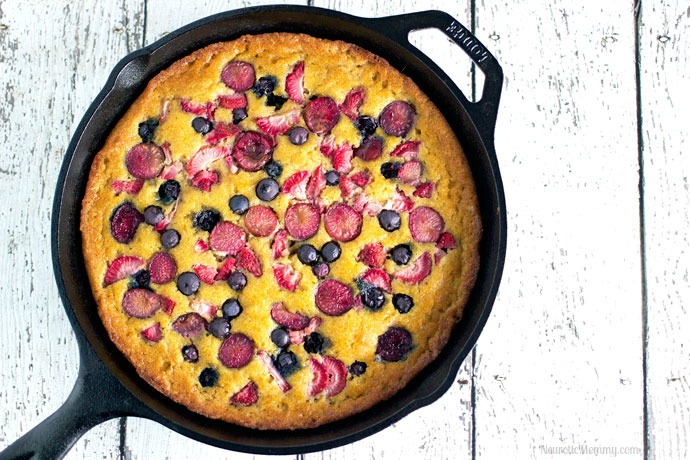 I've been MIA for a minute because so much has been going on! But all good things all good things. I just recently launched a clothing line featuring some of my favorite Instagram posts. Right now we are just starting with T's and then we will branch out from there with tanks, hoodies (for winter), sweats and things like that. Visit my store and you can rock your own NeuroticMommy gear too!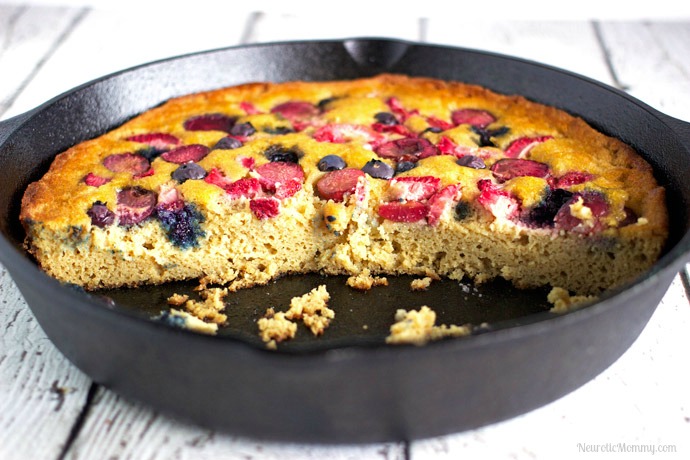 So back to this yum-mazing Mixed Berry Skillet Cake. I mean come on people look at it. It screams deliciousness. It's screaming at me right now like I can't take it I need to go grab a piece I'll brb.
hahaha Ok back! That didn't take long now did it. Ok again back to the cake. Adapted by SavoryLotus Lemon Berry Skillet Cake I decided to give it a go since it's grain, gluten and dairy free! Hooray! It's not vegan however because this recipe requires eggs. As I am plant based my husband and son are not, they are vegetarians so I make desserts not only for myself but for them too and I knew this would be a hit for them. They are my testers and if they tell me it's a good one I trust them. They haven't failed me thus far. (Thanks guys, love ya)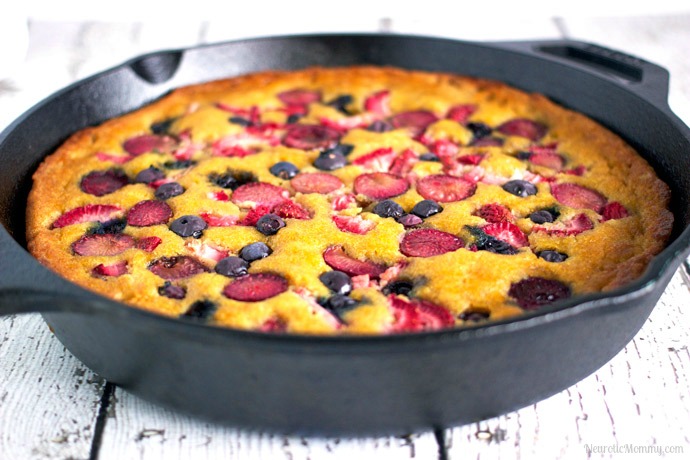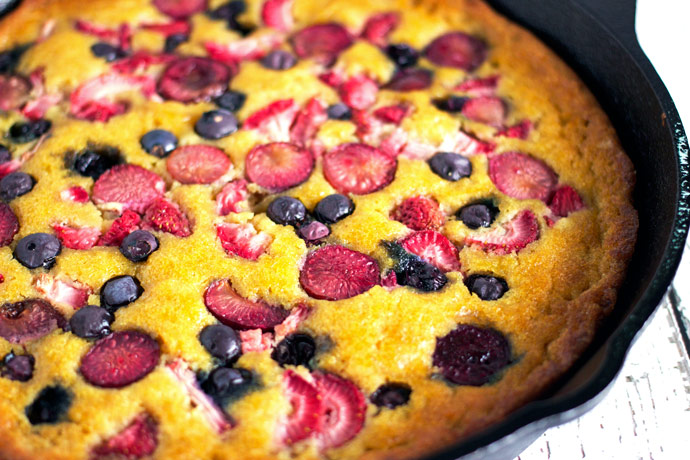 There is just something about a cake being made in a skillet. I know it's not your traditional like birthday cake but hey cake is cake, amirite?! Only good things can come out of a skillet. So what makes this cake so special? Well like I mentioned it's grain, gluten and dairy free. It's easy as pie to make (lol) and it makes for a great after dinner dessert. It's light, fluffy, sweet, moist with a tang to it because of the tartness of the berries. I used cherries instead of raspberries or blackberries because that's what I had on hand. But you can get berrie'd away (wink wink see what I did there).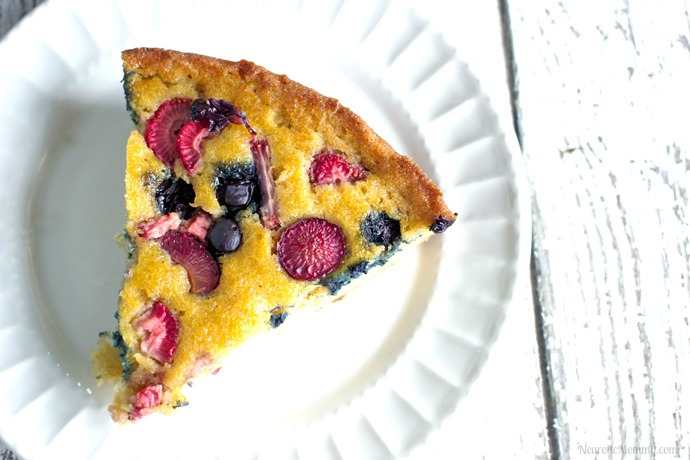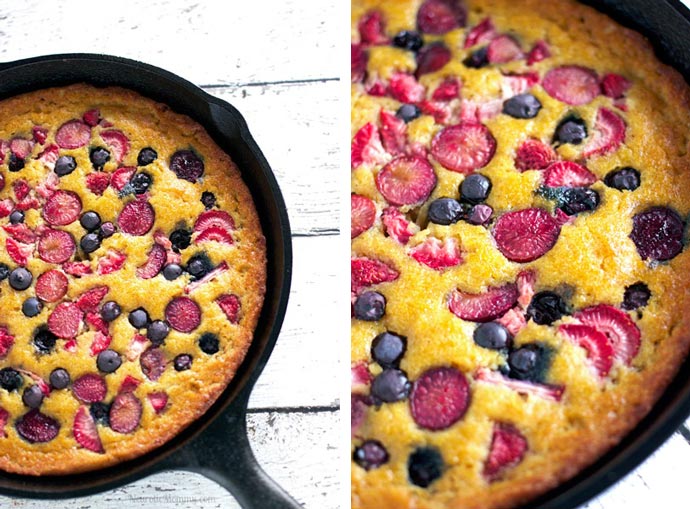 Oh and I'm totally forgetting that this is an awesome summer delight! Like duuuh how can I forget that. Memorial Day Weekend is upon us and this cake literally screams hey look at me I'm summer in a skillet! Bring this to your family gathering or BBQ this weekend and it's sure positive to be a hit out of the park.
I love berry season. All my berries get down like whoa. Remember to try and only buy organic berries as most (or all) conventional berries are sprayed down with a tremendous amount of pesticides and by the time they are done with all the processing you can say goodbye to any if at all nutritional value to that fruit, especially since they are mostly (all) now genetically modified. When I see someone buying conventional berries my insides hurt and I feel compelled to tell them what they are really consuming. It's worth the extra couple bucks to buy organic. And maybe since you spend a little extra on the organic you won't buy something that is processed. Just a thought my friends.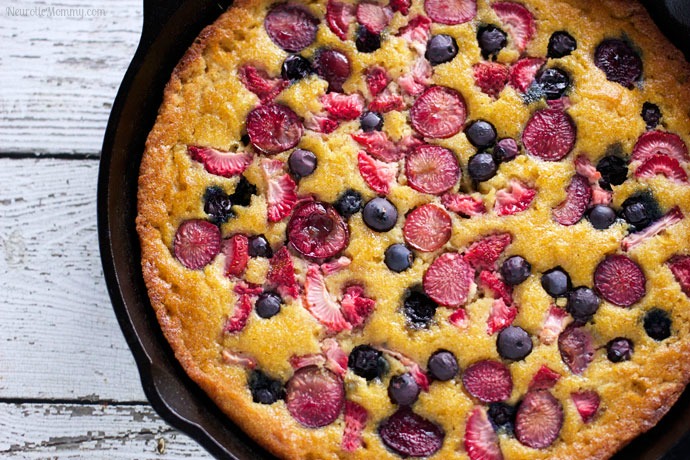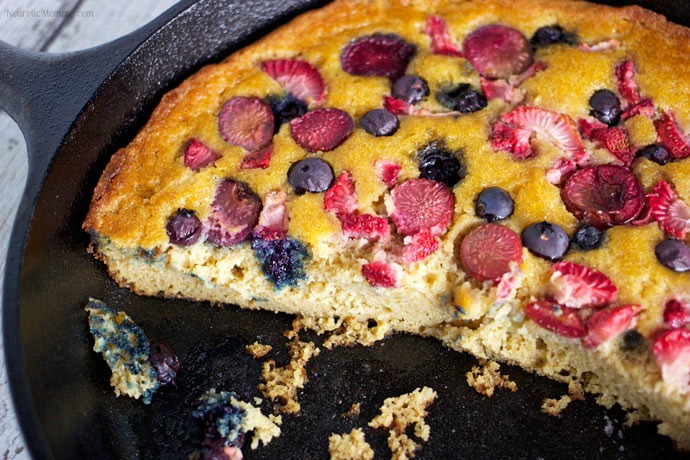 Now that we got all that out of the way we can get down to bid-ness and that is the recipe.
Have a happy, fun and safe Memorial Day Weekend! Fun in the sun for everyone! Go outside and kick a ball =)
Mixed Berry Skillet Cake
Recipe Type: Cake
Author:
Prep time:
Cook time:
Total time:
Serves: 8
Light, Fluffy, Moist delicious summer skillet cake can be made just in the knick of time for those last minute plans where dessert is needed. No refined sugar added!
Ingredients
1/2 cup coconut flour
pinch of pink rock salt
1/2 tsp baking soda
6 eggs
6 tbsp rice malt syrup or maple syrup
1/2 cup dairy free, vanilla coconut yogurt or coconut oil (melted)
1 tsp vanilla extract
1 tsp almond extract
About 1 cup mixed berries of choice. I used fresh strawberries, blueberries and cherries.
Instructions
Preheat oven to 350F and spray skillet with coconut oil spray generously.
Mix together dry ingredients, coconut flour, salt and baking soda in one bowl and whisk together all wet ingredients well in another bowl. Eggs, sweetener, yogurt or coconut oil and both extracts.
Fold in wet to dry and mix until well combined. Let sit for a few minutes as the coconut flour will absorb a lot of the moisture.
Pour into prepared skillet, place berries on top and bake for 30 minutes. Check the middle with a toothpick and if it's not firm yet leave it in another 10 minutes.
Let cool in skillet then cut, serve and Enjoy!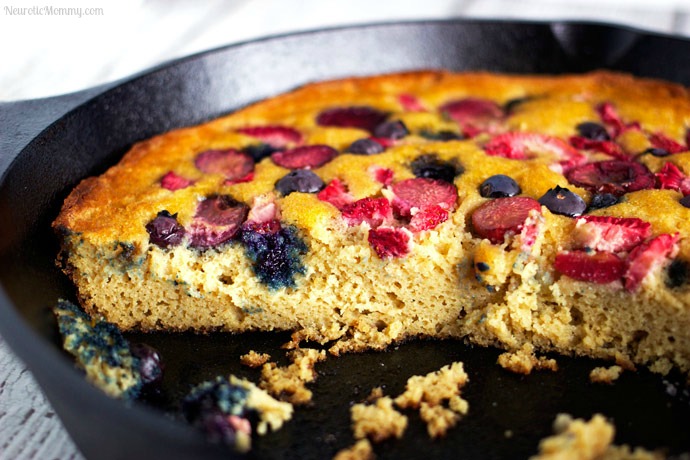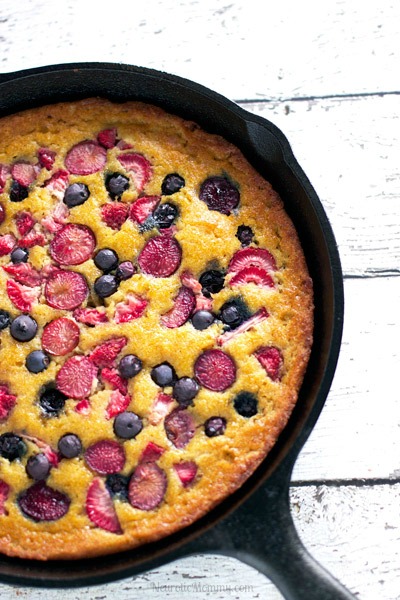 Share in the comments below your favorite skillet recipe or let me know of a skillet recipe you'd like me to try!
I would be so delighted to see some of your recreations of my recipes. Be sure to snap a pic and hashtag #neuroticmommy on Facebook and Instagram so I'm guaranteed to see them! I also do random features on Instagram!
***This post contains affiliate links. If you purchase something through the link, I make a small commission. In order for me to support my work here on the blog I may receive monetary compensation from links to any products. I am grateful for your support in this way.