Gluten-Free Chocolate Chip Pancakes
Today is IHOP's National Pancake Day and so I figured why not join in on the fun…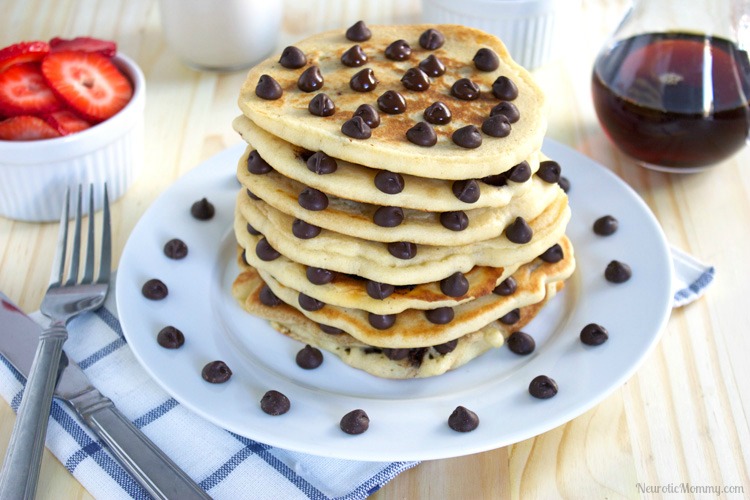 But when I mean join in I mean make it yourself at home the healthy-errr way. Since I started eating organic and gmo free 2 years ago I said buh bye to a lot of places that I use to frequent. I just simply didn't want to eat crappy or fake food anymore and that's when I taught myself what to look for when cooking with real ingredients. It wasn't easy at first but the more I learned the more I knew and got comfortable with. I started to get familiar with products and companies that were trustworthy. I read cookbooks, follow other healthy living foodies and blogs and educate myself all the time. Hopefully you can learn of few things from me too (wink wink).
My point is doesn't this look like a million trillion times better than commercial food? I mean come on, it's totally sinful (but it's not I just really wanted to use that word).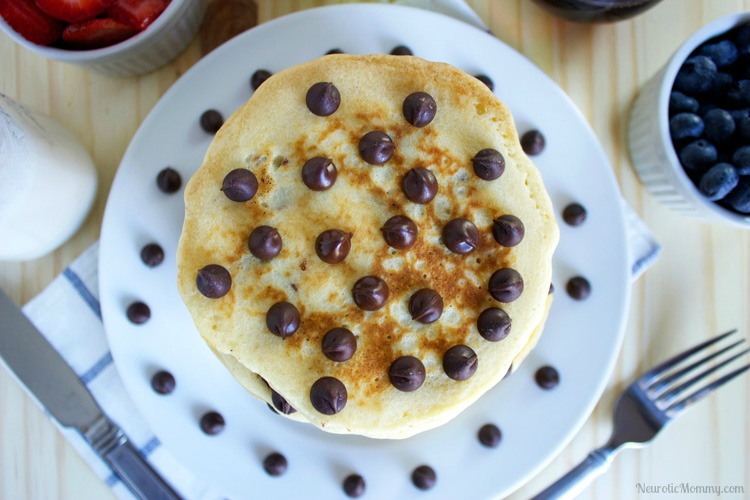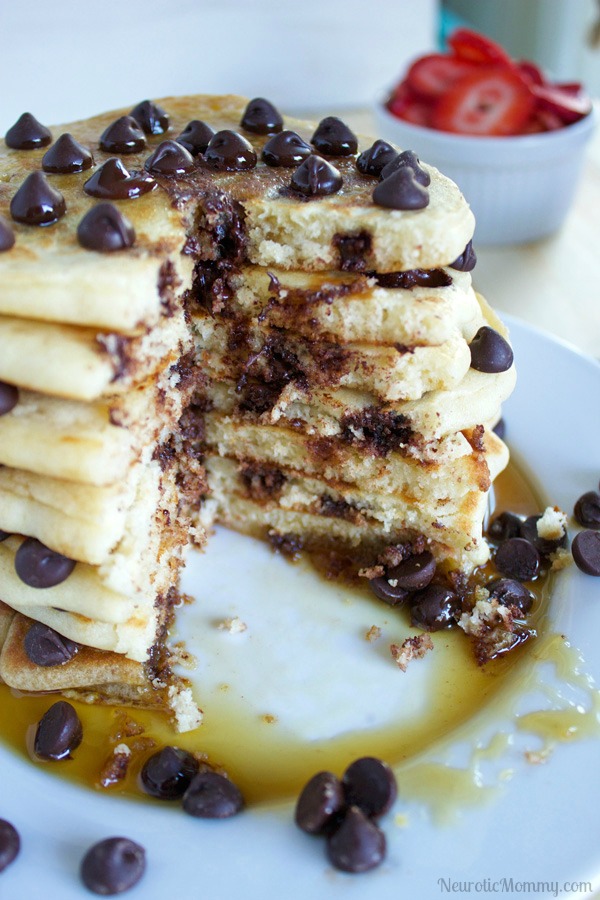 Let's talk gluten, let's talk free let's talk how did that happen in my pancakes.
What is gluten in plain english? It is a substance of two proteins found in wheat, barley and rye. It's in many foods like bread, cereal, grains, pasta and even soup. It's purpose? Well it helps dough keep its shape or elasticity. Hence the chewiness of bread or a pie dough. So why is it bad? The big debate. Most people who are not gluten intolerant will poke fun at the saying "gluten free" while others who are sensitive to it don't find it so funny. If you're not gluten intolerant great! But if you are well you know what it can do to your stomach. People who have celiacs disease for instance don't and should not eat gluten. Their bodies produce an abnormal immune response to it and that damages their intestines leaving them unable to absorb any nutrients. Well that's not good
Everyone should have the right to throw down some pancakes though don't you agree? All is not gone forever. I've been housing down pancakes since the beginning of my time and let me tell ya, it's a weekend fave. How many of you wake up on a Saturday or Sunday and think Mmm pancakes? Me too no worries.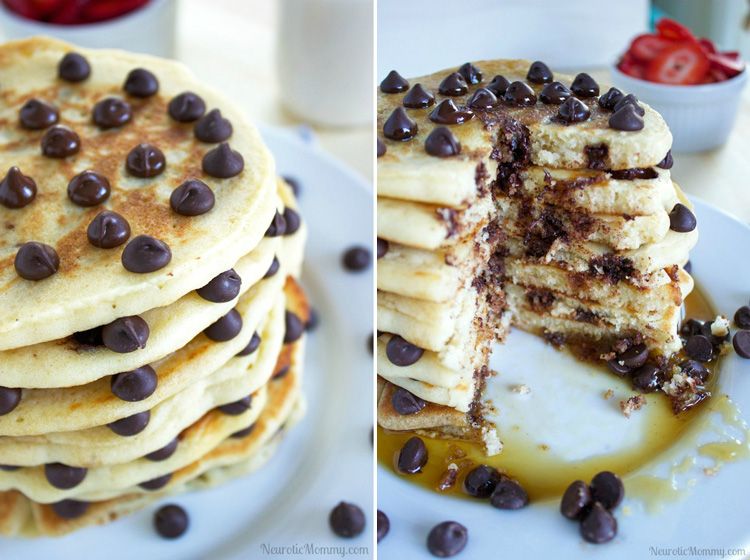 Do these look different? Nooo. Do these taste different, not really. I actually prefer these over regular (IHOP) cakes. I may have went a little over board with the chocolate chips but hey it's a national day of pancake celebration. Anyway, these babies are super delicate and fluffy. I sometimes don't even use maple syrup and just devour eat them plain. I can get beastly with my food I'll be honest. Take control Jenn take control, lol.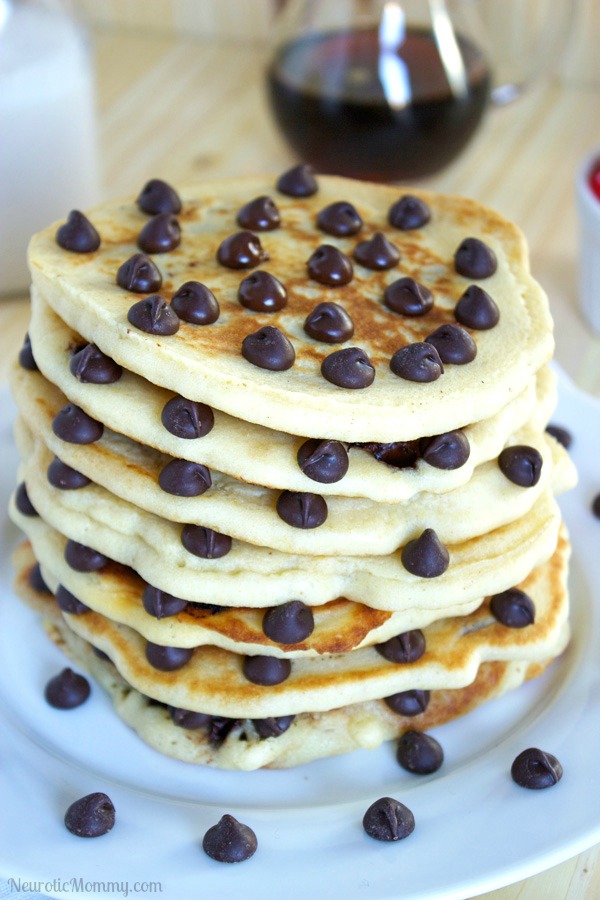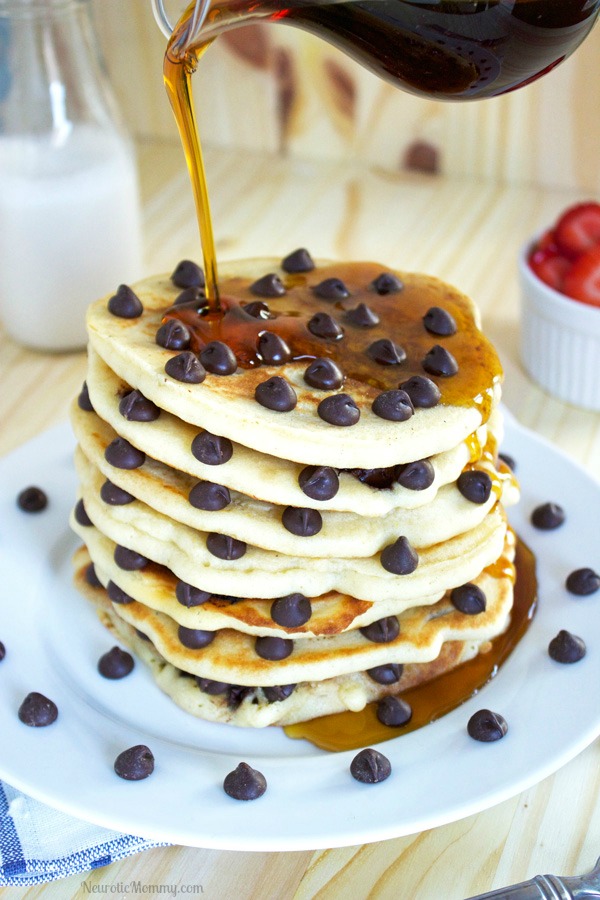 Oooh but that maple drizzle though right!?
The secret to these hot cakes? I use an organic gluten free pancake mix from Arrowhead Mills and it makes life a lot easier in the kitchen. No one here is gluten sensitive but being that I know so much about it I try not to consume it in every single meal.
(This is not an endorsement just a suggestion if you want to use it. This is what I use so you know what to look for if you are looking to eat more organic and gmo free.)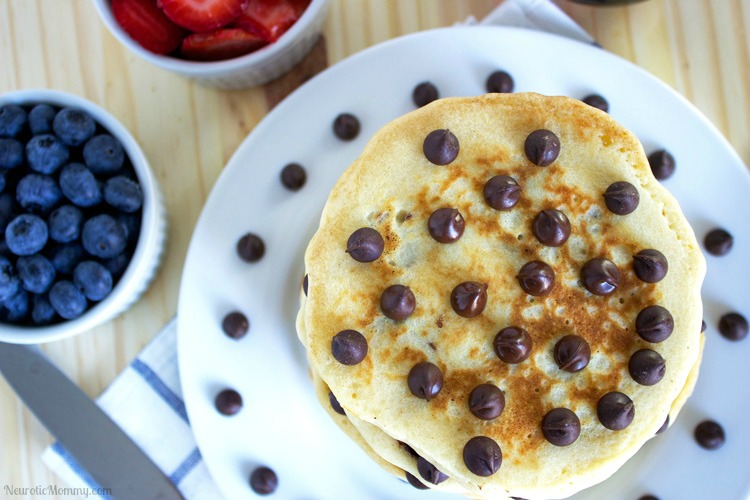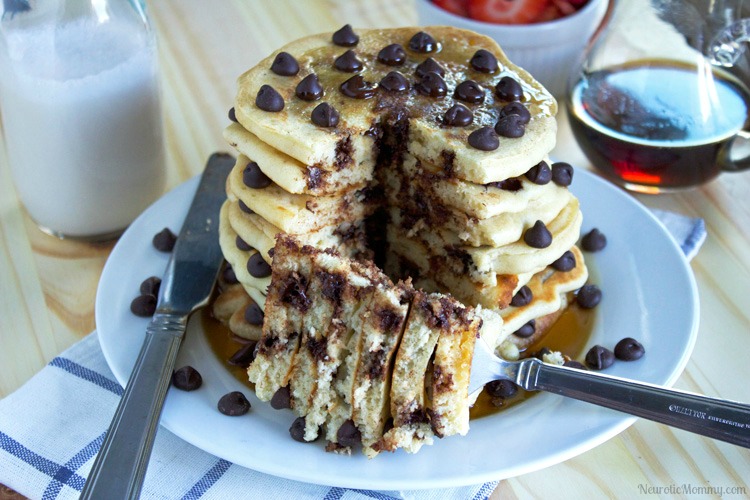 That's a mouthful ain't it? Look at all that chocolate! As a kid chocolate chip pancakes were my iiish. Still are! I take my coconut whipped cream and top these with that and O my G it's like a little piece of heaven on earth. Word up.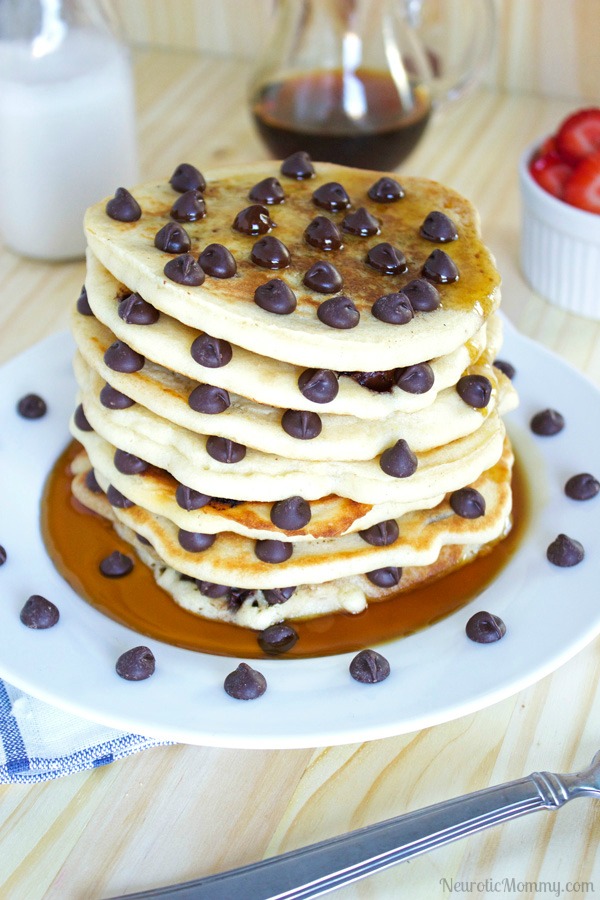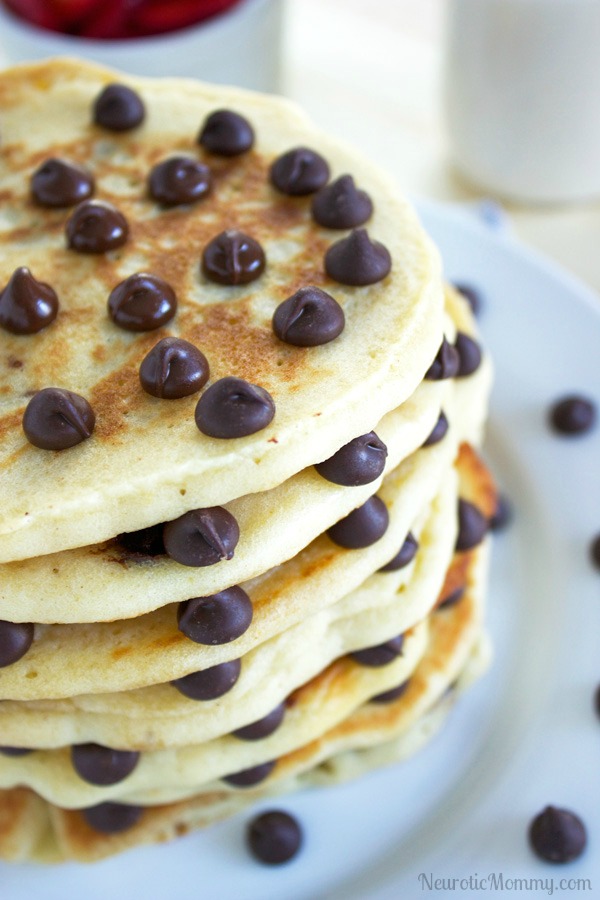 Health Tip: When buying gluten-free just be sure to look at the sugar content. When a product says gluten free don't automatically assume it's healthy. Gluten-free does not mean healthy. Most of the time a gluten-free product will double up on the sugar so be mindful of that.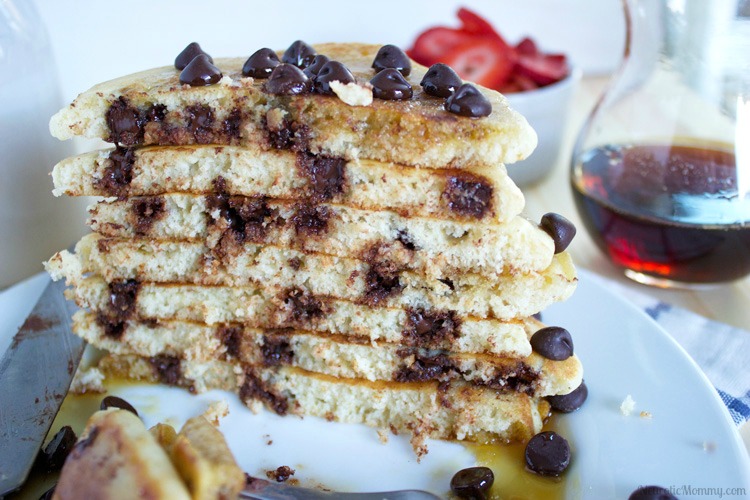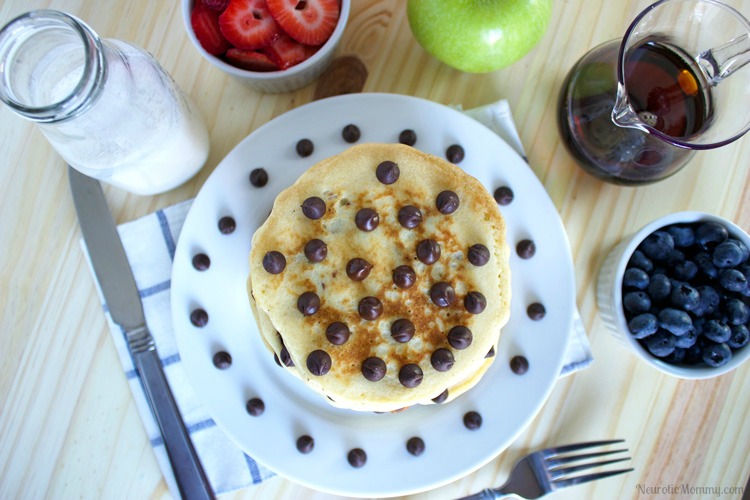 Now that we understand a little more of what gluten is for real, we also know that foods are still enjoyable without it. When I make these for family or friends they are clueless that they are gluten free. So if you have that one friend that always makes jokes about eating GF, don't tell them until after they admire your glorious breakfast. hahaha tsk tsk
These pancakes are definitely a classic fave. You can't go wrong with a topnotch, well balanced breakfast. (Minus the gazillion chocolate chips) Pair it with a coffee, almond milk and fruit and you're sure to  have yourself one fine day.
Gluten-Free Chocolate Chip Pancakes
Recipe Type: Breakfast
Author:
Prep time:
Cook time:
Total time:
Serves: 10-12
An all time classic breakfast made with real ingredients that won't have you crashing come noon. A true well balanced meal to start your day.
Ingredients
2 c organic gluten free pancake mix
2 tbsp coconut oil, melted
2 egg replacers or 2 eggs
2 tsp rice malt syrup
1/2 c almond milk, unsweetened
1/2 c dairy-free chocolate chips (optional)
1 c fresh fruit (of choice)
Maple Syrup to drizzle
Instructions
Combine all ingredients in a large bowl and whisk until clumps are gone. Do not over mix.
Fold in chocolate chips.
Heat a fry pan and spray it with coconut oil spray or non stick cooking spray.
Using a ladle pour about 1/4 cup of the batter and let it cook on low to medium heat until bubbles form on the top. About 2 minutes. Flip over and cook on the other side until pancake is cooked through. These cook pretty quickly so just keep an eye on them.
Repeat process with remaining batter.
When pancakes are done top with extra chocolate chips and drizzle with maple syrup.
Pair with fresh fruit.
Enjoy!
Notes
You can sub rice malt syrup for maple syrup, agave nectar or honey.