Vegan Jackfruit Enchilada Zucchini Boats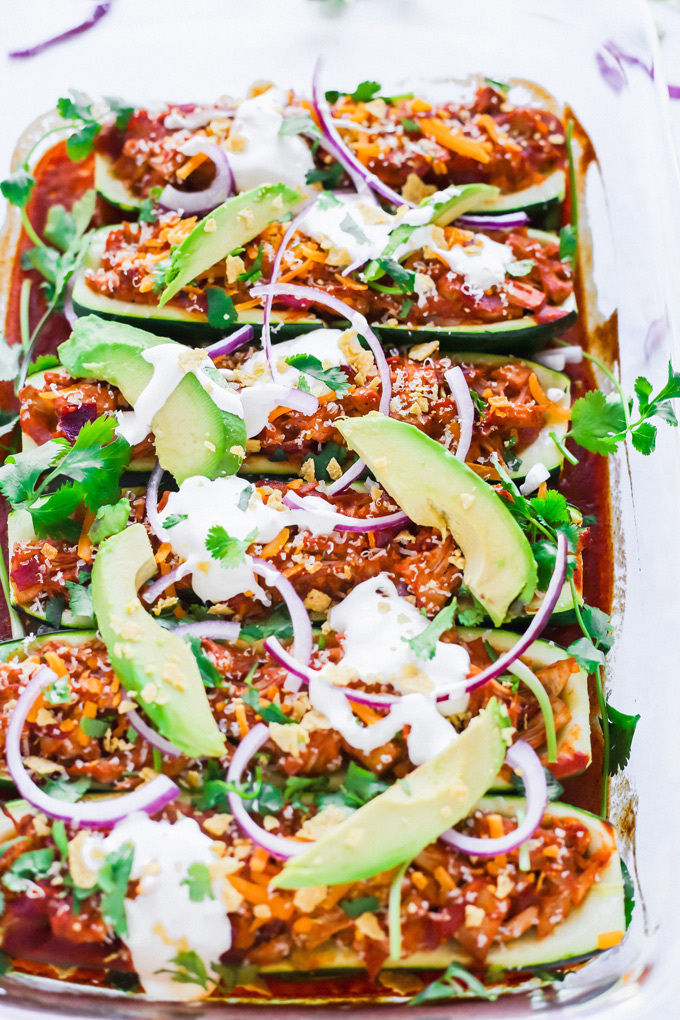 Last week I hit you guys up with my fave 7 healthy recipes to keep you on track for the New Year. And today I'm hitting you up with another meal you can add to your weekly rotation. Vegan Jackfruit Enchilada Zucchini Boats. Not only will this help you stick to your goals but it's a dinner the entire family can get down with. My oldest son Michael said to me "Mom this is outstanding and you should make it for the homeless because they would love it too." I love my son and how kind hearted he is, always thinking of ways to help others, so I thought that was the most heart felt comment ever. Kids don't lie either so if he hated it he would have graciously let me know.
To the point though, when "dieting" or eating better you don't really have to deprive yourself. You don't have to go hungry. Now, breaking bad sugar habits and giving up snacking during the wee hours of the night are a whole other ballgame. Those require determination and motivation. Tons of it. And discipline. Well for me at least. Snacking is my downfall but I've been getting that under wraps so far. I haven't found it to be too difficult because I'm listening to my body and it's all about my mindset. I'll eat when I'm hungry and I don't eat the whole lot of things. I've also actually started chewing again because chewing is the start of quality digestion. So remember breathe and chew to start.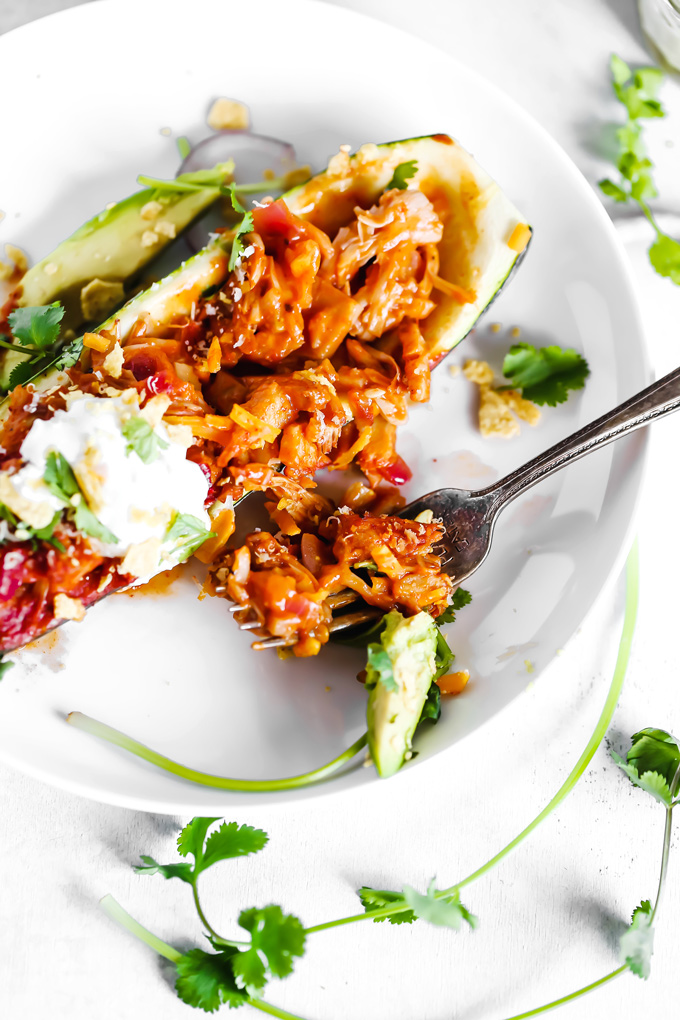 Jackfruit is what makes up the "meat" like center. I love it's texture and how you can season it to go with any dish. From these zucchini boats, to pulled BBQ sandwiches, to literally anything you want. It's so versatile, and loaded with tons of health benefits.
For starters it's a great immune booster, helping the body fight off bad guys one yucky bacteria at a time. Then you have high antioxidant content, aids in proper healthy digestion, boosts energy, helps lower high blood pressure, aids in healthy thyroid function, strengthens bones, is anti-aging, helps with mental clarity, great for hair, skin and nails, promotes healthy eye function and I could go on and on.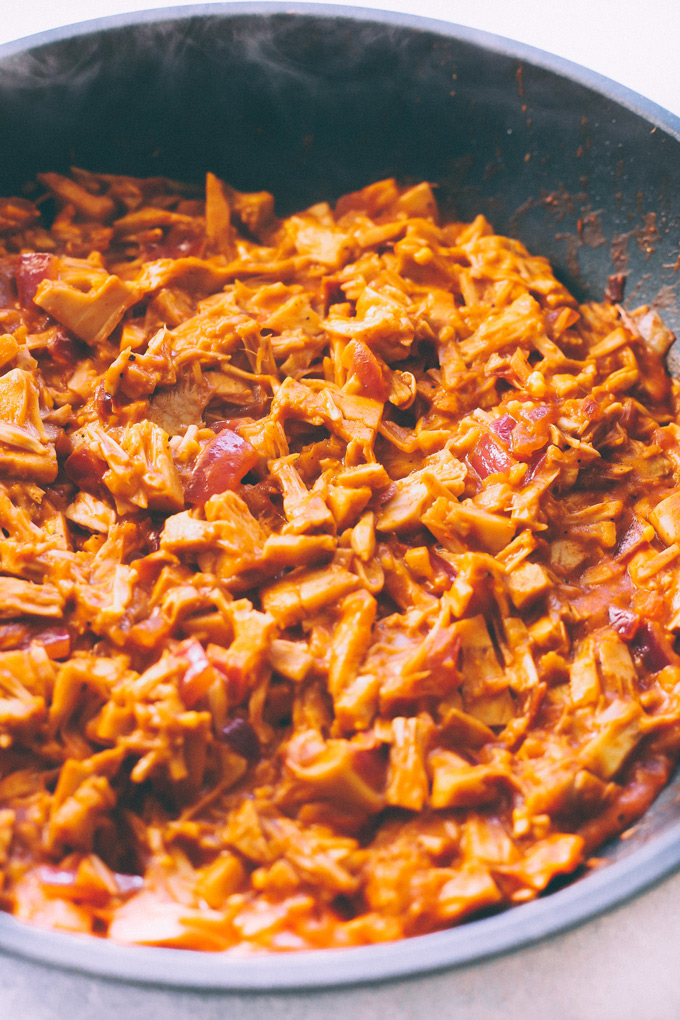 You have to keep this consistent in your diet to reap the benefits. I like using it in meals at least twice a week. It's super easy to meal prep too. If you're transitioning from eating meat and are looking for more meat replacements let jackfruit be at the top of your list. It cooks like shredded pork or chicken and will mimic the texture as mentioned above. It soaks up all the seasonings and tastes fantastic. Plus all the added benefits. Not to mention you're eating it out of zucchini. Healthy. Like. Whoa. But oh so incredibly delicious. Guilt free one might even say.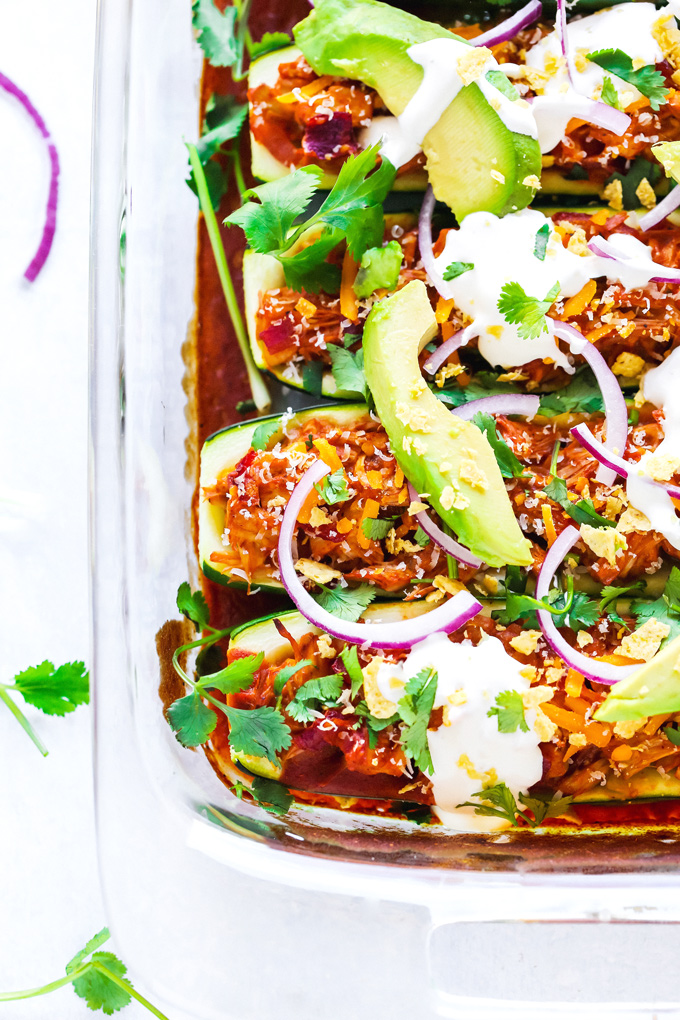 These boats are loaded with all sorts of goodness. You have the jackfruit which you know all about now and are basically on your way to get it after reading this post. Trader Joe's sells it inexpensive already cut up in cans but you can find jackfruit almost anywhere now. Zucchini is what's holding it together, enchilada sauce, some vegan cheese shreds (optional), cilantro, and for added crunch I sprinkled on top some corn chips. I didn't forget to top it with some vegan sour cream….uuuuum delicious. Trust, you need a dollop or two on top of your boat for it to be complete. If you don't like vegan sour cream you can use a plain vegan coconut yogurt. I love the coco-yo and so delicious brands. Their plain yogurts are a good sub to the vegan sour cream.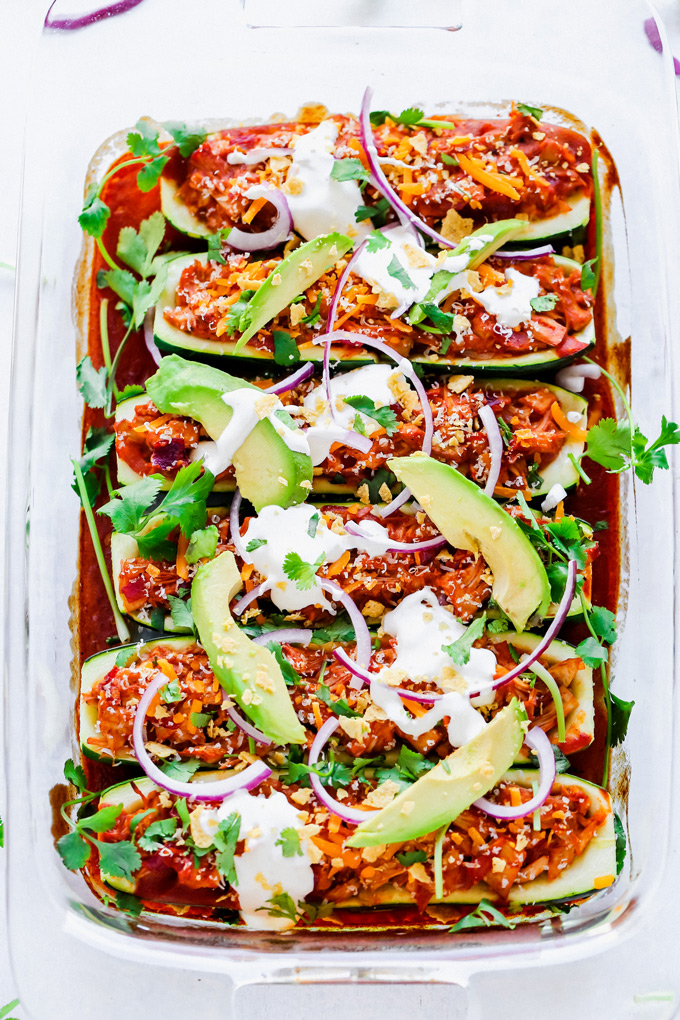 Do I have to remind you to live your best life? It is 2019 after all. Do it, make these boats and holla at ya girl. Enjoy! =)
Vegan Jackfruit Enchilada Zucchini Boats
Add this low carb healthy meal to your weekly rotation. Stay on track with this vegan deliciousness without having to sacrifice taste or texture!
Ingredients
3 large zucchini , cut in half lengthwise
1 cup enchilada sauce
1 yellow onion, diced
3 garlic cloves, minced
1 tbsp avocado oil
salt/pepper to taste
2 cups jackfruit
1/3 cup vegan cheddar cheese shreds
Toppings
handful of cilantro per zucchini boat
handful of crushed corn or tortilla chips
avocado slices
red onion slices
1 tbsp vegan sour cream per zucchini boat
Instructions
Preheat oven to 350F and pull out your 9x13in baking dish.

Pour avocado oil in a large skillet over medium heat and add onion and minced garlic. Cook 5 minutes until onions are just translucent.

Cut the jackfruit in half lengthwise about 3 times per chunk. Once it heats up you will be able to shred it more. Place in into the skillet with the oil, onion and garlic. Add in the 1 cup of enchilada sauce, cheese, and salt and pepper. You can add more sauce if needed. Let cook for 10 minutes and while cooking pull apart the jackfruit with your spatula or you can use a fork.

Cut the zucchini in half and scoop out the middle. I use a regular spoon for this. When the jackfruit is done fill each zucchini boat with the filling and sprinkle tops with extra cheese. Add a bit of sauce to the bottom of your 9x13in baking dish. Line up each zucchini boat.

Bake for 30 minutes. At this point the zucchini will be nice and tender. Remove from oven and add all the toppings: cilantro, avocado, red onion slices, crushed tortilla chips, and sour cream. Serve right away and Enjoy!

You can also meal prep them and place zucchini boats in air tight containers and keep them in the fridge for up to 3 days!
~Pin This Recipe~