Triple Chocolate Layered Birthday Cake
Go shawty it's ya birthday, we gonna party like it's ya birthday…oh wait, because it really is!!!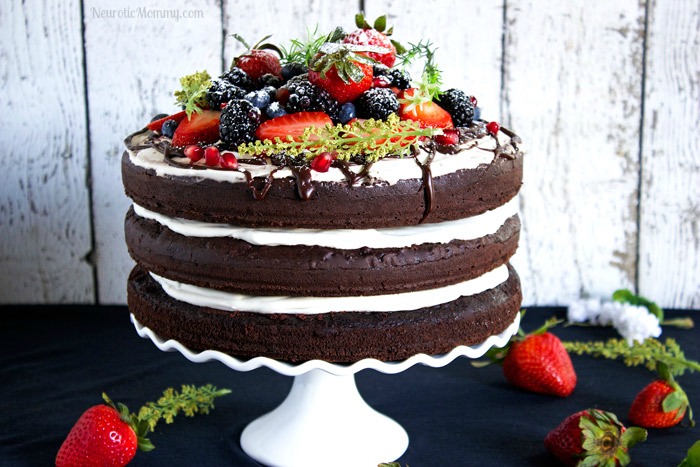 Since it's #throwbackthursday I'm bringing it back to the day I was born, Holla! Whoop Whoop Today I celebrate along with my twin sister Stephanie our birthday! Yaaay! The big 3 4.
Since becoming a (neurotic) mommy I make my own cakes now (enter tooting own horn here). But I am especially in love with naked cakes or unfrosted cakes. They are so rustic and beautiful I just love em'. And I love chocolate but that's no secret. I made this Triple Chocolate Layered Birthday Cake because well, uuum, triple the chocolate triple the fun? Ah who am I kidding the more chocolate the better and this gal is looking to get chocolate wasted.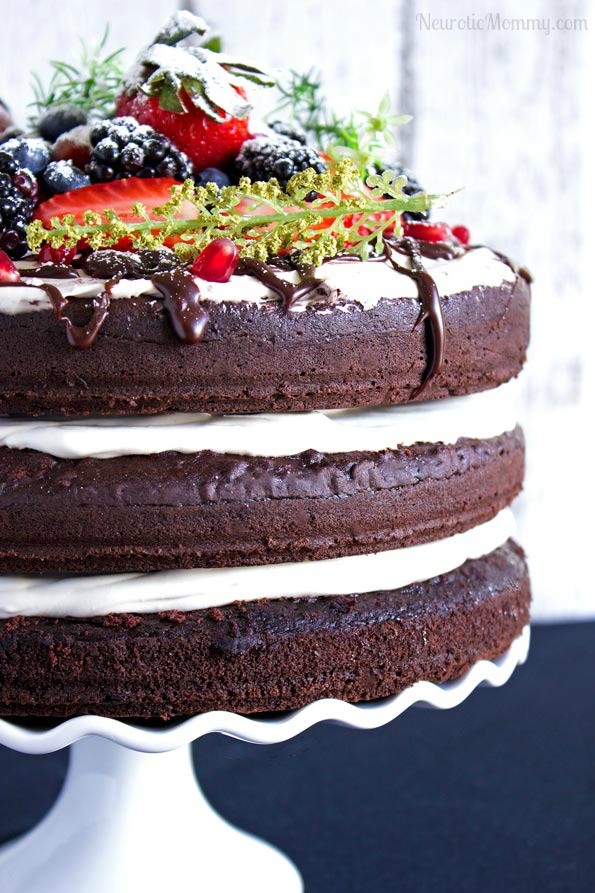 I'm no born baker or anything like that. I've watched a many YouTube videos on how to frost cakes or in this case how not to frost them. I've learned the tricks to even layering and how to assemble a layered cake. First time I gave one of these a go it was a complete hot mess. I still ate it but it didn't look all Ooh La La. Now that I've had some practice I am obsessed with making them. Like no joke. And sometimes messy makes it look even more gorgeous. The top of this cake I just threw on all the fruit I had in my fridge. You see strawberries, blueberries, raspberries and pomegranates. I threw in some green leaves just for decor. Oh and of course homemade dark chocolate drizzle! Added chocolate on top of more chocolate?! Yuuup.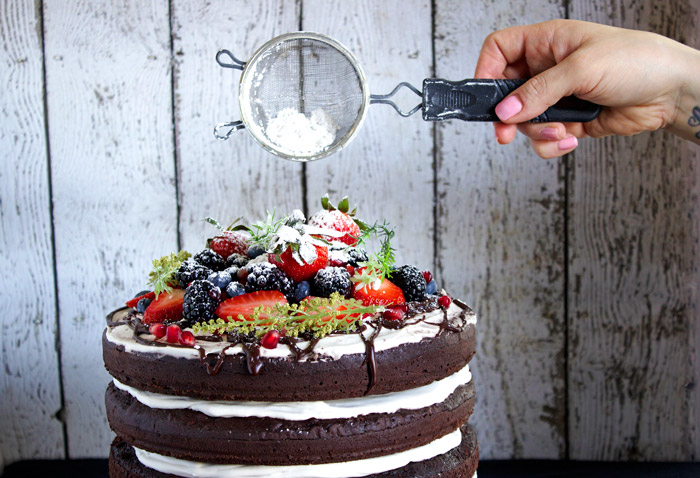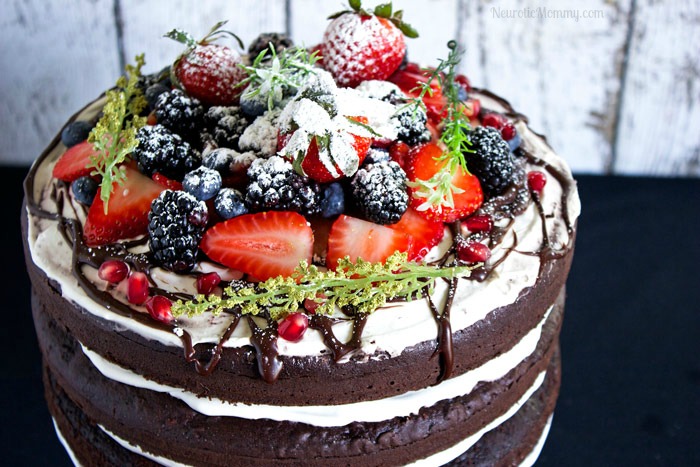 Ok so I've been up to a lot lately like redoing my kitchen and having just finished school. Not to mention being a Mom to the most awesomest boy ever, my son Duuuh! That comes first always. So I went with an organic, gluten-free chocolate cake mix. It's my go to for when I don't have a lot of time on my hands. Although cakes like this do tend to take up some time any way. But I needed to cut that time in half. Plus my kitchen is in shambles. It's coming together though, my counter tops and fridge come today (Yaaay). You can just imagine what it looks like. I somehow still managed to make this. Anyway, I made 3, 9″ chocolate cakes and for the frosting I went with my most adored, coconut whipped cream. It's durable for these types of things and holds it down well just like buttercream! (Both so yummy.) I topped it off with powdered sugar (see picture above, that's my hand, howdy lol) because it's my party and I'll add some sugar if I want to (enter big cheesy smile here). God I need emojis on this thing!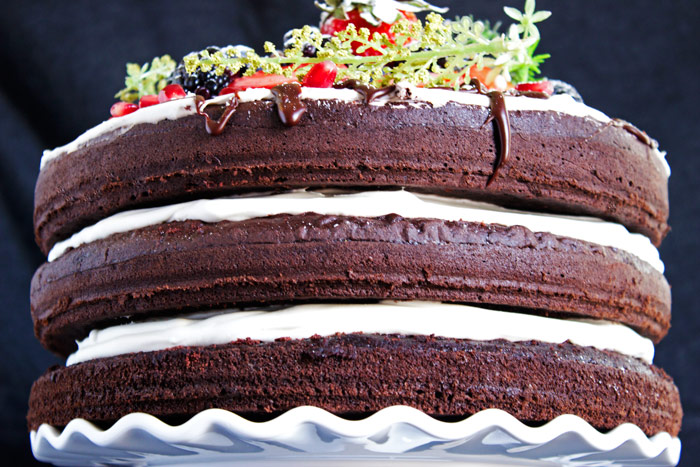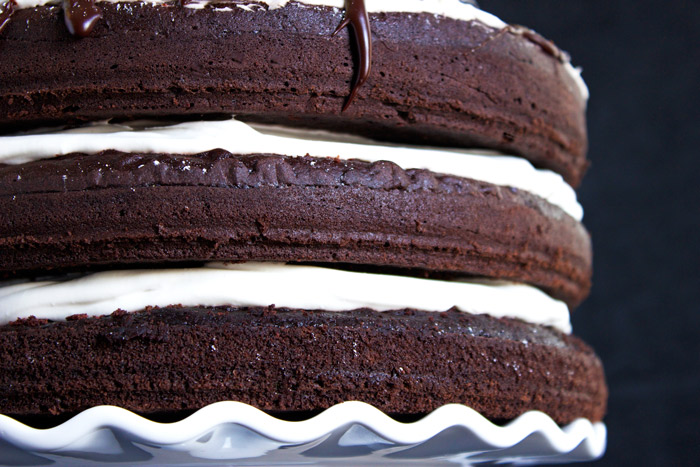 To get the cakes to stack evenly first you have to trim the tops off. My cakes were slightly rounded on top so to make sure they are all even, trimming is a must. Is it even called trimming? Ok then, on my cake plate I placed a spoonful of whipped cream down in the center and kind of swirled it around a bit but not too much and not all over the plate just the center. I then took my first layer and placed it on my cake plate. This keeps the cake in place and it won't be sliding all over the place. Because that's annoying. 
Once that's set you can spread your filling to just about the edge of each layer. Keep in mind you'll be pressing down slightly so leave some room for overflow. Overflow is ok too! Repeat that process for all layers. I did 3 layers but you can do however many you like. Honestly, when you think about it, it's not that hard. Intimidating at first? Yes but definitely doable for even the less experienced baker.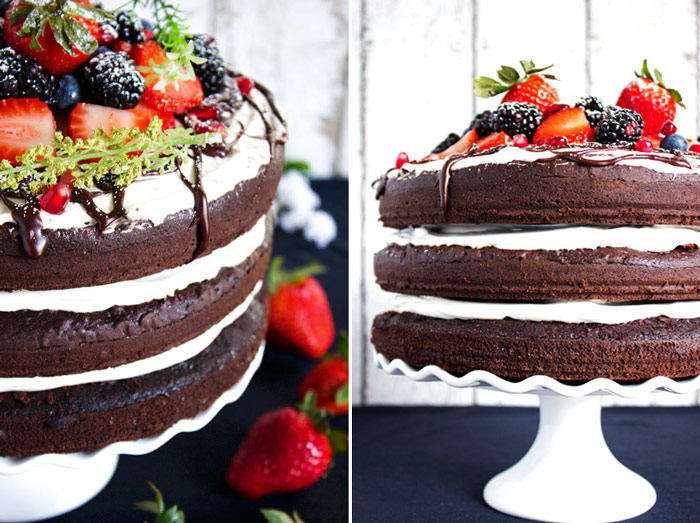 If I can do this you can do this. I'll tell ya, it's a crowd pleaser. You'll get a lot of "ooh's and ahhh's" then you can just stand there and blush. That's what I do, I'm all like "Oh stop" but secretly in my mind I'm thinking "Keep it coming" hahaha.
Well there you have it, My Birthday Cake. I'm off now to go eat this bad boy and enjoy the day with my family. I hope you guys have a great day too and if we celebrate the same born day Happy Birthday to you as well.
Make this and eat it like no one is watching. Kinda like what I'm doing at this very moment.
Triple Chocolate Layered Birthday Cake
Recipe Type: Birthday Cake
Author:
Prep time:
Cook time:
Total time:
Serves: 12-14
There is no better way to spend your birthday than Chocolate Wasted! This cake is chocolatey, moist and filled with a whipped coconut cream like no other. Easy to assemble, gorgeous to look at and even better to eat!
Ingredients
[b]The Cake[/b] (recipe makes 1 cake)
1 box organic, gluten free chocolate cake mix
2 egg replacers or 2 eggs
5 tbsp coconut butter, softened
1 c almond milk
1 tsp vanilla extract
[b]Coconut Whipped Filling[/b]
1 can full fat coconut milk left in the fridge overnight
1 tsp vanilla extract
2 tbsp maple syrup
[b]Chocolate Drizzle[/b]
2 tbsp cacao powder
2 tbsp rice malt syrup
2 tbsp coconut oil, melted
1 tbsp maple syrup
Instructions
Preheat oven to 350F and lightly grease a 9″ round springform pan with coconut oil spray or any non stick cooking spray.
Beat butter until creamy then add in cake mix and beat until crumbly texture.
Add in eggs and vanilla extract and mix until well combined.
Stir in almond milk and mix until smooth and creamy.
Pour into prepared pan and bake for 40-45 minutes.
Remove can(s) of coconut milk from the fridge, scoop out the cream and place into a large bowl. (Discard coconut water or save for later.)
Add in all ingredients and mix on high speed until peeks form and you have a whipped consistency.
Put in fridge so it firms up a bit.
When cake(s) are done baking let cool completely before assembling.
Once cakes are cooled trim tops off for an even surface.
Place a spoonful of filling on your cake plate and place your first layer on top making sure it stays in put. Spread filling over each layer just until you reach the edge about 1/4 away from it. Leave a little room because you will be pressing slightly down on each layer.
Repeat process until all layers are complete.
To make dark chocolate whisk all ingredients until well combined and there are no clumps. You can opt to leave out the maple syrup but I find it makes the chocolate a little thicker and creamier.
When you get to the top of the cake drizzle it with your homemade dark chocolate. I used a fork and just did messy swirls. You can add dark chocolate in each layered if you'd like as well.
Top with fresh fruit and powdered sugar.
Keep in the fridge until ready to serve.
Enjoy!
Notes
This recipe is for one cake layer. To make 3 tiers use this recipe 3 times. [br]If making 3 tiers use 3 cans of full fat coconut milk tripling the ingredients. So instead of 1 tsp of vanilla extract use 3 and instead of 2 tbsp of maple syrup use 6 or 1/2 cup.[br][br]Bake time may vary depending on what cake mix you use or if you make a cake from scratch. [br][br]Any vegan butter sub can be used or regular butter for non vegan.