Vegan Pumpkin Cheesecake Doughnut Fat Bombs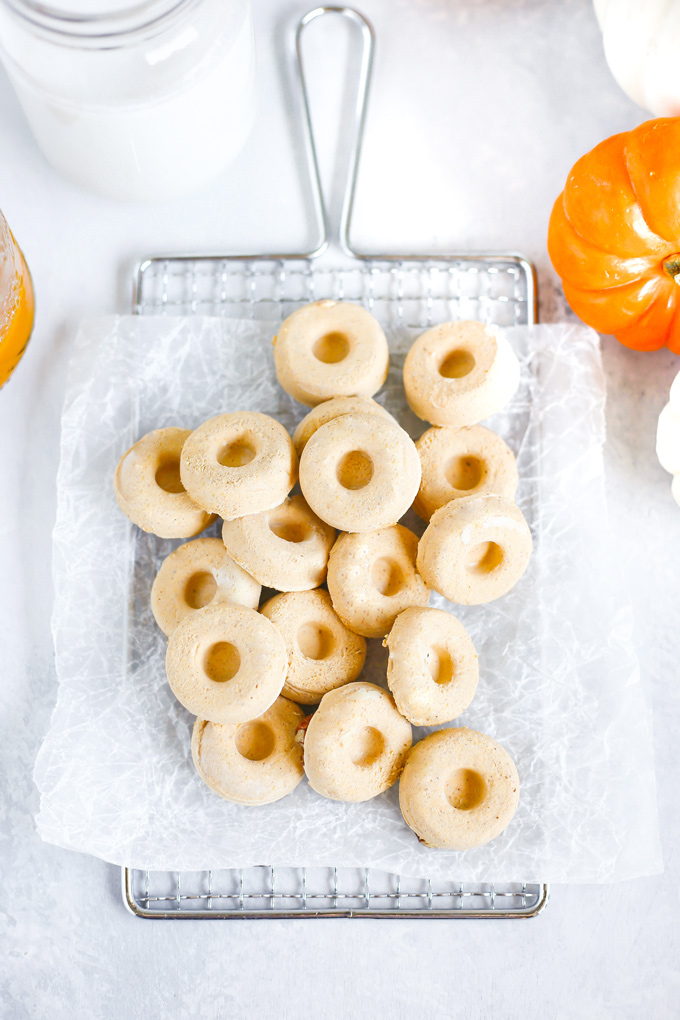 I have a mini doughnut silicon mold and decided it was finally time I put it to good use. Making these Vegan Pumpkin Cheesecake Doughnut Fat Bombs were clearly the direction in which to go.
What Are Fat Bombs?
In a Ketogenic Diet fat bombs are exactly what they sound like, foods full of fat. The ratio on a keto diet is 75% fat, 20% protein and 5% carbs. On strict keto (meaning only the healthiest of foods), nothing processed, you get your fats from things like coconut oil, MCT, avocado oil, vegan butter (without palm oil), avocados, nuts and seeds. Fat bombs are essentially all fat with little to no protein so you can reach your fat goal for the day all while burning more fat for you to stay in ketosis.
Anyone doing this diet will most likely always have fat bombs on hand because they're an easy way to reach your goal. And if you find yourself one day struggling to reach your fat intake you can grab a fat bomb and they will help you out. I'll give you an example, each day I have to consume roughly around 109g of fat . It doesn't always have to be spot on or perfect because, you know, life, but I and you will do the best we can.
Ok so if I have to reach 109g of fat each day I will always eat as healthy as possible with all that I mentioned above (coconut oil, avocado's, etc). But if I'm short say 20, 30g or so I will have a few fat bombs to bring me up to around the vicinity I need to be. I hope I explained that thoroughly enough so you can understand. In the beginning I was so confused with this. But once you know the how's and the why's and it starts to make sense to you, you can't un-know it. It will become like second nature to you. Think of fat bombs as a quick super yummy helper.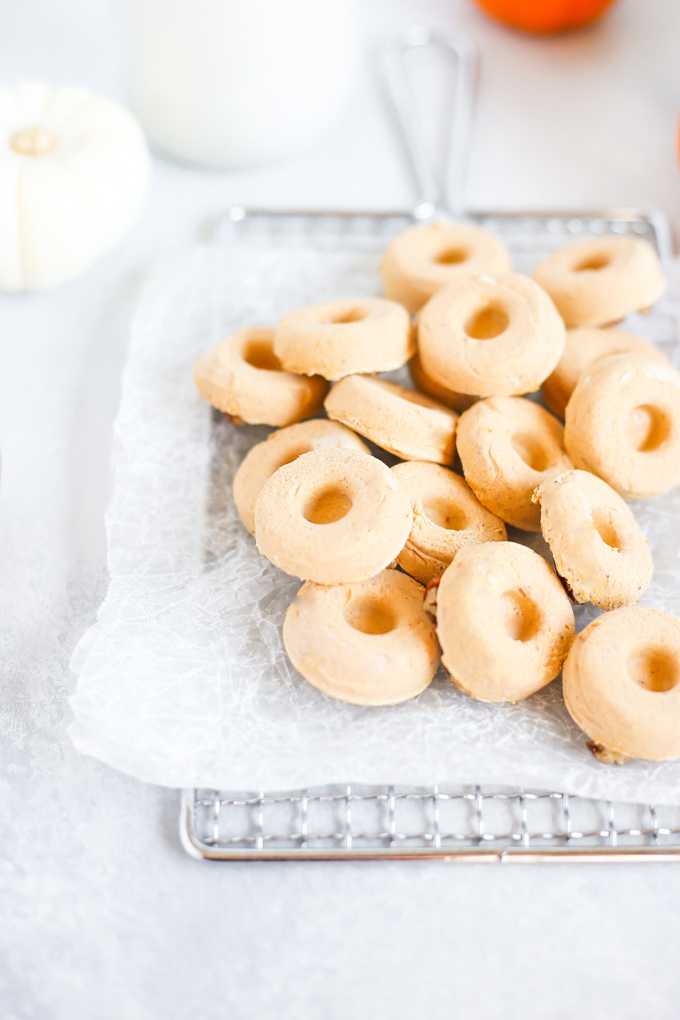 There are so many different ways to make fat bombs too so you have room to get creative with what you're eating. I love to make these Vegan Coconut Macaroons or these Cookie Dough Cheesecake Bites because they're utterly yum and help me reach my fat intake for the day. Plus they're a treat and who doesn't love a little treat here and there.
Why I'm Liking This Way of Eating
I've been doing vegan keto coming up on 4 months now. Since after having Oliver and dealing with hives for 6 months, gaining extra weight, this has really helped me stay focused. My goal isn't to be skinny, it's to be healthy. Although the weight-loss for me is an added bonus. So far I've lost almost 30 pounds. Unnecessary weight I've been carrying around that didn't make me feel good in any way.
I get better sleep, I no longer crave sugary sweets, I don't eat a ton of processed foods and I feel good. That's really what's important anyway. I do pay attention to my nutrition and make sure my body is getting what it needs in terms of vitamins, iron, B12, fiber and things like that. I encourage you to do that as well with a health care practitioner so you know exactly what works for you and ensuring you're getting everything you need. We are all so different.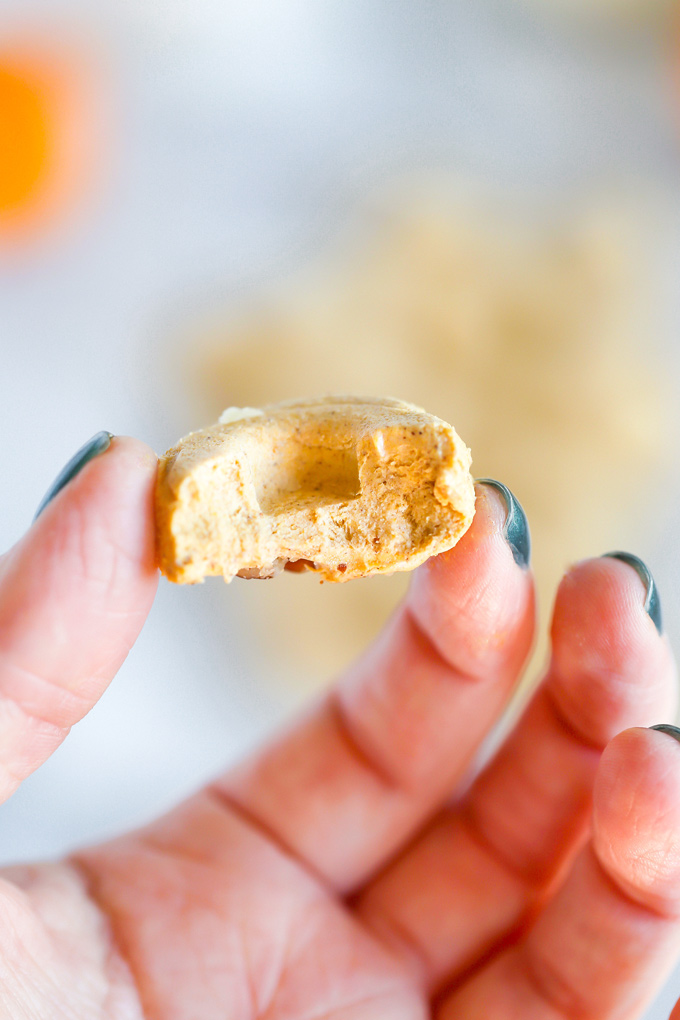 And about me eating sugary sweets part. Being vegan doesn't mean sugar free or even healthy for that matter. Oreos are vegan. When I was dealing with the hives right after having a baby I would have days where'd I'd say eff it and binge eat on all the junk food and chocolate because I was feeling sorry for myself. I don't regret those days. I always acknowledge how I'm feeling whether it's sad or happy. And during that time I did that for no reason at all only because I wanted to.
I think we all know we can't go on eating unhealthy forever so change needed to happen for me. We are always ever evolving. And I like to say one unhealthy meal doesn't make you unhealthy and one healthy meal doesn't make you healthy. You know when you eat a salad and wonder why you didn't drop 50 straight after, LOL.
Seriously though, we all go through bouts of ups and downs and it's the ebb and flow of life. Everything in cycles and no one is perfect. Like I said earlier, do the best you can and you'll be good.
Now let's discuss the recipe at hand shall we.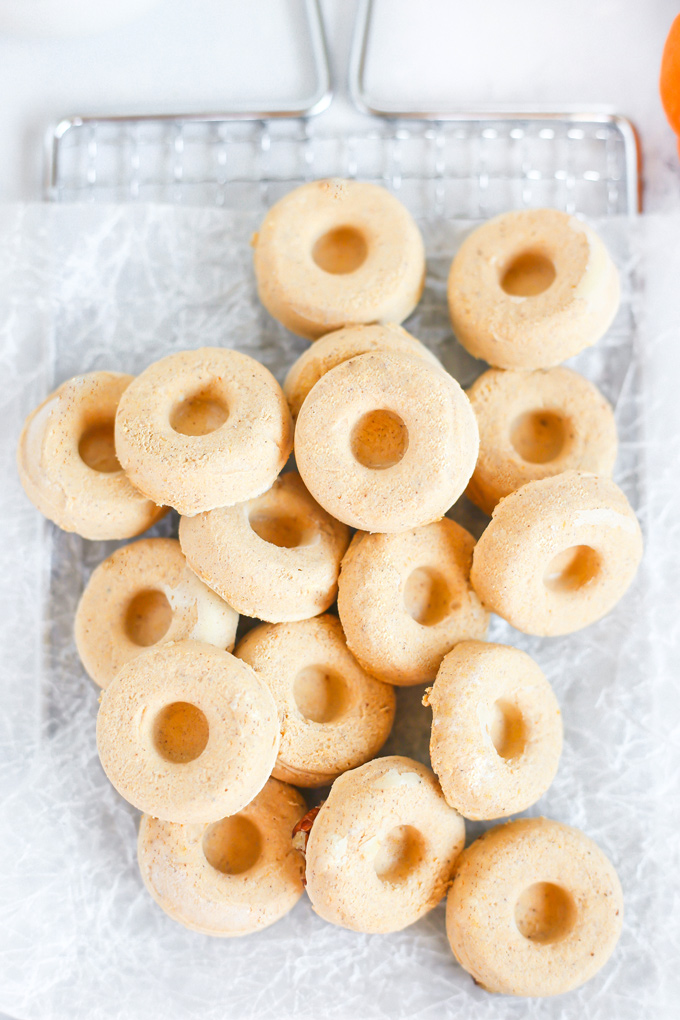 Vegan Pumpkin Doughnut Cheesecake Fat Bomb Amazingness!
I got 99 problems but Vegan Pumpkin Cheesecake Fat Bombs aren't one. Thank goodness. I need all the pumpkin I can get during this time of year and can I tell you a secret? I'm so super effing happy that pumpkin is keto freakin' friendly! Whoop Whoop! 5 second dance party? Anyone?
I know I went super cray fancy using my mini doughnut silicone mold but you don't have to do that. You can use a mini muffin tin lined with parchment paper or just parchment paper cups mini or regular size (if you do regular size weigh them so you have an accurate gram measurement for when you log your food. It will be double since you're using a bigger size).
When I make these depending on my needs for the day I will have up to 3 minis. Sometimes I push it, lol, but that's ok. If you count calories and macros, as long as you stay within that you'll be alright. For weight loss I have been tracking just to make sure I'm staying on point. I still have a very good relationship with food and I find tracking it helpful for me. It makes me feel good that I'm taking care of my body but everyone has a different opinion on that.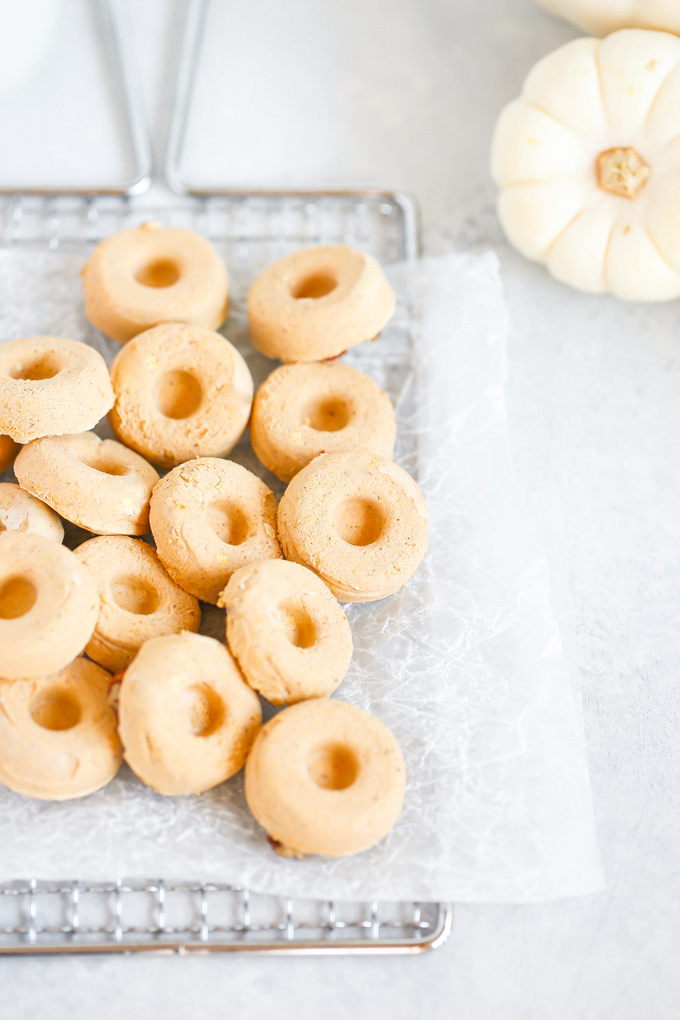 Already In Home Staples
All you'll need to make these is some full fat coconut cream (left in the fridge overnight so you can use the cream not the water), vegan cream cheese, vegan butter (I like this one), pumpkin puree, keto friendly sweetener (like this one), cinnamon, pumpkin pie spice, and vanilla extract. Super easy with all staple ingredients you most likely already have on hand.
Mix all these ingredients together and viola! A delicious, creamy pumpkin fat bomb at your service with all the consistency you'd want in a cheesecake.
Also note that if your butter is salted do not add any salt or else they will be weirdly salty, like too much. I'd say even if your butter is not salted don't add salt, it really doesn't need it in this.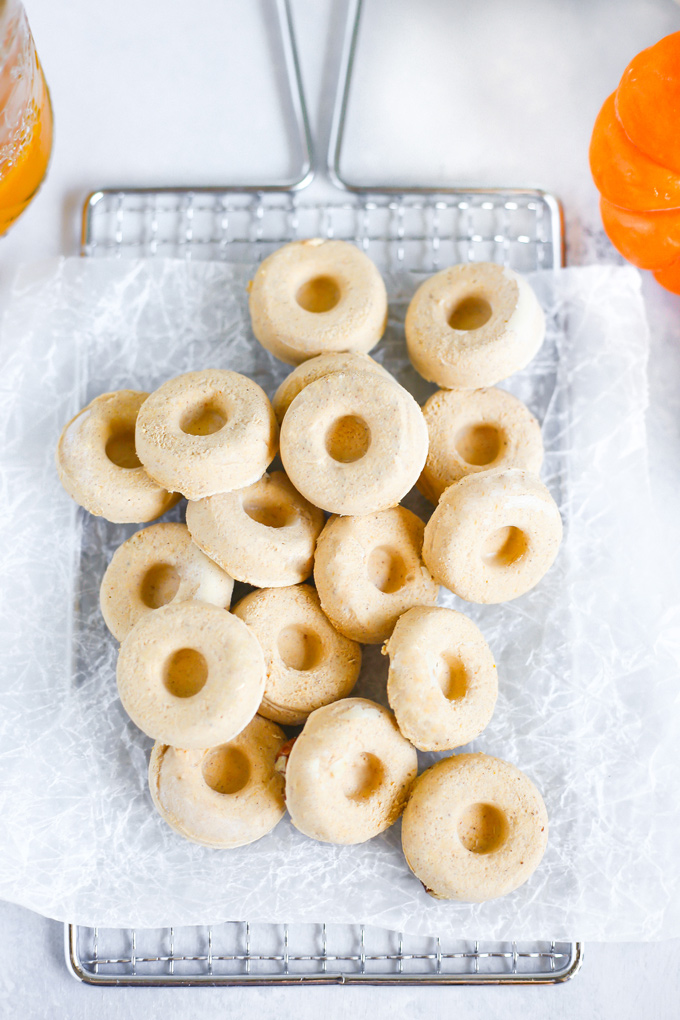 Enjoy these pumpkin creamy cheesecake delights. Sure to hit the spot and give you all the pumpkin feels you ever so deserve this season. And if you're like me, they will keep you in ketosis!
Vegan Pumpkin Doughnut Cheesecake Fat Bombs
Enjoy these pumpkin doughnut creamy cheesecake delights that will help you reach your fat goal and keep you in ketosis. The perfect holiday treat as well!
Ingredients
1/4 cup full fat coconut milk, (not the water the cream on top)
4 oz vegan cream cheese, room temp
4 oz vegan butter, room temp
1/2 cup pumpkin puree, (not pie filling)
1/3 cup Lakanto Powdered Sweetener
2 tbsp maple syrup, (to keep it keto see notes on maple syrup to use(
1 tsp vanilla extract
1 tbsp pumpkin pie spice, (more or less to your liking)
1 tsp cinnamon
Instructions
Line a mini muffin tin with parchment paper cups of if you have a silicone mold you can use that and spray it with coconut oil spray.

Using a hand mixer, whisk together the coconut cream (milk), cream cheese, butter, and vanilla extract until well combined.

Add in the pumpkin puree, sweetener, maple syrup, pumpkin pie spice, and cinnamon. Mix until very well combined. You can taste it and adjust sweetness and pumpkin pie spice to your liking.

Divide evenly into prepared muffin tin or silicone molds. Freeze for 2-4 hours or preferably overnight.

Keeps well in the freezer and when you want to serve it take it out and let it thaw for a few minutes.
Additional Toppings
You can add a bit of coconut whipped cream on top of each mini fat bomb or sprinkle on some crushed pecans. Enjoy!
Notes
Keto maple syrup I use is here.
Keto Powdered Sugar here.
~Pin This Recipe~