Peanut Butter Stuffed Strawberries dipped in Chocolate
Can you even believe June 1st is tomorrow? Where does the time go…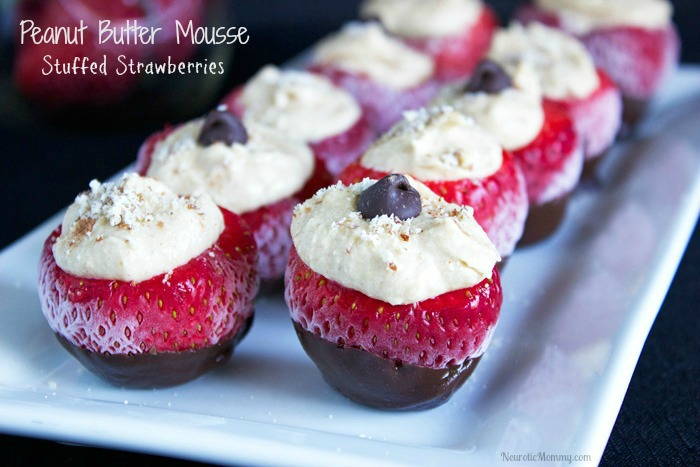 I'll tell you how I've been spending my time this weekend, by shoveling into my face these Peanut Butter Stuffed Strawberries dipped in Chocolate. I know I know I'm so dainty. But come on, you and I both know you can't eat just one. Just one is for wimps. LOL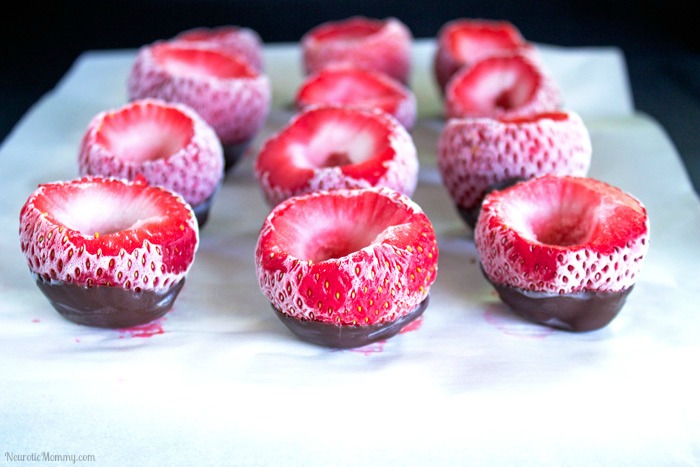 So there's really no right or wrong way to do these. It's pretty simple and the thing is you can fill them up with anything you want. Some people do alcohol and make strawberry shots, or you can fill them up with yogurt, cookie dough and even more chocolate. I went with mousse because I love peanut butter, I love mousse, strawberries and of course chocolate. I married them together and they made these babies. The cutest strawberry babies EVER!!! And super delicious.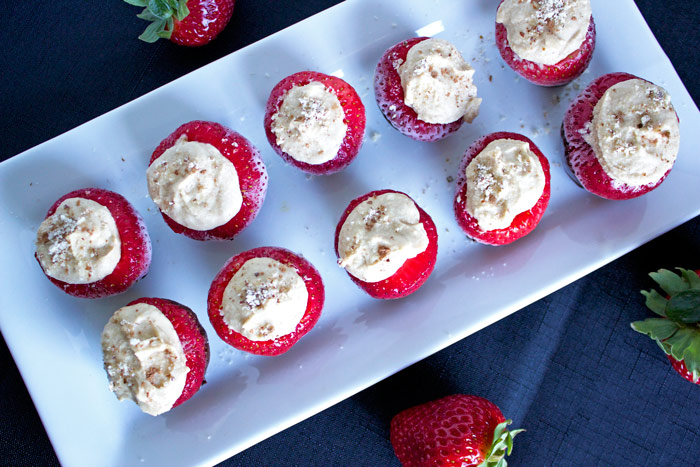 I was in the kitchen hulling away and my husband asked what I was doing to all the strawberries. I laughed and said trust me, you're going to want tons and tons of this because they are that good. It's almost like having a peanut butter and strawberry jelly sandwich without the bread. It's the amped up, healthier version. Although I do love me a good peanut butter and jelly sammie. Anyway…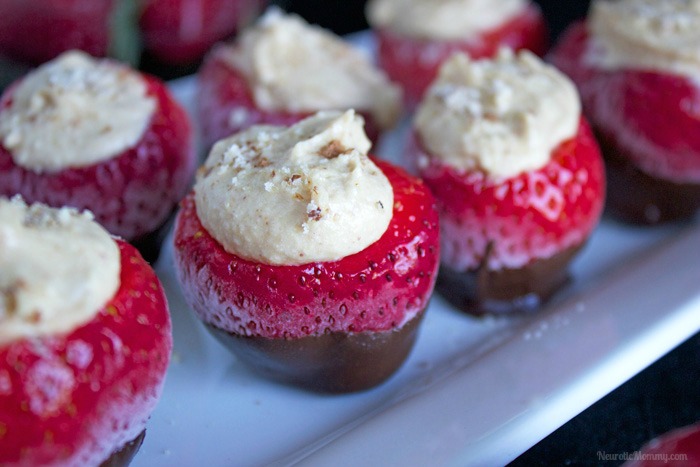 These are so good to make when you're sweet tooth is a knocking and you're all like "Umm hello I'm trying to quit sugar here remember, gosh!" This is basically the perfect healthy snack. If I can't keep it real here I mean where can I keep it real, ya know what I'm saying.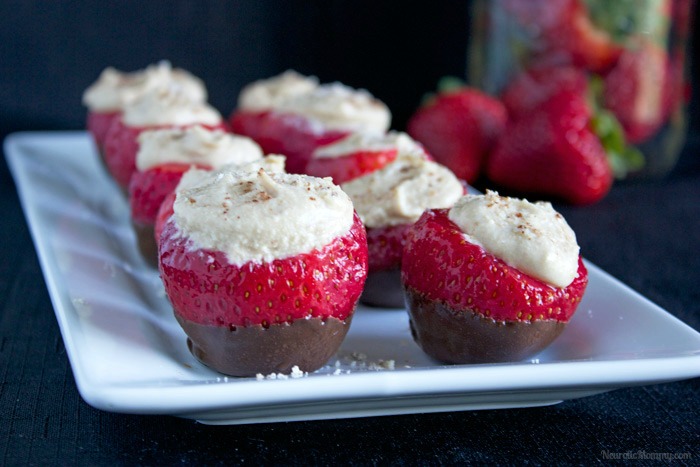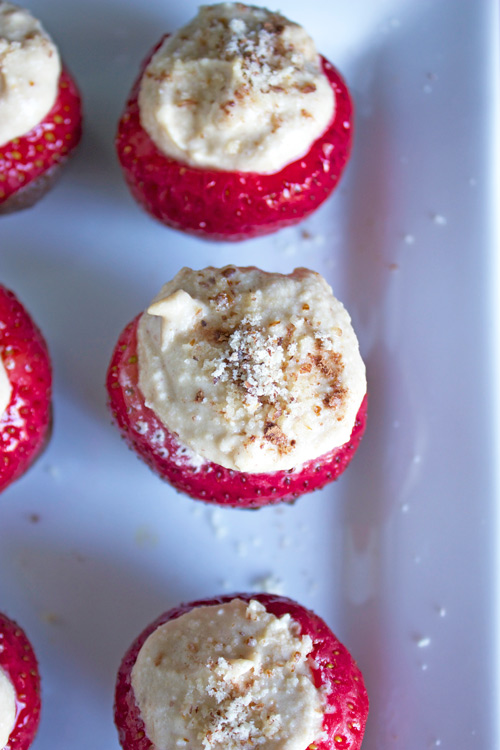 Delectable strawberries stuffed with peanut butter mousse and dipped in dark chocolate. A snack that tastes good on the lips but won't stay on the hips. Whoop Whoop!
Enjoy your Sunday!
Peanut Butter Stuffed Strawberries (dipped in dark chocolate)
Recipe Type: Snacks
Author:
Prep time:
Cook time:
Total time:
Serves: 12-16
A fun healthy snack that won't leave you feeling heavy or over stuffed. The only thing stuffed to the brim with goodness are these strawberries!
Ingredients
1 pound fresh organic strawberries, hulled
Dark Chocolate
2 tbsp cacao powder
2 tbsp maple syrup
2 tbsp coconut oil
Peanut Butter Mousse
1 can full fat coconut cream left in the fridge overnight
2 tbsp maple syrup
3 tbsp peanut butter
pinch of pink rock salt
Instructions
Clean and hull strawberries. Cut the points off of the strawberries so they stand upright.
Line a small baking sheet or plate with parchment paper. Mix well cacao, maple syrup and coconut oil. Dip strawberries in chocolate then place in the freezer to set for 10 minutes while you make the mousse. (You may need to double the chocolate recipe or even triple it)
Scoop out the cream from the can of coconut milk and place in bowl. (Discard the water or save for later for smoothies.) Add in maple syrup, peanut butter and salt. Using a hand mixer, mix until fluffy and all ingredients are incorporated well.
Remove strawberries from freezer. Using a spoon, place a dollop of peanut butter mousse to the centers of each strawberry. Be generous.
Top with chocolate chips, rawnola or anything else your heart desires.
Enjoy!
Notes
You can melt down your favorite dark chocolate if you do not wish to make it yourself.[br]You can also sub maple syrup with any liquid sweetener of choice such as rice malt, agave or honey.
Leave a comment below letting me know how you enjoy eating your strawberries!
Find me on Instagram @NeuroticMommy and tag me #neuroticmommy so I can see your creations!
Food Bloggers, I run the Instagram page @TheChocolateCorner. Tag #thechocolatecorner with your most delicious chocolate desserts for a chance to be featured!