Healthy Chocolate Chip Cookie Dough Blizzard
jump to recipe
And so the quest for healthy blizzards continue. I don't know about you but I use to really love me some blizzards back in my day. They were up there with the McDonald McFlurry. Yikes!
Feast your eyes on this baby. I bestow upon you the Healthy Chocolate Chip Cookie Dough Blizzard and wait for it…it's Vegan. I know you must be wondering why things like blizzards and McFlurries have to be ultra bad for you. Believe me I understand, it's a sin really. Highway robbery if you ask me. All these things we love to indulge in and they are just all bad. Like all bad. No joke. Don't sob you guys I'm here to help!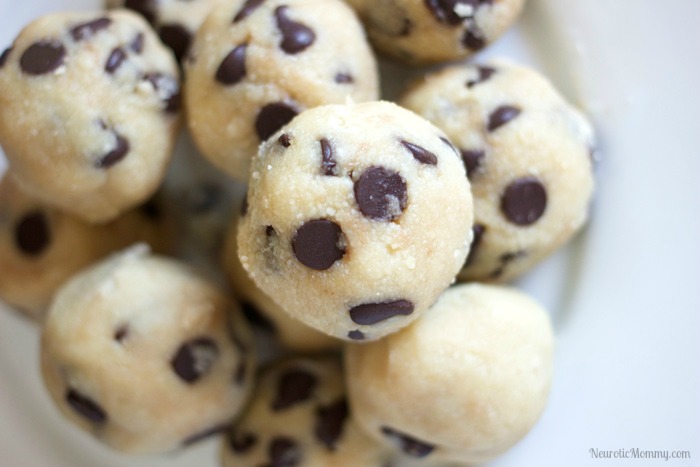 See these beauties. Oh yes, admire them because you are about to embark on a glorious journey full of cookie dough and milkshake adventures. It's going to be one hell of a ride people so hold on tight because you're about to be woe'd in the cookiest of ways.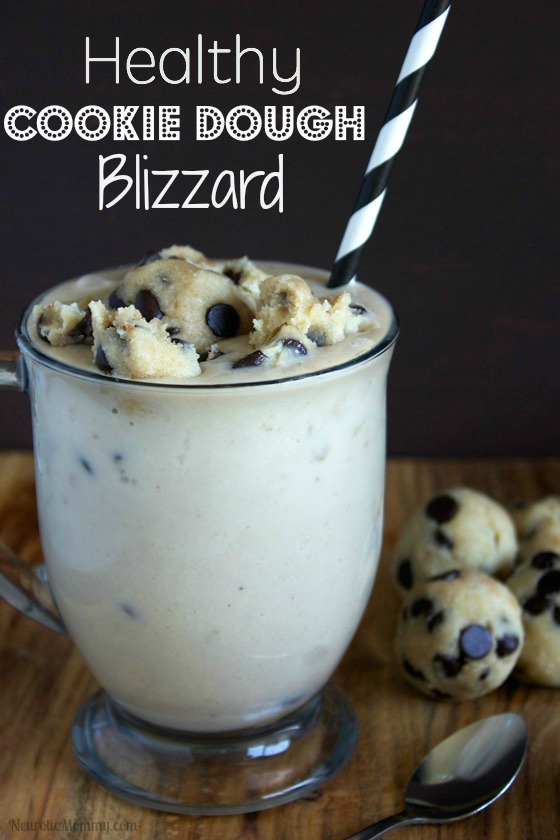 But first let's touch on why this is the healthier option and also how it tastes completely delicious. Genius I tell you. Ok so if you're not familiar with DQ (Dairy Queen) Blizzards let me just tell you, you may be lucky. Because one large DQ Cookie Dough Blizzard contains 1340 calories. Yes you read that correct 1340! Now I'm not a calorie counter but when I see numbers like this I am all like Oh hell naw.
One Large DQ Cookie Dough Blizzard
Calories: 1340
Calories from fat: 480
Fat: 54
Saturated Fat: 32
Trans Fatty Acid: 1.5
Cholesterol: 95
Sodium: 770
Carbohydrates: 194
Total Sugars: 141
Holy mother of all things shocking! If numbers like that don't alarm you then I don't know what will. What really gets me is the amount of sugar and fat. Like who needs that. Even if you did eat that on occasion it's still bad. Not to mention the dairy is pumped up with antibiotics, growth hormones like rbgh and other ingredients that our bodies weren't designed to digest. This is why it's always so much better to make things from ingredients you know. At least then you will feel good about what you're putting into your body.  Don't get me wrong, do splurges like this happen? Of course they do! Even for vegans, vegetarians and the like. We are all human and sometimes (or a lot of times) fall off the healthy wagon. But peeps like me are here to help pick you back up. Even I need picking up once in a while too! See only human.
Ok I don't want to take all the fun out of this post so let's move on to the good stuff like this creation of utter deliciousness.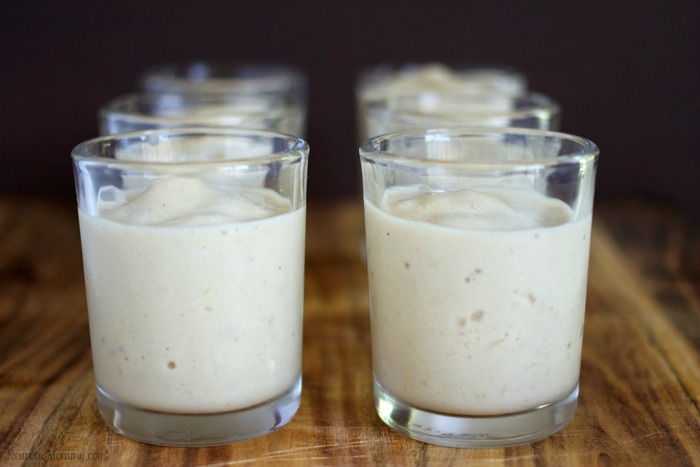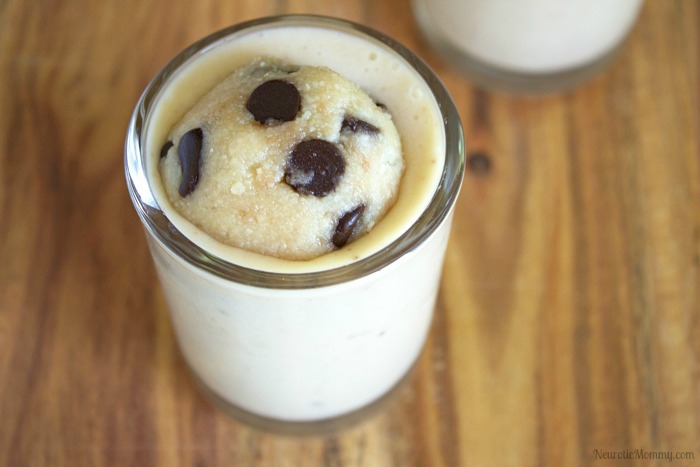 Initially they were suppose to be mini blizzards. As you can tell by the pics. They were super adorbs and like the perfect portion. Until my "nice cream" started to melt. #foodphotographerproblems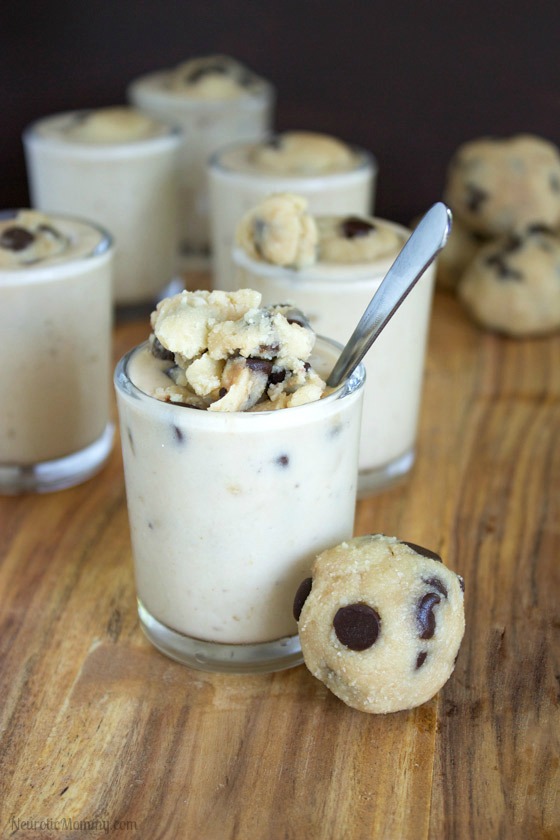 Since I wasn't done shooting yet I thought to myself Ah what the heck. I took my melted nice-cream and poured it all into a big girl glass and had my way with it. haha. No but seriously I did. The messier these things the better in my opinion.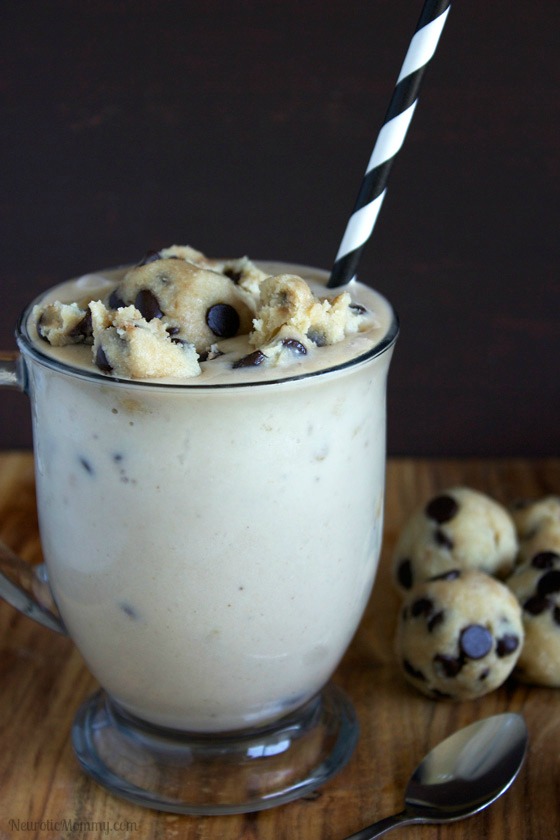 So this ended up to be the final product of the shoot. Plus extra cookie dough bites (and more glasses to clean in the sink). But oh well whatta-ya-gonna-do, it happens. And it still all worked out for the best. No complaints here.
For this blizzard recipe it's one serving. The cookie dough bites (recipe below) make 12-14 depending on the size you make them. I suggest 2 cookie dough bites per serving. BUT if you throw in an extra one when no one is looking I heard this rumor that it doesn't count. But don't quote me on that. (haha)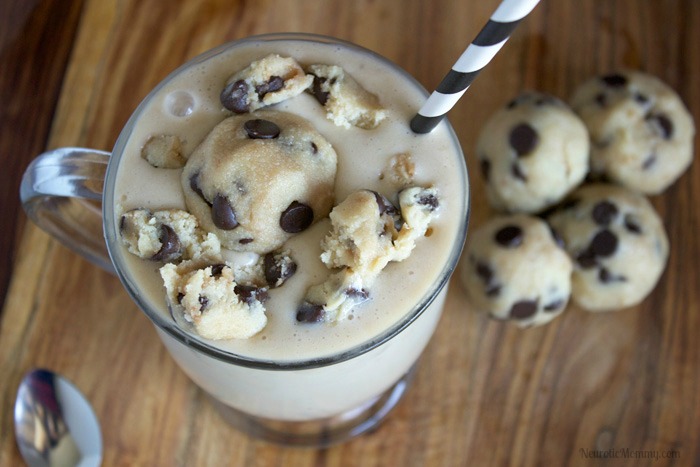 Moral of this story is you can have your cookie dough and drink it too with this healthified Chocolate Chip Cookie Dough Blizzard. This my friends is an Upgrade fo sheezey and may I suggest you make one for yourself ASAP. It's really mouth watering good so don't say I didn't warn ya!
Healthy Chocolate Chip Cookie Dough Blizzard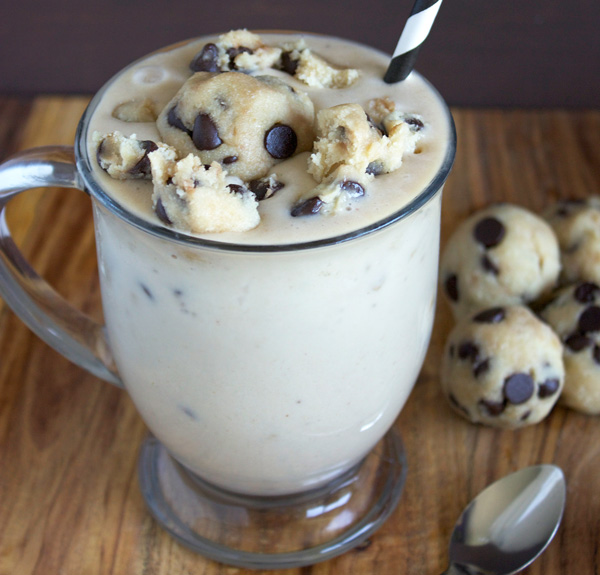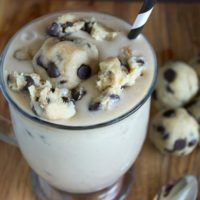 Healthy Chocolate Chip Cookie Dough Blizzard
You can have your cookie dough and drink it too with this healthified version of DQ Cookie Dough Blizzard. This mouth watering shake is not only good for you but stands on the corner of amazing and delicious.
Ingredients:
Cookie Dough Bites
2 cups cashew meal or almond meal
1/4 cup coconut oil, melted
2 tsp vanilla extract
3 tbsp maple syrup
pinch of salt
1/2 cup dairy free chocolate chips
"Nice" Cream
2 bananas, frozen
1/2 cup almond milk or any nut milk
1 tbsp organic creamy peanut butter
4 ice cubes
Directions:
For the Cookie Dough
Line a small baking sheet with parchment paper.
In a large bowl combine all ingredients, cashew meal, coconut oil, vanilla extract, maple syrup and salt.
Mix until well combined and the liquid is absorbed by the cashew meal. Fold in chocolate chips.
Take tablespoon size portions and roll into balls using the palms of your hand.
Place cookie dough bites on parchment paper lined baking sheet and place in the freezer while you prepare the nice-cream.
For the "Nice" Cream
Let frozen bananas thaw for about 5 minutes.
Place frozen bananas, almond milk, peanut butter and ice cubes in a high speed blender and run until a cream like consistency. It will be similar to soft serve frozen yogurt.
Once blended assemble your blizzard.
Pour nice cream into a large glass about 8-10 ounces.
Drop two cookie dough bites into the glass or you can crumble them up for fun.
There will be cookie dough in every bite. Stick a straw in it, grab your favorite spoon and Enjoy!
If you're subbing with almond meal, cookie dough bites may be a bit darker considering what brand you use or if you make the almond meal yourself. You can sub the maple syrup for rice malt syrup, agave or honey if you're not vegan. The blizzard is 1 serving the cookie dough bite recipe makes 12-14 bites. When I refer to "Nice" Cream I'm talking about Ice cream made from frozen bananas.