Capellini in Roasted Tomato and Garlic Sauce
Capellini is one of my favorite pastas. It's almost like angel hair but not exactly. However this is no ordinary capellini. This my friends is whole grain and I feel good about whole grains.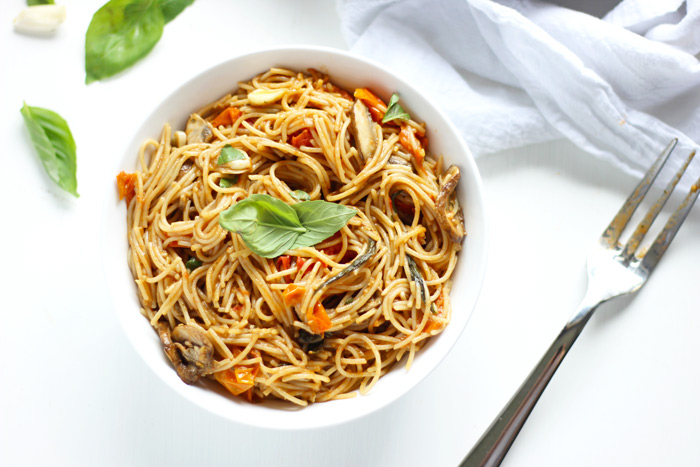 I don't buy regular white pasta anymore. I always get either quinoa, spelt, brown rice and even whole wheat sometimes. But when I found capellini made whole grain, organic and non gmo, I was hooked. I love the Trader Joe's Quinoa & Brown Rice Fussili too so they are tie. I found that when switching to the more healthier pastas they cook differently. You can't overcook them or they become literal mush. Once that happens the pasta becomes hard to separate and it doesn't have that authenticity I look for when making a traditional pasta dish. To avoid the mush mess simply follow the interactions on the package and always drain then immediately rinse with cold water (or room temp) especially if it's quinoa based.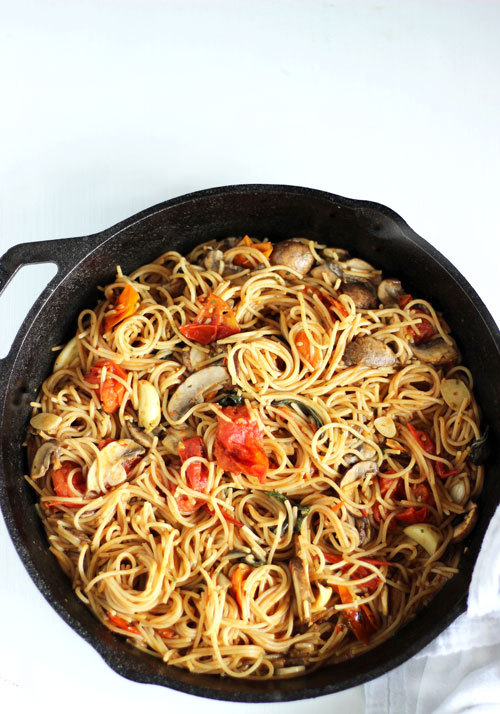 Unless you have a sensitivity to whole grains like celiac or a gluten intolerance then this wouldn't be the pasta for you. Not to worry though, you have options like the quinoa pasta I mentioned before. But if you're not sensitive to whole grains then you can reap all the benefits. And why should you? Well according to Lilian Cheung, DSc, RD, a lecturer in nutrition from the Harvard School of Public Health, she says that eating whole grains means you are getting fiber, healthy plant based protein, vitamins, minerals and a variety of phytochemicals that will improve your health. And I have to say, I agree.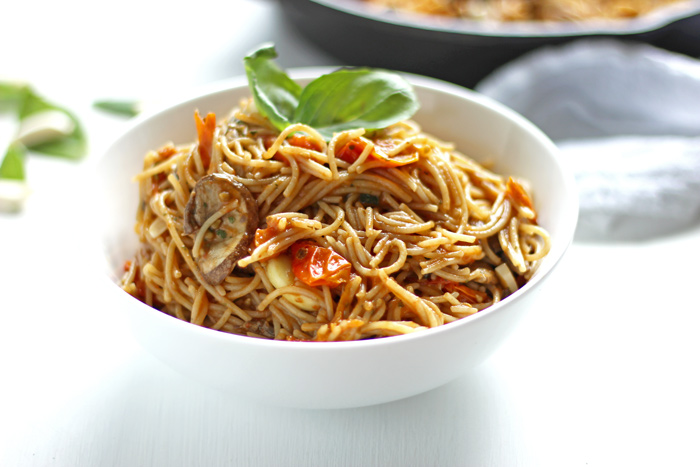 I am a pasta eating kinda gal. Growing up Sunday dinners were huge and they still are. At the dinner table pasta was/is the main attraction and I was never shy about eating it…generously. Luckily for us times have changed and we have these healthier options. Phew, headswipe. I mean just think of the travesty if we had to give up pasta forever. I know I know not first world problems but for an Italian it might be (haha I kid I kid).
So what's the deal with this dish eh?! The sauce is so light, no heavy creams required but you feel like your eating a light cream sauce. Ahhh the trickery. It's weird I know but so delicious how all these simple ingredients come together to make a goddess of a dish like this. Like whoa. From the roasted tomatoes and garlic to the baby bella shrooms and fresh basil you know that it's going to be banging.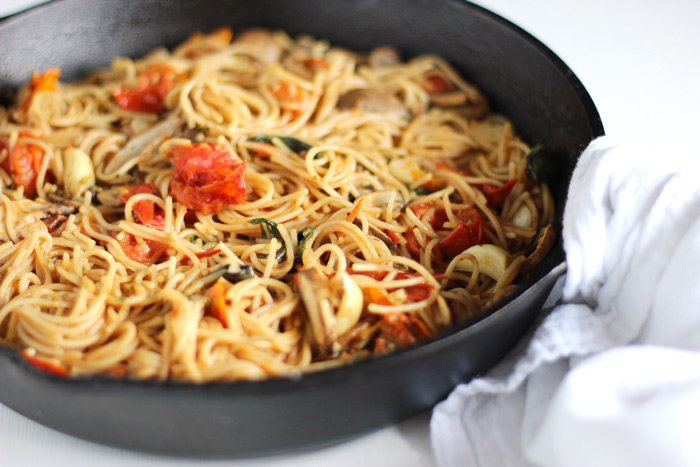 If you follow me on Instagram you saw I posted a preview to this meal. I paired this with a spinach and walnut salad (recipe coming soon), a side of steamed broccoli and it was even more incredible. All this nutritious food on one plate! I need to control my excitement! (I can get carried away, I love good food!) But anyway…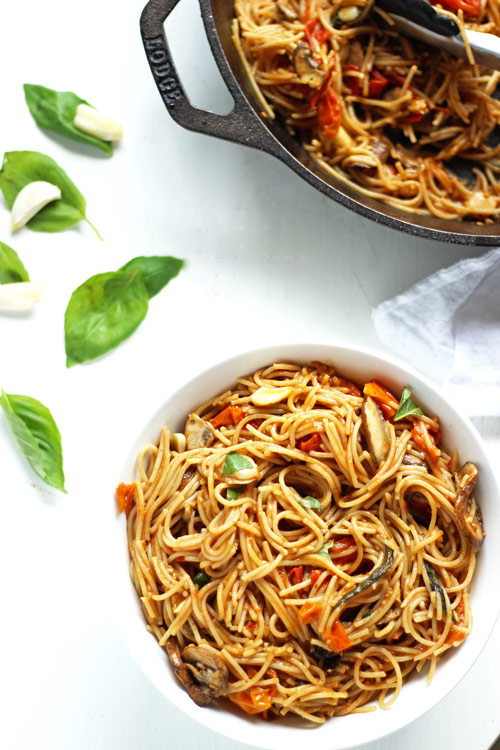 Now that I've totally convinced you not to fear the good ole carb because they aren't all bad for you, we can get on to the recipe of this amazingly healthy Capellini in Roasted Tomato and Garlic Sauce. It's calling your name and  I hate that I held out on you this long. But we're still friends right? Ok good.
Capellini in Roasted Tomato and Garlic Sauce
Author:
Prep time:
Cook time:
Total time:
Serves: 6
A perfect summer dish made with fresh seasonal mini heirloom tomatoes, baby bellas, fresh basil and roasted garlic. The best part is it tastes even better the next day cold… Whatta win!
Ingredients
1 box of whole grain capellini (10ounces)
20 mini heirloom tomatoes (whole)
1 whole garlic plus 3 cloves, divided
2 tbsp extra virgin olive oil
1tbsp garlic powder
3tsp parsley
pink rock salt to taste
generous handful of fresh basil, whole not chopped
1 tbsp balsamic vinegar
1 cup baby portobella mushrooms, sliced
Instructions
Preheat oven to 400F and line baking sheet with parchment paper.
Place tomatoes on baking sheet and drizzle with extra virgin olive oil and sprinkle with salt.
Cut off top of the whole garlic, wrap in foil, leaving it open on top and place on the baking sheet with tomatoes. Roast tomatoes and garlic for 20 to 25 minutes.
While that's roasting prepare pasta according to package instructions.
Slice mushrooms and 3 garlic cloves.
Once tomatoes and garlic are done roasting remove from oven and place in a large skillet adding in all the juice from the tomatoes.
On low flame place garlic, mushrooms, balsamic vinegar and basil in with tomatoes and roasted garlic. Add salt as desired.
Add pasta in a little at a time and coat evenly with tomato and garlic sauce. Let simmer for 8 minutes so the flavors really marinate together well.
Enjoy!
Notes
For this recipe I use half or a little more than half of the cooked pasta. If you have pasta left over drizzle it with extra virgin olive oil, add fresh garlic and salt in a separate bowl and save for later.[br][br]Can be served hot or cold.[br][br]Capellini can be subbed for any pasta of choice[br][br]Cheese is optional.
Let's stay connected! Find me on Instagram, Facebook, Pinterest and Twitter!