Vegan Keto Thin Mints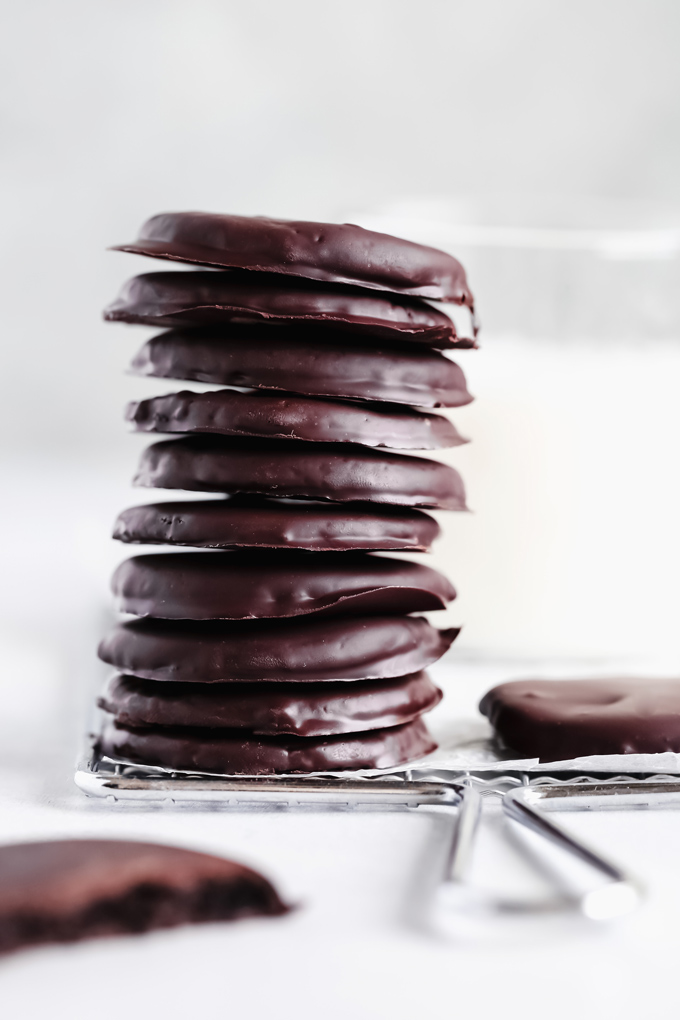 Can't even begin to tell you the deliciousness you are viewing on your screens. Vegan Keto Thin Mints? Are they really a thing and are they really real? OMG Yes! A thousand times YES!
The dark chocolate peppermint coating that has that snap when you bite into it, then the chocolate cookie beneath all that beautiful smooth chocolate should be all sorts of wrong but it clearly is…all sorts of right.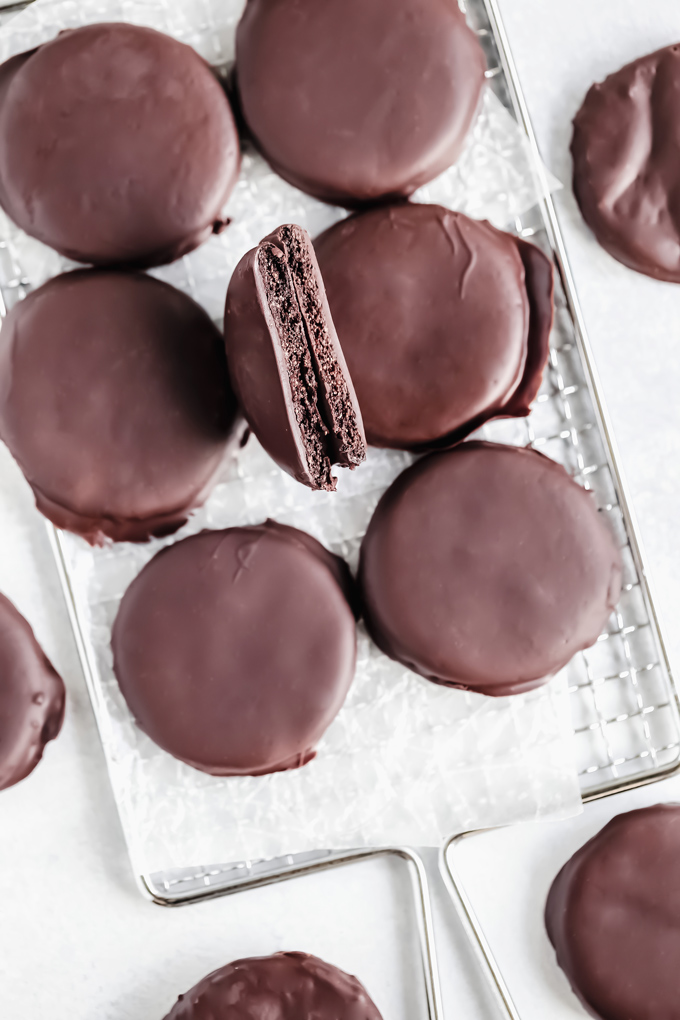 I'm entering my 4th month on Vegan Keto and I am feeling amazing. Now is when other people are noticing my weight loss and my clothes are most definitely so much looser. There are pants I can't even wear anymore because they are just too big! Bummer? Um absolutely not! lol. I am not anywhere near my goal and that's ok, I'm a work in progress (aren't we all) and I haven't felt this good in a long time. And by good I don't mean I was miserable, sad and unhappy with being chubby, no, that wasn't the case at all. I was still happy then but I physically feel better at a certain weight.
Ok, just wanted to get that out of the way there. But in total so far I've lost 22 almost 23 pounds and it's a great feeling. They say nothing tastes as good as skinny feels but I digress. I LOVE to eat and never had any shame in eating. And just because I'm vegan doesn't mean I don't love cookies, cakes, and cupcakes either. All those are available with high amounts of sugar too, yes, even vegan versions. But my point is, I like making things like these Vegan Keto Thin Mints that give me the best of both worlds. I can literally have my cake and eat it too but in this case it's cookies. As long as I use keto friendly ingredients, which are already all bomb delicious, (like hello almond flour), then I'm good to go and so are you.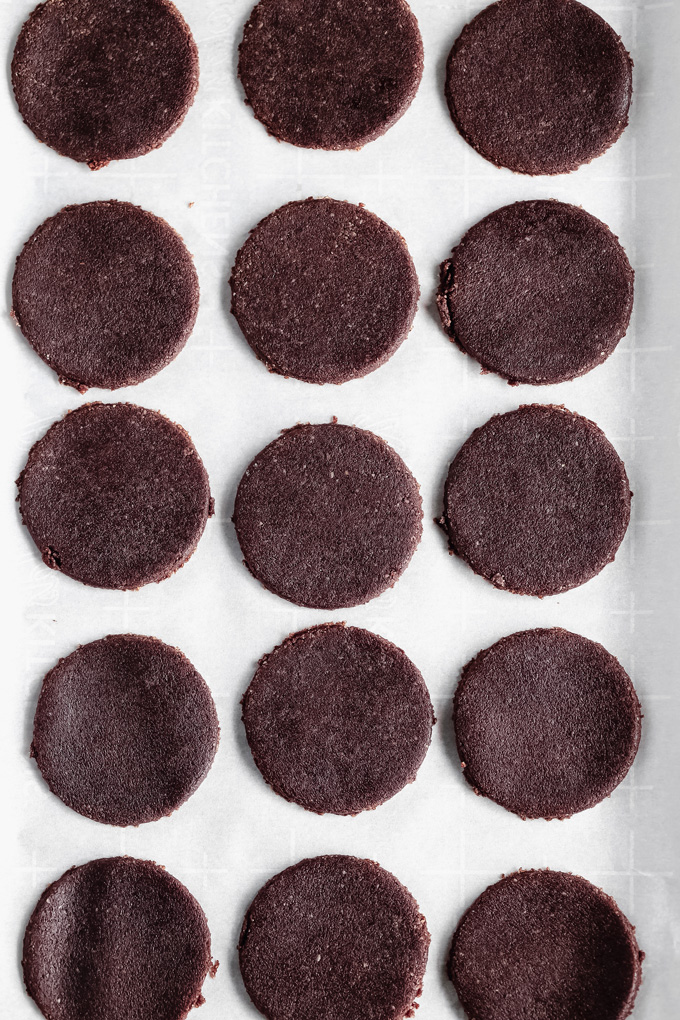 I'm not in anyway trying to sell you the keto diet. I'm just updating you on what's been working for me, what I enjoy and what I make to stay healthy. I hope in sharing these recipes you enjoy them too and know they won't kick you out of ketosis if that's your thang. Even if it's not your thang you can STILL enjoy them because at the end of the day it's still a delicious vegan version of Thin Mint Cookies. Like, who could say no to that?!
Back to the cookies at hand. Underneath all that smooth chocolate coating are these chocolate little crisp wafer gems. You need a legit good cookie and this is it. I adapted this recipe from alldayidreamaboutfood where I subbed regular eggs for flax eggs and dairy butter for vegan butter. Worked out amazing.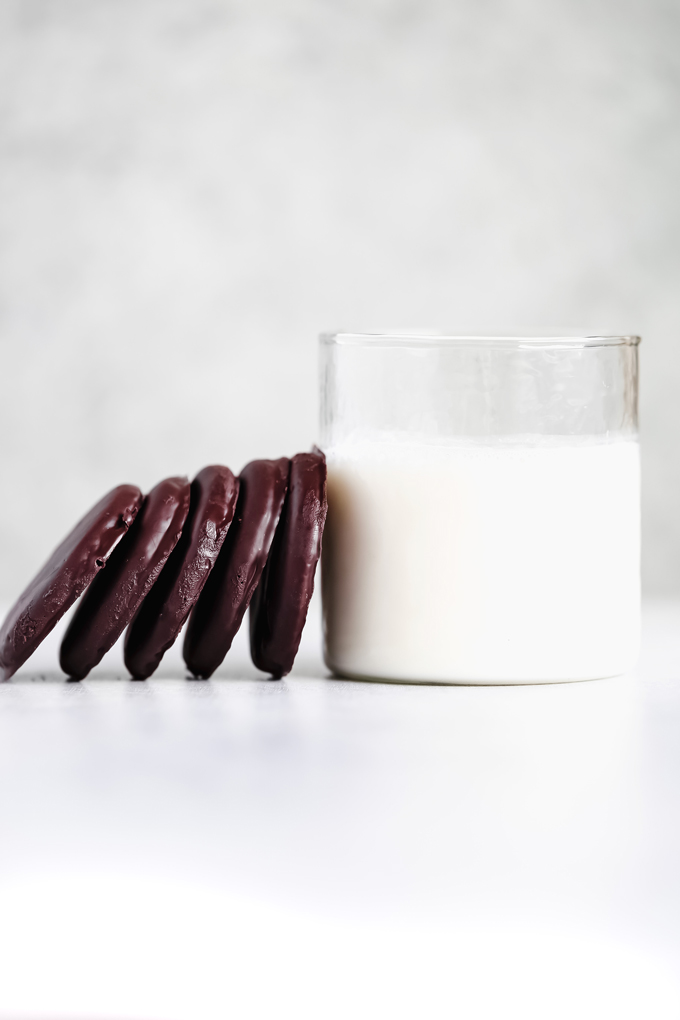 A few things to keep in mind when making these. First, make sure the baking chocolate you're using is keto friendly, vegan, and sweetened. If you use an unsweetened chocolate for the coating the cookies will be bitter with a peppermint kick and no one wants that. Second, in the original recipe she says to use coconut oil with the chocolate so it's a thinner consistency and I agree. I also added 1.5 tbsp of coconut oil with 7 ounces of chocolate because with the chocolate I used it was still a little too thick. Be mindful of this when you're melting the chocolate. If it still seems too thick add a bit more coconut oil.
You can use the microwave or the double boiler method which is what I did (instructions below).
The cookies baked perfectly me for me on 300F for 22 minutes exactly. I let them cool completely before draping them in all of it's chocolate, minty glory. I popped them in the freezer for 10 minutes to set. After that you can keep them in the fridge but I like to keep them in the freezer and let them thaw out a few minutes before enjoying a them with a nice cold glass of unsweetened almond milk.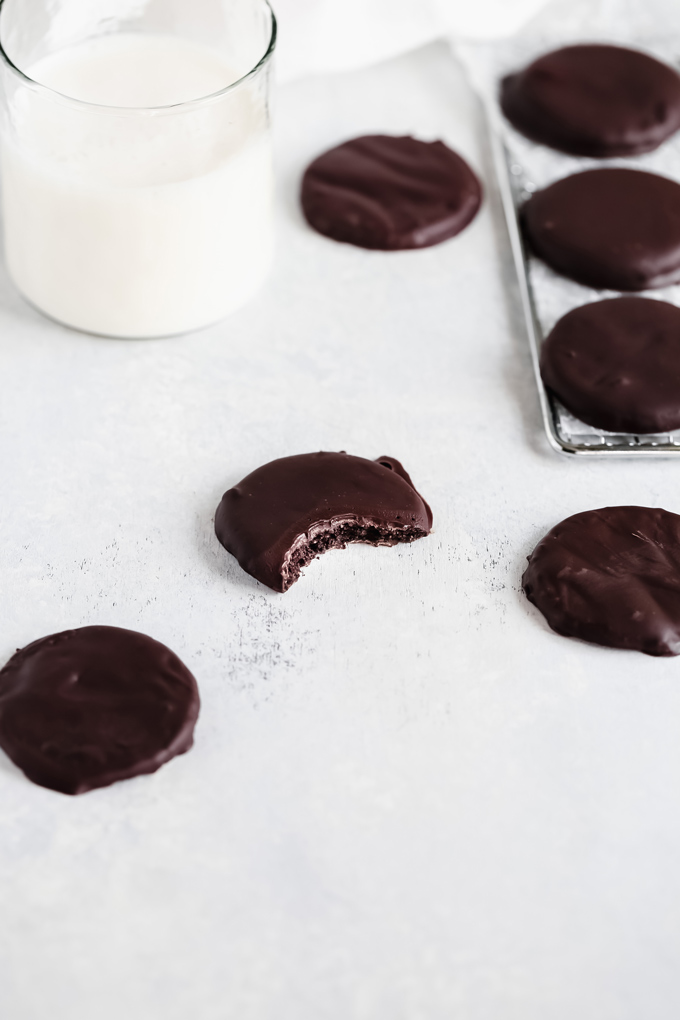 My little Oliver loved these before I coated them in chocolate too so they're totally kid friendly. He's not a picky eater but he's not a junk food eater either. I can put cake in front of him and he won't eat it but I put these in his path and he devours them. I'm not complaining, just thought it was a fun fact to share because my little man is a beast, lol. If you follow me on Instagram, you know this, haha. Ooooh Oliver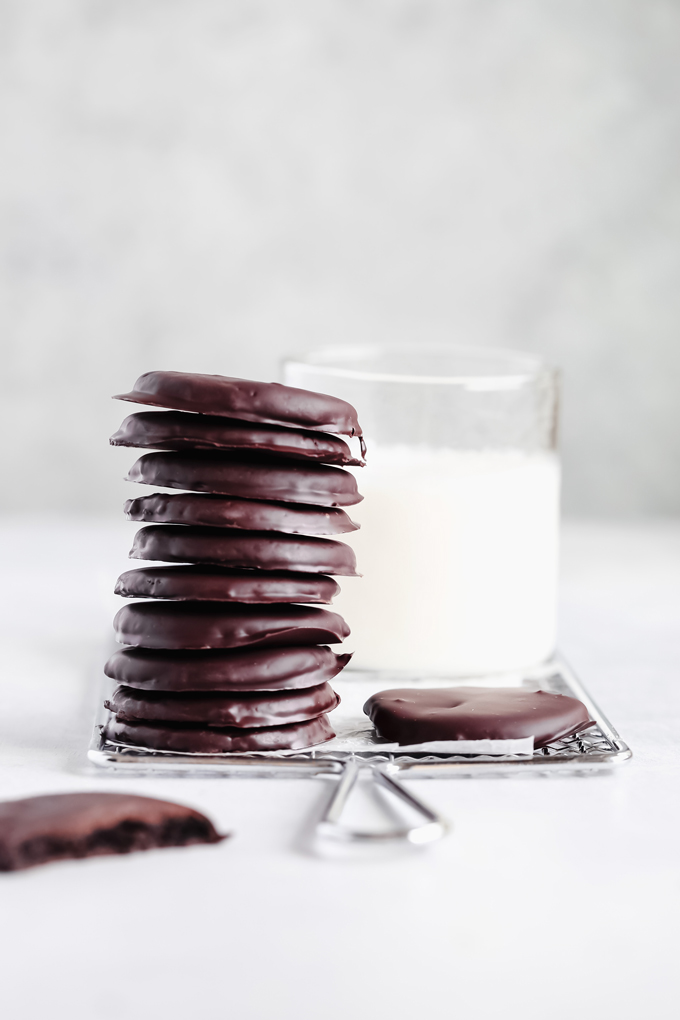 With all that said, whoever you are, whether you're low carb, keto, vegan, paleo, what have you. If you're just looking to get your Thin Mints on without having to worry about this or that, these are your new boo thangs. Enjoy!
Pssss…..by the way, the holidays are soon approaching and everyone loves a good cookie box as a gift. Peep out these cookie recipes below!
Vegan Keto Thin Mints
Draped in a chocolate minty coating you can enjoy the famous girl scout cookies everyone loves made vegan and keto friendly!
Ingredients
Wafer Cookies
1 3/4 (163g) cup almond flour
1/3 (26g) cup cocoa powder
1/3 cup Lakanto Sweetener Gold
1 tsp baking powder
pinch of salt
1 flax egg, (1 tbsp flax to 3 tbsp water)
2 tbsp melted vegan butter
1 tsp vanilla extract
Minty Chocolate Coating
7 (204g) oz dark baking chocolate
1.5 tbsp melted coconut oil
1 tsp peppermint extract
Instructions
Preheat oven to 300F and line baking sheet with parchment paper.

Prepare the flax egg and place in the fridge for 5 minutes. This thickens it up a bit.

In a large bowl whisk all dry ingredients: almond flour, cocoa powder, sweetener, baking powder, and salt.

Add all wet ingredients to the dry ingredients and mix well using a spatula. The dough will come together and won't stick to your hands. Roll the dough into a big ball.

Cut two large pieces of parchment paper. Place the dough in the middle of the parchment paper then put the second piece of parchment paper over the dough. Roll out with a rolling pin until it's about 1/8 or 1/4 inches thick.

Use a 2" cookie cutter to cut out circles of the dough or if you don't have one I used the top of my coconut oil spray to make the cutouts and they came out perfect. Repeat these last two steps until little to no dough is left.

Gently lift the cookies up and place them on the prepared baking sheet and bake for 22 minutes. While they're baking you can prepare the chocolate coating.

You can gently microwave the chocolate and coconut oil until melted then stir in the peppermint extract. Or you can use the double boiler method. To do this place a heat safe bowl on top of hot, simmering water. Let the oil and chocoalte melt down completely until smooth while you stir frequently. Remove from heat and mix in the peppermint extract. Mix well.

Once cookies are done and fully cooled, using two forks, submerge cookies in chocolate making sure the entire wafer is covered, tapping any excess chocolate off. Place back on baking sheet with parchment paper. When all cookies are coated, put into the freezer to set for 10 minutes.

Serve immediately and Enjoy!
Notes
Can sub coconut oil for vegan butter but chocolate will have a thicker consistency. 
For the flax egg instead of adding 3 tbsp of water you can only add 2 for this.
Stores well in an air tight container in the fridge or freezer.
~Pin This Recipe~