Plant Based Flatbread Veggie Pizza
TGI to the F people! Pizza is on the menu today and it's anything but ordinary.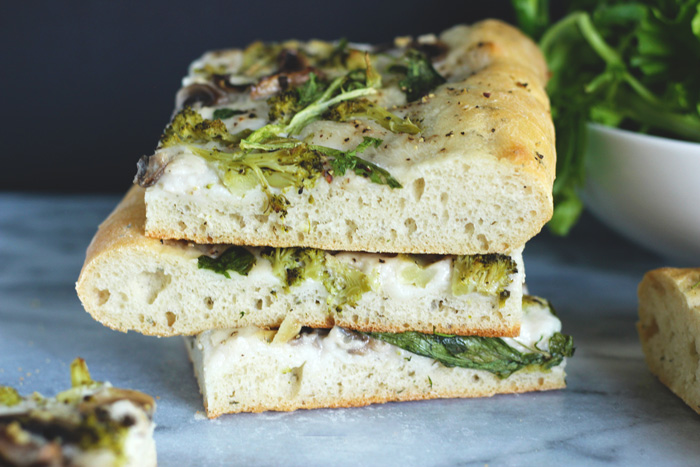 This Plant Based Flatbread Veggie Pizza is, are you ready for it, the bomb dot com. A flatbread pizza to drool for (don't worry, no judgements). It's all about that flatbread life up in here today my friends. I can't get enough. You should bet on making two because the first one will be like kicking back an appetizer. Trust me, you'll want two anyway just to make sure the second one is just as delicious.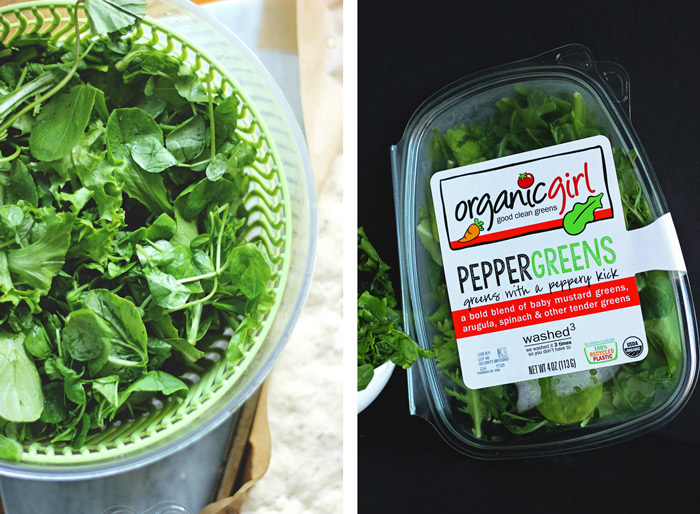 Today's post is sponsored by OrganicGirl! Their greens with this pizza is YUM-Mazing!
I'm all for organic, fresh produce. I love how OrganicGirl really delivers in that aspect. Their salad blends are always fresh, free of pesticides and they grow and select the very best quality produce. Their salads are washed 3 times before being packaged. 3 times! That's great quality control if you ask me. Although I still clean my greens no matter what, it's nice to know this company takes the time to ensure an anticipatory, quality product. I appreciate that as a buyer.
Not only are their greens the freshest of the fresh, their packaging is environmental friendly as well! So you're getting two in one. They use 100% recycled plastic clamshells, made from 100% recycled PET bottles. It's definitely mother nature approved. They're all about sustainability, freshness and health. A product I sure can get down with and I know you will love it too!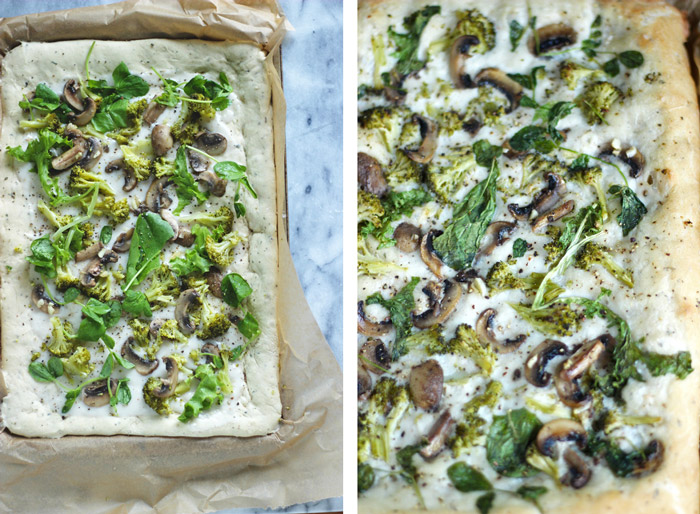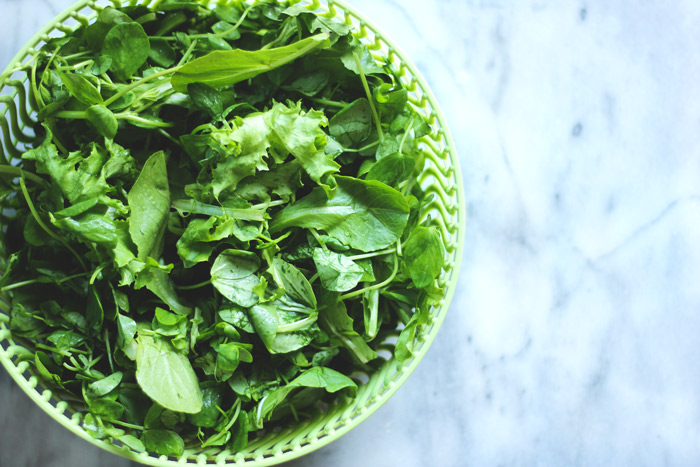 The pizza and dough are all vegan, made with organic ingredients. The dough is so versatile. In this recipe I added italian seasoning but you can omit that and use this dough recipe as a pie crust. I see galettes in the near future!!! And what appears to be "the cheese" is actually just almond milk with seasonings and bit of flour for thickness. You can add vegan mozzarella shreds if you'd like to the recipe (see below) or you can opt not to. The choice is yours. I've made this pizza with both and both are just as ridiculously tasty.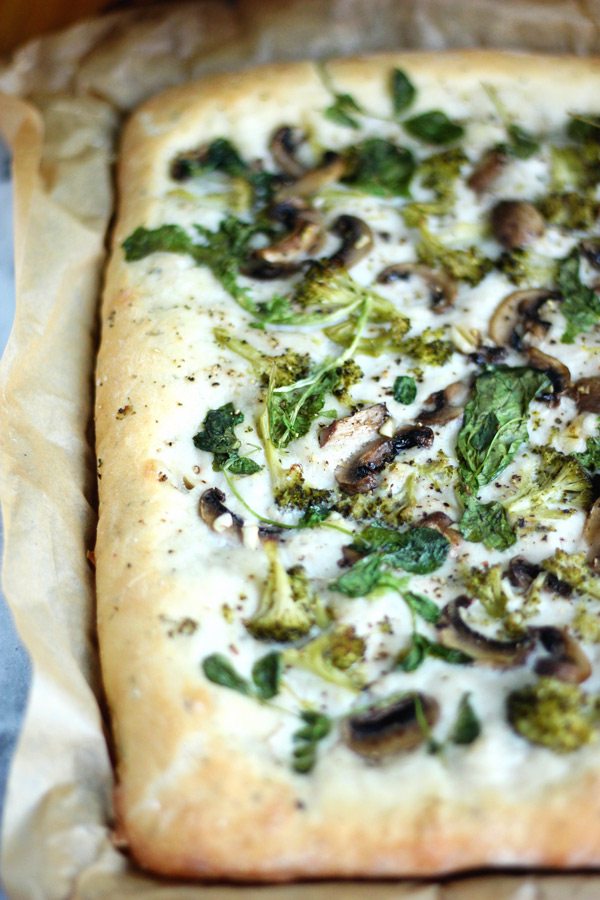 For my leftover greens and other veggies like the broccoli and mushrooms, I just threw together a little side salad with that and sprinkled some fresh lemon juice on top. The more greens on your plate the better. Pizza is usually eaten by itself but when you have a Sweet Pea and Pepper Blend of super foods how can you resist. Plus salads are uber healthy for ya and I don't need to get into why eating your veggies is important. I think I cover that in a lot of my posts. Riiight!?!?!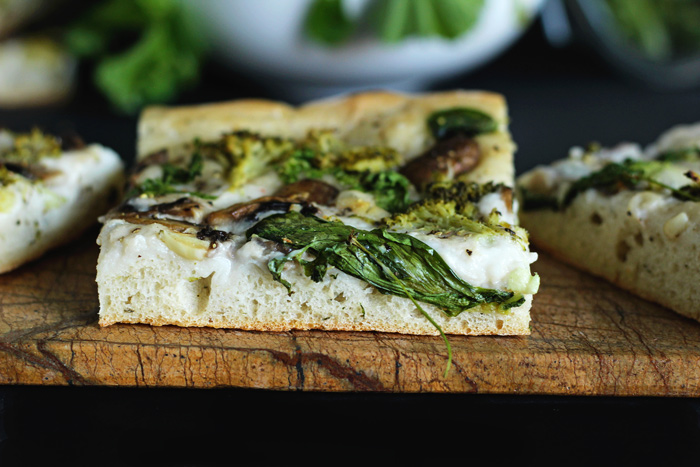 Plant Based Flatbread Veggie Pizza- made with organic ingredients, a homemade dough, a faux cheese and a whole lotta fixins'. The ultimate pizza for plant lovers.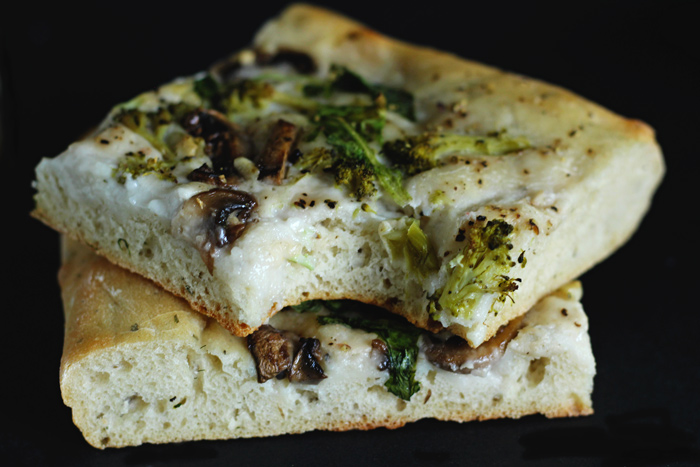 Stay connected with NeuroticMommy:
Instagram | Facebook | Pinterest | Twitter
Don't forget to hashtag #neuroticmommy and #chocolatecorner on Instagram for features!
Plant Based Flatbread Veggie Pizza
Recipe Type: Pizza
Cuisine: Vegan/Vegetarian
Author:
Prep time:
Cook time:
Total time:
Serves: 6-8
Made with organic ingredients, a homemade dough, a faux cheese and a whole lotta fixins'. The ultimate pizza for plant lovers.
Ingredients
[b]The Flatbread[/b]
2 tsp active dry yeast
2 tsp italian seasoning
pinch of salt
1 1/2 cup warm water
3 1/4 cup bread flour or whole white flour
[b]Toppings[/b]
1 1/2 cup white button mushrooms, sliced
1 cup OrganicGirl mixed green blend
2 tbsp coconut butter, divided
1 cup steamed broccoli
1 cup almond milk
1 tbsp brown rice flour or regular flour
3 garlic cloves, sliced thin
salt/pepper to taste
1/2 cup shredded vegan mozzarella cheese (optional)
Instructions
For the dough mix all ingredients well then knead by hand or use a dough hook if using a stand mixer or processor.
Place dough in lightly greased bowl, cover and let sit to rise at room temperature for an hour.
When that's done, lightly flour a flat surface and roll out the dough into a rectangular shape.
Place parchment paper down on a standard baking sheet and transfer the dough on there molding it to the pan.
For the toppings start by sautéing the mushrooms with 1 tbsp coconut butter and garlic cloves. Approx 5-8 minutes or until mushrooms are browned but not too browned.
Steam the broccoli.
In a saucepan on medium heat, add milk, flour, salt/pepper and remaining 1 tbsp butter. Stir consistently for about 3 minutes. It will start to thicken. Once thick remove from heat and add cheese if desired. Mix in well with warm almond milk so it melts down some.
Pour the mixture over prepared flatbread. Top with steamed broccoli, organicgirl greens and sautéed mushrooms. You can add more cheese at this point if you'd like.
Bake on 400F for 20-25 minutes.
Enjoy!
Paid endorsement from OrganicGirl – Visit OrganicGirl to learn more on their salad blends!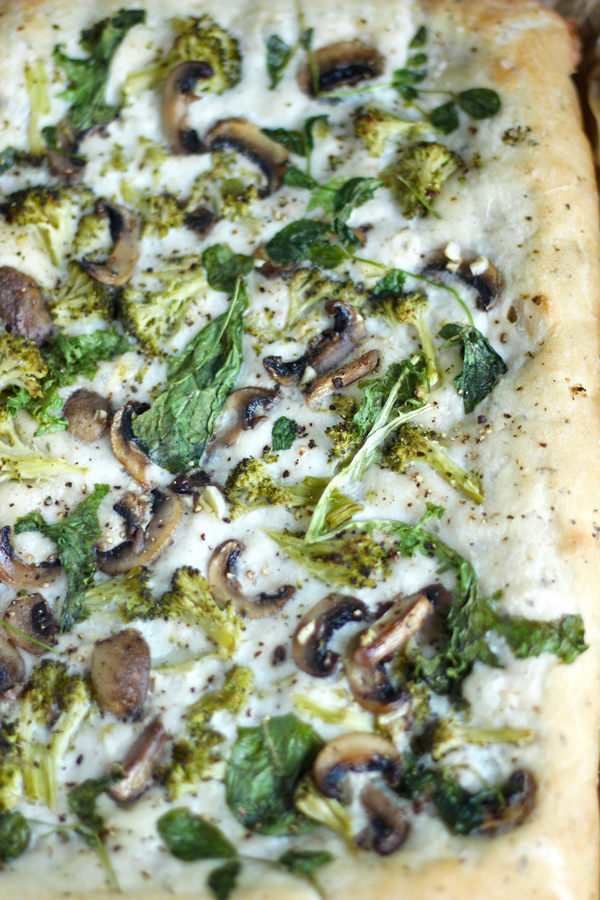 XoXo JenniferRose