Vegan Keto Butter Rum Pecan Blondies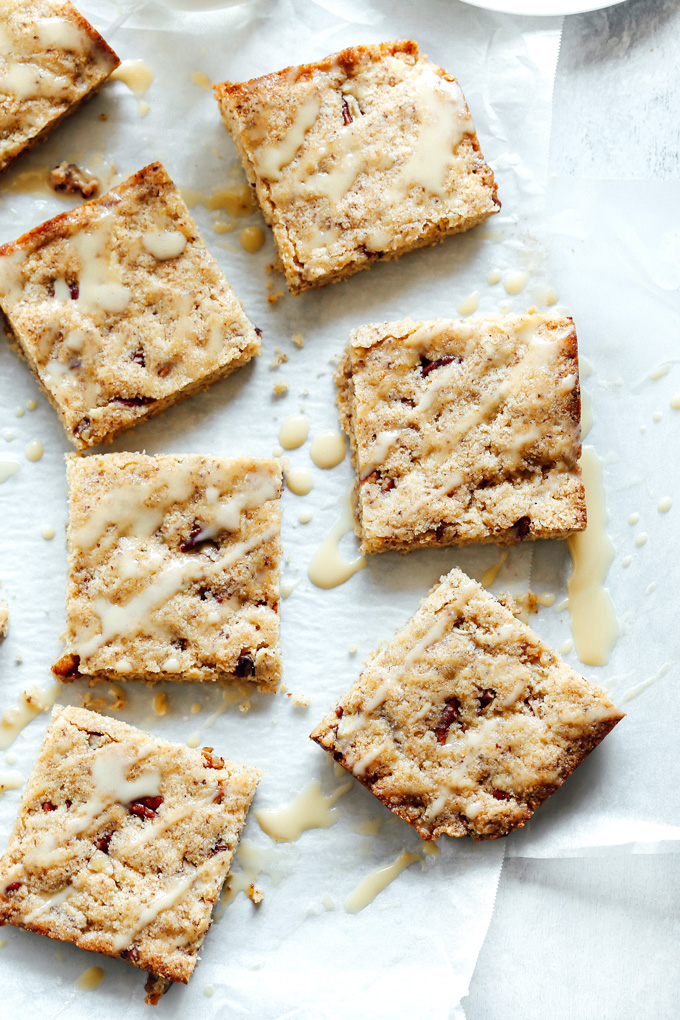 Vegan Keto Butter Rum Pecan Blondies with the most delicious vegan keto caramel sauce you could ever imagine. It's so similar to this one. And the whole thing is absolutely perfect for when you want a sweet treat but not sacrifice all your hard work while enjoying so. So here we are.
Since June 24th I have now lost 15 pounds. I haven't even hit my two month mark yet and I'm so happy. I'm feeling good and everyday I know that my body is a lean mean fat burning machine and I'm loving it. I have a ton of vegan keto stuff coming your way in terms of all things keto but for now whether your keto or not, you can enjoy this deliciousness in all it's buttery glory.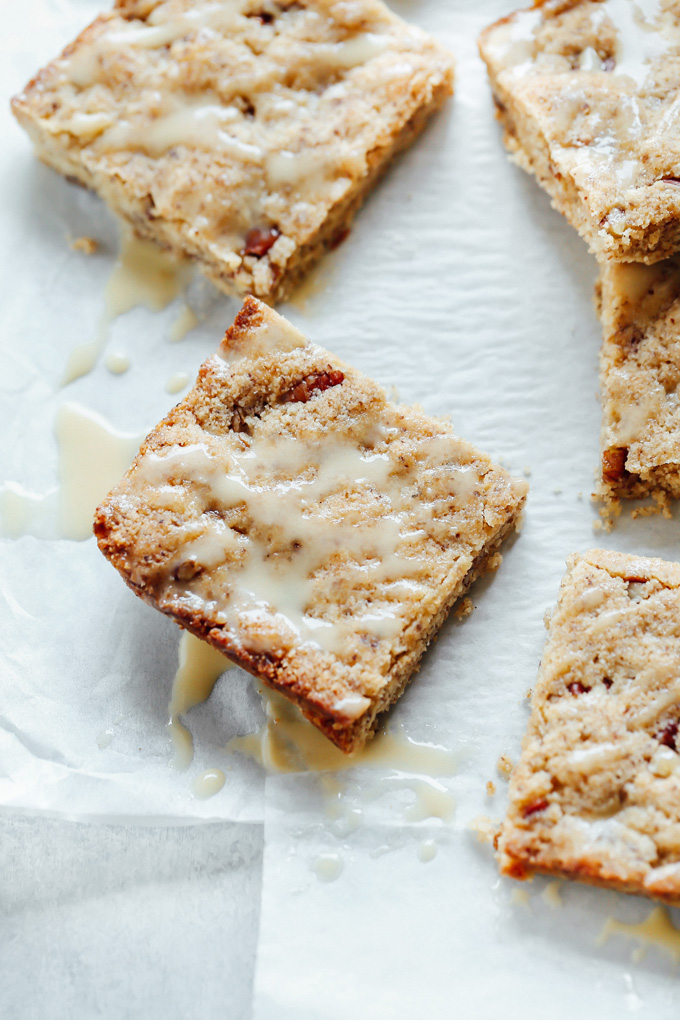 These blondies are sexy aren't they?! They're chewy, super buttery with hints of pecan and rum to bring your tastebuds all the yummy feels. Maybe even safe to say the best blondies I ever had and perhaps for you now too. I know that's quite a statement but trust me when I tell you, tis true.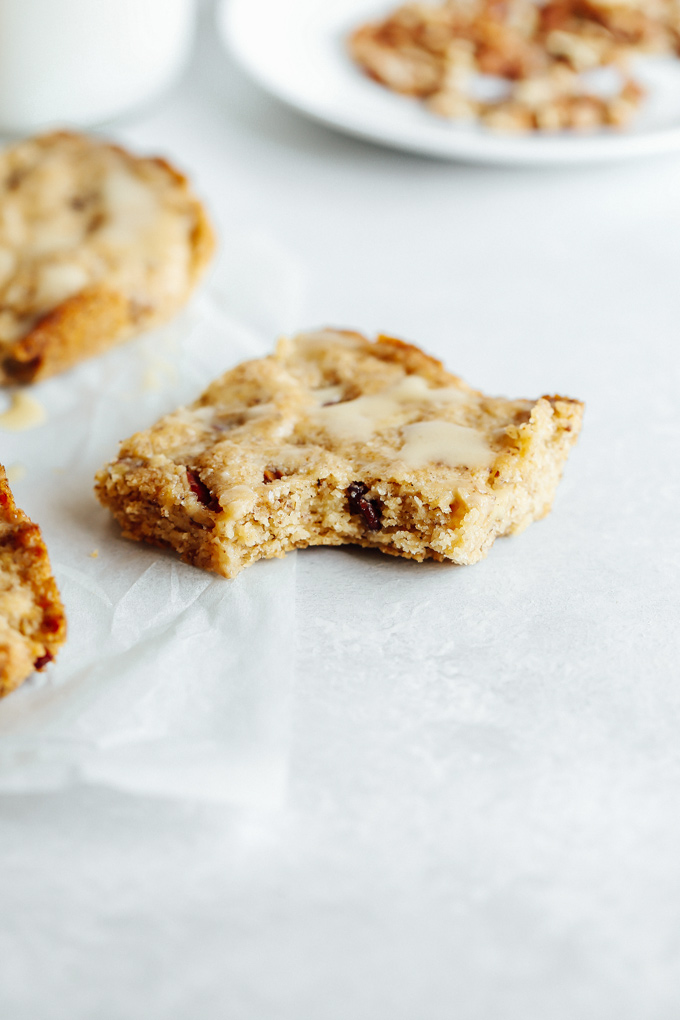 No fuss no muss with this recipe either. I am a lover of all things easy to make because well, you know, two kids and all so one bowl it is for this. Maybe the only hard work would be melting the vegan butter and the wait time for allowing these to bake – The whole whopping 20 minutes. But while you're waiting you can make the best caramel sauce of your life.
Use code neuroticmommy when shopping Lakanto.com for 20% off your order.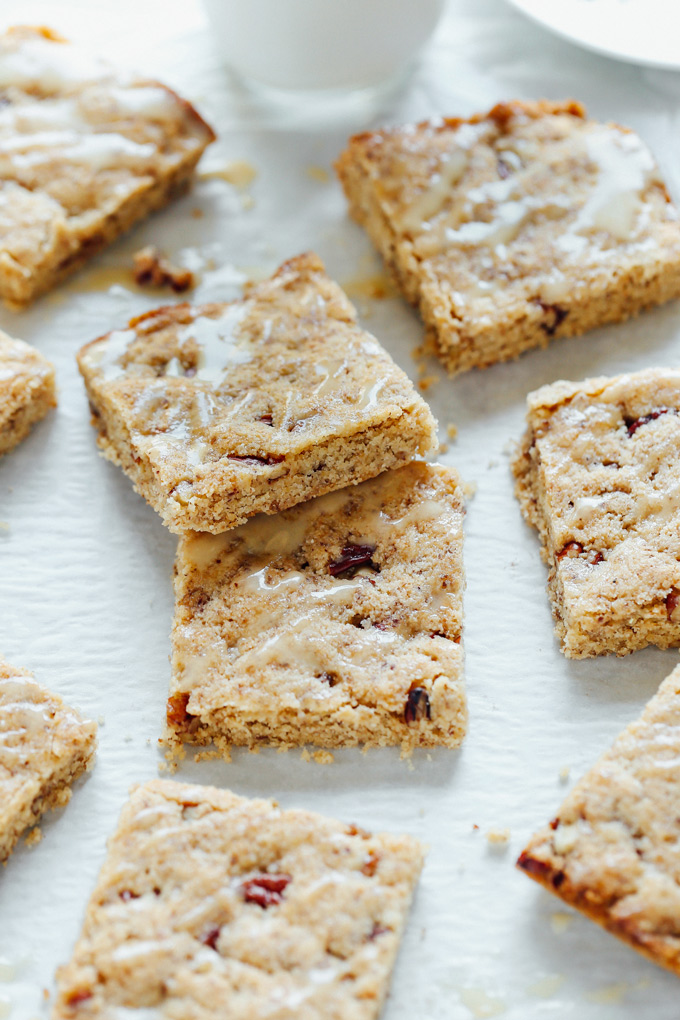 Speaking of caramel – OH MY GOSH lets talk about the vegan keto SUGAR FREE Caramel Drizzle!!!!!! Word up the best I ever had and I need to put all utensils down and walk away. I will create a whole post about this caramel and take delicious drippy pictures of it. For now though you can see how fantastic is it sitting patiently on top of these blondies waiting to be devoured. All the feels guys, all the feels.
The kicker – Made with just 4 freakin' ingredients to blow your mind. Coconut milk (or Coconut Cream will work too), a keto friendly sweetener of choice I use Lakanto's Golden and love it in all the things. It's also a 1 to 1 ratio to sugar so it's perfect. Vegan butter of choice, I love using Miyokos, tastes and acts just like real butter to me. And lastly some vanilla extract to give it it's umph.
This might sound disgusting but I can literally drink this straight if all the cards aligned perfectly and things like that to my body were acceptable. haha. I kid I kid. (questions oneself*)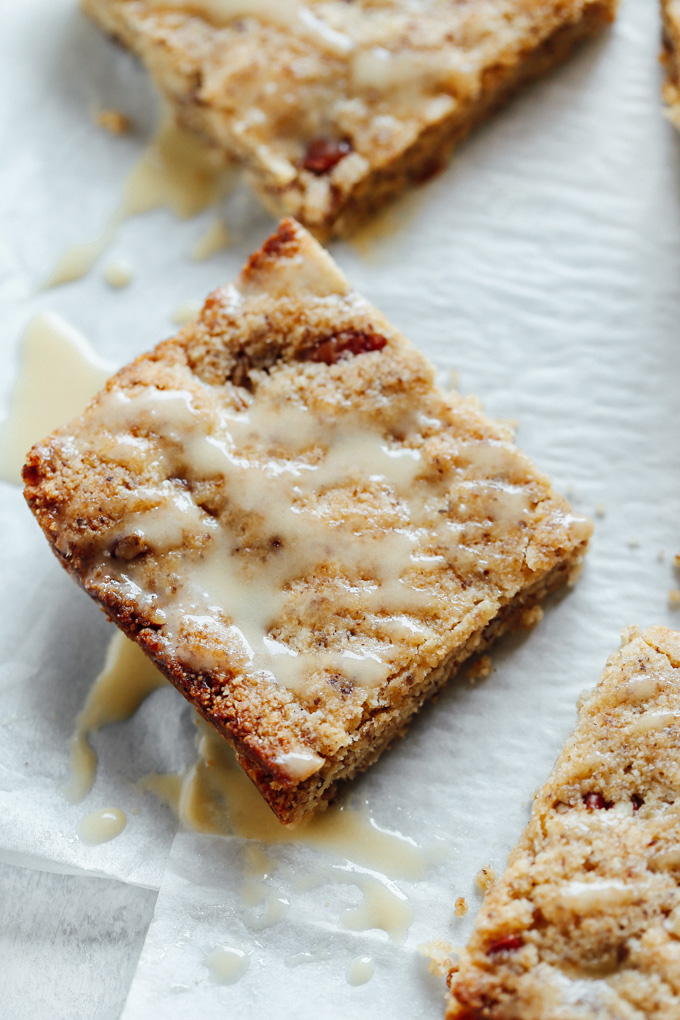 As I mentioned in my last post, everyone uses different brands of ingredients which is why I don't put the nutrition info on here. I use Cronometer to calculate my ingredients and get my net carbs. I also use MyfitnessPal but they don't count net carbs like Cronometer does. If you'd like me to start adding nutrition info drop me a line below and let me know. If enough of you request it I will adhere and add it.
Can't wait for you to go get all butter pecan snacked up right now. Most delicious, most best thing ever. Don't say I didn't warn ya!
Here's another vegan caramel sauce that's a favorite of mine and could easily be make keto by subbing the coconut sugar for a keto friendly one. Get the recipe here.
Ps. I use an alcohol free rum extract like this one here.
Vegan Keto Butter Rum Pecan Blondies
Vegan Keto Butter Rum Pecan Blondies for the win! These melt in your mouth blondies will not knock you out of ketosis and are the perfect sweet treat.
Ingredients
1 flax egg, (1 tbsp flaxseeds or meal to 3 tbsp of water)
1/2 cup vegan butter, melted
1/2 cup Lakanto Golden, (or preferred sweetener of choice. If not keto use organci brown sugar)
1 tsp vanilla extract
1 tsp rum extract
pinch of salt
1/2 tsp baking powder
1 tbsp coconut flour
1 - 3/4 cup almond flour
1 tbsp psyllium husk powder, (I snag mine from Trader Joe's)
1/3 cup chopped pecans
Vegan Keto Caramel Drizzle
2/3 cup full fat coconut mik from a can or full fat coconut cream
1/3 cup vegan butter
3 tbsp Lakanto Golden, (or sweetener of choice)
1/2 tsp vanilla extract
1/2 tsp run extract
Instructions
Preheat oven to 400F and line an 8x8" baking dish with parchment paper.

Melt the butter and add all ingredients except the pecans into a large bowl and mix until well combined.

Fold in the pecans.

Spread evenly in baking dish and bake for 15 or 20 minutes. I like to take mine out at 15 and let them sit on top of the stove for the extra 5 minutes. Keeps them extra gooey and chewy.

While the blondies are baking make the caramel drizzle.

In a medium pot over low heat melt the butter, coconut milk or cream and sweetener for about 5 minutes, stirring occasionally.

Bring to a light boil then lower down to a simmer and let simmer for 8-10 minutes. It will start to thicken up but not be super duper thick.

When finished remove from heat and add in the vanilla and rum extract. You can skip the rum extract and just use vanilla if you'd like but I used both because it suits this recipe.

When blondies are done cut into 9 squares (you can even do 16 smalls squares) and drizzle with the most delicious buttery, creamy vegan keto caramel ever. Serve and Enjoy!

Keep blondie leftovers stored in an airtight containter on the counter or in the fridge. Keep leftover caramel in the fridge in a small mason jar.
Notes
I use Lakanto Golden as my sugar substitute but if you're not doing keto you can use regular organic brown sugar or coconut sugar. 
Use code neuroticmommy for 20% off your order when shopping Lakanto.com.
~Pin This Recipe~