The Best Veggie "Big Mac" Burger with Radicchio Slaw (Vegan)
jump to recipe
The Best Veggie "Big Mac" Burger with Radicchio Slaw (Vegan). The title says it all my friends…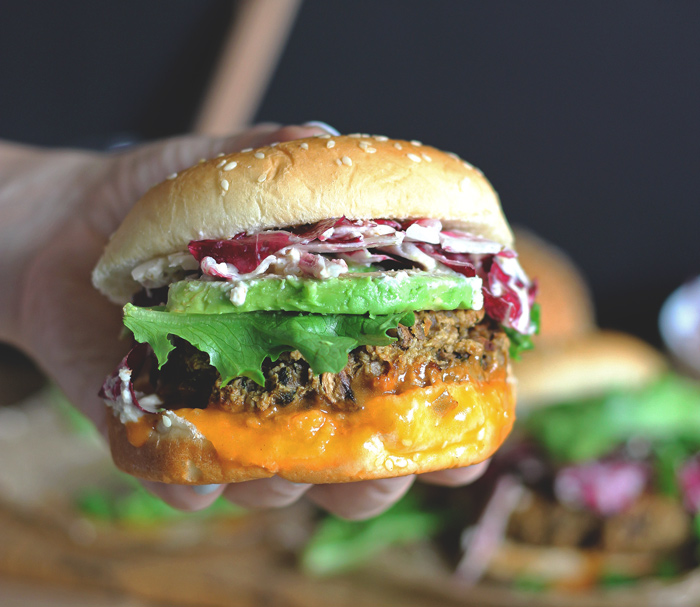 When you come across a veggie burger, usually it's the same ol boring black bean burger that every one makes. Even when I go out, it's the same blah blah, microwaved crap that has gotten me to stop ordering veggie burgers when I go out now. Unless, the place is reputable and they make their veg burgers from scratch, I'm totally game. Otherwise, I'll pass on the radiation.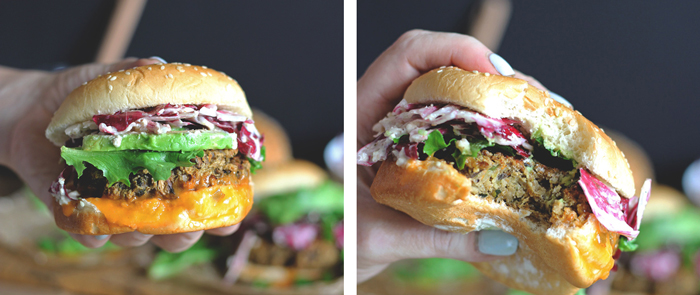 So far I've made 2 outstanding veggie burgers that you can find over on Instagram. They have become staples in my home. You can make em', freeze em' and viola, you've got yourself some pretty damn good go-to burgers. But just until a few days ago when I came across a veggie burger recipe that caught my eye, I knew I needed to make it ASAP. By the looks of it, I think it's safe to say I was not disappointed and you won't be either. This will be burger 3 that makes it into the the weeks veg burger rotation.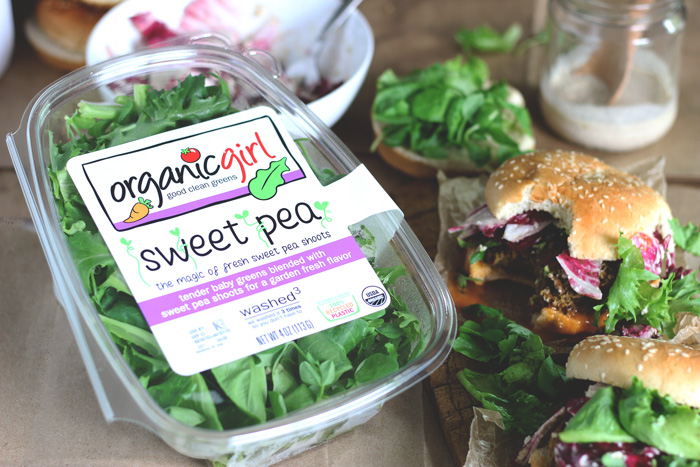 Today's blog post is sponsored by OrganicGirl! I'm using their new, Sweet Pea Shoots which is a blend of tender baby greens and sweet pea shoots for a garden fresh flavor! How yum and green! It's the perfect match for this powerhouse veggie burger. The entire thing is literally made with all veggies
. The greener the better. Thanks OrganicGirl!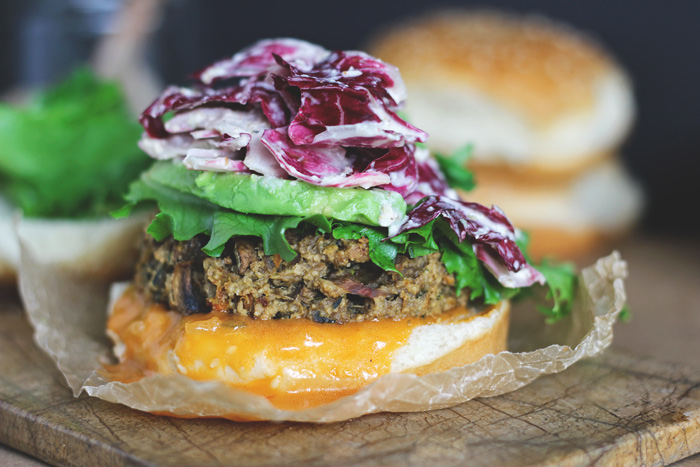 This recipe was originated from Jesse over at FaringWell (love her blog). Her My Go-To Veggie Burger w/ a Sweet Tangy Mustard Sauce + Radicchio Slaw had me at hello. Too cliche? But that's really what happened. I made some tweaks to my liking and it ended up tasting like the best, healthiest Big Mac ever. Minus the meat (obvi) and other things inside those sandwiches I can't stand to think of. And yes I've had some Big Mac's in my day, but I was young and didn't know any better so keep the stones in your pockets people!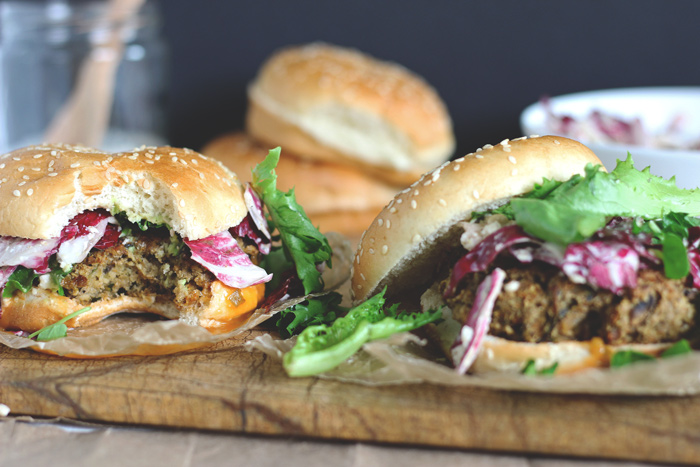 Can we please talk about this radicchio slaw for a minute. Made with cashews, almond milk and some fresh herbs. That's it…Brilliance! The original recipe said to keep it in the fridge for an hour before serving but I whipped this up in minutes and could did not wait an hour. Plus I really didn't think I needed to as it already tasted super delish. So I ate it as a side salad with my burger. The tricks of the healthy trade right!?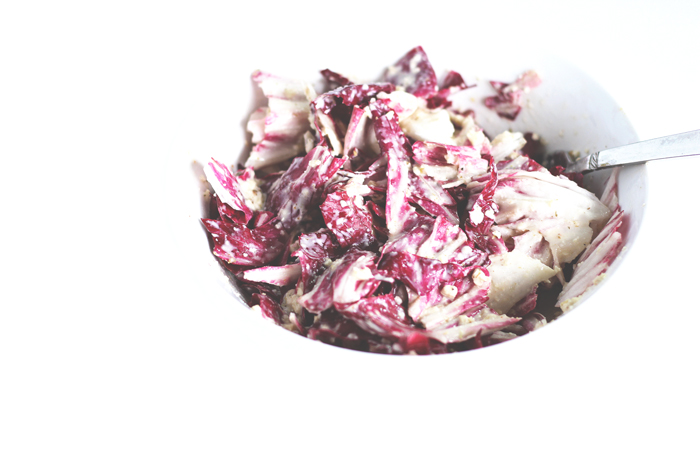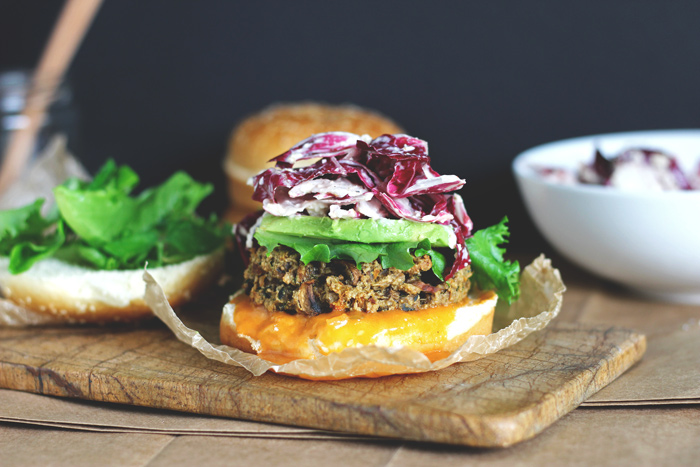 The veggies used in the base of the recipe more than likely you already have on hand. Carrots, Zucchini, Sweet Onion, Mushrooms and Garlic. Does it get any simpler than that, I mean really. With a little arm work (not much I promise) you'll be all set to bite into the deliciousness I like to call the Healthified Big Mac. Eat your GMO heart out Mikey D's because I just brought it and I brought it hard. Boom.
Oat flour and sunflower seeds are what binds these bad boys together. I always tend to use sweet potato and quinoa as my base but this was a fantastic twist and it's gluten freakin' free!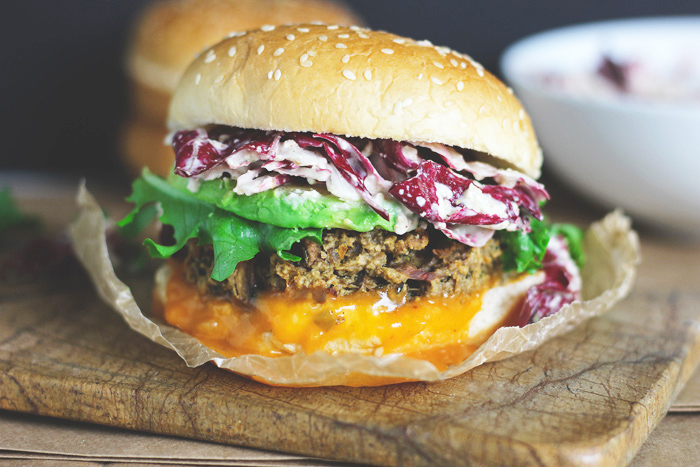 These burgers are juicy, flavorful and with each bite you'll want to have more (that's kinda what we did over here in mi casa). They didn't stand a chance here and they won't stand a chance by you either. This burger will have even the most veggie skeptic in love. Now you can have your burger and eat it too. This is where the real fast food goes down.
I just want to thank OrganicGirl again for their truly wonderful healthy greens!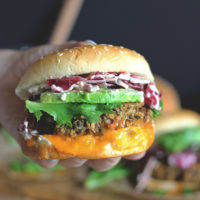 The Best Veggie "Big Mac" Burger with Radicchio Slaw (Vegan)
This is no ordinary veggie burger. It's packed with a powerhouse of nutrients, it's juicy, paired with delicious, fresh OrganicGirl greens and a Radicchio Slaw that is something to write home about.
Ingredients:
Veggie "Big Mac" Burgers
1 cup sweet onion, chopped
1 cup carrot, grated (large 2)
1 1/2 cups zucchini, grated (1 1/2 medium sized zucchini)
4 garlic cloves, sliced thin or minced
3 cups white button mushrooms, chopped
1/4 cup Bragg's Liquid Aminos
1 cup oat flour
1 cup sunflower seeds
salt/pepper to taste
1 cup OrganicGirl Sweet Pea Shoots (evenly distributed between burgers)
1 tbsp coconut oil
1 tbsp thousand island dressing (per each burger)
1/2 avocado sliced (per burger)
sesame seed burger buns
Radicchio Slaw
3-4 cups radicchio, shredded
1/2 cup cashews, soaked (you can boil water and soak them for 15 minutes if you do not have cashews previously soaked)
1 tbsp apple cider vinegar
1/2 cup unsweetened almond milk
1 tbsp lemon juice
1 tbsp oregano
1/2 tsp paprika
salt/pepper to taste
Directions:
In a large skillet on medium heat, heat up coconut oil.
Add onions and garlic and cook until onions are translucent about 5 minutes.
Throw in grated carrots and zucchini and cook for 7 minutes. You can season with salt and pepper.
After about 7 minutes add in mushrooms and cook everything for another 5-7 minutes, until mushrooms are evenly browned, stirring occasionally. Once fully cooked remove from heat to cool briefly while you prepare the dry ingredients.
Using a blender or processor, grind up rolled oats and sunflowers seeds until fine like flour.
In a large bowl sift together all dry ingredients. Oat flour, ground sunflower seeds, salt and pepper.
Using tongs, transfer cooked veggies into the dry mixture leaving out the excess water.
Toss veggies in flour until well combined, and add the 1/4 cup Bragg's Liquid Aminos. Mix well.
Place veggie mix into the freezer for 5 minutes so it's not so sticky when you're forming them into patties. After the 5 minutes, take a handful of the veggie mixture, roll into a ball then flatten with the palms of your hand. You can make bigger patties which will make 4 if you go bigger or you can make smaller patties which result in 6. I made the bigger patties.
Preheat oven to 350F and line baking sheet with parchment paper. Place prepared patties on the baking sheet and bake for 40 minutes flipping them over at the 20 minute mark.
While they're in the oven baking you can prepare the radicchio slaw.
For the slaw place all ingredients, except for the radicchio into a high speed blender and run until smooth and creamy. Taste as you go to adjust seasoning as needed or desired. (Be sure to drain and rinse your soaking cashews before hand).
Add mixture in with radicchio and toss until evenly distributed.
The Assemble
Spoon on 1 tbsp of thousand island dressing to the bottom bun, followed by a veggie burger, organic girl greens, avocado slices and radicchio slaw. Finish it off with the top part of the bun and go have yourself a grand old veggie burger time.
Enjoy!
If you do not want to cook the patties right away you can store them in an air tight container in the freezer. They last in the freezer for up to a month so be sure to date them. When ready to cook let thaw in the fridge for a couple of hours or even overnight.
This was a Paid endorsement from OrganicGirl – Thank you OrganicGirl! Visit iLoveOrganicGirl.com to learn more on their salad blends!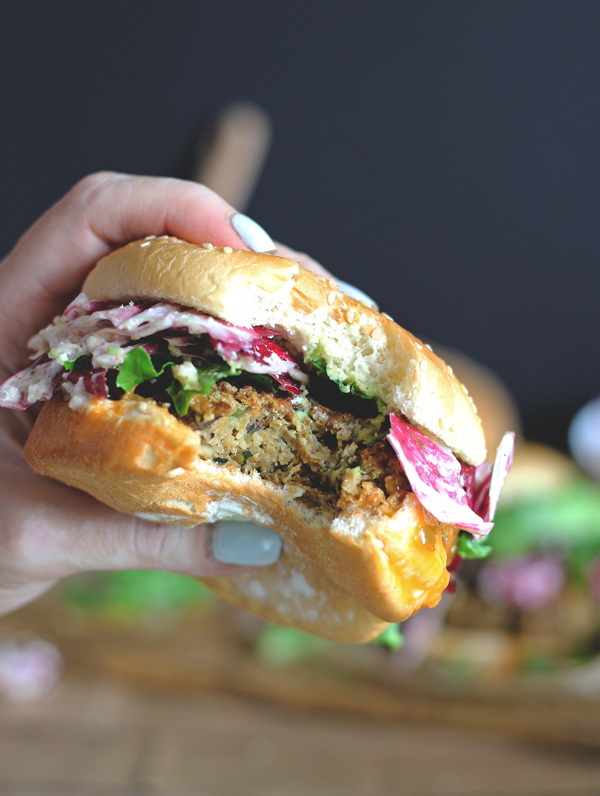 Ps. I only promote products in which I use and think my readers can benefit from. I give my honest opinion on products and will not use anything in my recipes just for paid endorsements. I keeps it organic and non gmo up in this piece. I will never promote a brand that I do not fully support.
For more recipes like this one, check out the related posts below!