Unicorn Birthday Cake Celebrations
jump to recipe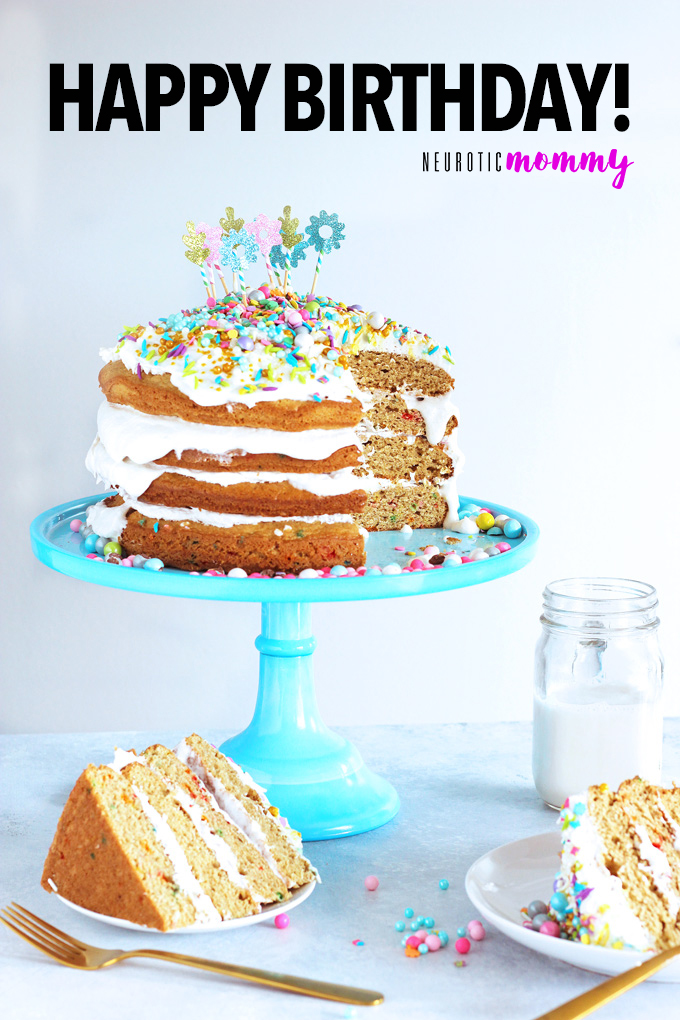 Ok so today I'm officially in my late 30's. I realized I'm not as excited as I use to be for my birthday to come around because I know I'm just getting older. The older I get the faster time seems to go by. But I don't want to go down that rabbit hole today. I rather bring in 36 full of color, sparkle, and so much freakin' fun!
Welcome to my Unicorn Birthday Cake Celebrations!
I didn't really know what to do this year. I was like bleh on going out to eat, I don't particularly like anything fancy so I was like let's stay in, get cozy, eat cake and watch movies. We're in the beginnings of spring but it seems like winter doesn't want to let go. I feel you winter that's how I'm hanging on to 35.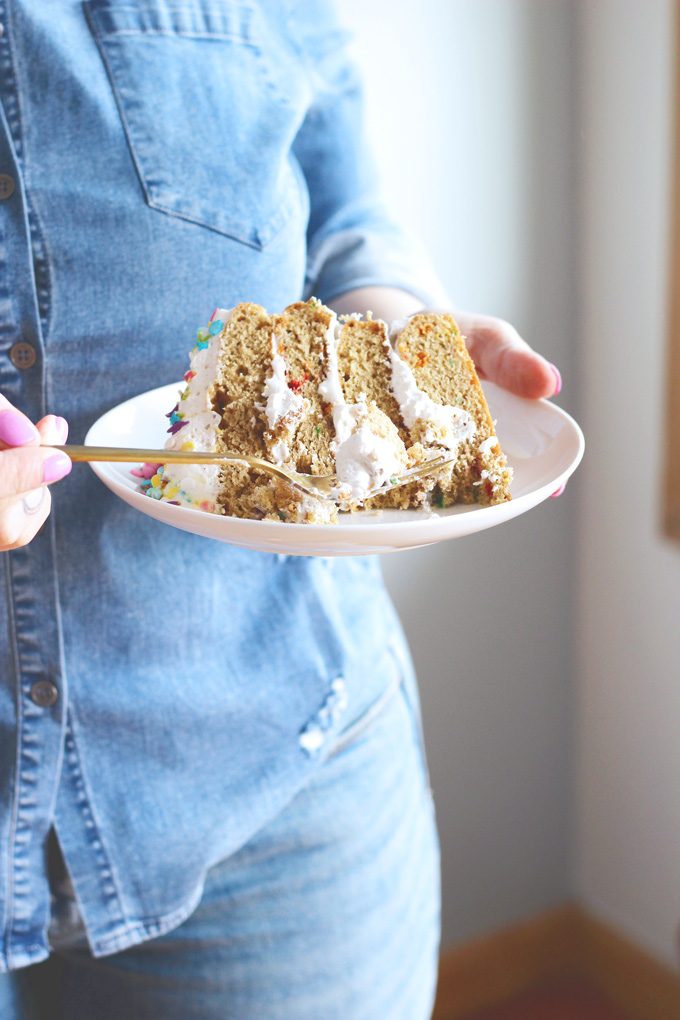 I thought fuck it let's do this birthday magic style with unicorns, sprinkles, cakes, glitter, and all that jazz. I love bright and pastel colors. I love things that excite me and make me feel alive, happy, joyous, and loved. Colors represent a lot to me. You'll always notice I sway towards the blues, pinks, whites, and purples (ahem have you seen my website?!). They remind me of my chakras.
But wait, I want to address the big elephant in the room before we move on. I do know Easter is a month away so this cake could go unicorn or easter bunny, I totally get it. For today instead of thinking Easter Bunny, lets think magical unicorn, kk? K, thanks.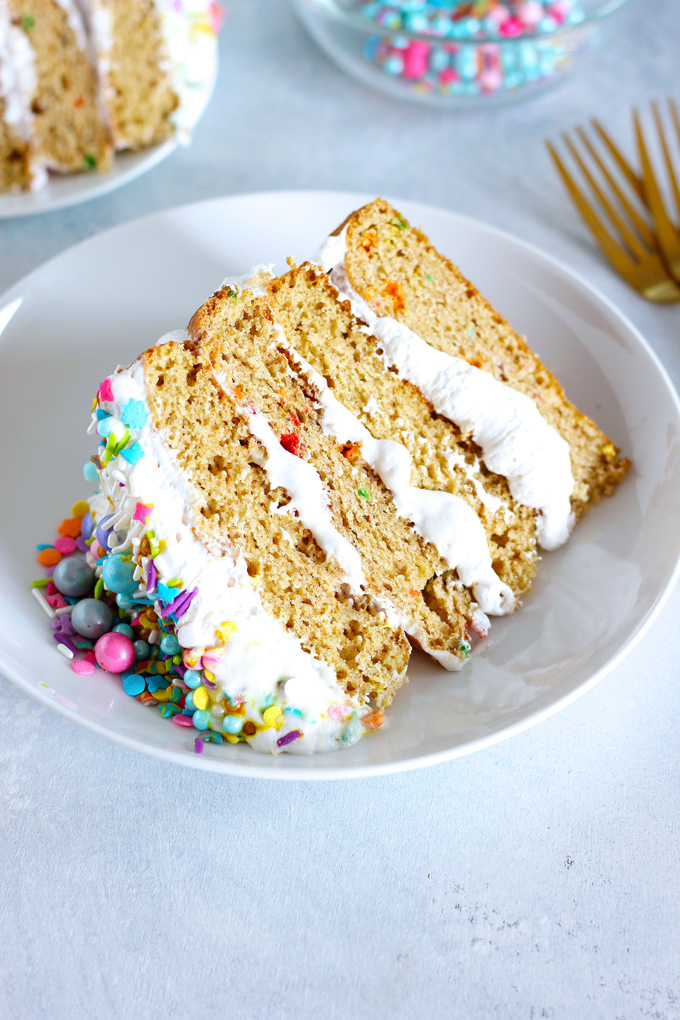 I love making my birthday cake. This year I did however cheat and go with a box mix and made it vegan. I even added some colorful sprinkles to the batter to give it that funfetti look. I just wanted easy, no fuss no muss kinda thing. Although I have to say the coconut whipped cream got a little out of hand and I obviously overdid it. I like that the cake absorbs some of the liquid from the whipped cream anyway and it makes the cake even more moist. Plus you can always dip some fruit in it, or pour fruit on top of a cake like this. I don't mind it really.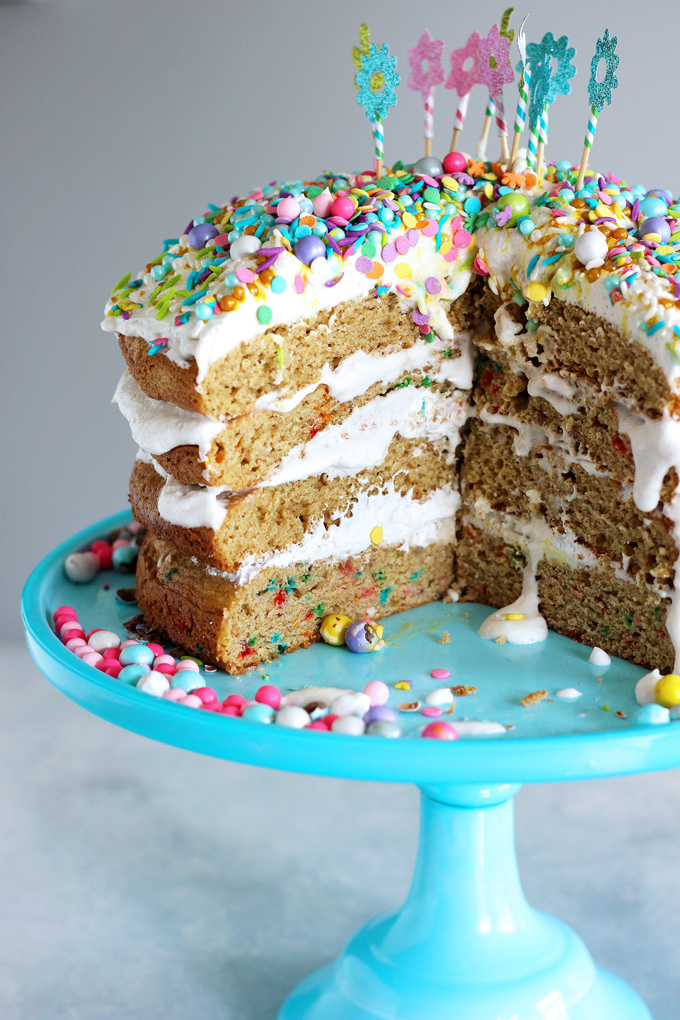 You must be thinking "But Jenn, you love chocolate!" And yes I do love chocolate, I usually go with a chocolate cake every year but this year I was feeling vanilla. I did have chocolate on the side.
Plus, not gonna lie, I've been kinda sort of celebrating my birthday all weekend, eating endless amounts of pasta and treats. If you follow me on Instagram or Snapchat (thejennspot) you've seen how I've been literally digging in. I don't hold back.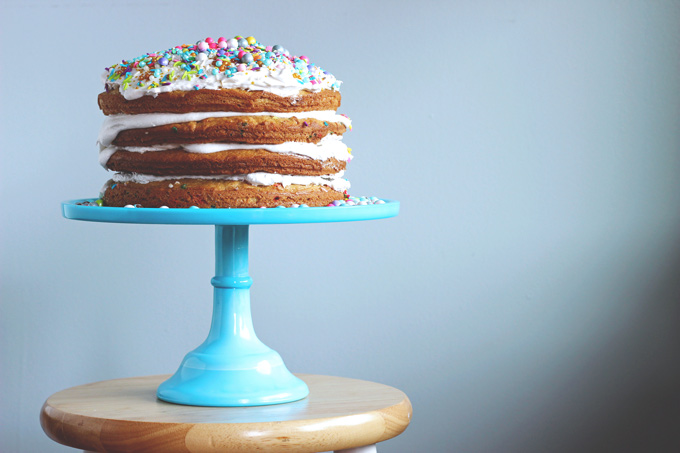 Let's talk sprinkles real quick. Since this idea came to me last minute I wasn't able to get the unicorn sprinkles I had really wanted from Etsy. I had to create my own which was a bit of a pain and too much money to be honest. $38 bucks on sprinkles. Like who in their right kinda mind, right?! Anyway, I went in on Michael's and bought the "bad" sprinkles. I bought all the colors, stars, and pearls they had. I do want to note that they're not really that edible. I mean I tried to eat one but almost went toothless and I was like um I'm turning 36 not 86, let's chill with that. So all the fun on top of the cake was for decoration purposes only. But I do have regular not tooth losing sprinkles that are perfectly edible. But hey if you like this stuff and don't mind it, have at it.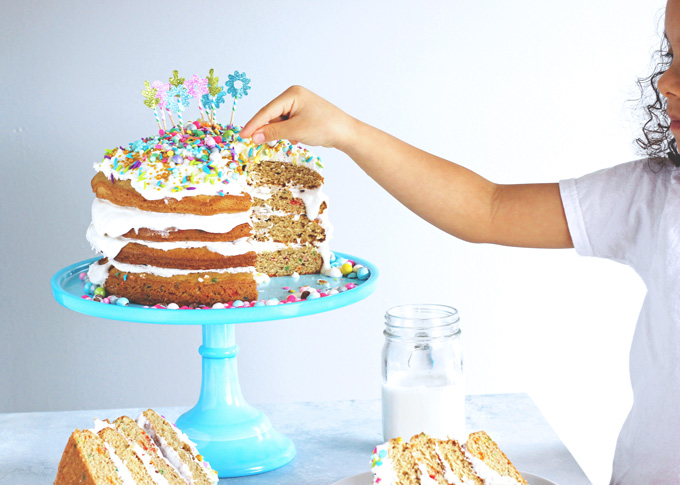 I'm also by no means a professional baker or cake decorator. I honestly like to do this for fun. I think the messier the better, the more unique it is to me and how I'm feeling. I find it quite therapeutic actually. I get to be artsy in my creative cake expression. Clearly I'm feeling bubbly. Clearly.
So when you do things like this, keep in mind that although it may look like a bit of a hot mess, it's YOUR hot mess and that's ok. I think maybe that's why I like to make my own cake, because I get to make it without judgment. I don't critique myself. I go with the flow and whatever the end result is, so be it.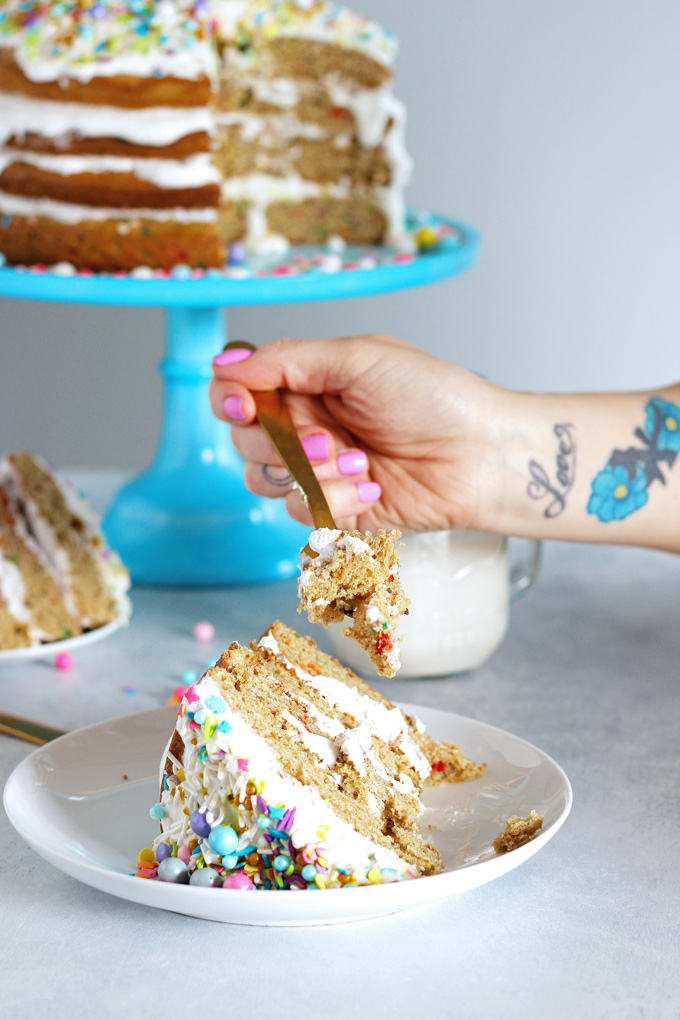 Let me give you the recipe to this Unicorn Birthday Cake now because I can keep you here all day yapping your ear off.  I'm going to find me a clean fork to get into yet another piece of cake too because no piece gets left behind.
36 has got me quite chatty. Ok now I realize maybe it's not the 36 that's got me chatty, it's the beginning signs and symptoms of me becoming hangry. Gotta go, celebrations await…Happy Birthday to me! WooHoo! (*plops down on bed face first)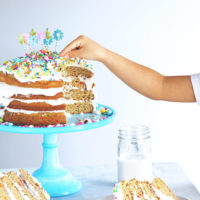 Unicorn Birthday Cake Celebrations
This vanilla dream unicorn cake is totally vegan and overloaded with coconut whipped cream and sparkly fun!
Ingredients:
1 box vegan vanilla cake mix
2 flax eggs
1/2 stick vegan butter (I use this one)
3/4 cup soy milk or almond milk
Directions:
Preheat oven to 350F and spray 2-8" round springform pans with non stick cooking spray or grease it with vegan butter.
Prepare cake batter according to instructions. Cake mix, flax eggs, vegan butter, and soy milk in one large bowl and beat with  a hand mixer.
Evenly distribute batter into the 2 pans, bake for 20 minutes or until toothpick inserted comes out clean.
To make a 4 tiered cake, get 2 boxes of vegan cake mix and follow the same instructions.
Let cakes cool completely before frosting with coconut whip or buttercream.
Start by placing one cake on the cake stand or spinner and spread evenly a top each layer of cake. There is not leveling for this cake, it's just layer as is.
Top with sprinkles, fresh fruit, or chocolate sauce and serve! Enjoy!
Keep stored in the fridge when not eating.
Lasts up to 3 days.
*this post contains affiliate links