How To Make Vegan Caramel Sauce
jump to recipe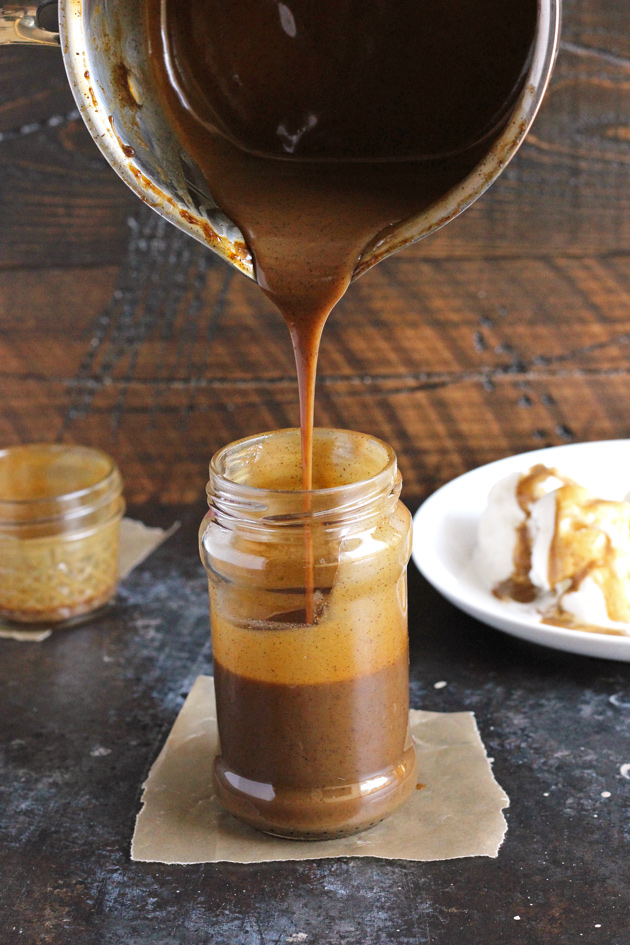 How To Make Vegan Caramel Sauce is at your service because Monday's call for such deliciousness. This is one of my favorite things to make and keep in the fridge. I'm a drizzler (not a drooler) and I love to drizzle nut butters, chocolate, and caramel sauces on just about anything. But sugars can add up if you're not using the right ingredients. We don't want that, so having things like this on hand will not only satisfy your sweet tooth, but it will keep you from reaching for those refined sugars that are pure evil I tell ya!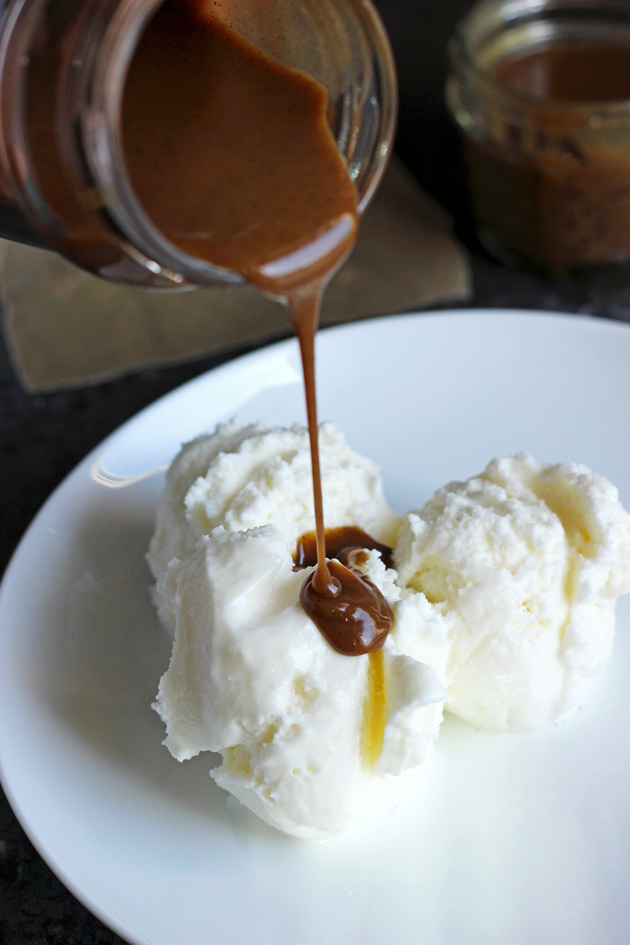 This requires only 5 ingredients and some arm-to-stir action. One can of full fat coconut cream, coconut sugar, coconut oil, vanilla powder or extract, and himalayan rock salt. Once this is made it will last 2 weeks in your fridge so be sure to date it. I double batch this usually on a Sunday so I'm fully stocked for the 2 weeks (if it even lasts that long). By the end of the first week you can probs catch me licking my mason jar clean of it. Well, not like an animal, but sort of like one. LOL 😀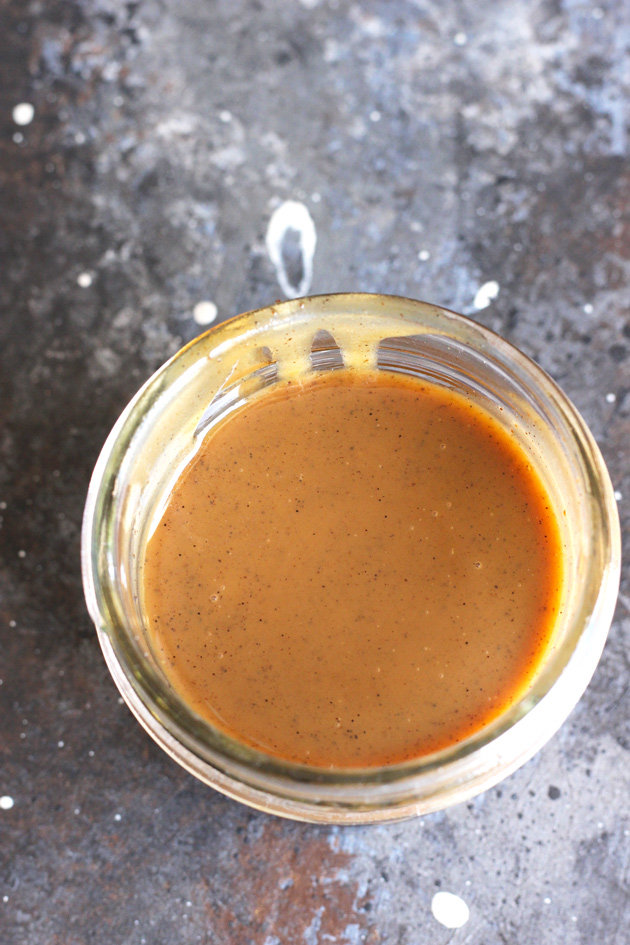 Super creamy, thick and delicious! 🙂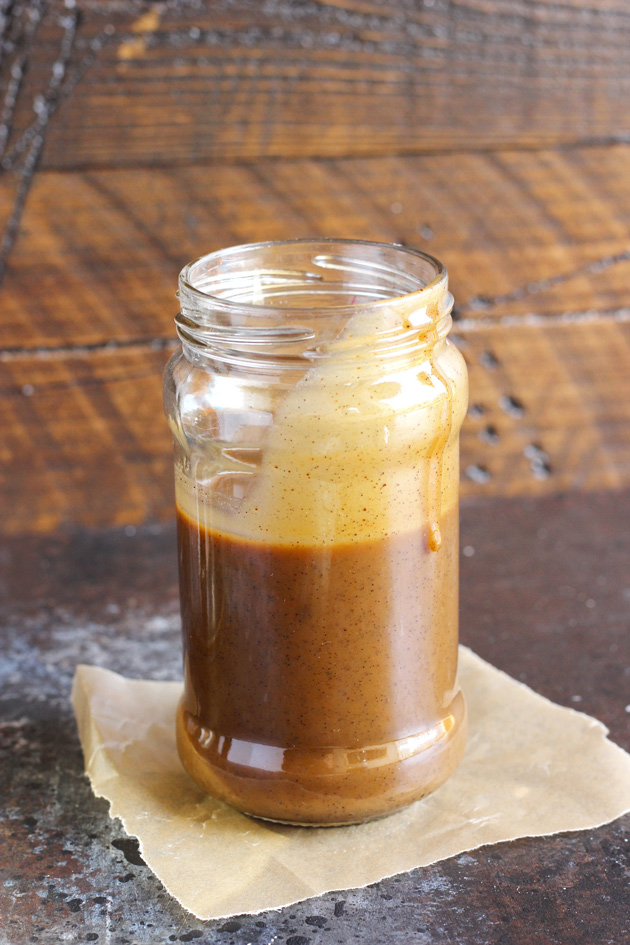 My husband is obsessed with this new coconut ice cream he stumbled upon so he's been stocking up our freezer with it. That in turn has led me to love it, thus showing you what I always sometimes use my caramel sauce for. Well, this is one of many, bananas are another fave and the Maple Pecan Pumpkin Cornbread I just recently made, was a nice dish to use this on. Where there's a will there's a way people! Caramel sauce goes with just about anything. It's like chocolates first cousin.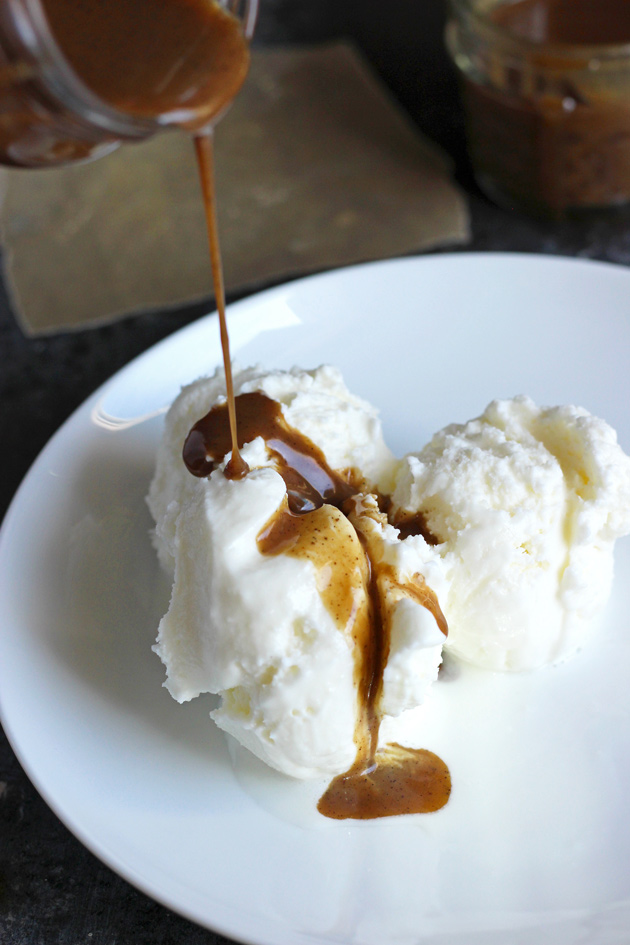 Naturally Sweet…no refined sugars.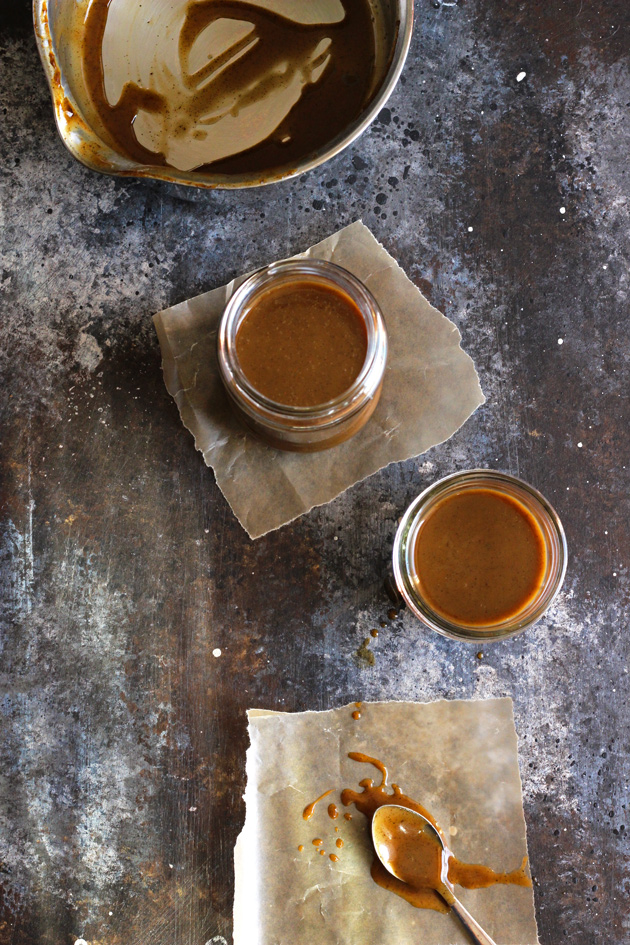 Being that this past weekend was Halloween, the amounts of candy that were given out could have put anyone in a sugaaa coma. I was all like, where ma caramel at?! But I have to tell you, this Halloween was probs one of the best ones I've had. I hungout with the fam, ordered take out, let the kids run wild, and just chilled. I love days like that. Add a little adult beverage to the mix and you can call it a grand ole time. Totes grand.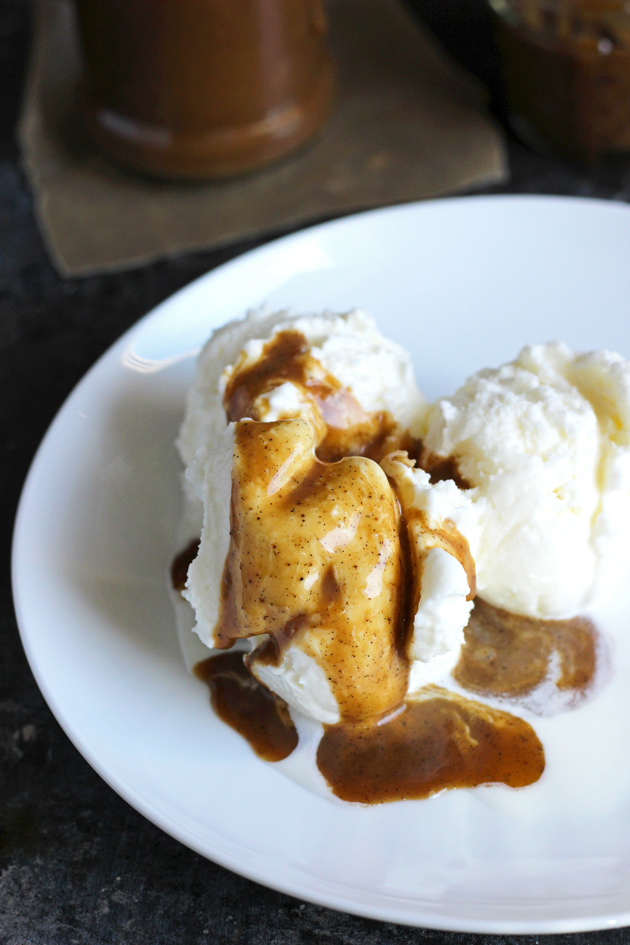 Before we go off into the sweet land of caramel, I want to let you all in on a lil somethin' somethin'. Today my husband and I celebrate our wedding anniversary, Happy Anniversary to us! bow chicka wow wow lol. He helps me get shit done. I'm so grateful for his support throughout all this because it gets hard being a mommy, working, studying and all that other fun stuff. We can call him NeuroticDaddy, lol. Whoop!
Ok so, it's clear we all need this in our lives ASAP. It's healthy, made with only 5 ingredients (that we all can pronounce), and will add sweet flavor to any snack, dessert, or dish your heart desires. My suggestion would be to go ahead and eat it by the spoonful. It's thick, creamy, sweet, and just the right amount of salty.
Recipe from Bakerita – Paleo Caramel Sauce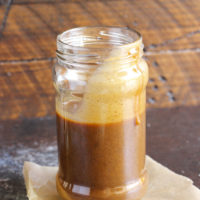 How To Make Vegan Caramel Sauce
Made with only 5 ingredients that will add sweet flavor to any snack, dessert, or dish your heart desires. It's thick, creamy, sweet, and just the right amount of salty.
Ingredients:
1 - 14oz can full fat coconut milk
1/2 cup coconut sugar
1 tsp vanilla powder or vanilla extract
1 tbsp coconut oil, melted
pinch of pink rock salt
Directions:
Combine full fat coconut milk, coconut sugar, and vanilla powder (not extract) in a medium sauce pan.
On medium heat, whisk ingredients until well incorporated, and bring to a boil, stirring frequently.
Once mixture comes to a boil, reduce heat to low and let boil slowly. Using a rubber spatula, keep stirring so the bottom doesn't burn. Scrape down the sides as needed.
Set a timer for 30 minutes. Keep stirring. The caramel will reduce and start to thicken.
After 30 minutes, remove from heat and whisk in coconut oil, salt, and vanilla extract (if using).
Let cool to room temperature stirring occasionally. It will continue to thicken as it cools.
Once cooled place in mason jar, date it, and store it in the fridge. Lasts up to two weeks.
Put it on literally anything...Enjoy!
Want more snack ideas to add your caramel to? Try The Best Vegan Pumpkin Brownies!