Roasted Broccolini and Sautéed Mushrooms
jump to recipe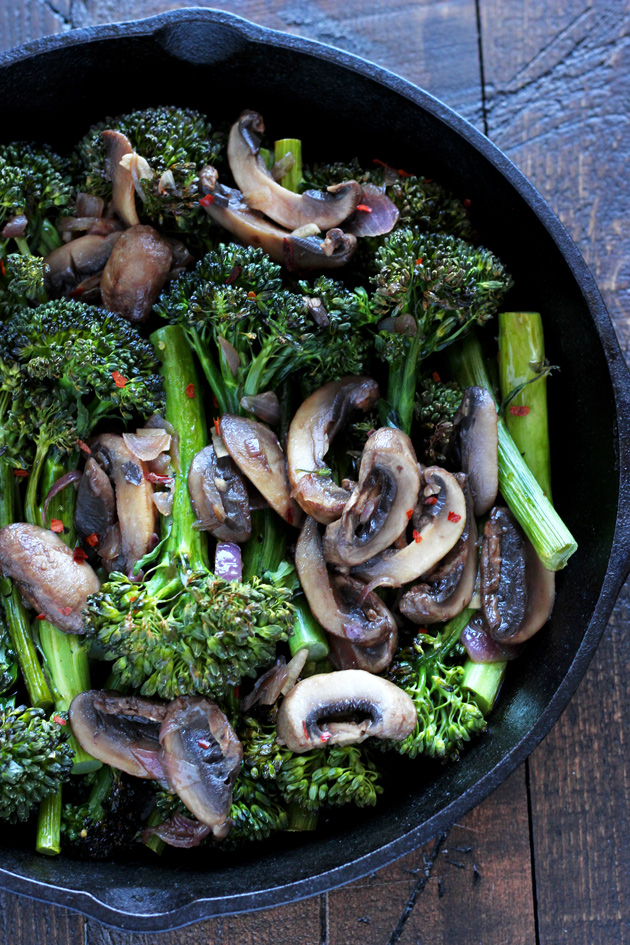 Howdy Healthee's! If you're living on the east coast then you're covered in snow right now, as am I. We got hit with a ton of snow and I have to say, I love it. Finally winter is really here! I mean yes of course it's a pain in the uranus to shovel, but snow just makes the season complete. Cozy up with hot chocolate, big socks, throw blankets, and some good movies, I'd reckon you'd be feeling A-ok! 👌🏻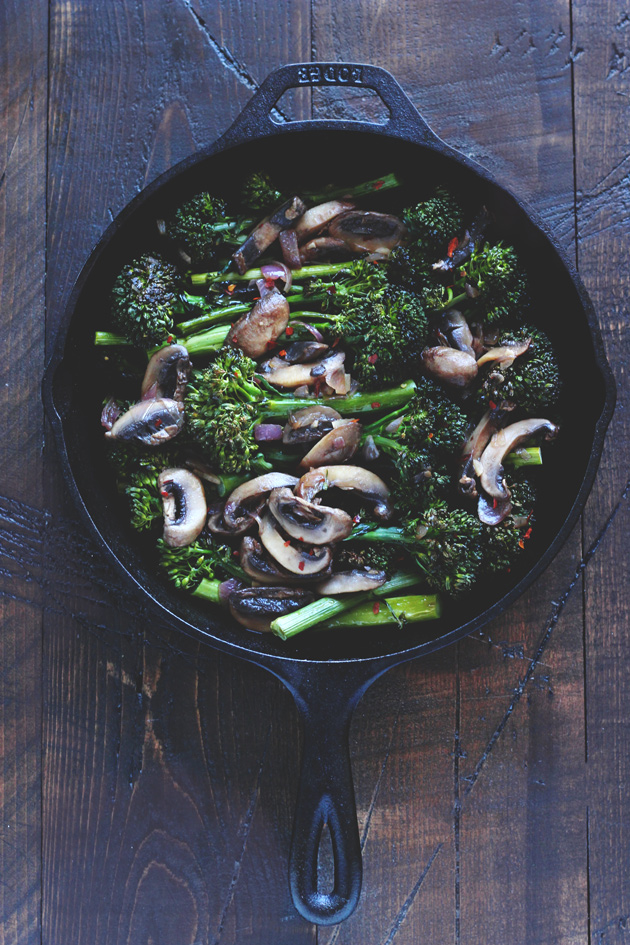 I was legit cooking up stuff all weekend in the kitchen. After coming in from playing in the snow, obviously something warm was on the agenda. I made an array of veggies, and all sorts of healthy finger foods for us here. Roasted Broccolini and Sautéed Mushrooms was at the top of the list. I love love love roasted veggies and mushrooms. I eat mushrooms raw too, I've always loved them, even as a kid. But when made right, they give off this meaty like texture that just compliments any dish.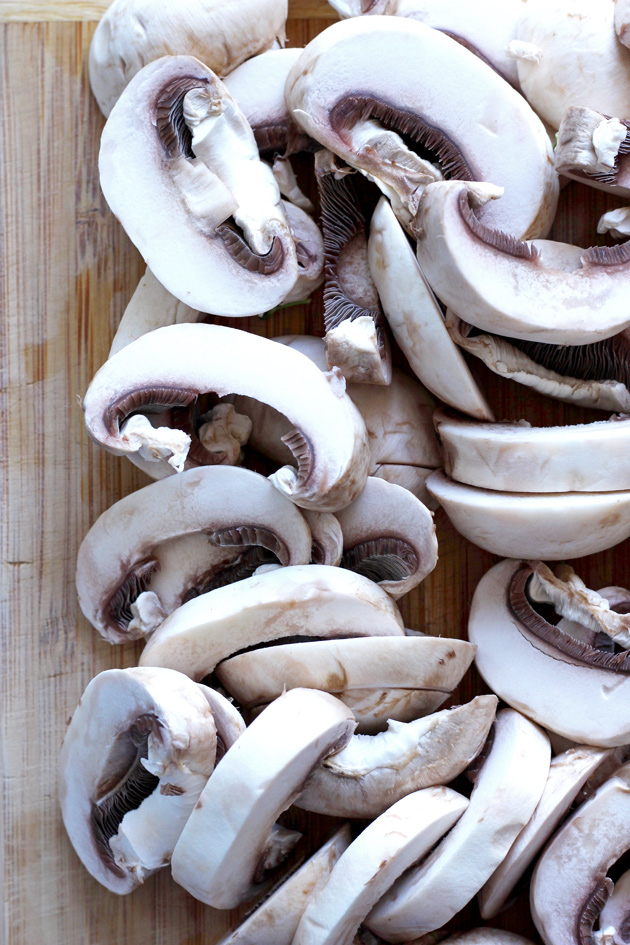 Here's a fun fact for you about mushrooms. Eating just one cup a day of mushrooms, whether they are white button, shiitake, cremini, portobello, chanterelle, or reishi, can decrease your risk of getting breast cancer by 40%! 40% people that's a lot. It doesn't matter if you like mushrooms or not, I would find a way you like them best and eat them regularly. White buttons are most affordable and can be found almost anywhere. So get your mushroom on. 🍄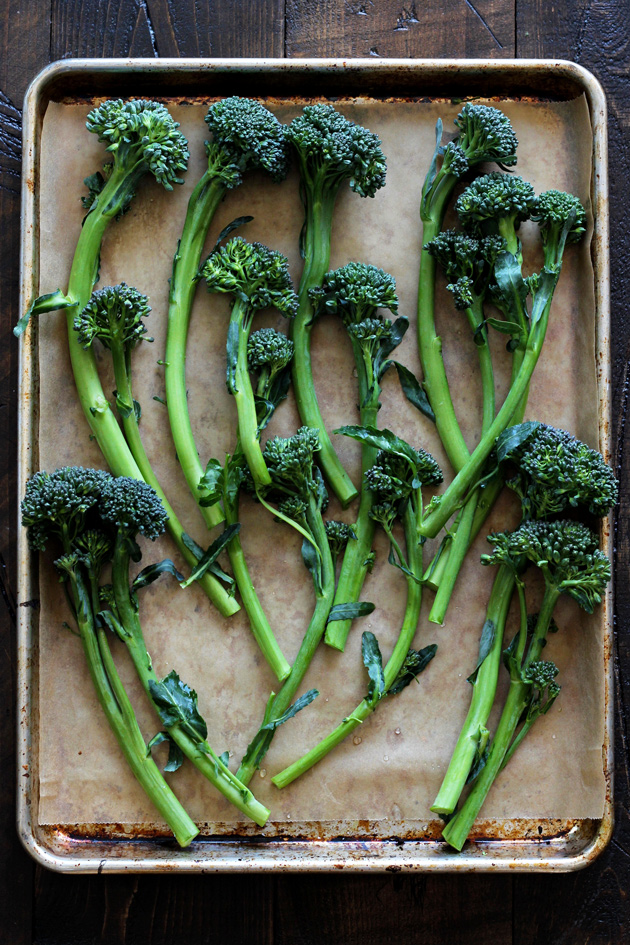 Broccolini is the hybrid cousin of broccoli and kale. Hybrid does not mean genetically modified. In fact, hybridization is the result of cross pollination which means the transfer of pollen from one flower to the stigma of another. This is something humans have been doing since forever, it's an age old agricultural practice. In simpler terms two vegetables have to be close in relation to make a good offspring. Genetic engineering is the result of a laboratory process where genes of the DNA of one species are extracted and artificially forced into the genes of an unrelated plant or animal. The foreign genes may come from bacteria (e.coli), viruses, insects, animals, and in some cases, even humans.
Basically hybridization is just like two people having a baby naturally. It's easier to make sense of it when you think of it like that. Also Broccolini much like other hybrid veggies are so jam packed with quality nutrition it would blow your freakin' mind.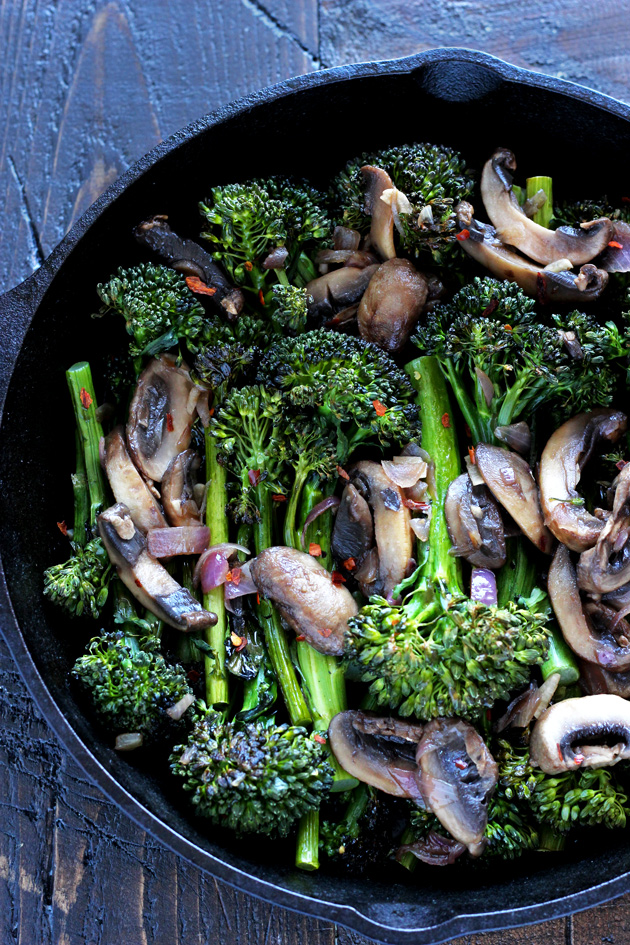 Broccolini is amazing for the central nervous system. It's super high in potassium and that is great for quality brain health and function as well as supports muscle growth. It's high in vitamins C, K, calcium, and has glucoraphanin, which is great for skin repair and detoxification. That is just some of what it's good for. I mean seriously, broccoli, broccolini, broccoli rabe, it's all amaze.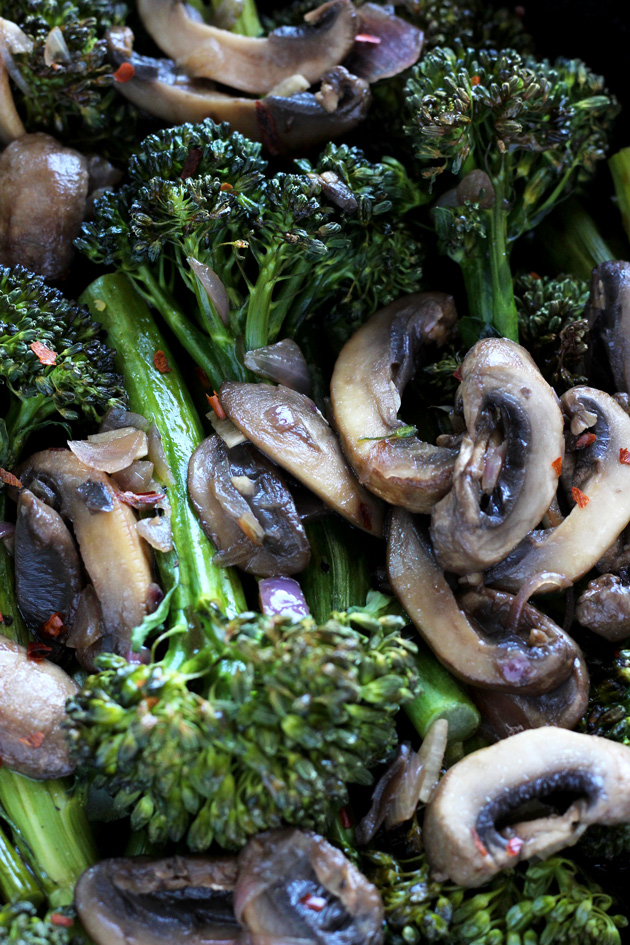 Delicious! 😋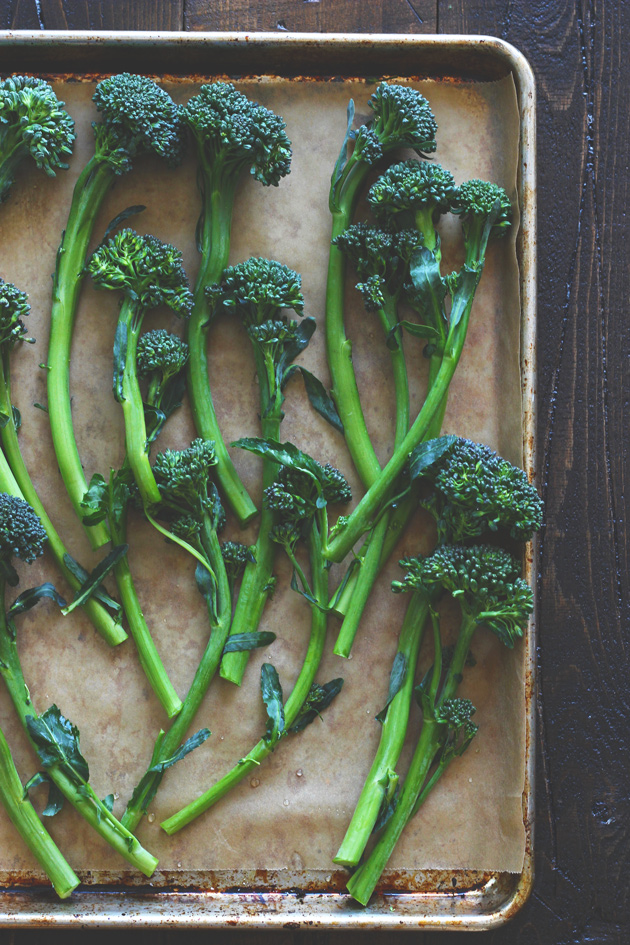 This recipe is so yum-mazing you'll want to make it all the time, and I don't blame ya, I make if often myself. It's so easy you don't need to be a chef to whip this up. Preheat your oven to 400F and line your baking sheet with parchment paper. Place your amazingly good for you broccolini on top and drizzle with light extra virgin olive oil and seasonings. I usually do a little himalayan pink rock salt and pepper. I let it bake for 15 minutes. You can also boil or steam broccolini for this recipe as well. With roasting however, they come out with a little more roast and snap.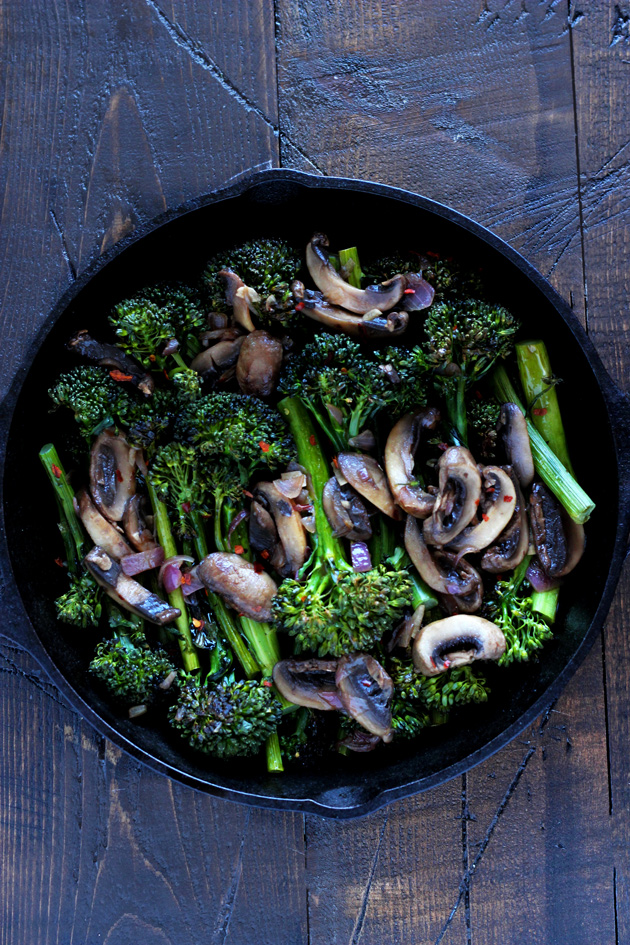 While the broccolini is in the oven, throw some shallots and garlic in a fry pan with extra virgin olive oil and let that heat up a little. Take the sliced mushrooms (here I chose regular white button) and throw them in with the shallots and garlic. Let the mushrooms release their liquids and add some spices like salt, pepper, and some balsamic vinegar and coconut butter. This makes the mushrooms super meaty and thick like with a boat load of juiciness. It's my fave.
Once you make this recipe you will be on a roasting frenzy and there ain't nothing wrong with that. Enjoy your greens and your mushrooms as your body will thank you for it. Word…up. 🤗
Just an FYI, I'm doing an awesome giveaway on Instagram where I'm giving away 5 signed copies of MedicalMedium. This is a book I read myself and was truly amazed by. I know you all could benefit from the extensive knowledge that lies in this book. For rules on how to enter go visit my Instagram!
Recipe adapted here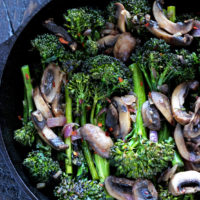 Roasted Broccolini with Sautéed Mushrooms
A healthful side to any main dish. Fresh vegetables full of flavor and spices.
Ingredients:
Roasted Broccolini
2 bundles organic broccolini
1 tbsp extra virgin olive oil
salt/pepper to taste
Sautéed Mushrooms
1 10oz package of white button mushrooms
2 tbsp extra virgin olive oil
1 tsp coconut butter
2 shallots, chopped
2 garlic cloves, chopped
2 tsp balsamic vinegar
salt/pepper to taste
Directions:
Preheat oven to 400F and line baking sheet with parchment paper.
Place broccolini on prepared baking dish and drizzle extra virgin olive oil and salt/pepper on top.
Bake for 15 minutes.
While the broccolini is roasting, in a large fry pan add extra virgin olive oil, shallots and garlic. Let that simmer for a few minutes.
Put mushrooms in the fry pan and once they release their moisture (bout 6-8 minutes), add in the tsp of coconut butter and balsamic vinegar along with any other spices like salt and pepper.
When broccoli is ready, add in the fry pan with the mushrooms and let all the veggies get coated from the juices. About 2 minutes.
Serve with red chili flakes or parsley on top.
Enjoy!
Could sub broccolini with regular broccoli.
Mushrooms of any kind can be used in this recipe.