Chocolate Marble Protein Waffles
jump to recipe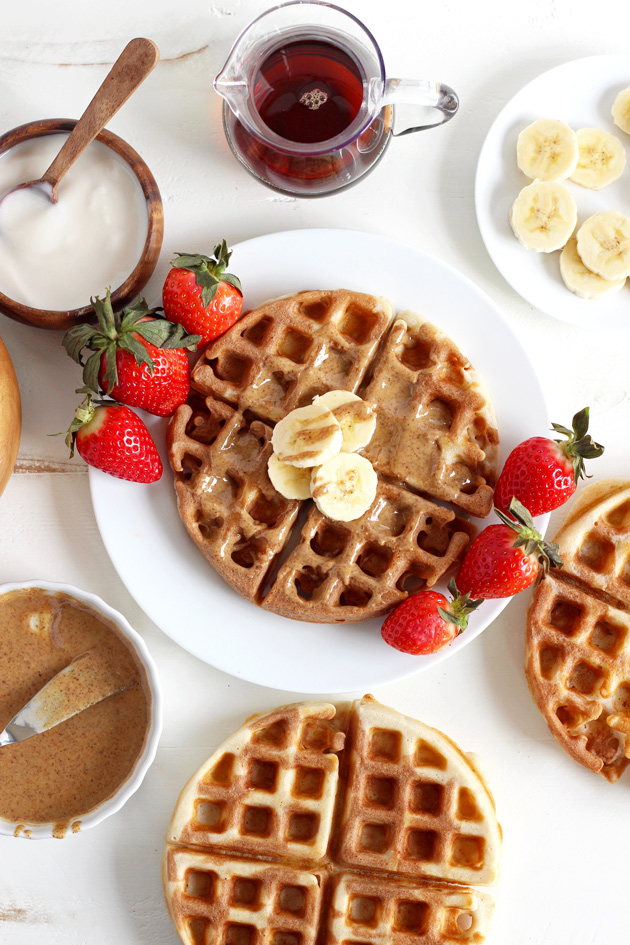 Ahh Chocolate Marble Protein Waffles, can breakfast get any better than that? Chocolate and protein intertwined in deliciously fluffy waffles?! Like seriously, it's genius and delicious, but I think I already said that last part right? Right.
Ok so why am I calling them protein packed and utterly delicious? Um duh, because they're just that, super packed with an organic vegan protein blend and they taste so super good. Oh wait, they taste so super great. My bad…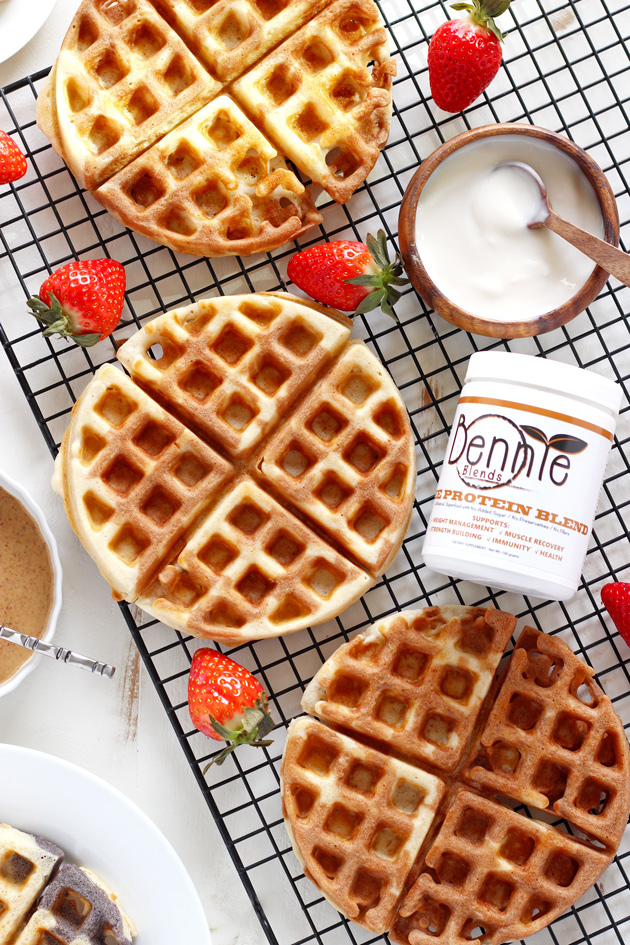 Today's post is sponsored by BennieBlends. I'm using their Chocolate Protein Blend to give these waffles that added vegan protein! The chocolate flavor is quality blend that doesn't have a cardboard taste. It adds perfect chocolate flavor and protein that make these waffles even more amazingly healthy.
About BennieBlends
They're a USA based company committed to helping people lead happier and healthy lifestyles. They use premium quality superfood blends that are vegan, cruelty-free, aid in proper digestion, reduce blood pressure and cholesterol levels, boost immunity, reduce stress, enhance moods, build strength, and generates glowing skin. But what's even more important is that they know not just a superfood blend alone will help in maintaining optimum health. They believe following a healthy and active lifestyle along with adding quality superfoods will enhance your wellness.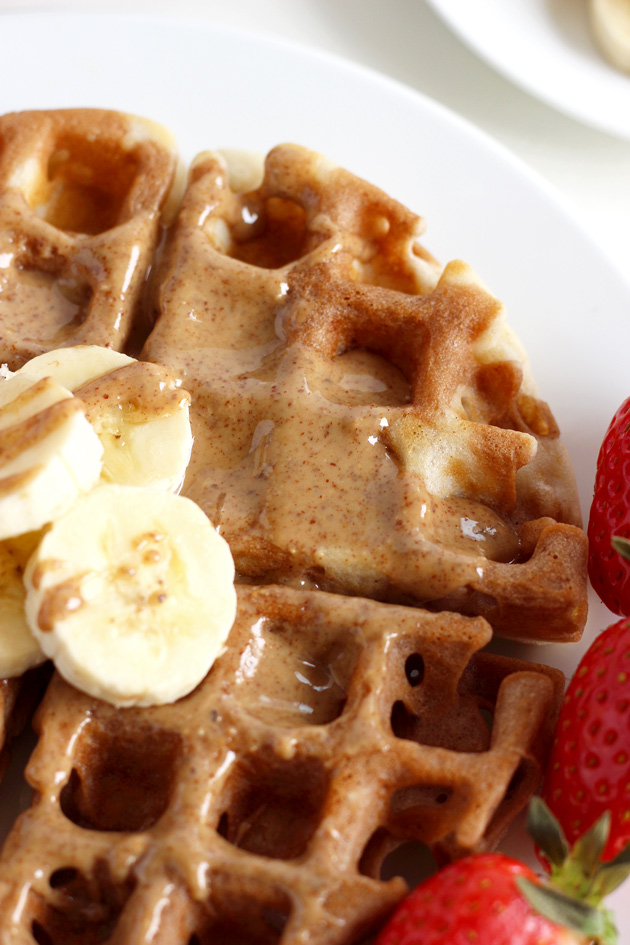 Superfoods are full of powerful antioxidants, fiber, essential vitamins and minerals, protein, and amino acids. This is what gives your body the fighting army (your immune system) it needs against pathogens (the bad guys). The more you keep healthy, stop restricting yourself with calorie counting, or fearing fruit, the better and stronger your immune system will become. Avoiding fruit is a huge disservice to your body. They carry the most powerful fighting, anti-disease carrying components we need on a daily basis. Carbs are not the bad guy here.
I just took a traditional breakfast that is typically bad for you, and reinvented it to be a highly nutritious meal you don't have to feel bad about.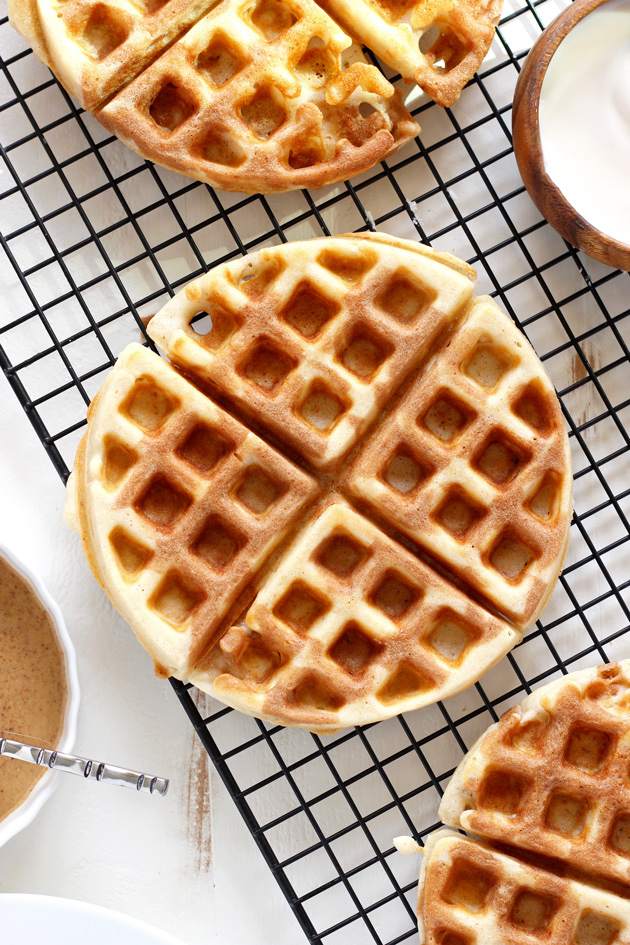 Oh Em Gee 😍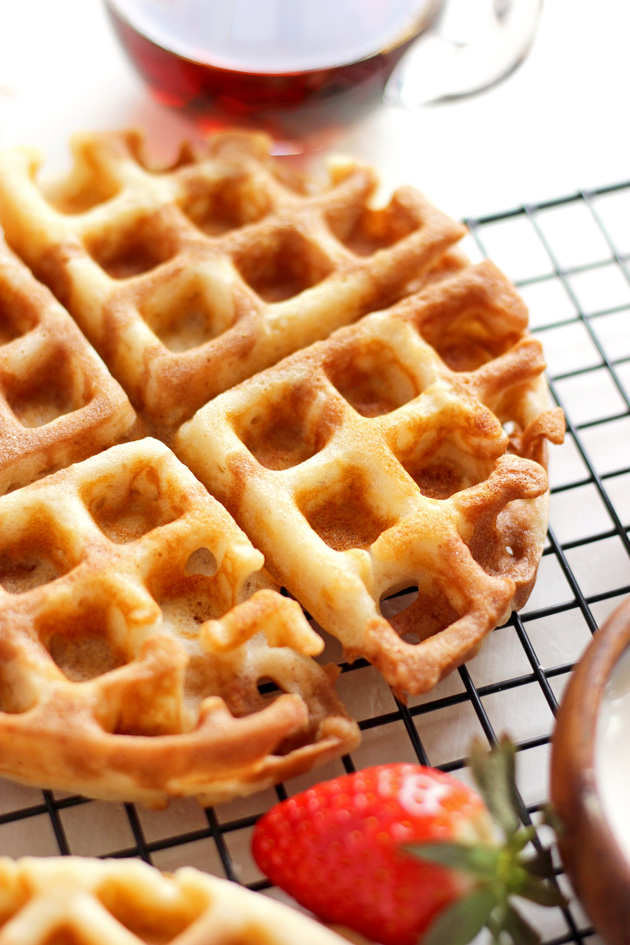 These waffles are so super easy to make too. I used an organic gluten free pancake and waffle mix. I sub all ingredients with almond milk, flax eggs, coconut oil, maple syrup, and I add a tsp of vanilla or almond extract. For this, I split the batter in half and used 2 scoops of BennieBlends Chocolate Protein Blend and added that to one half of the mixture making it chocolaty and full of protein.
And then people wonder where vegans get their protein….um duh through plants and superfoods! LOL (vegan jokes)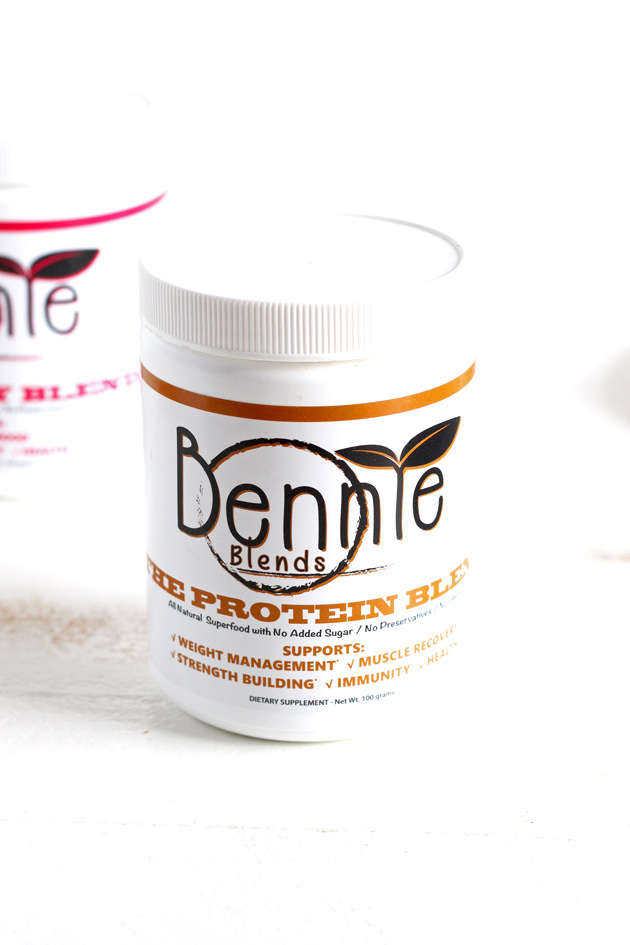 The ingredients in this lovely blend are simple yet effective. Organic brown rice protein, organic cacao powder, organic pouteria lucuma powder (this is sweet), and organic stevia leaf powder. Anything that has like over 5 ingredients becomes questionable. With this, it's straight forward. Is it true that this protein blend is bursting with nutrient dense superfoods that will nourish your body from the inside out. 💚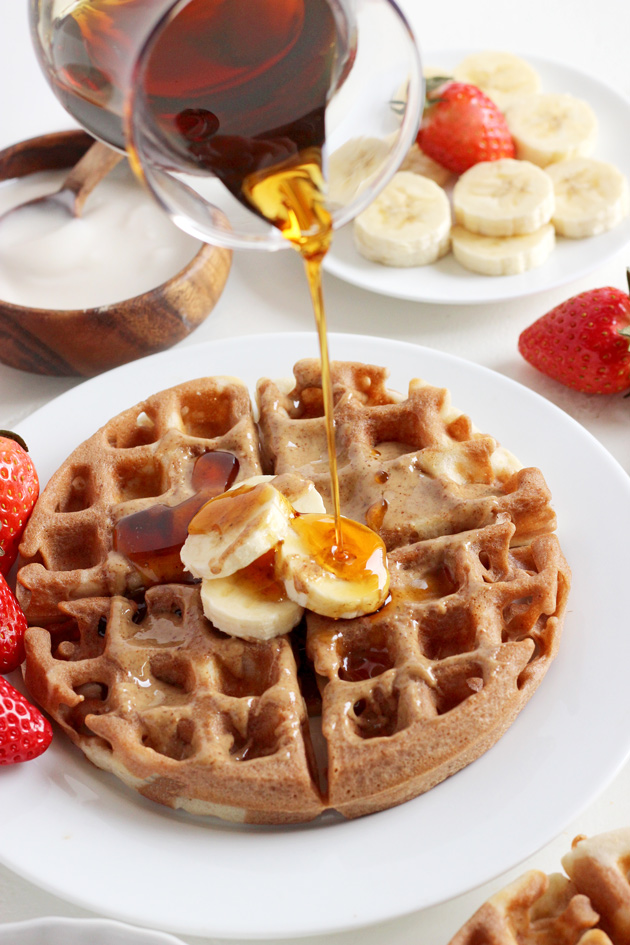 Ok so to give your waffles that marble effect, you'll need a waffle maker. If you don't have a waffle maker you can always turn these into pancakes! I mean, who doesn't love a good quality pancake right?! So ok back to marbleizing. Spray your waffle maker with non stick cooking spray generously. I use coconut oil spray. Pour the chocolate batter into a squeezy bottle or if you don't have one put it into a zip lock baggie and nip a corner off. Take the non chocolate mixture and pour that into the waffle maker molds. Take the squeezy bottle or baggie and drizzle it on top of non chocolatey mixture. Be generous with it and make a mess. You can go in a circular motion and give it that pattern or you can just zig zag like I did and it ends up looking just randomly, marblizingly beautiful.
For the toppings and sides I used a creamy dreamy organic almond butter because I like the way almond butter and maple syrup taste together as a team. I then added fresh organic strawberries and bananas to the mix because well, it's strawberries and bananas, like come on! Add a side cup of your favorite non dairy yogurt and you got yourself a well balanced brunch…Hello.
Thank you BennieBlends for making quality blends that are highly beneficial to our health and wellbeing. 😊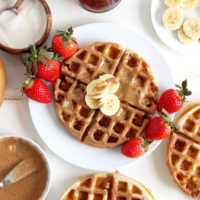 Chocolate Marble Protein Waffles
Incredibly fluffy and chocolatey waffles jam packed with protein and superfoods for quality nourishment.
Ingredients:
Directions:
Heat up your waffle maker according to instructions.
Spray waffle maker generously with non stick cooking spray or coconut oil spray.
To make a flax egg add 1 tbsp of flaxseeds or meal to a bowl with 3 tbsp of water. To make two flax eggs double those directions. So for two you'll want to mix 2 tbsp flaxseeds or meal with 6 tbsp of water.
Put all ingredients into a large bowl except protein blend and mix until creamy and no clumps are left. I like to use a hand mixer for this.
Split the batter in half. In one half of the batter mix in 2 scoops BennieBlends Chocolate Protein Blend.
Pour that into a squeezy bottle or zip lock bag with a corner cut off.
To marbleize the waffles start by pouring in the non chocolate waffle mix to the waffle maker.
Using a zig zag or circular motion, drizzle the chocolate waffle mix on top. Close waffle maker and let cook until golden brown. Usually waffle makers have timers on them so they will let you know when your waffles are done. You can cook them longer for a more crisper finish.
Top with smeared almond butter, maple syrup, and fresh fruit like sliced bananas and strawberries.
Serve immediately and Enjoy!
If you do not have a waffle maker you can use this recipe to make pancakes instead!
To make more waffles just double or triple the recipe.
This post contains affiliate links. If you purchase something through the link, I make a small commission. In order for me to support my work here on the blog I may receive monetary compensation from links to any products. I am grateful for your support in this way.