Hot Pumpkin Pie in a Mug
jump to recipe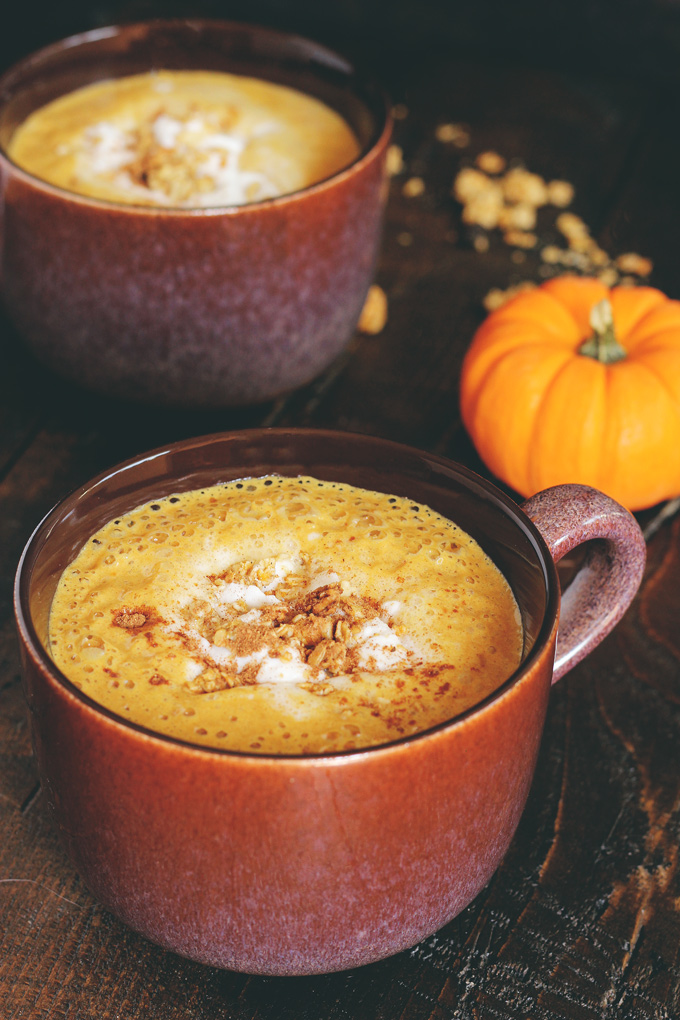 Hello Hello dear friends! Welcome to my new site and the very first recipe on the new and highly improved NeuroticMommy.com! I figured I kick things off in full pumpkin spice swing with this utterly delicious Hot Pumpkin Pie in a Mug. Basically it's pumpkin pie that you can drink and it tastes exactly like pumpkin pie. I'm not even yankin' your chain. Who knew pumpkin pie could be made in a sweet ultra big cozy mug. Perfect for sitting on the couch, lying in bed, watching your fave shows or flick. I mean, don't I always have your back?!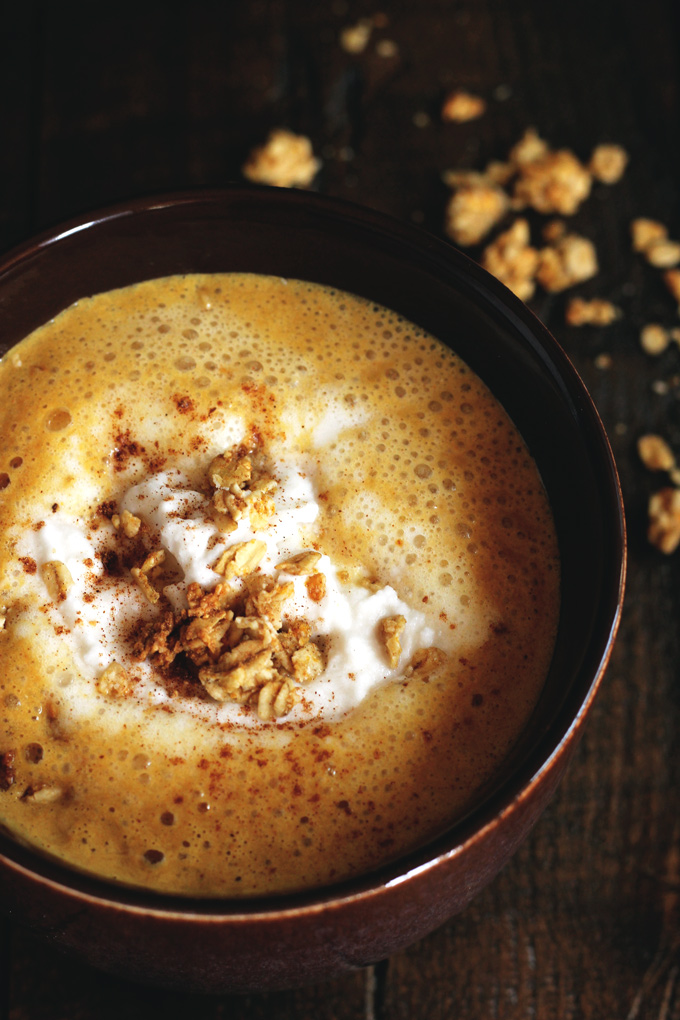 When it comes to this recipe, it is so so so easy and takes literally 5 maybe 7 minutes to whip up. I know, how dare I ask you to have 5-7 minutes of wait time, but trust in your girl, it's all worth it.
Now I know pumpkin pie vegan or not, can be unhealthy (although fantastic). But this, this my pumpkin lovers is not only amaze, it's healthy. Again, I'm not trickin' ya. You're going to be sipping on this, knowing what you made it with, doing a stomp of your foot and saying out loud Oh My Gawd, how does this taste so freakin' bomb and be so damn good for me to drink. You will most definitely have your drink and your two step with this mug. Guaranteed.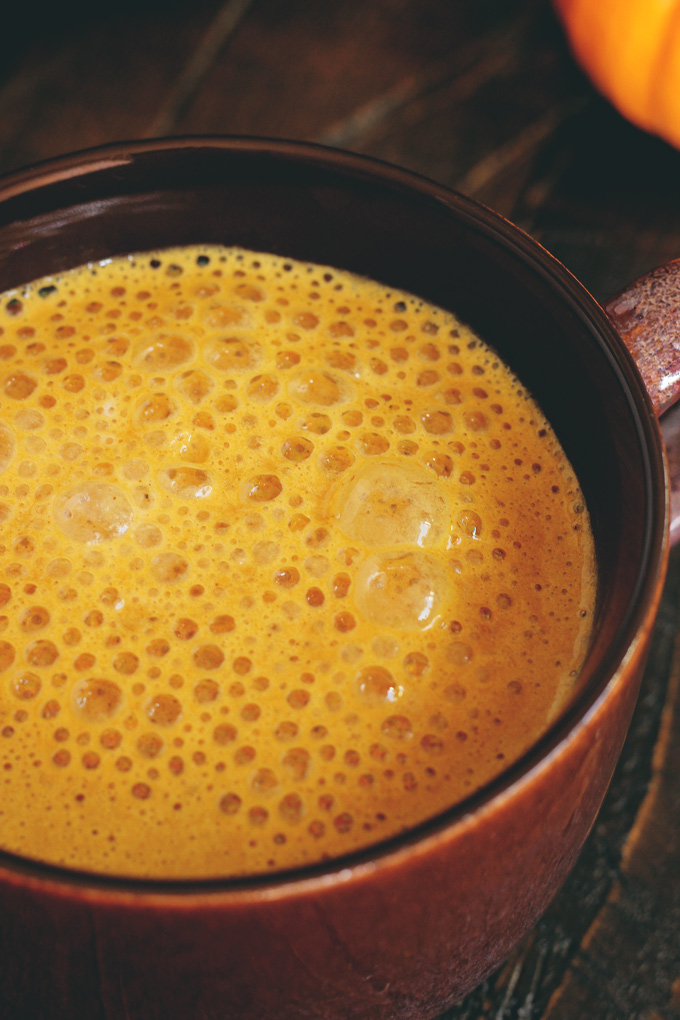 There are 3 simple steps to this process, two of which you'll be using your blender for.
First step add all ingredients to your blender (ingredients listed below). Once it's all blended, (takes all of a couple of seconds), then you add the whole thing to a saucepan. Let it heat up for a solid 5 minutes on medium heat. You'll notice it will get thicker and frothy.
Once it's hot add it back to the blender, give it a good blitz for extra froth, pour into your super cool fall/winter mug, top with coconut whip, some cinnamon, and your golden. You can go even more pumpkin cray and make my Pumpkin Pull Apart Bread and dunk it. 😉
Here's a quick tutorial:
If you're a true pumpkin pie lover you will certainly enjoy this. And if you were never a big fan of pumpkin pie, give this a try and I bet you have a change of heart. It's like hot cocoa or chocolate except it's hot pumpkin. So cozy, so warm, so needed.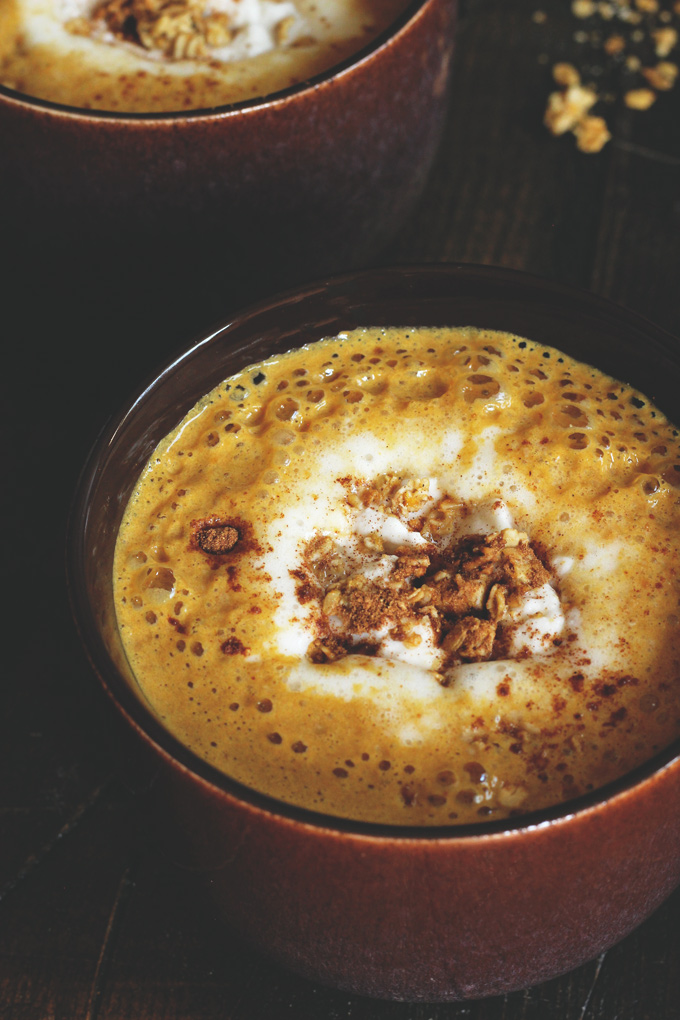 Enjoy!
This recipe was adapted by one of my fave bloggers, founder of FindingVegan, Kathy Patalsky of HealthyHappyLife.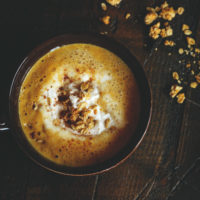 Hot Pumpkin Pie in a Mug
Cozy delicious pumpkin pie in your favorite mug. Topped with coconut whipped cream and cinnamon, it's sure to keep you warm and all pumpkin pie sweet this season.
Ingredients:
3 cups unsweetened almond milk
1/2 cup pumpkin puree
4 pitted medjool dates, chopped
1/3 cup maple syrup
2 1/2 tbsp pumpkin pie spice
2 tsp vanilla extract
1 tsp cinnamon, and extra for topping
1/8 tsp ginger
pinch of salt
Directions:
Add all ingredients to a blender and run until smooth.
Transfer to a saucepan. On medium heat, bring to a boil for 5 minutes.
Remove from sauce pan, place back in blender and give it a good blitz for extra frothiness.
Pour into your favorite extra large mug and serve right away. Top with coconut whip cream and cinnamon. Enjoy!
Any nut milk will work just fine
Adjust spices and sweetness to your liking.