Buffalo Chickpea Pinwheels with Vegan Blue Cheese
jump to recipe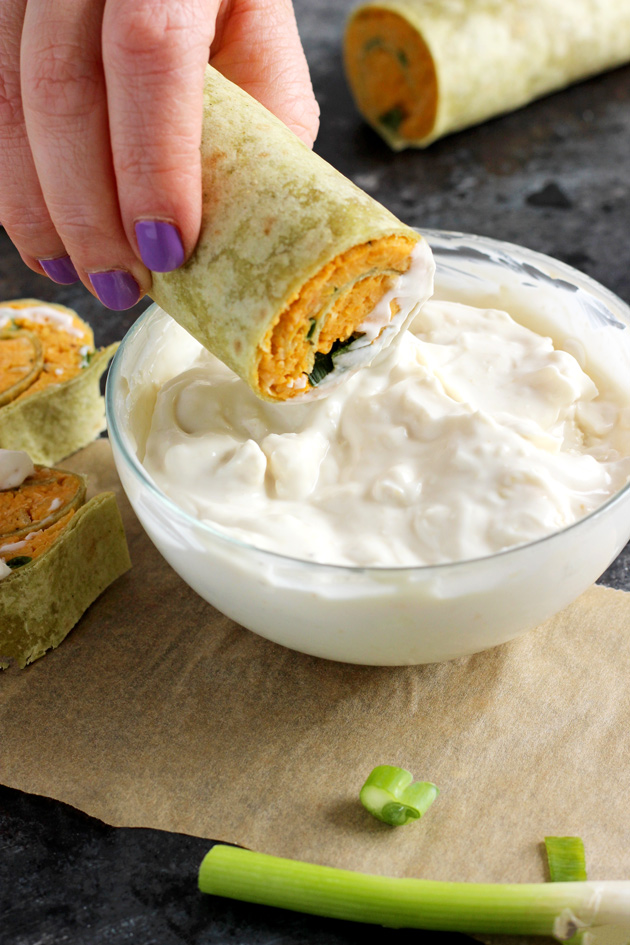 Well it's Tuesday and we're already headed to the middle of March! Also it's my birthday month so be on the look out for some serious delicious cake coming your way. I love making my own birthday cakes so this will be one to write home about, I hope. lol
On today's menu is a recipe I found on Pinterest from InspiredEdibles. She made Buffalo Chickpea Tortilla Bites and they look phenomenal. So I made basically the same thing just the vegan version. Buffalo Chickpea Pinwheels with Vegan Blue Cheese. Yes vegan blue cheese, can you even imagine. I mean it doesn't taste exactly like blue cheese per say, it tastes better! Yes, you know why it tastes better? Because it's cruelty free, dairy free, making it vegan, making it the best blue cheese ever!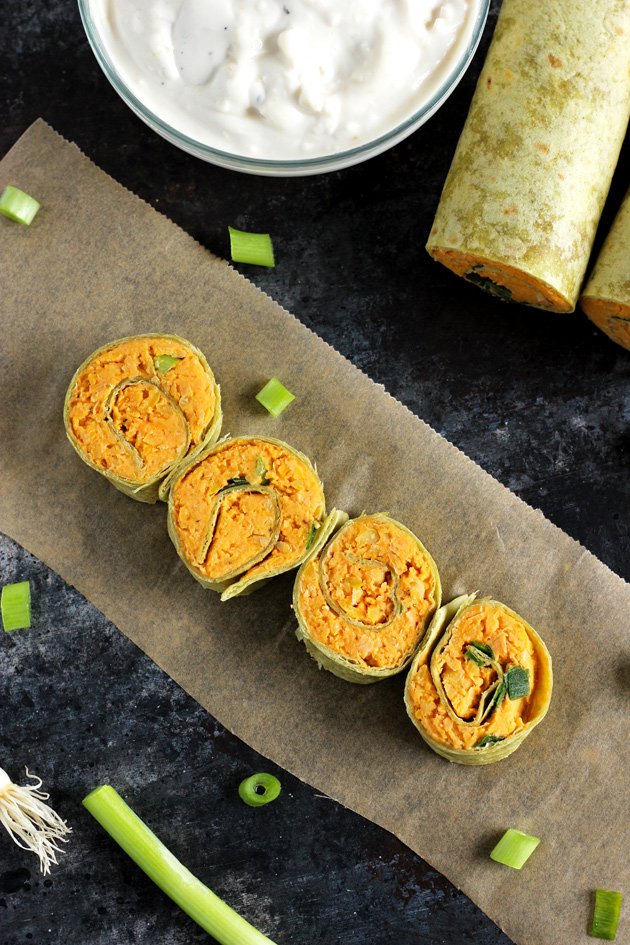 I knew these would be a hit because I use chickpeas for errr-thang, like all the time. It's one of my favorite things to make because it's so versatile, you can whip up anything with chickpeas even brownies. Um yum
So let's chat about this vegan blue cheese ok. It's made up of vegan mayo (like this one), organic extra firm tofu (to make it chunky), tahini, lemon juice, apple cider vinegar, salt/pepper, and some garlic powder. So simple, yet so super tasty.
Once you mix all the ingredients together, you take the extra firm tofu, squeeze a lot of the liquid out of it, and crumble it with your hands to give your vegan blue cheese the same texture or consistency of regular blue cheese. It. Is. Genius.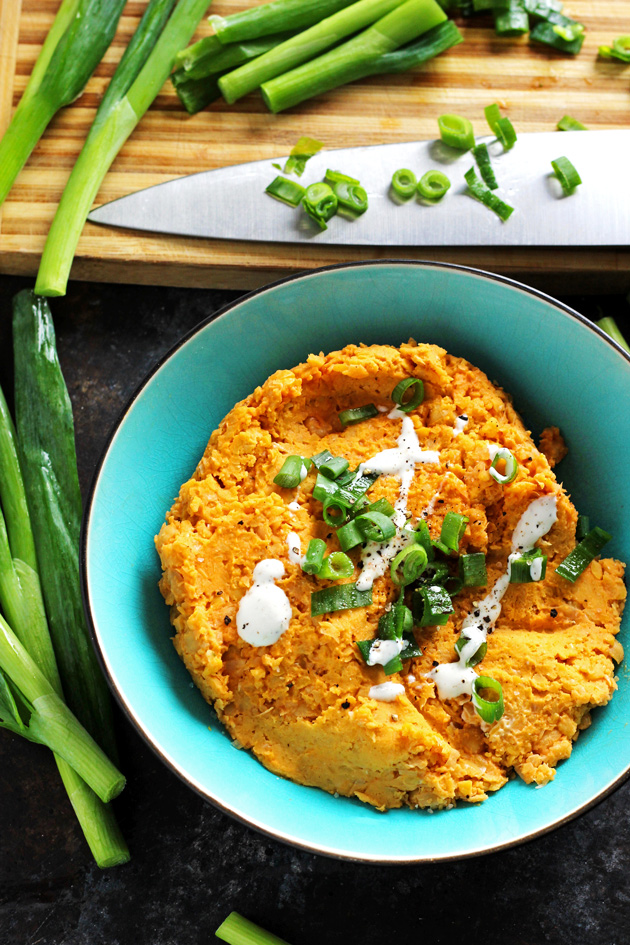 Incredible 💚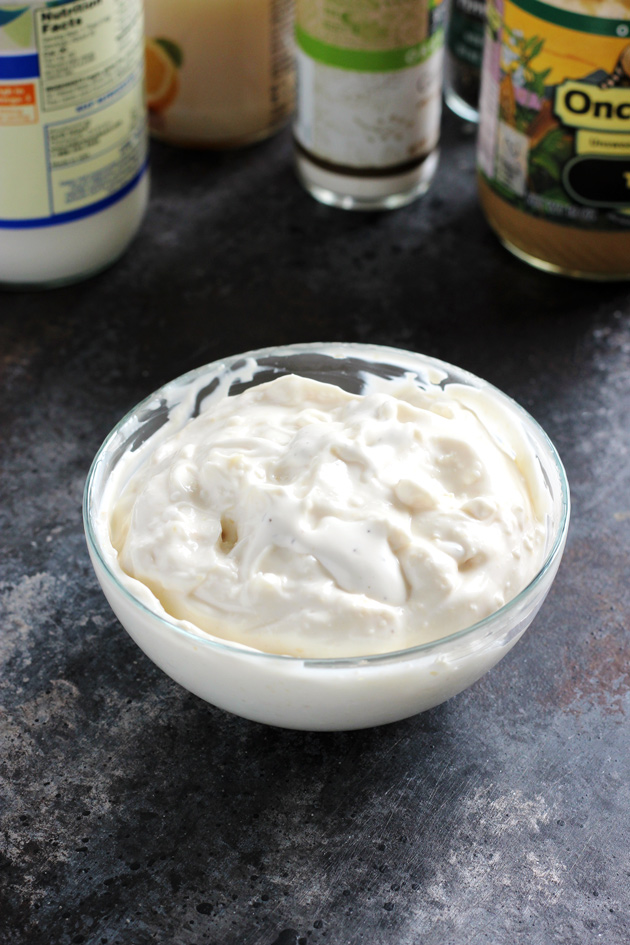 For the buffalo sauce, when making your own vegan version, you'll need a hot sauce, something like Frank's Red Hot or whichever one you prefer and some vegan butter. You can do say 3 tbsp of hot sauce to 3 tbsp of vegan butter. But you can also just keep adjusting it to your liking. If you like it hot, add more hot sauce or not, up to you. I don't like it too spicy so I make it just enough to where it's not giving me upper lip and chin sweat. 💦lol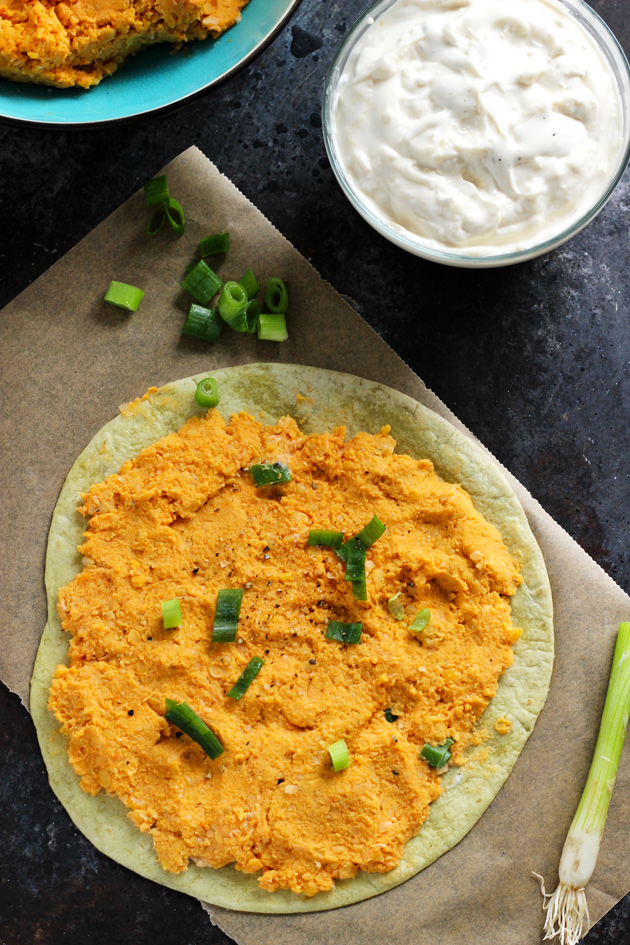 Yum-Maze 👌🏻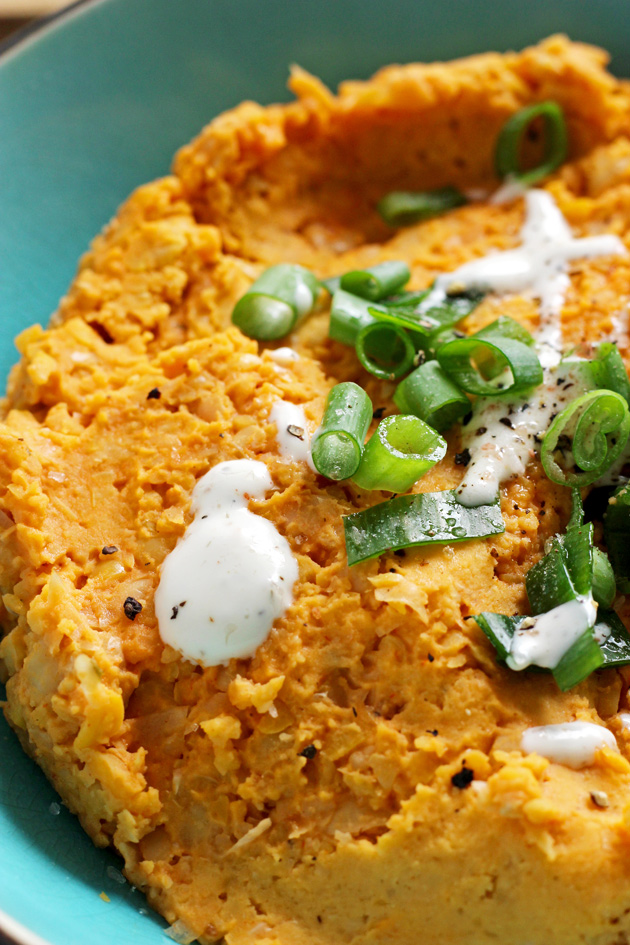 For the mash chickpea filling you'll need about 2-3 cups of chickpeas (2 cans), cooked for 5-10 minutes. Once they're done, drain them and place them in a food processor along with 3tbsp of your buffalo sauce (give or take), salt/pepper, and a handful of green onions. Pulse until desired mash consistency. You can even use a fork to mash them up if you don't want to use your processor. I didn't mind the chunkiness of the texture, I actually prefer it that way.
Once you have it ready to go, smear a generous amount across a spinach tortilla wrap. Throw in there some extra green onions, and you can even drizzle in some vegan blue cheese. Wrap it up and cut into 1-2 inch thick pinwheels. Or you don't have to cut them at all, just leave them as full wraps! They obviously both go down the same way. 😉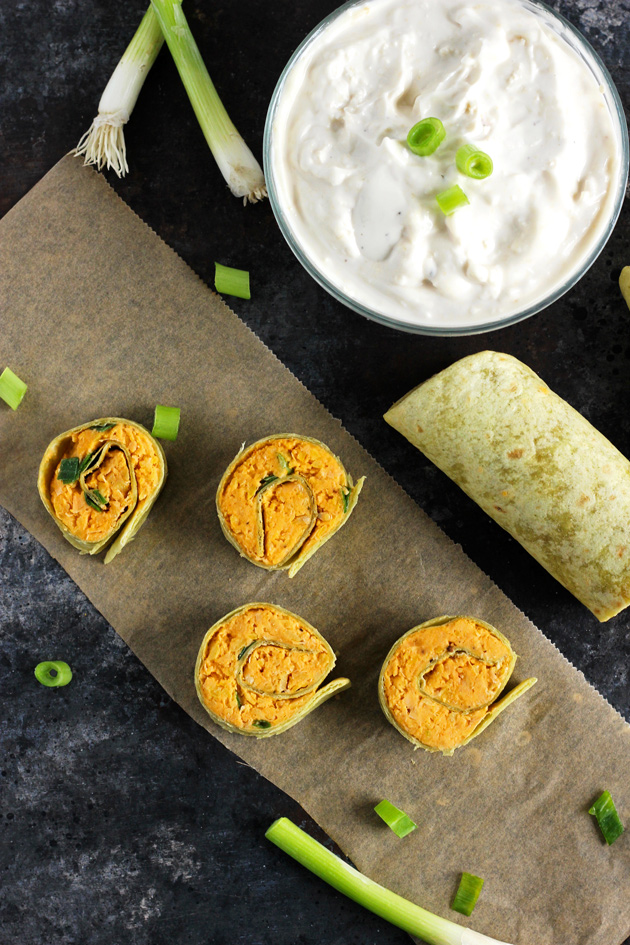 Oooh Spicy! 😍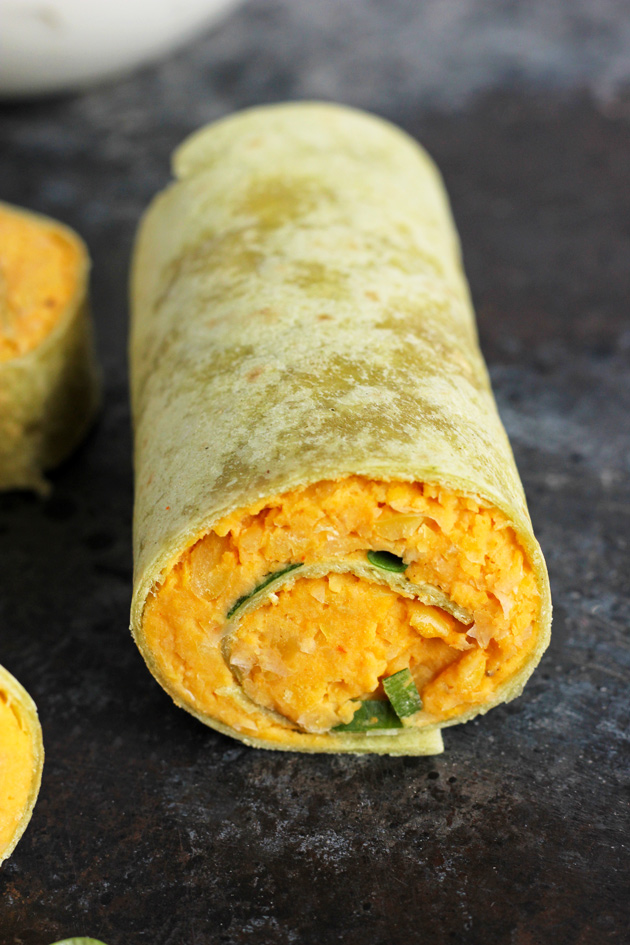 Once you have this recipe down, it will  take you like 5 minutes, 10 minutes max to whip up. Don't like spicy? No problem, leave the "buffalo sauce" out and it will still be fantastic. When I make this for my son he loves it, so it's totes kid friendly.
I love making easy, healthy finger food that is nutritiously satisfying. I don't do boring, so whoever said eating healthy was boring or that vegans don't eat, clearly haven't met me yet. 😚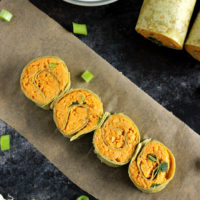 Buffalo Chickpea Pinwheels with Vegan Blue Cheese
Vegan fingerfood made healthy. Homemade buffalo sauce with mashed chickpeas, wrapped in a spinach tortilla, with vegan blue cheese for dipping!
Ingredients:
Buffalo Chickpea Pinwheels
3 cups chickpeas
3 tbsp hot sauce
3 tbsp vegan butter
1/3 cup green onions
salt/pepper to taste
spinach tortillas
Vegan Blue Cheese
1 cup vegan mayonnaise
1/4 block extra firm tofu
1 tsp tahini
1 tsp lemon juice
1 tsp apple cider vinegar
1 tsp garlic powder
Directions:
Buffalo Chickpea Pinwheels
Cook chickpeas until warm. Drain and place chickpeas into a large bowl or food processor.
To make the buffalo sauce, melt butter and whisk together with hot sauce. The more hot sauce the spicier it will be. Adjust taste to your liking.
If using a processor, add all ingredients and pulse until desired mashed consistency. If not using a processor, mash chickpeas up with a fork then mix in all other ingredients until well incorporated.
Take a spinach tortilla and place a heaping amount of the chickpea mixture and spread it all over the wrap. Add in more green onions, salt/pepper, and vegan blue cheese to your liking.
Roll up and cut into 1 or 2 inch thick pinwheels.
Serve with vegan blue cheese and Enjoy!
Vegan Blue Cheese
In a medium bowl mix all ingredients (except tofu) well.
Drain the 1/4 block of tofu. Crumble it with your hands and fold into mixture.
Season with salt/pepper and a dash more of garlic powder.
Top with green onions if desired.