Vegan Brussels Sprouts Caesar Salad with Chickpea Croutons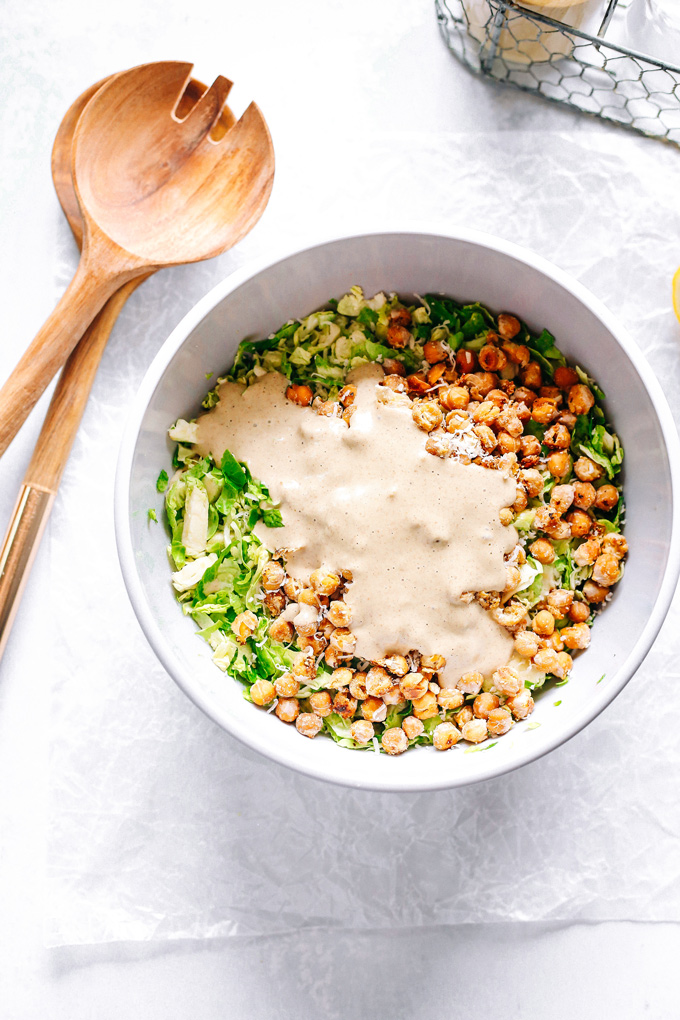 I love me a good Caesar Salad but I especially love this Vegan Brussels Sprouts Caesar Salad with Chickpea Croutons because not only is it deeeelicious…it's jam packed with nutrients and anti-inflammatory properties like you wouldn't even believe!!!
Brussels Sprouts really do bring their A game in the wellness department. Anti-inflammatory, full on anti-oxidant support, helps lower cholesterol, high in fiber, great for the heart and your blood, awesome GI support, and surprisingly high in vitamin C among many other fabulous health benefits.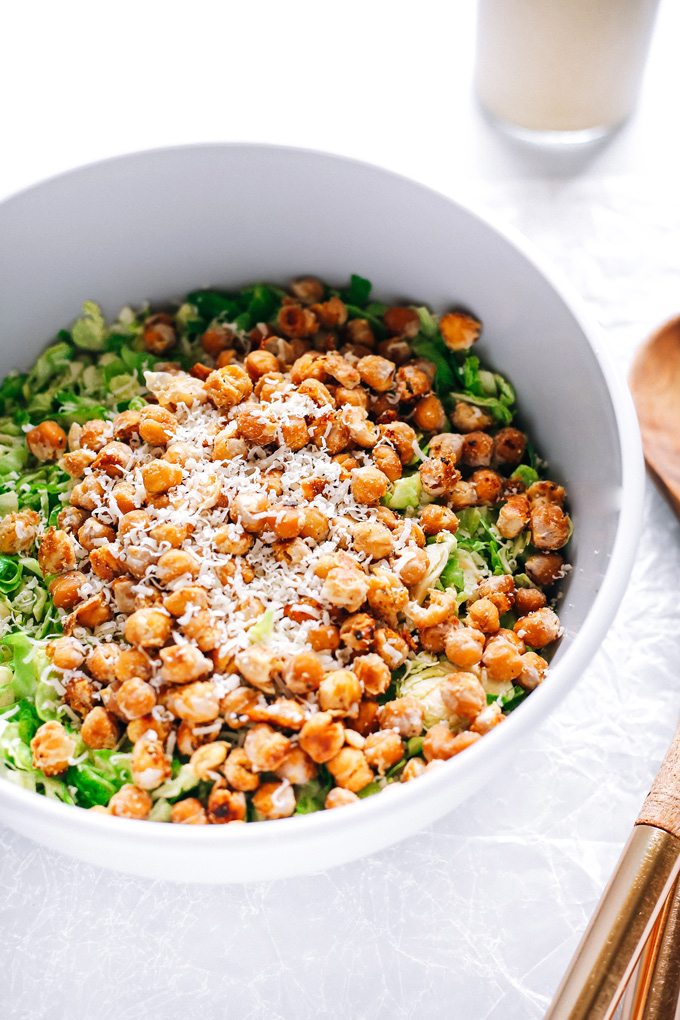 For this salad I kept the shaved brussels sprouts raw but they can be quite course and hard to chew, kind of like how kale can be a workout for the jaw. So same as I do with kale, I massage the shaved brussels with fresh lemon juice. I work it in there so the shavings become more delicate and easy to chew. It works wonders and your jaw will thank you for it. Topping it with this creamy caesar dressing recipe I've included here helps too!
There are tons of ways to enjoy brussels sprouts, from roasting, to steaming, to even raw, however best you can digest them. But no matter what, they will do for you ah-mazing things. Like seriously amazing. So how fun to incorporate them into a salad right?!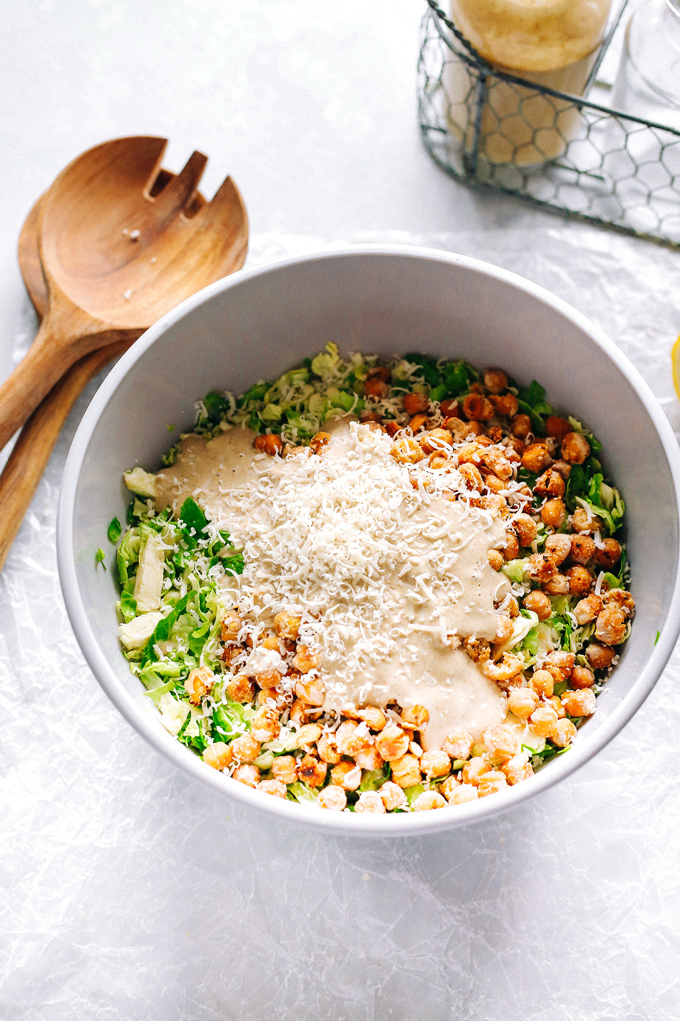 Adding in chickpeas to play the role of croutons is even more nutritionally awesome. You get the crunch, taste, flavor, everything you would get with croutons but with a healthier kick. Chickpeas are high in protein and basically can do and be anything like cauliflower. I always find a good use for them. I also keep the water known as aquafaba to make delicious snacks and desserts like my 2 Ingredient Vegan Chocolate Mousse.
*THIS POST CONTAINS AFFILIATE LINKS, WHICH MEANS THAT I MAKE A SMALL COMMISSION OFF ALL ITEMS YOU PURCHASE AT NO ADDITIONAL COST TO YOU. I APPRECIATE YOUR SUPPORT IN THIS WAY AS IT HELPS KEEP NM UP AND RUNNING.*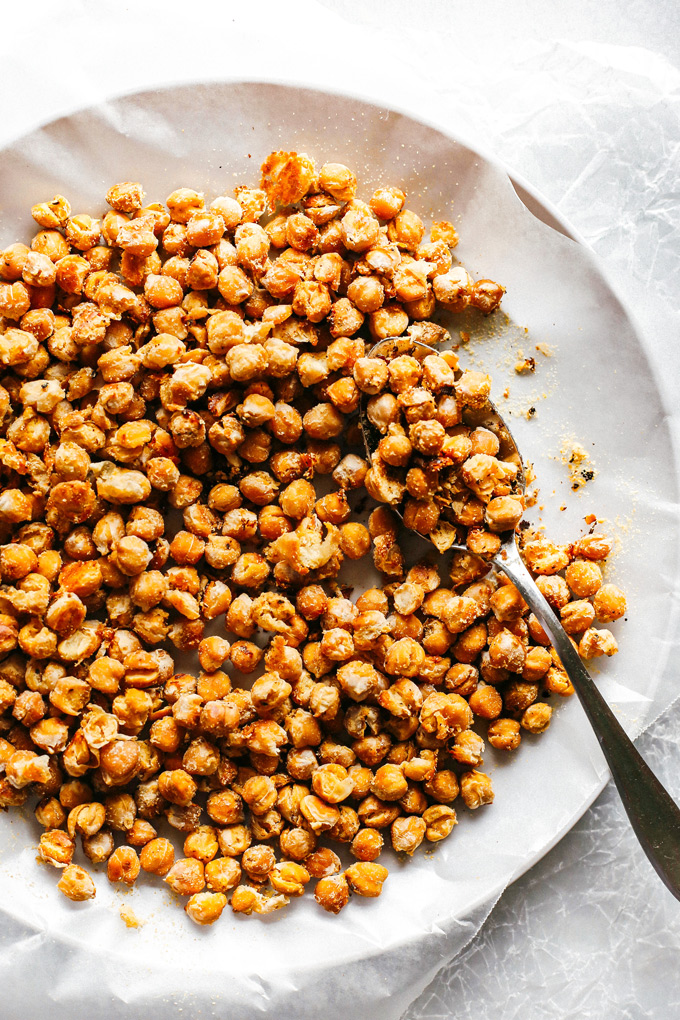 If you want to get your chickpea game on strong I have an excellent Chickpea Salad Sandwich in my cookbook, Living Crazy Healthy and tons more easy yummy recipes you can find here like my Vegan BBQ Chickpea Pizzas, Buffalo Chickpea Pinwheels, or Street Style Vegan Gyros, all are huge hits and packing big, nutritionally.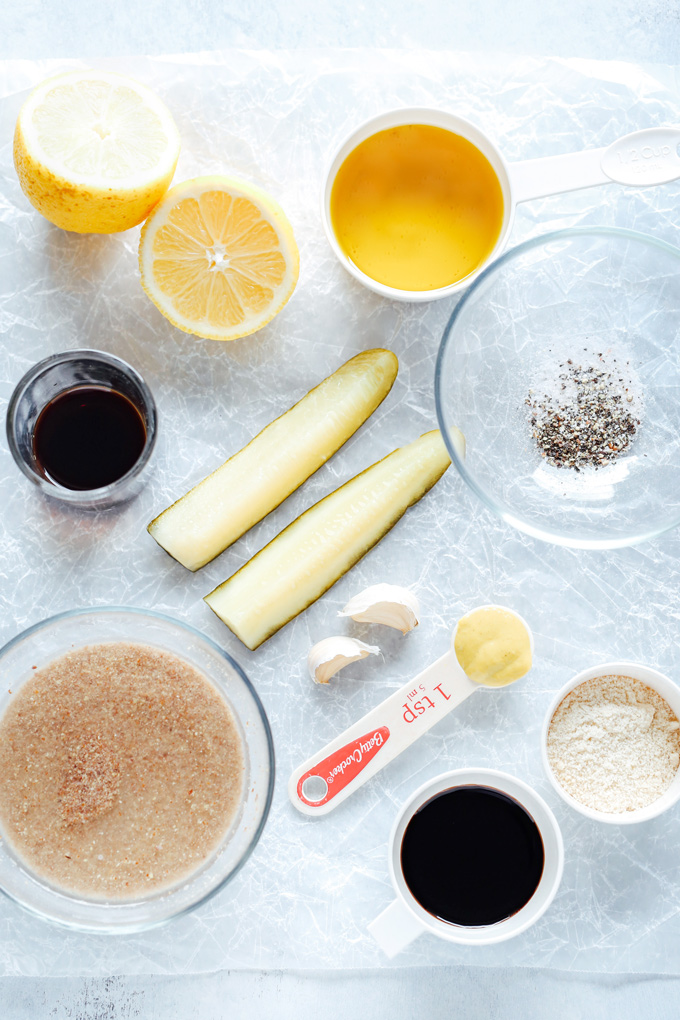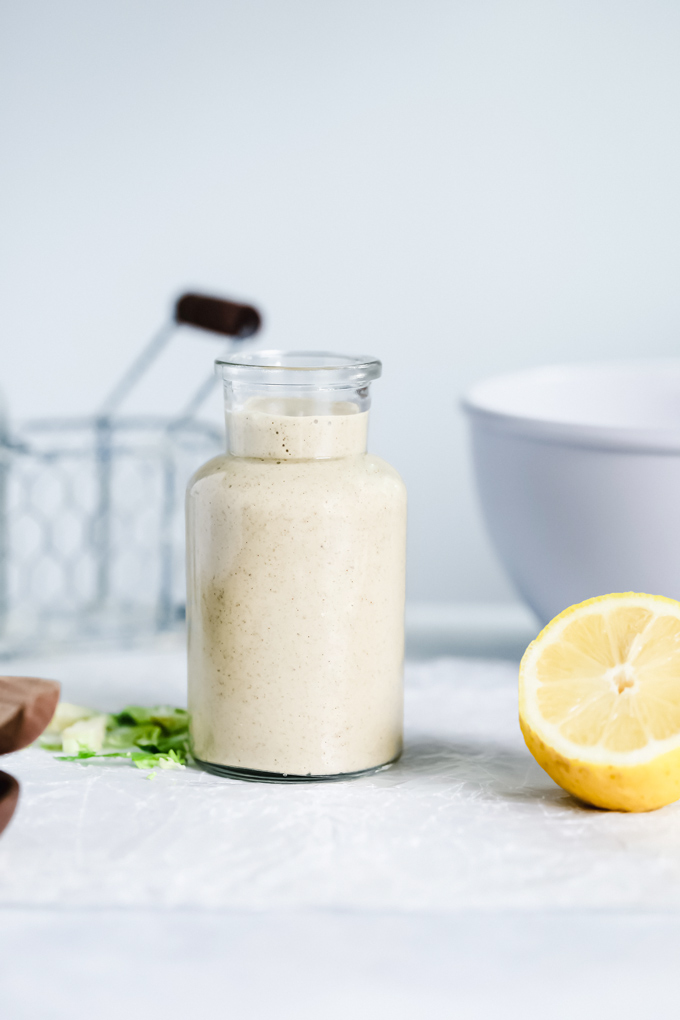 Ok now we must must must talk about this homemade vegan caesar dressing with a super sneaky, you might think odd, ingredient. PICKLES!!!! No I'm not pregnant (lol) but pickles are the magic in this easy recipe. It's hands down the best vegan caesar dressing I ever had and I'm not just saying that to blow smoke up your ass. I also can't take the credit for this. I found this recipe on Pinterest from SimpleVeganBlog and It. Is. Everything. I made very small changes to suit what I had on hand but it's basically the same thing. Easy, creamy, delicious, bomb dot com with ingredients easily found or most likely already in your pantry. Nothing out of the ordinary here, for both vegans and non vegans.
Just look at these ingredients!!!
Flaxseeds
Pickles
Liquid Aminos
Balsamic Vinegrette
Extra Virgin Olive Oil
Vegan Parmesan
Yellow Mustard
Lemon
Garlic
Salt/Pepper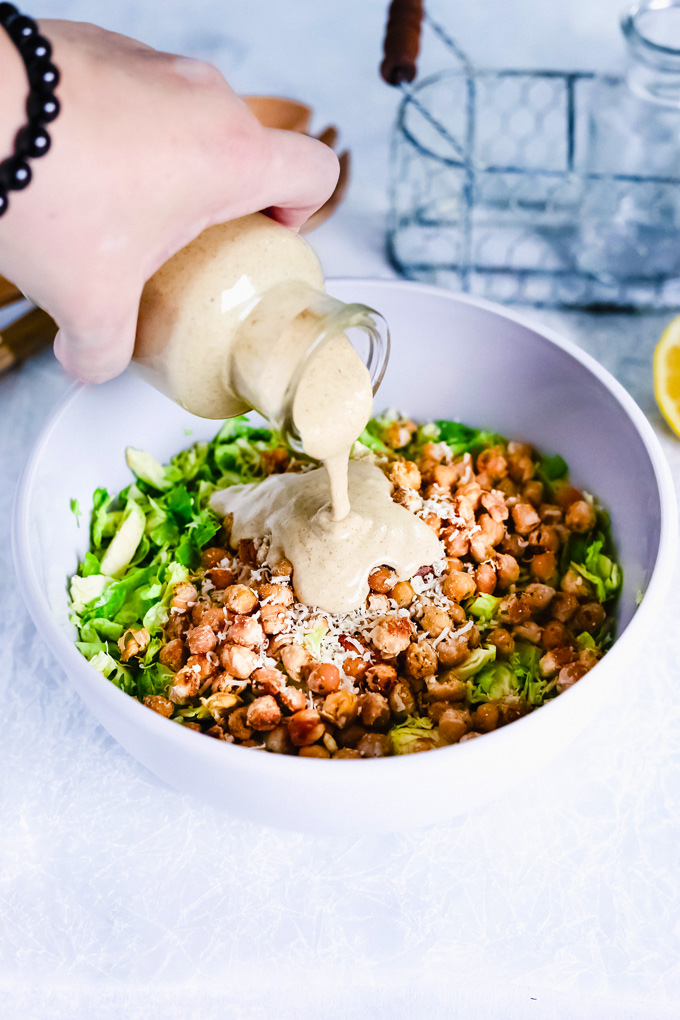 Then it turns into this ultra creamy (I know I keep saying it but it's true), oh so delicious vegan caesar dressing. You're going to want to make boat loads of this Vegan Brussels Sprouts Caesar Salad for the dressing alone never mind all the endless health benefits of the rest of the salad.
You can store this dressing in a mason jar or any air tight container but I prefer to just make it fresh when I need it because it's so easy and ready in 5 minutes.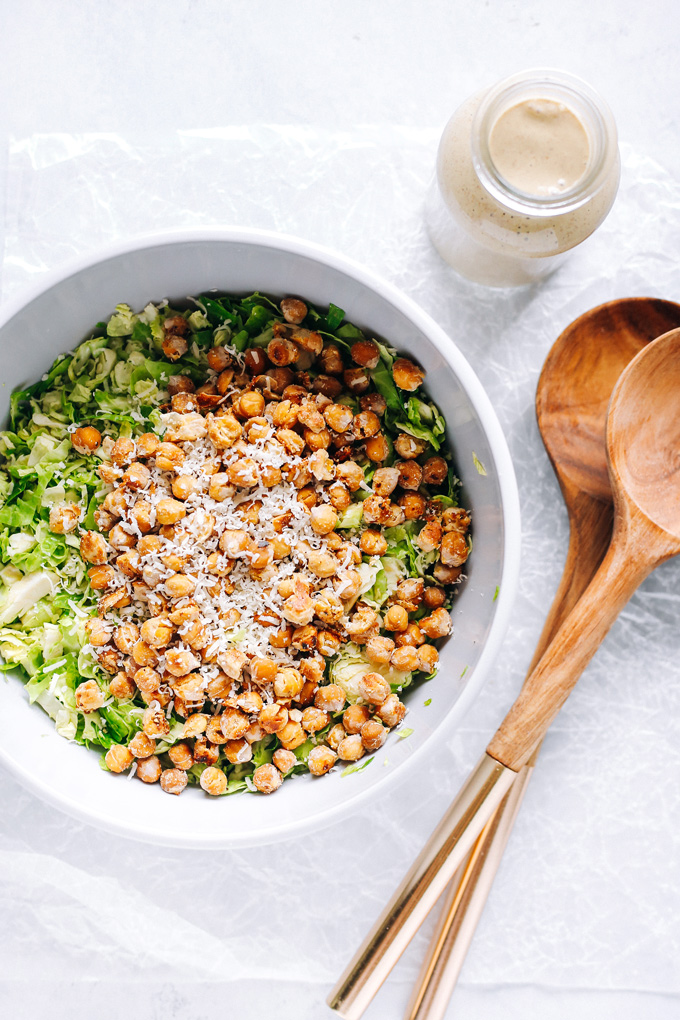 If you made it all the way down here thanks for reading! The only thing left to say is you're about to embark on one hell of a delicious journey so embrace it and enjoy.
If you make this recipe I'd love to see it and share it in my stories on Instagram. Tag #neuroticmommy so I can see your creations. It's a fun way to stay connected with the NM community. It brings joy to my heart to read your comments and see you living your best life. I'll even save your tags or photos to my highlights!
Vegan Brussels Sprouts Caesar Salad with Chickpea Croutons
Such a fun way to enjoy a classic fave. With their anti-inflammatory properties brussels sprouts are one superfood to add to in your weekly rotations.
Ingredients
1 10 oz bag of shaved brussels sprouts
2 tbsp lemon juice
extra vegan parmesan to sprinkle on top
Vegan Caesar Dressing
1 tbsp flaxseeds with 3 tbsp water
2 garlic cloves
2 dill pickles
8 tbsp vegan parmesan
6 tbsp extra virgin olive oil
2 tbsp lemon juice
1 tbsp braggs liquid amino
1 tbsp balsamic vinegar
1 tsp yellow mustard
salt/pepper to taste
Chickpea Croutons
1 15oz can of organic chickpeas
1 tbsp avocado oil
1 tbsp garlic powder
1 tbsp onion powder
1 tbsp vegan parmesan
salt/pepper to taste
Instructions
Wash and rinse the shaved brussels sprouts, place in a large salad bowl and massage with 2 tbsp lemon juice.

Preheat oven to 375F and line baking sheet with parchment paper. Drain chickpeas, saving the water for other recipes, and place on baking sheet. Pat dry with paper towel. Drizzle on avocado oil and all seasonings. Mix around on the tray to get them evenly coated. Bake for 25 minutes or longer for extra crispiness.

To make the dressing simply add all ingredients to a blender and run until smooth and creamy.
Putting it all together
Start by massaging the the brussels sprouts with lemon juice. Add on the chickpea croutons, dressing and extra parmesan cheese to top if desired. Mix till well incorporated.

Serve right away and Enjoy!
Notes
Time does not reflect 25 minutes to roast the chickpeas. You can make those before hand or at the time of making the salad. 
~Pin This Recipe~