PB&J Thumbprint Cookies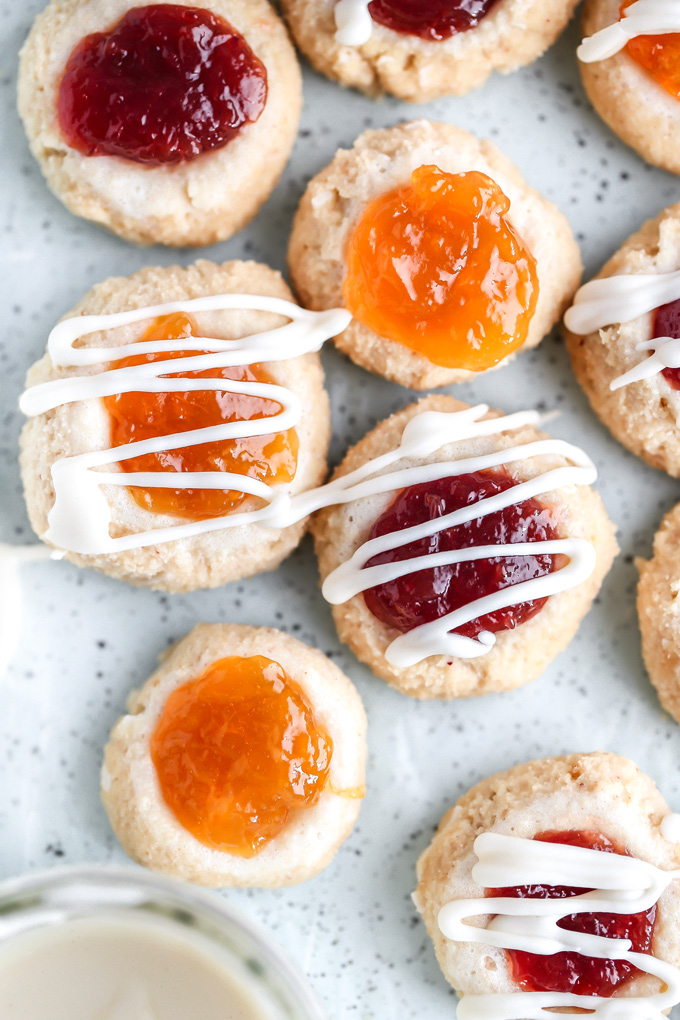 Raise your hand if you grew up on PB&J Sandwiches? I raised both my hands because that's what I mostly ate for lunch growing up. Although I hated it then, I have a new found love for PB&J and I found it through what are known as Thumbprint Cookies. Hallelujah.
Don't get me wrong, I still enjoy the sandwiches from time to time and my kids love them too but switching it up to these PB&J Thumbprint Cookies are where it's at and I know you're going to love them.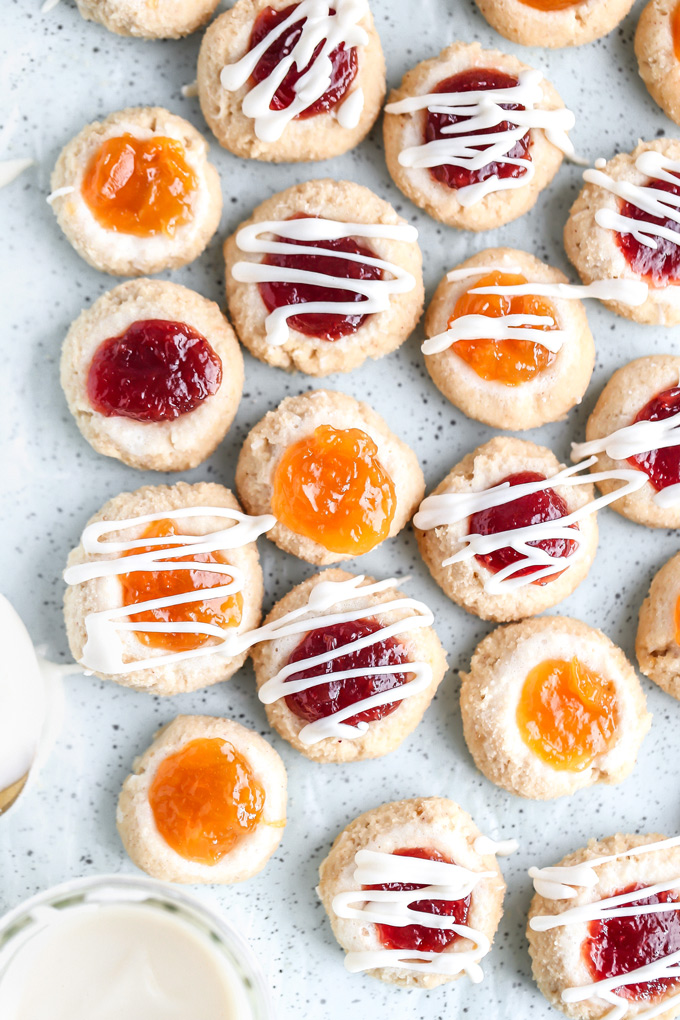 But can I just tell you an itty bitty secret first? So you know I'm doing Vegan Keto right? Well these thumbprint cookies are all sorts of vegan Keto and regular Keto friendly. OMG, I know but yes I'm not kidding. Even the icing, like whoa.
Omg and wait wait wait…just wait a minute. One of the best aspects of these?!?!? They're NO. FREAKIN'. BAKE. BOOM. Who's your girl? Me right, lol. I'm telling you friends you can't make this stuff up.
Way back when in 2013 I made a version like this but they were not keto friendly as they had oats in them. I took that same recipe, tweaked it a bit, removed the oat flour and viola! All the deliciousness for my low carb friends to enjoy.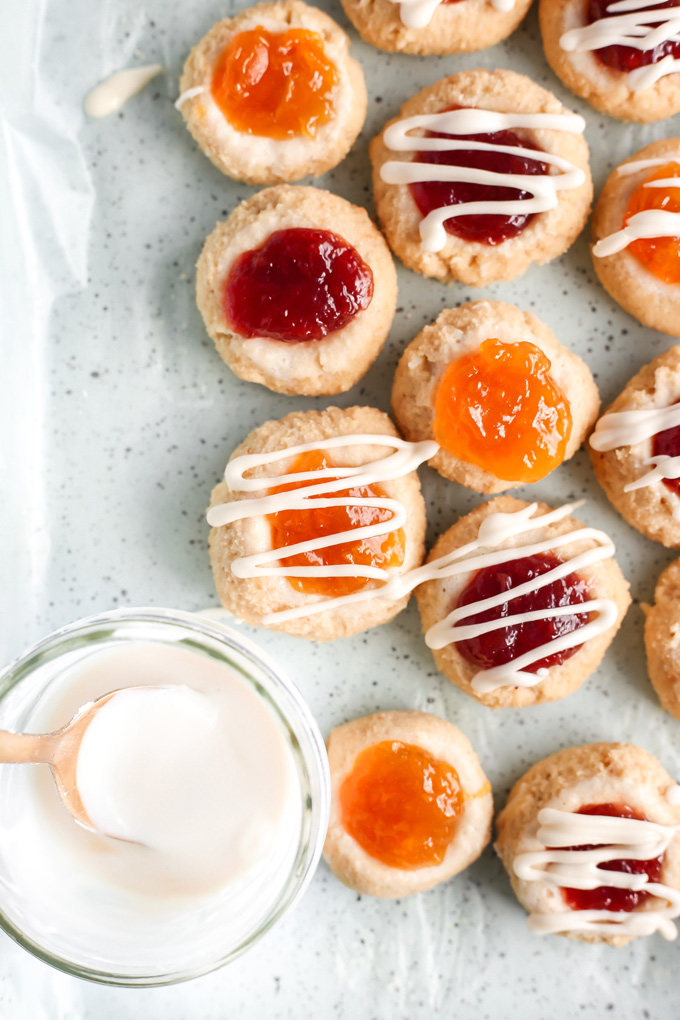 Key is you have to find a sugar free jam or one sweetened with a keto friendly sweetener. The flavors I went with because they just look like fall to me are apricot and sweet strawberry. Are we besties yet?
As for the ingredients, well there's a whole lot you can do with almond and coconut flour. They're like Keto BFFs. You can make almost anything with them and actually enjoy it. I have to tell you, being on Vegan Keto I have not once felt deprived although I have limited options if that makes sense. I eat enough and I'm truly full. I'm not starving or binge eating at night which is usually my downfall. Who doesn't love good mindless TV with some snacks amirite?!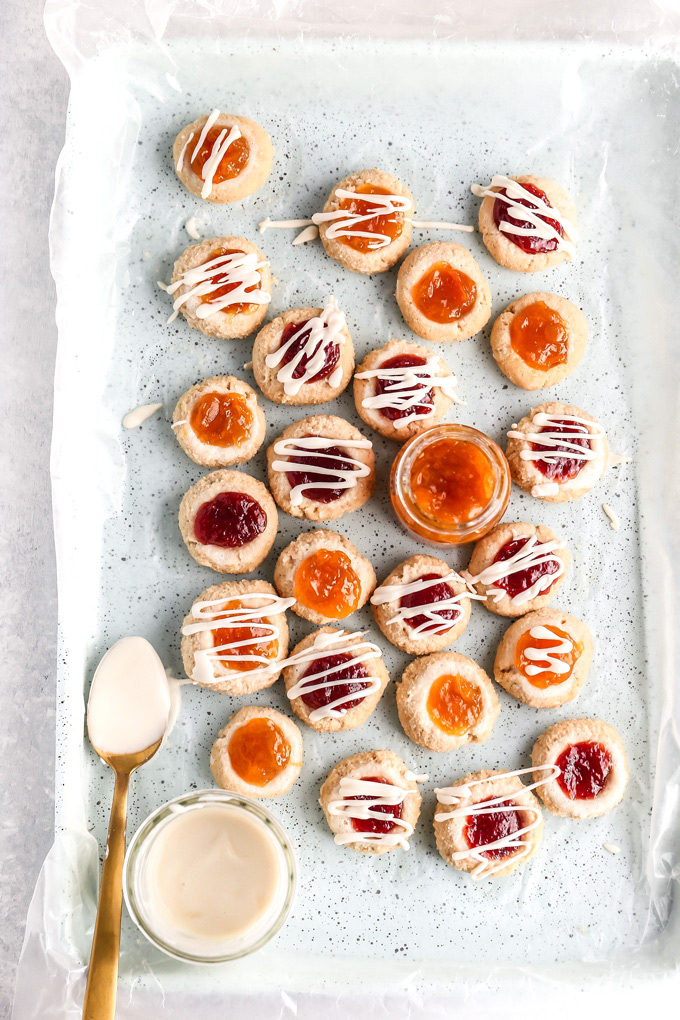 Furthermore, I know you're just dying to know, sitting at the edge of your seat what in the deliciousness is the icing made out of and is it even good. It's made with Lakanto's Powdered Sugar and unsweetened almond milk because that's how I roll friends. The icing is legit and even though these cookies are bomb without it, I pinky promise you they're even bomber (can that be a word?) with it and you want this in your life. Icing fo' life!
Now that your mind has been clearly blown, aren't you glad you showed up for this post today? It's all about the goods people, all about the goods. Go get your Thumbprint Cookie on and don't for one single second feel guilty about it. Enjoy!
I'm on a vegan keto snack kick, so here are few more for you to enjoy:
Chocolate Peanut Butter Lava Cakes
PB&J Thumbprint Cookies
Easy breezy no bake vegan (keto) cookies are peanut buttery and filled with keto friendly jam and topped with a heavenly vanilla glaze.
Ingredients
1.5 cup almond flour
0.5 cup coconut flour
5 tbsp keto friendly maple flavored syrup, (see notes) or regular maple syrup if not following keto
1/2 cup unsweetened almond milk
4 tbsp creamy natural peanut butter, (see notes)
2 tsp vanilla extract
1/4 cup unsweetened shredded coconut
1/2 tsp sugar free jam,, per cookie
Icing
0.5 tbsp almond milk
2 tbsp Lakanto Powdered Sugar, (see notes)
Instructions
In a large bowl combine all cookie ingredients and mix well.

Line baking dish with parchment paper, take tbsp size dough and roll it into balls. Using the back of a spoon or your thumb, gently press center to make indentation. I like to spray a spoon with coconut oil spray so it doesn't stick to the cookies.

Fill cookies with jam of choice then place in the freezer for 30 minutes to set or you can do overnight.

Mix powdered sugar and almond milk until thick icining forms. To make the icing thicker, add more powdered sugar and to make it thinner add more almond milk. Preference on consistency. I like to ice my cookies when I take them out of the freezer to eat, but you can do it before hand as well.

When ready to serve, remove from freezer and Enjoy!
~Pin This Recipe~