Easy Vegan Petit Fours
jump to recipe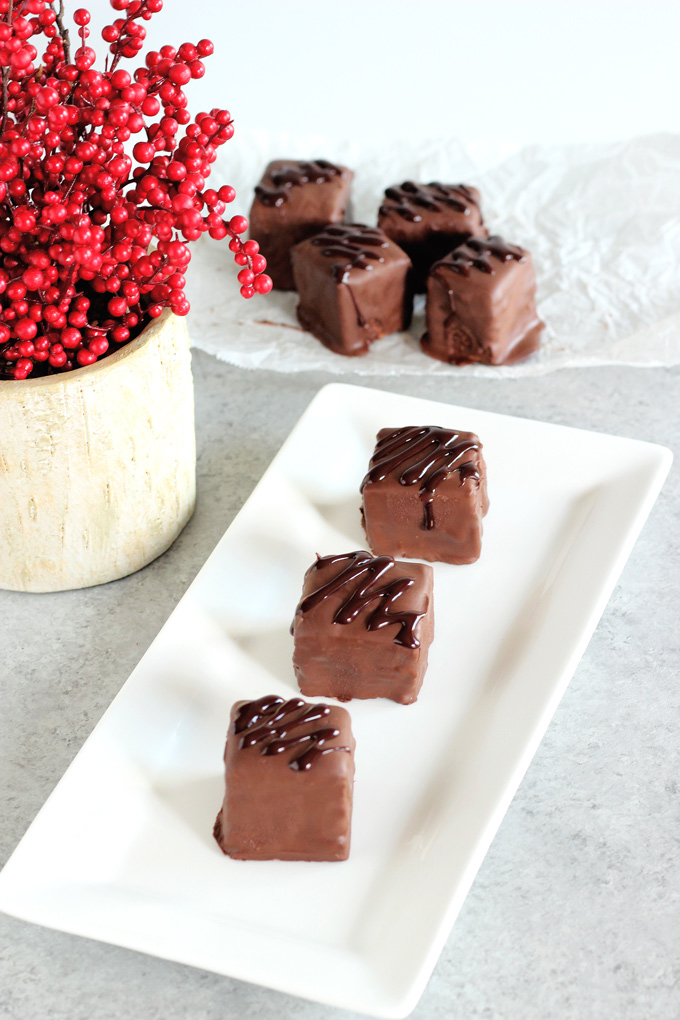 Thank you to Simply Organic for sponsoring this post. Check out Simply Organic's full line of spices for flavorful dinner and desserts the whole family will enjoy.
Yaaay it's December and Christmas is coming! Feels like just yesterday we were celebrating last year. Is it just me or has time been flying faster than usual? This holiday season I teamed up with Simply Organic to help you celebrate Thursdays. Aside from super busy weekends, Thursdays are the perfect opportunity to create organic moments with great food, family, your closest friends, and fun activities.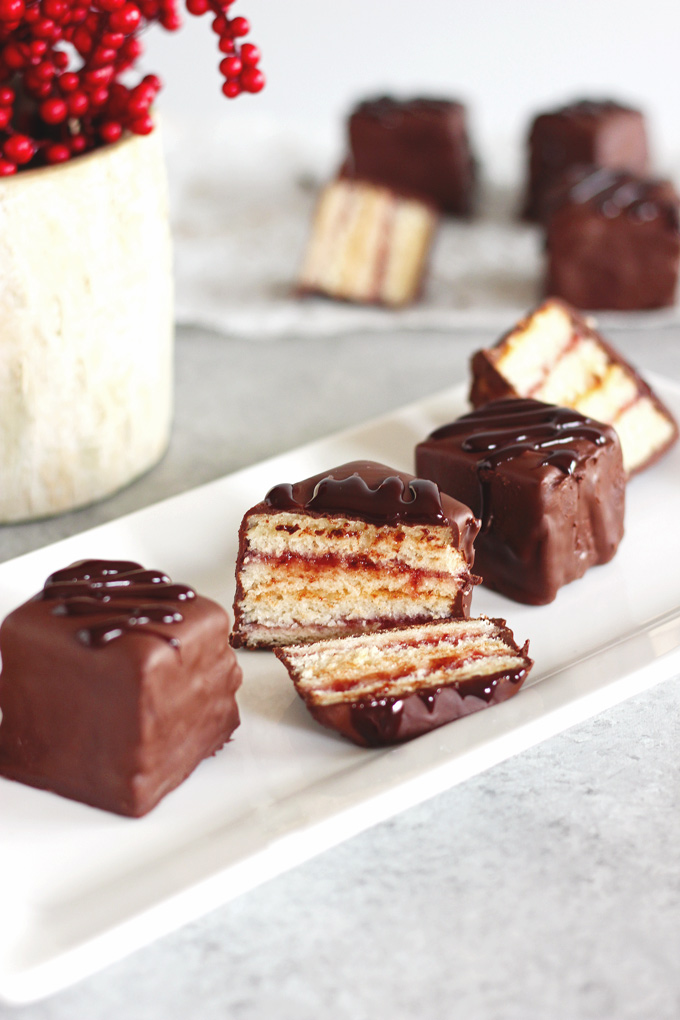 Setting the Table for Organic Moments means that you are cooking with intention, sharing your values with friends and family every time you eat a meal together. This will inspire you to share the simple joys of the season with delicious, organic food, togetherness and excitement.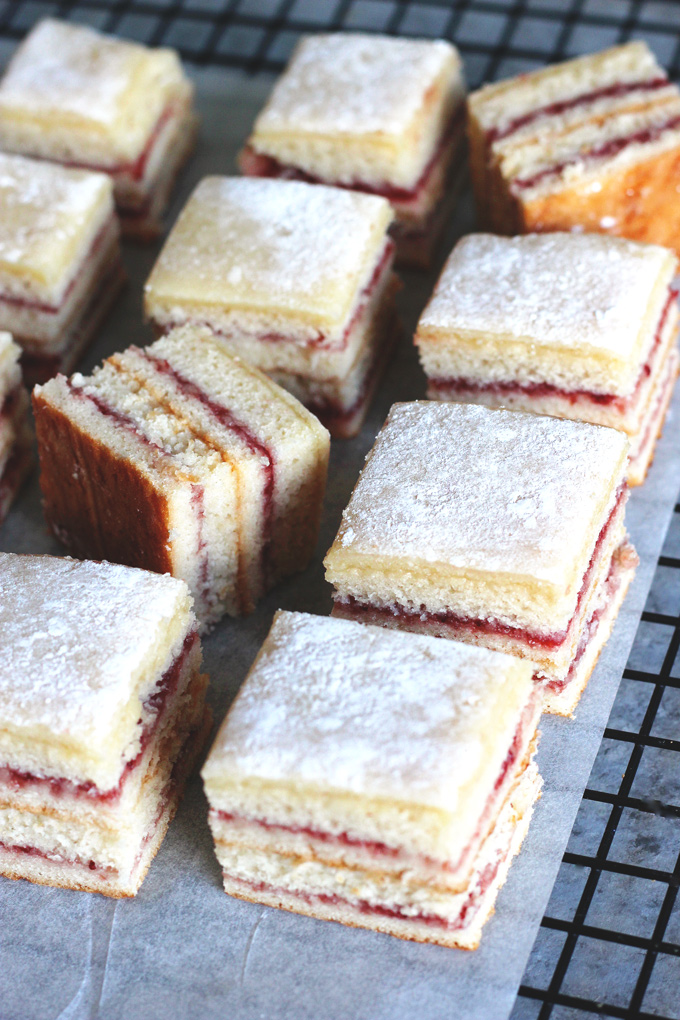 That's where this classic treat of Easy Vegan Petit Fours come into play. My family absolutely LOVE petit fours, however they can be a pain in the butt to make, can require a lot of time, and most bake shops don't have a vegan version. Bummer.
Petit Four means "small oven" in French. They are basically mini cakes but most of us are familiar with them as tricolor cookies. They're the perfect finger food dessert to pass around to your family or holiday guests. And did I mention they are insanely good? Ok well, they are. 😊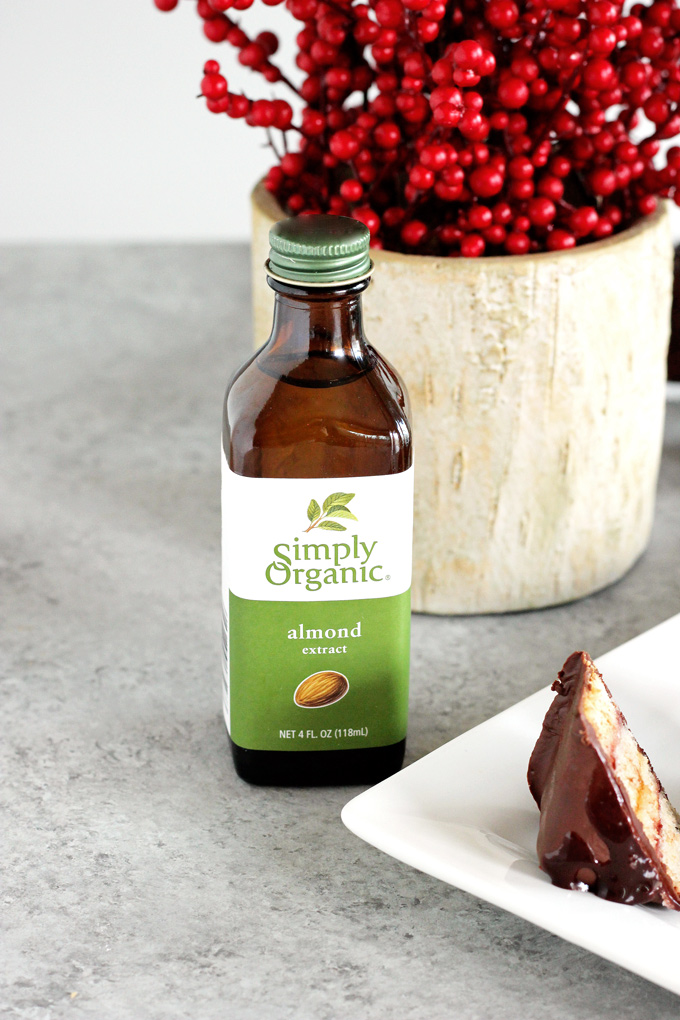 These mini cakes or cookies (what have you) have the perfect hint of almond and vanilla. They're sweet, and easy to make compared to the traditional way. For this recipe I use a simple vegan vanilla cake recipe (details below) and I add Simply Organic Almond Extract and Simply Organic Vanilla Extract to create the sweet, classic flavor. In between each layer I use a warm organic strawberry jam but raspberry would be great too. The outside is coated in delicious dark chocolate mixed with coconut oil. The petit fours taste amazing without the chocolate, however when the chocolate is added and you take that first bite, it brings the whole thing together in it's entirety. With each and every chew you'll be one of those people who moans and groans on how good it is. I kid you not.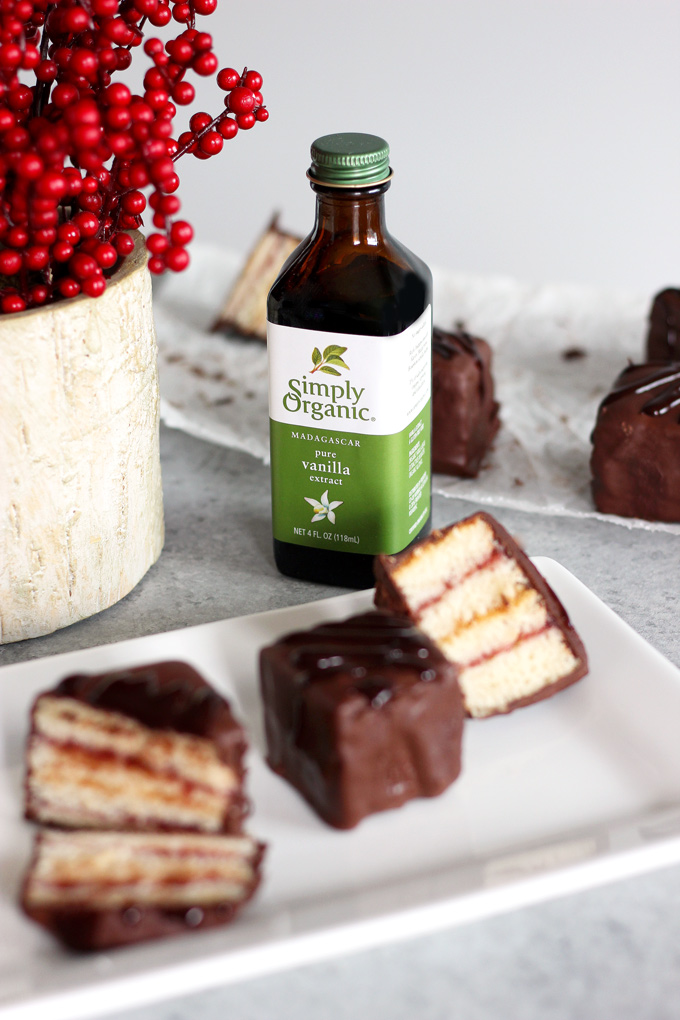 Simply Organic Almond and Vanilla Extracts are smooth and delicate. They're made with real ingredients that make me comfortable when preparing my desserts and treats with love. It's all about the energy and these products exude positive energy that make cooking and baking even more fun and exciting. To be able to partner with companies you can trust is number one is my book.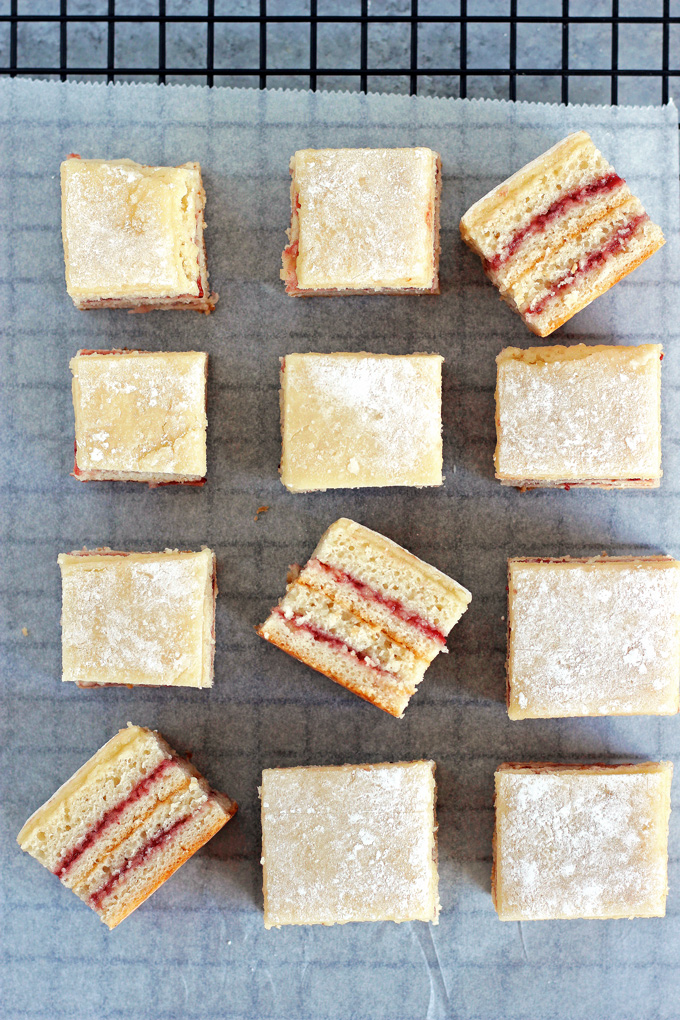 These little gems are the perfect addition to your holiday menu and what better way to celebrate the season with a whole lotta love and some sweetness.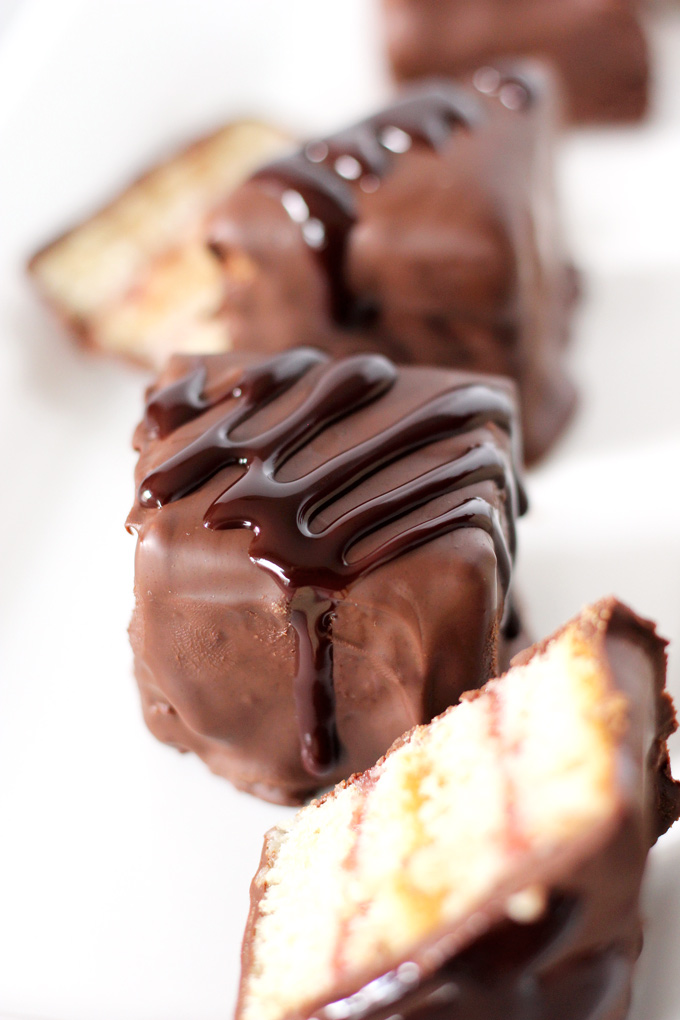 Share your organic moments and enter to win the Ultimate #ThursdayMoments Giveaway by taking photos of your parties and recipe creations and uploading to Instagram using #ThursdayMoments. Visit Simply Organic to find more ways to plan your #ThursdayMoments.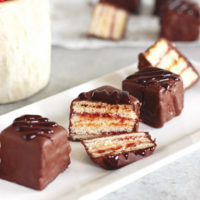 Easy Vegan Petit Fours
These little gems are the perfect addition to your holiday dessert menu. What better way to celebrate the season with a whole lotta love and some cake/cookie sweetness!
Ingredients:
Cake Recipe:
2 1/2 cups cake or ap flour
1 1/2 cup organic sugar or coconut sugar
pinch of salt
2 tsp baking powder
1 tsp baking soda
1/4 cup coconut oil or vegan butter, melted
2 tbsp apple cider vinegar or lemon juice
3/4 cup almond milk
1 cup water
1 1/2 tsp Simply Organic almond extract
1 tsp Simply Organic vanilla extract
For the Filling:
warmed strawberry jam
2, 9oz almond pastes (also known as marzipan)
organic powdered sugar
Chocolate Coating:
2 cups vegan chocolate chips
2 tbsp coconut oil
1 tsp Simply Organic almond extract
Directions:
Preheat oven to 350F an line a standard baking sheet with parchment paper. Use two pieces of parchment paper so they overlap each other. This makes it easier to lift the cake.
Whisk together all dry ingredients.
Add in all wet ingredients and mix until completely smooth. Use a hand mixer for this if you can as it will make it easier. About 1 minute.
Pour cake batter into lined baking dish and bake for 25-30 minutes or until golden. The center will bounce back to touch. Allow cake to cool in pan before removing.
Once cool, remove from pan and quarter the cake, which means you'll have a rectangle shape cake basically and you're going to cut 4 even squares.
Take each square and using a serrated knife, gently cut them in half. Do this part carefully and slowly so they all come out even and leveled. You will have 8 pieces of cake.
Warm up some strawberry or raspberry jam. Brush one side of each cake layer with the warm jam. You have to coat the cake just enough it doesn't have to be huge amounts of jam. You should still be able to see the cake through the jam. Create two cake stacks both with 4 layers each.
Pour powdered sugar over  flat surface and roll out almond paste. Lightly wet one side of the paste and place it on top of the cake stacks and cut to the exact size of the cake. I did this with my hands and it literally comes right off the sides. Put in the fridge to set for 10 minutes. (You can wrap it in plastic wrap for this part)
While your cake is in the fridge melt up all the ingredients for the chocolate. The coconut oil makes it a tad more runny and not so thick. I also add in a little more almond extract to enhance the flavor.
Remove cake from the fridge and cut into even little squares. You will have 18 if you cut them evenly. Dip your petit fours into the dark chocolate and set on a parchment paper lined cookie sheet or cutting board. Once all cakes are covered place back into the fridge for 5-10 minutes to set. Once set remove from the fridge, drizzle with extra dark chocolate, serve immediately or keep stored in the fridge until ready to eat. Enjoy!
I was selected for this opportunity by Simply Organic and the content and opinions expressed here are all my own.