Baked Chocolate Almond Croissant Sandwiches
You're either going to really love me or really want to hate me after this post…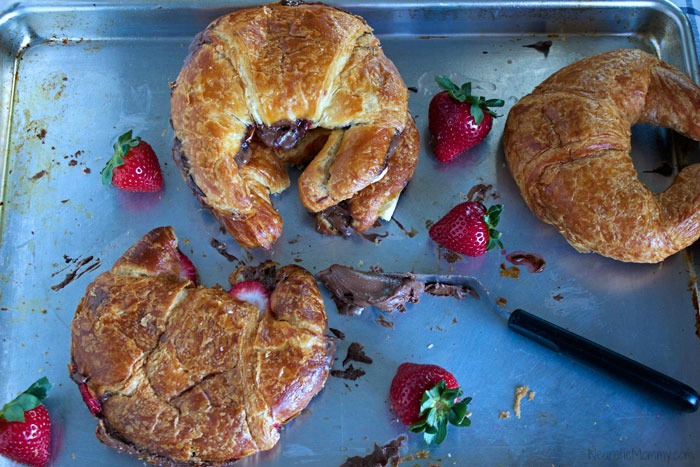 Key word in my beginning sentence was want. Because although you may want to hate me after this you won't because you'll be hooked after your first bite.
These Baked Chocolate Almond Croissant Sandwiches were inspired by Heather Kristo's BrownButterFriedNutellaBananaCroissantSandwiches. Um can you say flippin' fantastic?! I sure can. Anywhoozers I needed to remake those beauties but without using Nutella. Then I was on a quest for some vegan croissants. Luckily my local health food store carried them from a nearby local baker! How lucky was I right! I knew then this was meant to be. The universe knows what's up.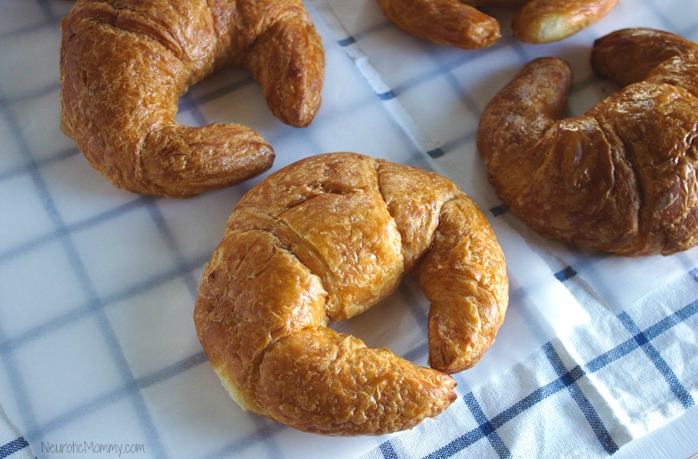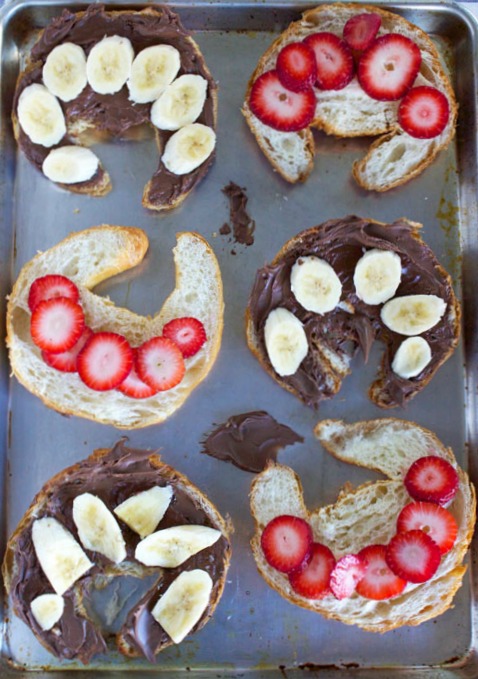 I used all of my favorite ingredients to make this. Bananas, Strawberries and a Non-GMO Chocolate Almond Spread I found at WholeFoods. They always come through for me when I'm looking for healthier, replacement spreads. (Nope not an endorsement just what I like) You can use any chocolate spread you like. You can even slap on some homemade dark chocolate, melted dark chocolate or a hazelnut spread. If you're looking to steer clear of gmo's just make sure they have that third party verification on the packaging that says Non-GMO verified.
I'm not saying everything organic is healthy. Like these sandwiches aren't something I make on the regular but Easter is coming and I'm just putting the ideas out there for you so you can enjoy your holiday (if you celebrate). It's a splurge I know but one you won't regret.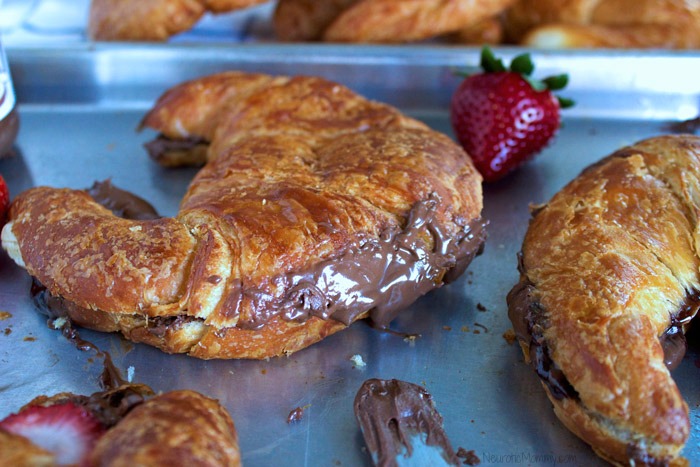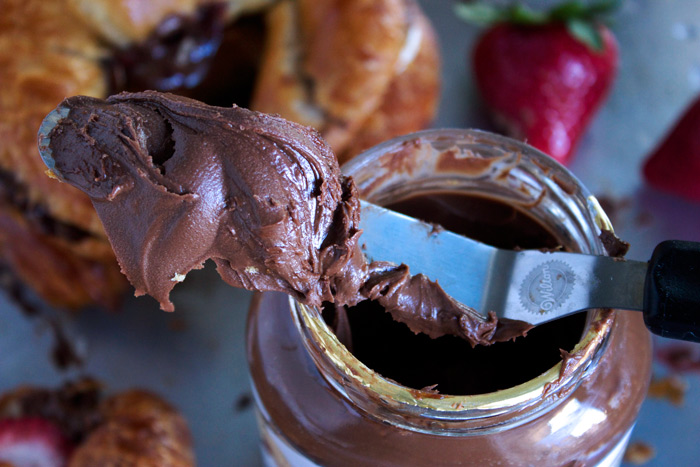 Look at that creamy chocolate!
This is a chocolate lovers dream! There is just something about the flakiness of the croissant filled with warm chocolate and bananas. The strawberries add a tartness on top of all the delightful, creamy sweetness. Oh and I'm sure you can imagine my son was in his glory. Chocolate around his face, hands and the rest of the house. It comes with the territory. Whattaya gonna do (enter shoulder shrug and eyebrow expression here) I know I always say it but I need my own emojis. I'm very facial and eyebrow expressive and I talk with my hands. But that's another topic.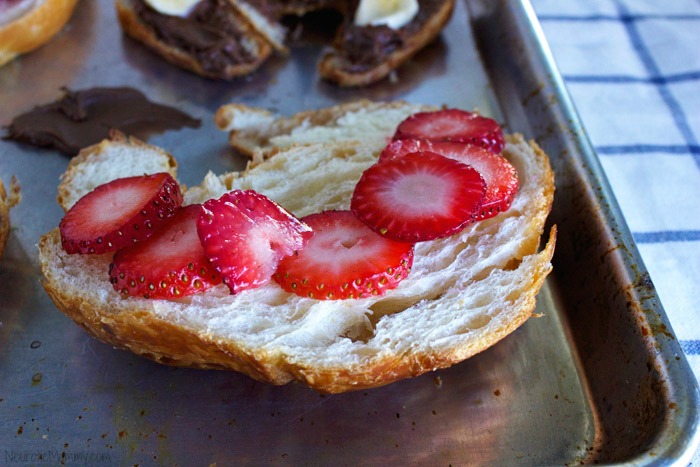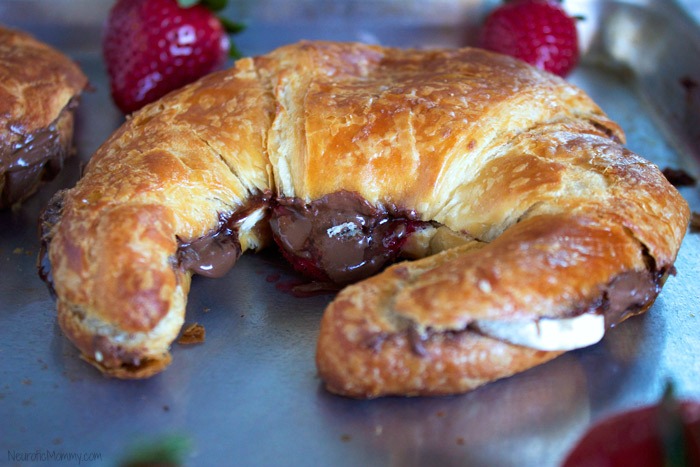 Now why did I bake them? Well I wanted to have them warm. I didn't have them baking too long just 15 minutes on 350F. Literally they came out perfect. They were crispy but still soft and pulled apart incredibly. Something about the texture of croissants that bring me to my happy place (lol). It would have really sucked if I would of burned these. Like I would of cried. Please don't burn yours. Check them at 10 minutes because everyones oven is different. Ovens are like people right. They do their own thing and go to whichever temp they feel. Freakin' appliances.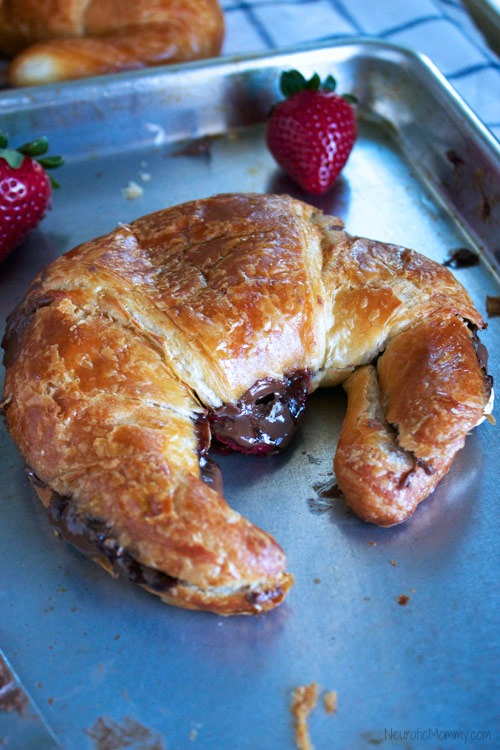 Croissants remind me of little pastry crabs. Anyone else see the resemblance? Haha well lucky for us they taste nothing like crabs. Ew imagine crab with chocolate banana and strawberries? I mean hey if that's you're thing I won't judge ya. But seriously if it is your thing come on!!! hahaha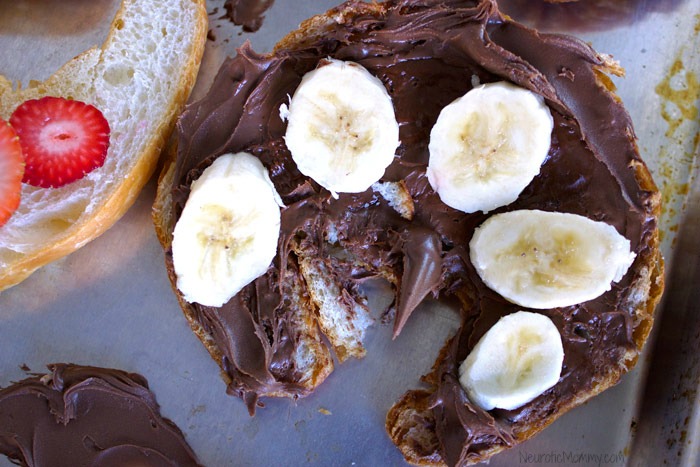 Baked Chocolate Almond Croissant Sandwiches require little to no effort at all. You literally just slab on some chocolate spread, sliced bananas and strawberries, bake em for 10-15 minutes and call it a day. It's a snack for everyone! The chocolate melts in the oven making it even more ooey and gooey.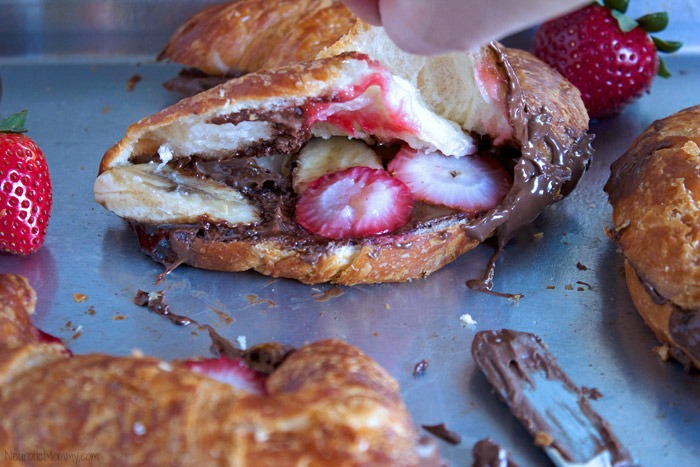 I don't know if there is much more I can say about this because it speaks for itself really. It's like "Hey look at me and how wonderful I would be all up in yo belly!" I'm full of jokes today.
I'll have more Easter ideas coming to you during the week too so stay tuned! Happy Monday =)
Baked Chocolate Almond Croissant Sandwiches
Author:
Prep time:
Cook time:
Total time:
Serves: 3
The Best Croissant Sandwiches you ever had. Served best at any time!
Ingredients
3 croissants (vegan or non)
2 tablespoons of your preferred chocolate almond spread on the bottom half of each croissant
2 bananas, sliced
about 8 large strawberries, sliced
Instructions
Preheat oven to 350F and line baking sheet with parchment paper.
Cut open croissants and spread chocolate filling on bottom halves of each croissant.
Top halves with sliced bananas, strawberries and the top of the croissants.
(Don't be shy with the fruit)
Place on baking sheet and lightly spray tops with coconut oil spray. I did this for extra crispiness.
Bake for 10-15 minutes. Serve immediately and Enjoy!
Notes
Please be advised that these are totally amazing.[br][br]The Chocolate Almond Spread I used is vegan so please read your labels if you're on more of a plant based regime.