One Pot Vegan Mushroom Pasta
jump to recipe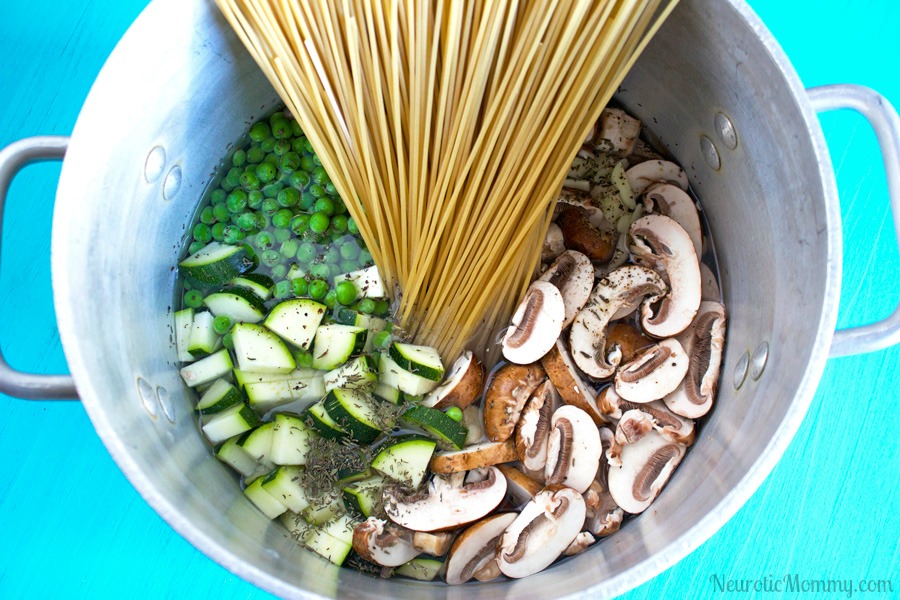 Happy New Year! I hope everyone is having a great start to 2017!
One Pot Vegan Mushroom Pasta, that's all it takes, one pot…isn't it amazing, such goodness all up in one pot? I literally threw everything into one pot and BOOM, 20 minutes later it was done. And by done I mean fully cooked, served and eaten. (Say word…word)
Can we just talk about the ingredients for a second. Ok so you may be thinking "Pasta really isn't healthy there Jenn." My response to that would be "Well Duh Sherlock that's why I used Quinoa and Brown Rice Spaghetti!" The only thing when using this sort of pasta is just watch the time on cooking it. If you over cook quinoa or brown rice pasta it can turn to mush real fast. You have to bring this type of pasta to a boil then simmer it for 8-10 minutes, drain and rinse. Rinsing is key as it stops it from cooking further.  Although you can use regular pasta, up to you.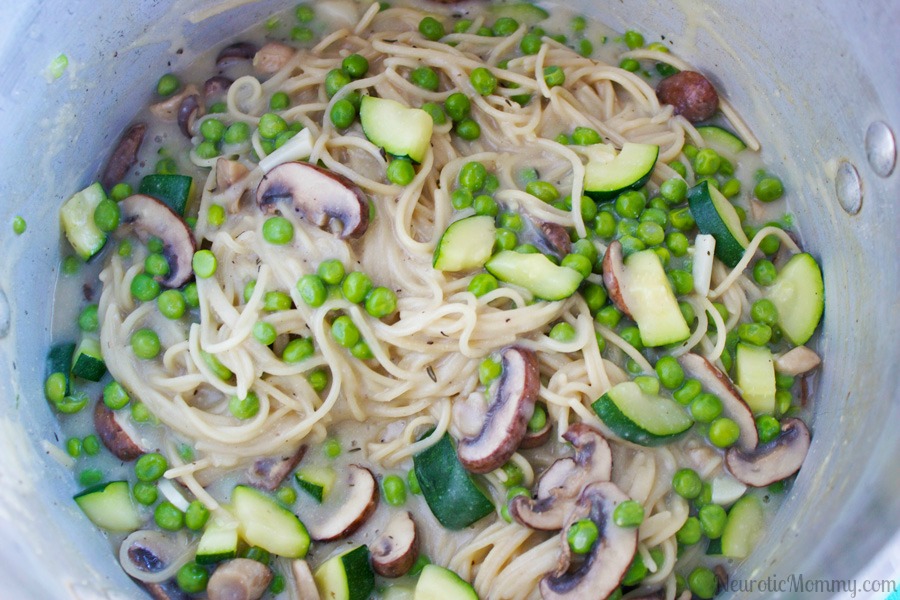 The only prepping you have to do is cut up zucchini, slice cremini mushrooms and pour water. (Oh the labor) Put it all in one medium to large sized pot (hence the name) and cook it. The water and milk will reduce. Not completely but as it cools it will thicken up a bit. If you'd like the cream a little thicker just add one tablespoon of brown rice flour.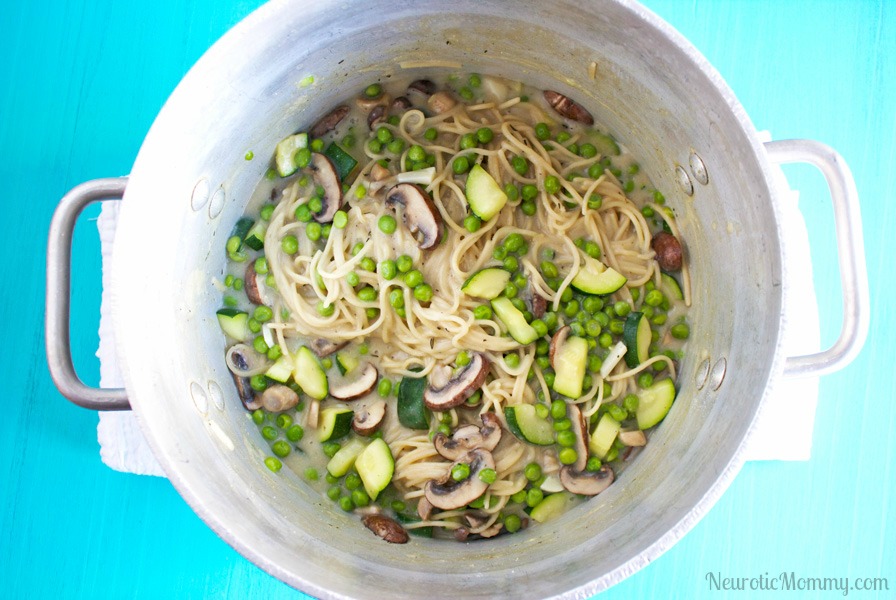 Other recipes like this typically call for heavy cream or regular milk and parmesan cheese. I just switched those with unsweetened almond milk, vegan butter, nutritional yeast, and vegan parmesan cheese. I'm sure coconut milk will work just as well too.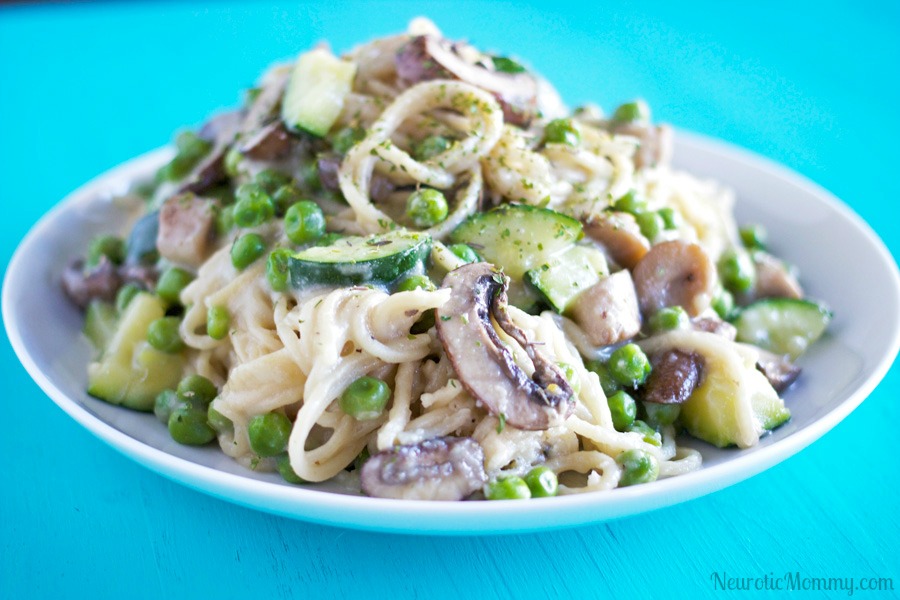 I'm a huge fan of creamy pasta sauces and mushrooms. Add two of my favorite things together and you got yourself one happy (Neurotic) Mommy. For realz. lol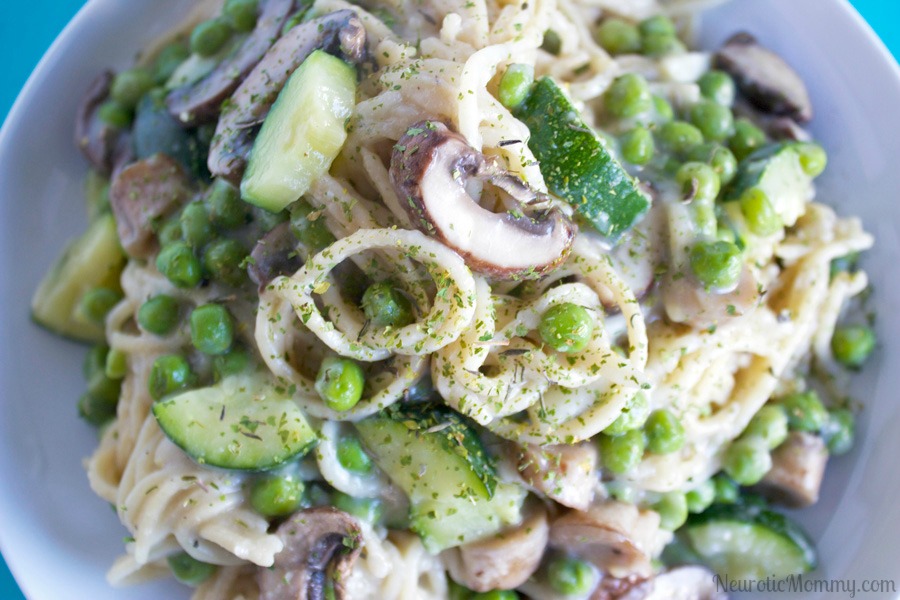 This was a home-run here on the home front. The hubs and Nugs were slurping up that spaghetti like it was nobody's bid-ness. Can ya blame em'? You're going to be doing that too! hahaha It's all good.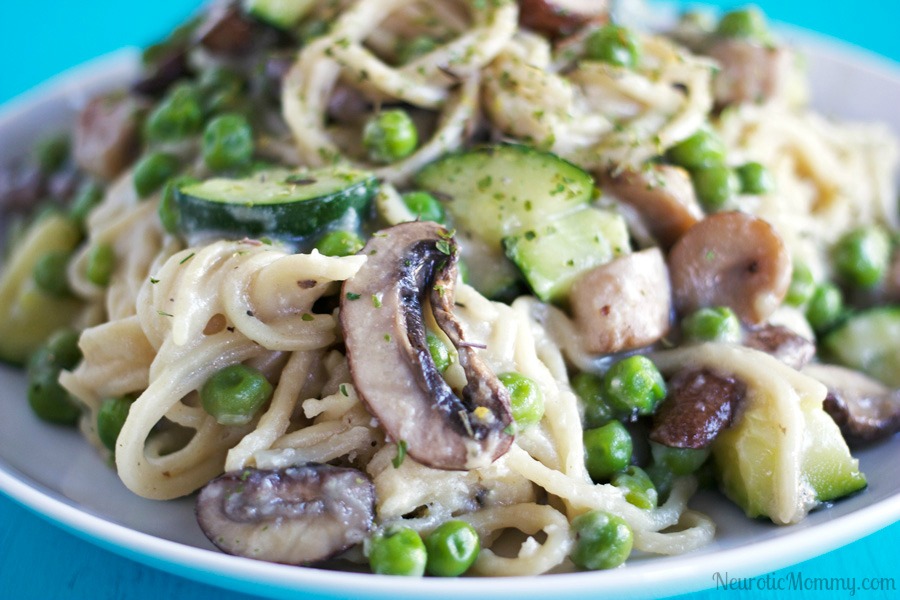 You can keep this stored in the fridge for a few days if by some chance you have any leftovers.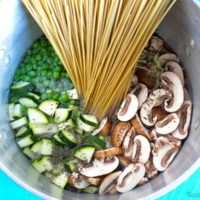 One Pot Vegan Mushroom Pasta
A delicious creamy pasta cooked and ready to eat all in one pot under 20 minutes.
Ingredients:
4 1/2 c water
1 pound quinoa & brown rice spaghetti
1 pound cremini mushrooms, sliced
1 pound frozen or fresh peas
2 zucchini, quarted
2 cloves garlic, sliced
3 tsp thyme
1 tbsp nutritional yeast
1 tbsp coconut butter or any vegan butter
1/4 c almond milk
1 tbsp brown rice flour for thickening
salt/pepper to taste
vegan parmesan cheese to taste
Directions:
In a large pot pour in water, spaghetti, mushrooms, zucchini, peas, garlic, thyme, nutritional yeast, salt and pepper.
Bring to a boil then lower down to a simmer for 8-10 minutes making sure to keep an eye on the pasta if you're using quinoa and brown rice.
Mix in milk and butter now that it's down to a simmer.
The liquid should be somewhat reduced at this point. If it's still a little too watery and you want it thicker stir in the brown rice flour.
Remove from heat and let stand for and extra 5 minutes giving it a good once around before serving.
Sprinkle with your favorite vegan parmesan.
Enjoy!
Recipe adapted from DamnDelicious