Strawberry Chocolate Dream Smoothie
jump to recipe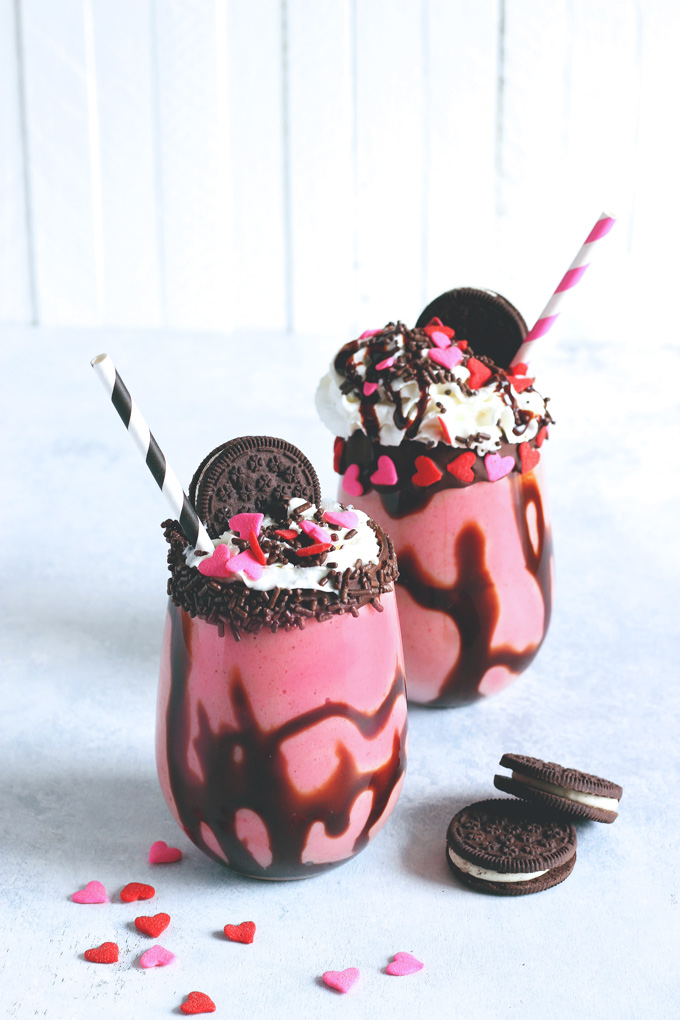 Today is the day…Happy Valentine's Day! This Strawberry Chocolate Dream Smoothie is for those of you who need something last minute that's quick, easy yet utterly delicious and romantical at the same time. It looks super fancy shmancy but I promise you, this takes 5 minutes to throw together. And if you don't have vegan Oreos or chocolate cream sandwiches on hand, not to worry, ANY cookie will do…chocolate chips perhaps? Whatever has chocolate in it the better.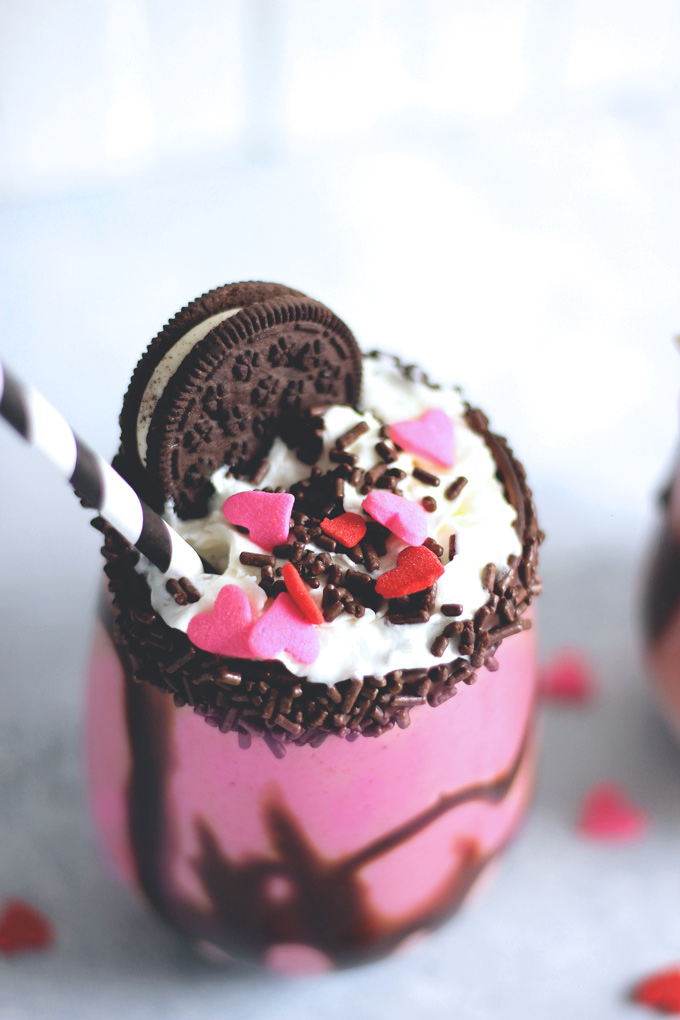 I 100% use this day as an excuse to eat chocolate. I LOVE chocolate and I don't think I'm alone when I say that. However I know consuming the "bad" chocolate on a regular basis is a hefty no no. It's super frowned upon in the health world and I totally get it. I usually eat healthy amounts of chocolate, the kind that's good for you. I even make my own using cacao, but on Valentine's Day…it's no holds bar for me. Can we hashtag #sorrynotsorry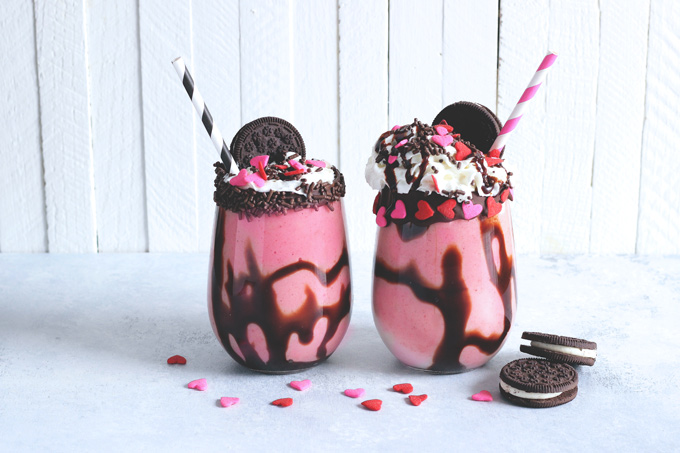 It's super easy to get a chocolate rim around the glasses too. Just heat up some dairy free chocolate chips (which takes 2 minutes on the stovetop), and dip whichever glass you're using in that chocolate. Take either that melted chocolate or some sort of chocolate sauce and drizzle it all inside the cup. There's no secret special way on how to design it. I totally did what I like to call free hand and had fun with it. It will get messy but it will be worth it. Throw some sprinkles on top and around the rim if you have any one hand, pour in the strawberry smoothie (recipe below), and top with coconut whip cream, extra sprinkles, cookies, and more chocolate sauce. Stick a straw in it and if you're alone enjoy your time with your new friend. If you're romantically involved, have kids, make extra so no one has to share. I as a parent share everything even bathroom time so I make things in bulk because I like to hold my own cup. LOL #momlife.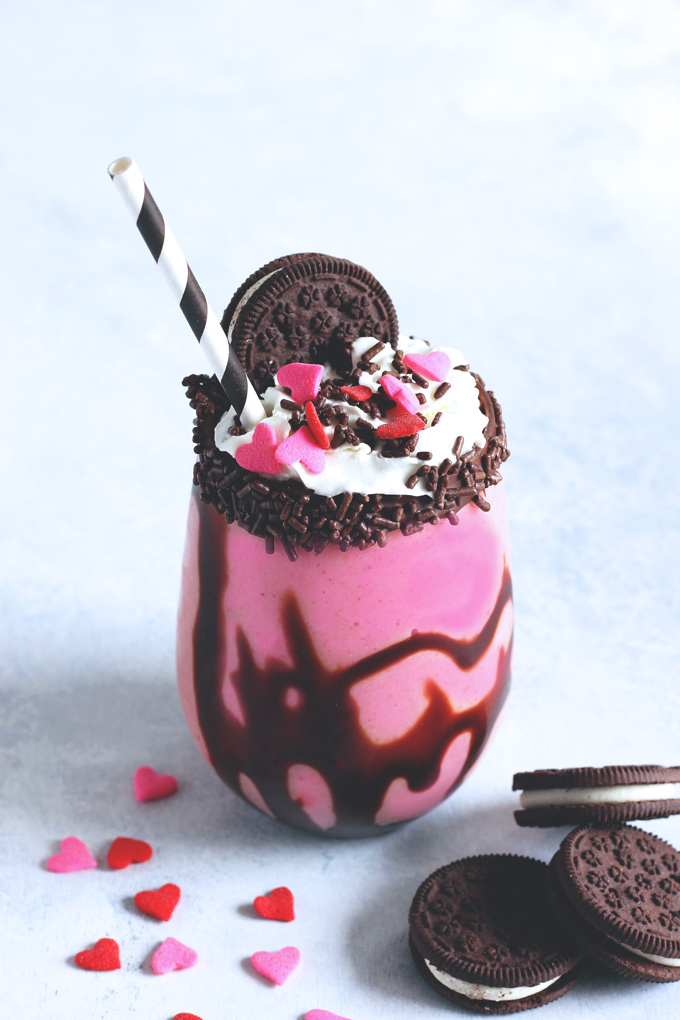 So don't worry if you haven't had a chance to make a super sexy chocolate cake, you can make this hottie instead and call it a dreamy, unicorn filled day. This is what chocolate dreams are made of anyway…Love responsibly! Xoxo💞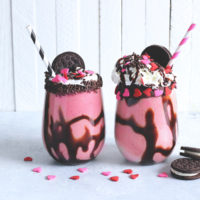 Strawberry Chocolate Dream Smoothie
An indulgent smoothie perfect as a last minute romantic recipe for those sweet people in your life.
Ingredients:
2 cups frozen strawberries
2-3 bananas
12 ounces almond milk
1/2 cup non dairy chocolate chips
chocolate sauce
coconut whipped cream
sprinkles (optional)
Directions:
Add the strawberries, banana, and almond milk in a blender and run until smooth and creamy. You can add ice for a thicker consistency.
Melt down dairy free chocolate chips in a wide bowl. Once melted, dip glasses in melted chocolate and coat with sprinkles if using.
Drizzle chocolate sauce inside each glass. It doesn't have to be perfect, it will be your design.
Pour strawberry smoothie inside of cups and top with coconut whipped cream, more sprinkles and chocolate sauce. Enjoy!