Family Style Veggie Rice Bowl
jump to recipe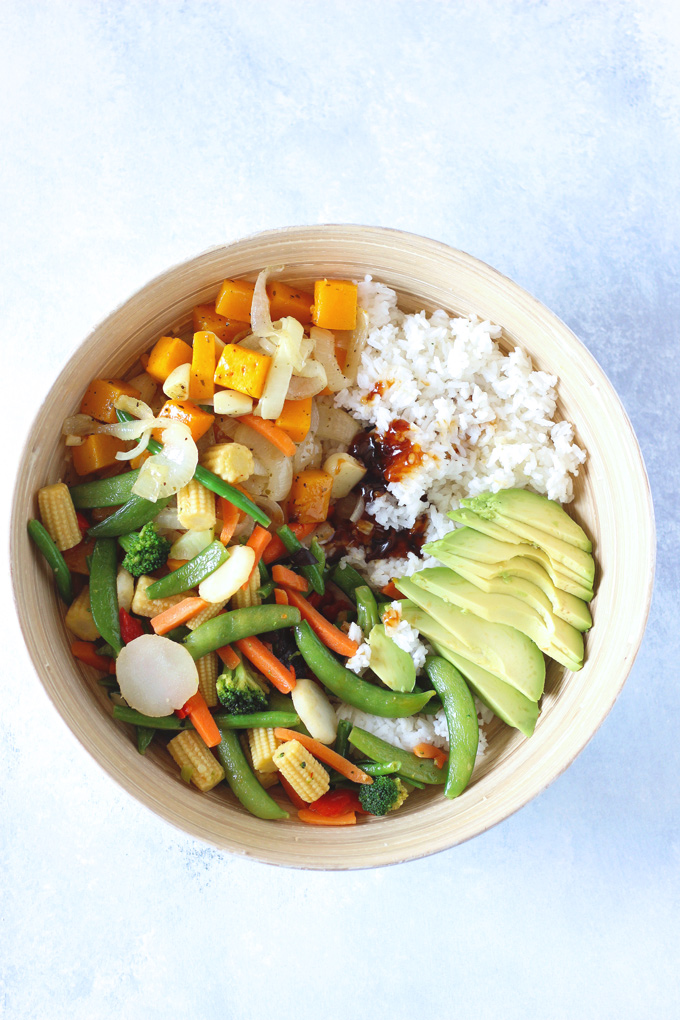 Well hello hello…today's post is brought to you by a mom (me) who sometimes doesn't feel like cooking a whole lot and spending too much time in the kitchen. This Family Style Veggie Rice Bowl should be called the easiest meal on earth (lol). Say I'm cray busy and have tons of stuff to do like: work, house work, being a mom, after school activities, running errands, food shopping, and being a mom (wait did I say that already), the last thing I want to do is spend another two hours cooking. And I know I'm not the only one! As women we have so much going on and that's great, but I totally get it. We want to sometimes have fast, quick, and easy.
And it's not that we want to be lazy and slack on our kids health, no, that's not it at all. We just want to make something, KNOW it's healthy, and be able to sit down and have a nice meal with our kids without having to be completely and utterly exhausted.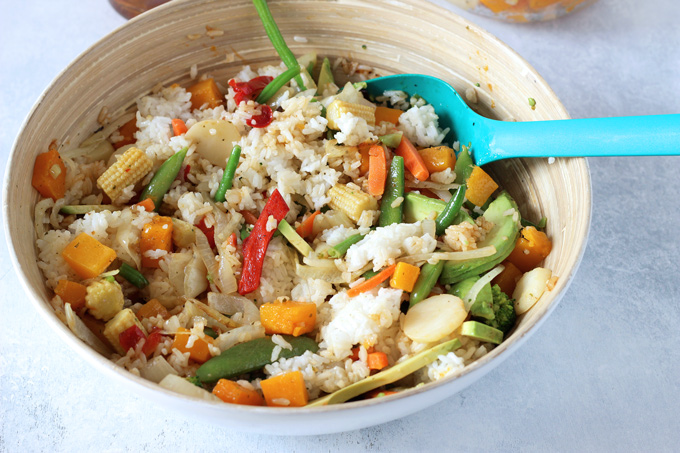 I love family style anything. Put it all into one big bowl and let everyone have at it. It's so so easy to make, I cannot emphasize that enough. I think the most work you'll have to do is rinse the rice and wait for that and the roasted veggies to cook. Keep in mind these are the veggies I had on hand, you can use any vegetables you'd like, the more the better. In this specific Family Style Veggie Rice Bowl I added butternut squash, onions, garlic, and a blend of mixed asian veggies I purchase at Trader Joe's (found in the frozen section).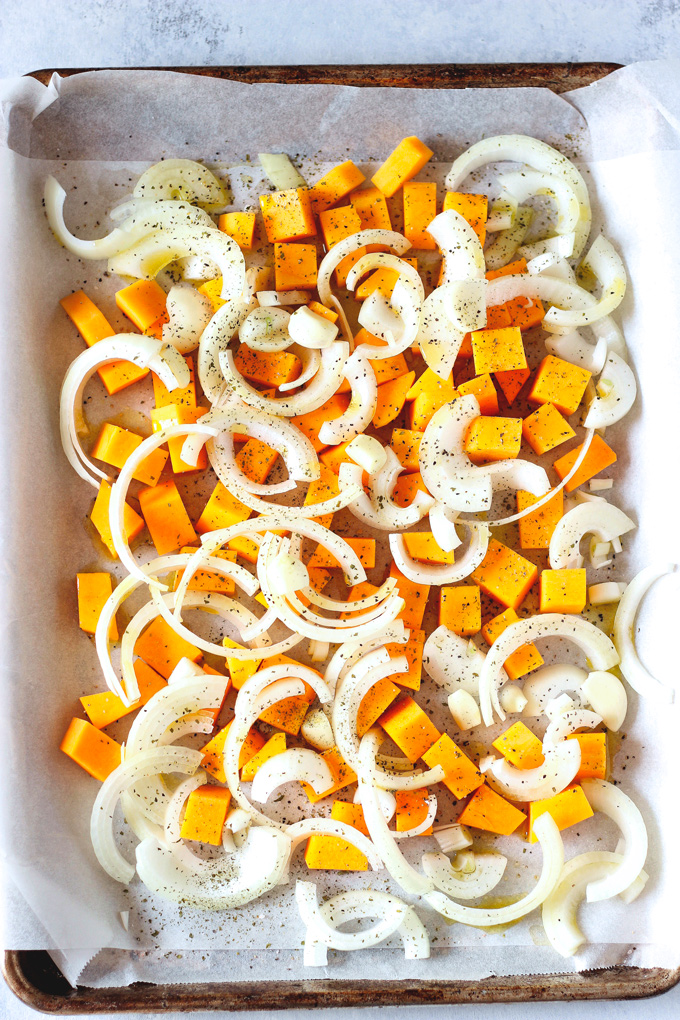 You can buy butternut squash already cubed too if you don't want to cut it up yourself. Squash like this and even spaghetti squash can be a pain to cut and cubed but doable. I put this, onion and garlic all on a baking sheet, drizzle it with extra virgin olive oil, some salt/pepper, and cook on 400F for 25 minutes. Easy freakin' peasy.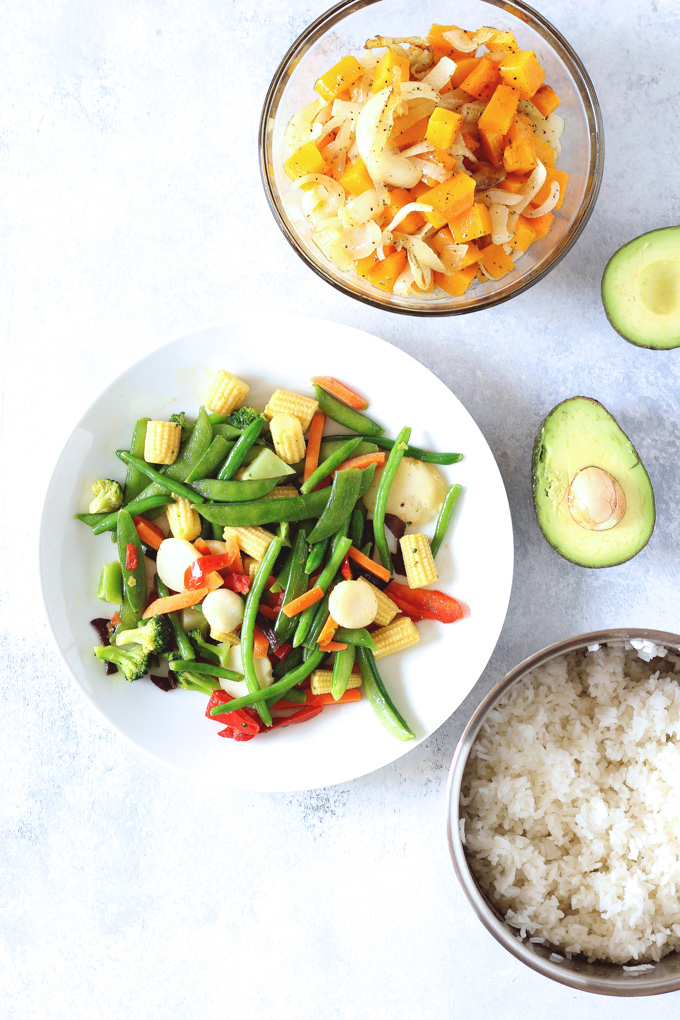 The frozen bag of veggies I used requires a 5 minute cook time on a pan over medium heat. I put about a tablespoon of coconut oil in the pan and let it cook all together. You can use other oils that you personally prefer. I like coconut oil because when it gets hot it doesn't cause any harmful chemicals. Plus it tastes great and has a lot of healthy benefits. For example, it converts the LDL "bad" cholesterol into good cholesterols which promote heart health and immune function. It's also great for your gums, teeth (bones), hair, skin, and nails among other things.
The rice is easy to make. Prepare whatever rice you have on hand or regularly use according to package instructions.  I usually have rice already made from previous meals and I don't really like food going to waste although I know it happens, even with me. Anyway, with a meal like this you can store the leftovers in the fridge and send your kids off to school with lunch the next day. Pair this with pita chips, turn it into a burrito, wrap, what have you, you can get creative!
Here's a quick video on how I threw this together.
I also used the soy sauce that came in the bag of mixed veggies. Feel free to use any sauce you're in the mood for. I like sweet and sour, tamari, or braggs liquid amino for things like this. Or you can do a dressing like a vegan ranch, or add vegan sour cream. Basically anything will work.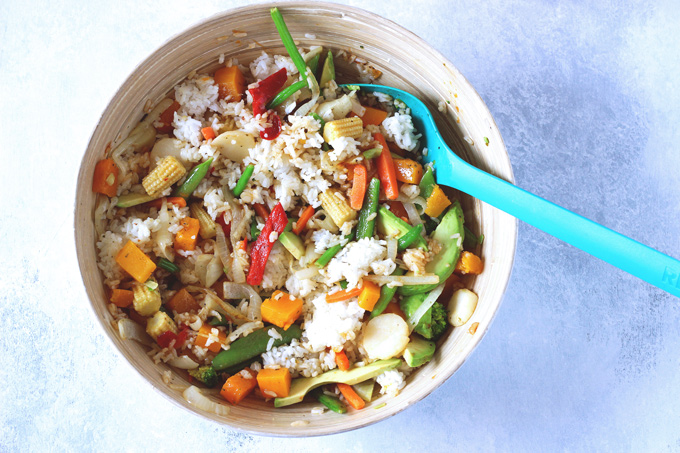 Put this veggie bowl in the middle of your table and let everyone help themselves. It's easy, healthy, and you'll have a quick clean up at the end of dinner, which leaves more time for Mom to spend with the hubs and kiddos and (try to) relax.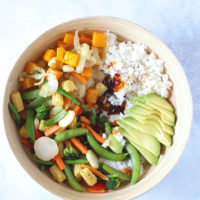 Family Style Veggie Rice Bowl
Family Style Veggie Rice Bowl - An easy, healthy meal the whole family can get in on! Loaded with all sorts of veggies. Feel free to add whatever else you like!
Ingredients:
white rice (I like jasmine or basmati)
2 cups butternut squash cubed
1 yellow onion, largely sliced
1 tbsp extra virgin olive oil
salt/pepper to taste
6-8 garlic cloves
1 bag of frozen mixed asian veggies (or any frozen veggies of choice)
1 tbsp coconut oil
1-2 avocado, sliced
soy sauce (or sauce of choice)
Directions:
Preheat oven to 400F and line baking sheet with parchment paper.
Place cubed butternut squash, onion, and garlic on baking sheet. Drizzle with extra virgin olive oil, salt/pepper, and roast for 25 minutes or until tender.
While that's roasting make your rice. When your rice is done fluff with a fork and place in large bowl.
Prepare bag of frozen veggies. Depending on which veggies you use, cook them according to package instructions. You may steam them, bake or roast them, or put them in a fry pan with coconut oil and let them cook on medium heat for 5-6 minutes. Which is what I did with the frozen bag of veggies I had.
Once all your veggies are done pour them into the large bowl with rice.
Add avocado, soy sauce, any extra seasonings you prefer and dig in. Enjoy!
To make this 100% gluten free be sure you pick up a soy sauce that has no wheat ingredients.
Sub any vegetable you see here with vegetable of choice. I made what I had on hand. I usually use up vegetables in big meals like this so they don't go to waste.
Store in an airtight container and store in the fridge. Holds well up to 3 days.