Springtime Spinach Veggie Pizzas
It's springtime and I smell pizza in the air…oh duh because that's what I made.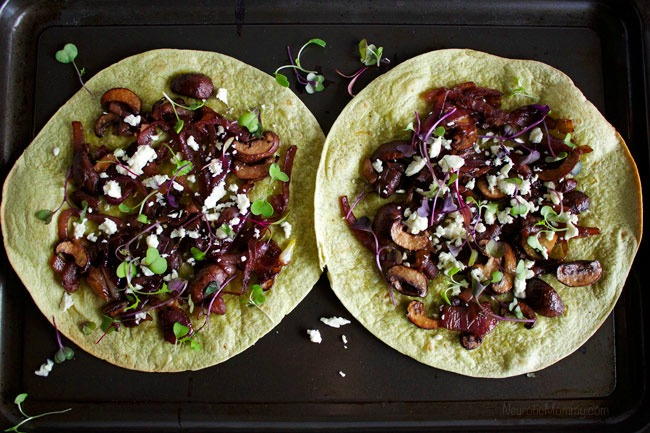 This isn't your ordinary pizza. I know traditional pizza is topped with tomato sauce and cheese but this is a tad (maybe a lot) different. Instead of using white floured crust and all that not so jazz I used organic spinach tortillas as my crust and topped it with sautéed mushrooms, onions, micro greens and crumbled cashew cheese. Let me tell ya…daaa-licious.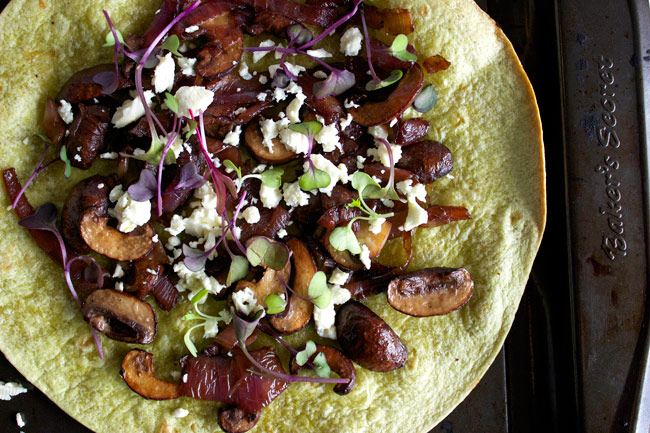 This can also be like veggie soft shell tacos too. Call it what you will either way you're going to LOVE it! I called it pizza because let's face it, eating pizza is so much fun right!? I mean your hand just automatically keeps going back to reach for another slice so why not make it a slice of healthy ah?
(I can be so clever)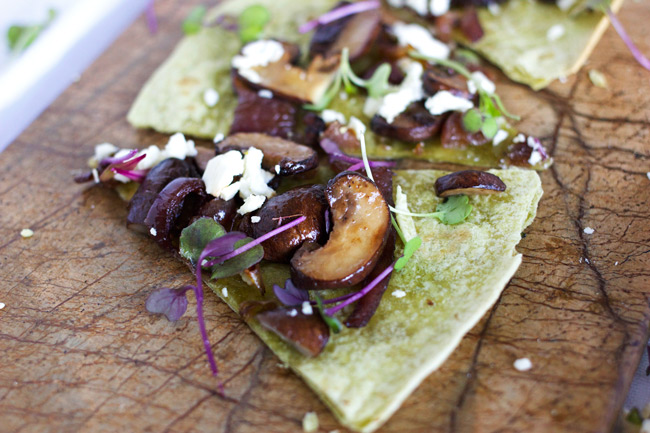 What's good about making Springtime Spinach Veggie Pizzas is that when you eat a whole one you really feel full like you ate a whole pie! haha Ok maybe not that kind of full but this is so nourishing. I ate two not gonna lie. Ok ok pull my arm I ate half of a third but I was just testing it to make sure it was really really…really good. Which obviously they were BTdubs.
So why do they feel like spring to me? Well because of the color, texture, lightness of it. It's not super super hot, just warm and perfectly crusted. I didn't feel weighed down after eating them. I don't like that feeling of having food just bleh all up in my stomach. I want smooth sailings if ya know what I mean. But can we hit on the flavors for a minute. Guess what I used to sauté the mushrooms and onions? You'll never guess it but try. Balsamic Vinegar. Now I know I really just rocked your healthy pizza world. See you knew you liked me for a reason and if you didn't well now you have a reason. I used balsamic. Who doesn't love to throw balsamic on everything. It's like the healthy eaters ketchup. (my jokes are on point today haha)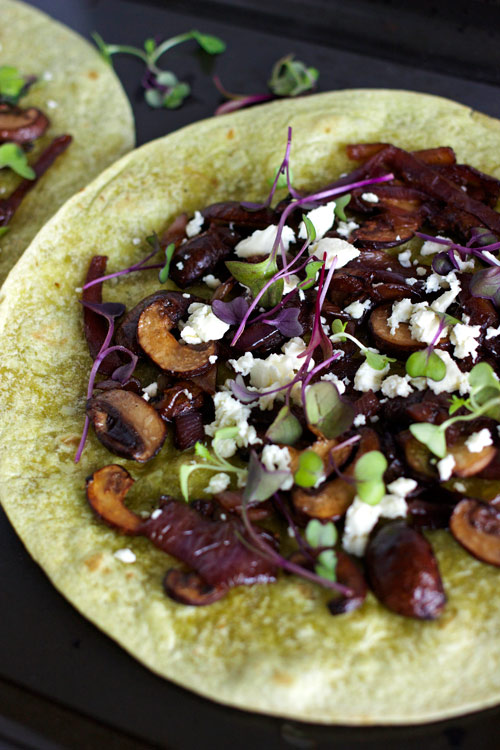 Don't be afraid to get creative and add whatever veggies you like. I used mushrooms and red onions because I love both of them like cray. The sweetness of the red onion and the health benefits of both leave me in awe. Onions are known to clean out the bloodstream and did you know according to Dr. Joel Fuhrman eating just 1 cup of mushrooms a day can decrease your chances of getting cancer by 64%. So why aren't we all eating mushrooms out the wazoo? I was never really a fan of onions growing up. I would think onion and ewww so gross. But now I eat whole onions to the face. No joke. I especially love them water sautéed or roasted.
Now my blog is not to make claims of me curing anything so please don't misconstrue what I'm saying. My only goal is to bring healthy living to homes and help introduce it into your lives and have it become your lifestyles. I don't even like to call it a style because being and living healthy isn't a trend like a new pair of kicks. It's just life and we all have the right to be healthy.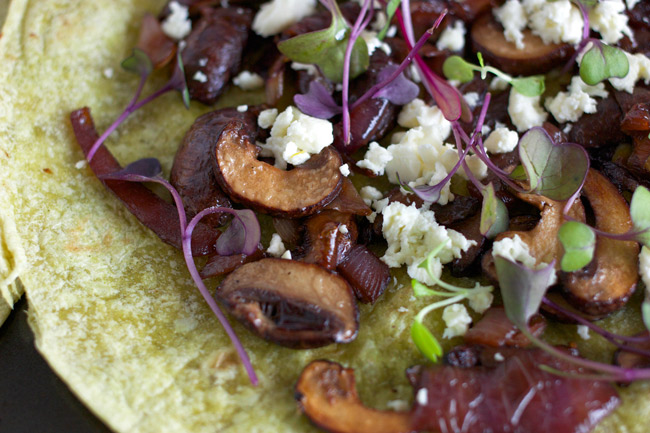 In plain english eating more fruits and veggies and staying as close to the earth as possible will lead to better health. I mean don't get me wrong of course I wish chocolate cake was like the miracle you could eat with no side effects of gaining some dimples on your bum. Chocolate cake is so so sinful. Look at me back on chocolate cake again. It never ends!!! #chocolatecakeloverproblems.
So when you're stuck on lunch or dinner ideas this is perfect. If you're getting home from work and have to feed a family or just yourself this is probs your go to for your homemade "fast food". The only thing you have to do is cut the onions, slice some mushrooms and cleans some greens. Instructions below.
Let's eat nourishing foods that help the body function properly. That's the aim ain't it?
Springtime Spinach Veggie Pizzas
Recipe Type: Dinner
Author:
Prep time:
Cook time:
Total time:
Serves: 16 slices
Springtime Spinach Veggie Pizzas are light, flavorful and perfect for those nights you want pizza but are trying to live that healthy life. A family favorite and a go to recipe.
Ingredients
Organic Spinach Tortillas
1 whole red onion, sliced
1 pound cremini mushrooms, sliced
salt/pepper to taste
1 tbsp extra virgin olive oil
2 tbsp balsamic vinegar
crumbled cheese of choice, I used crumbled cashew cheese
handful of micro greens or any greens of choice such as spinach or broccolini
Instructions
Preheat oven to 400F and line baking sheet with parchment paper.
In a large fry pan heat up extra virgin olive oil and add in sliced onions and mushrooms.
Once onions and mushrooms are tender add in 2 tbsp of balsamic vinegar, salt and pepper.
Keep sautéing until onions are translucent and soft.
Once most of all the liquid is absorbed by the mushrooms and onions remove from pan.
On prepared baking sheet place two spinach tortillas.
Top with onions and mushrooms and bake for 10-15 minutes. For extra crispiness leave in a few minutes longer.
Once done remove from oven, top with micro greens or another veggie of choice and cheese of choice. Add on a dash more of salt and pepper.
Cut into 8 slices, serve and Enjoy!
Notes
BTdubs is short term slang for By the Way, BTW. [br][br]These measurements are for two full spinach tortillas. Just double or triple up the recipe depending on how many you have to feed or if you just happen to be super hangry that day.