Raw Vegan Walnut Brownies with Chocolate Ganache
jump to recipe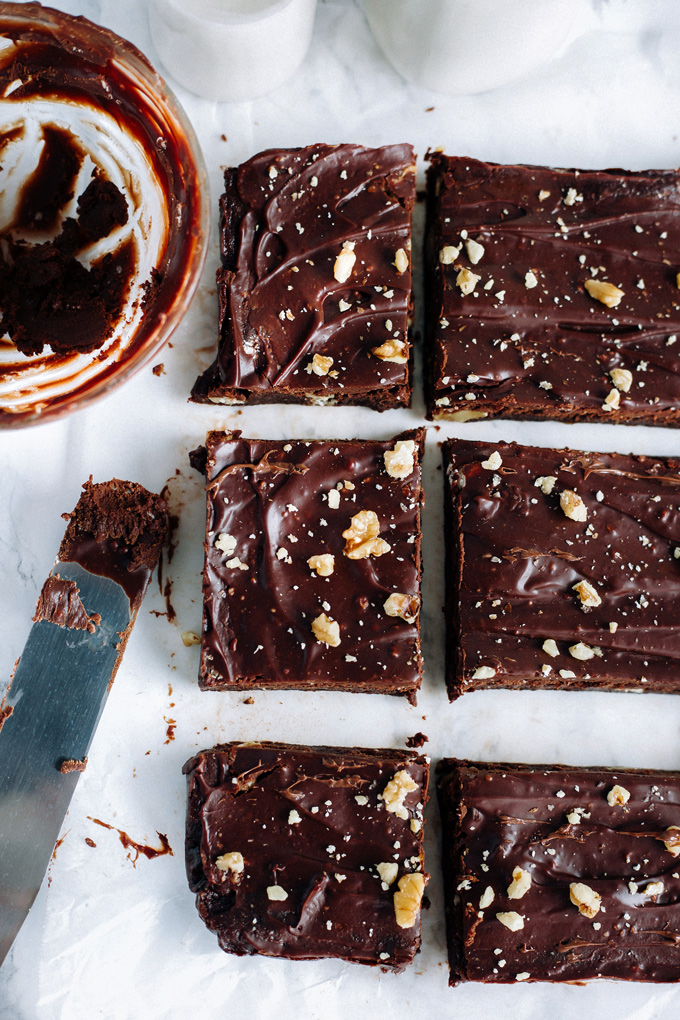 Today is a big day friends. Today we celebrate with these Raw Vegan Walnut Brownies with Chocolate Ganache because NeuroticMommy turns 5 today! Happy Birthday! WooHoo.
I can't believe today NM is 5. I remember when I first had the idea to start on Instagram at the end of 2012. I was just beginning my new life path, learning all about veganism, gmo's, holisticism and the name NeuroticMommy just popped right in my head. I thought to myself yes, yes I am and the Instagram handle was born.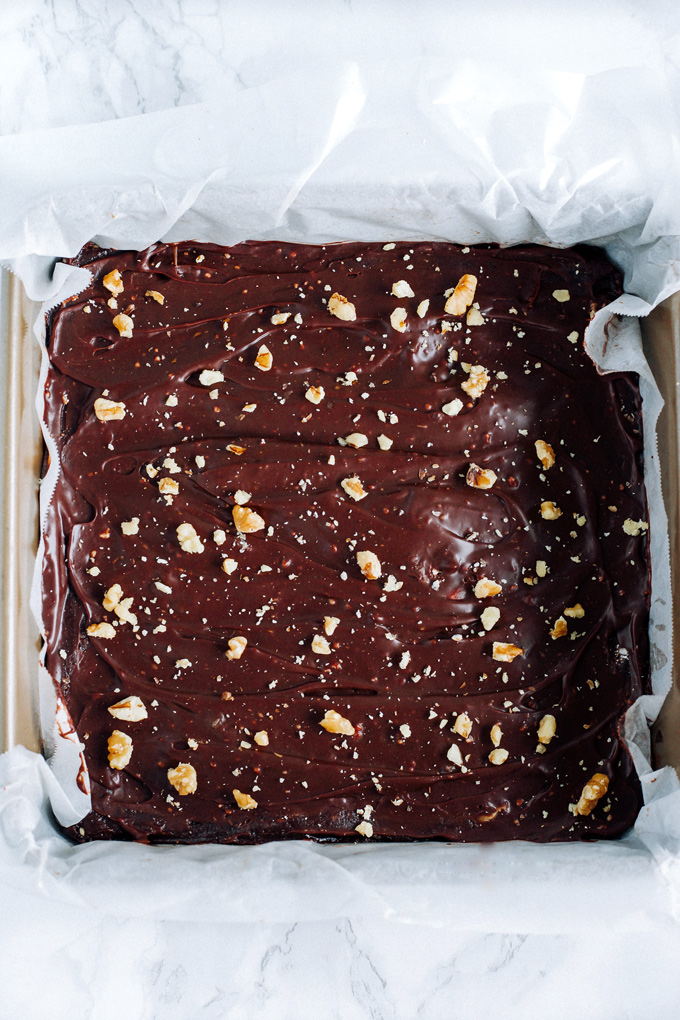 I had no clue what I was doing or that this would even end up to be anything. I didn't start it with the intention of "oh this is going to be big". I just started it as a way to hold myself accountable and to help others out there who were struggling the same as I was. Motherhood was hard for me in the sense I wasn't adjusting to the worry. The constant worry. I was alway a worrier but after becoming a mom it enhanced by like 100 times and it was so overwhelmingly intense. But there was a reason I was in that storm and it's because I was meant to be here today chatting with you fine people, creating healthy recipes, spreading positivity and love like I spread chocolate (ganache in this case) and I must say, although there were quite a few bumps (still are) in the road and nothing is always just so cavalier, it's been an incredible journey. I'm excited to be on it and I look forward to where it all takes me next.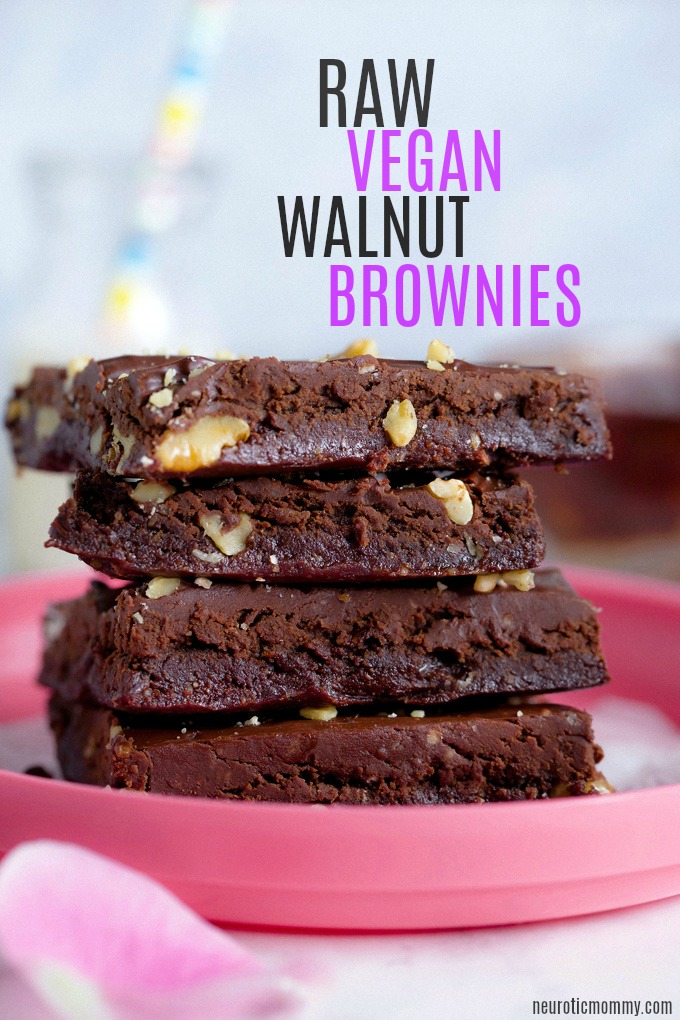 Obviously there's no better way to bring in a birthday other than with some chocolate. I'm talking super chocolate, chocolate on chocolate action. Raw Vegan Brownies that have a creamy chocolate ganache on top of them because the more chocolate the better. And did I mention that these are raw, vegan, gluten-free, delicious, decedent, rich, and everything a brownie should be?! Hands down the best brownies EVER.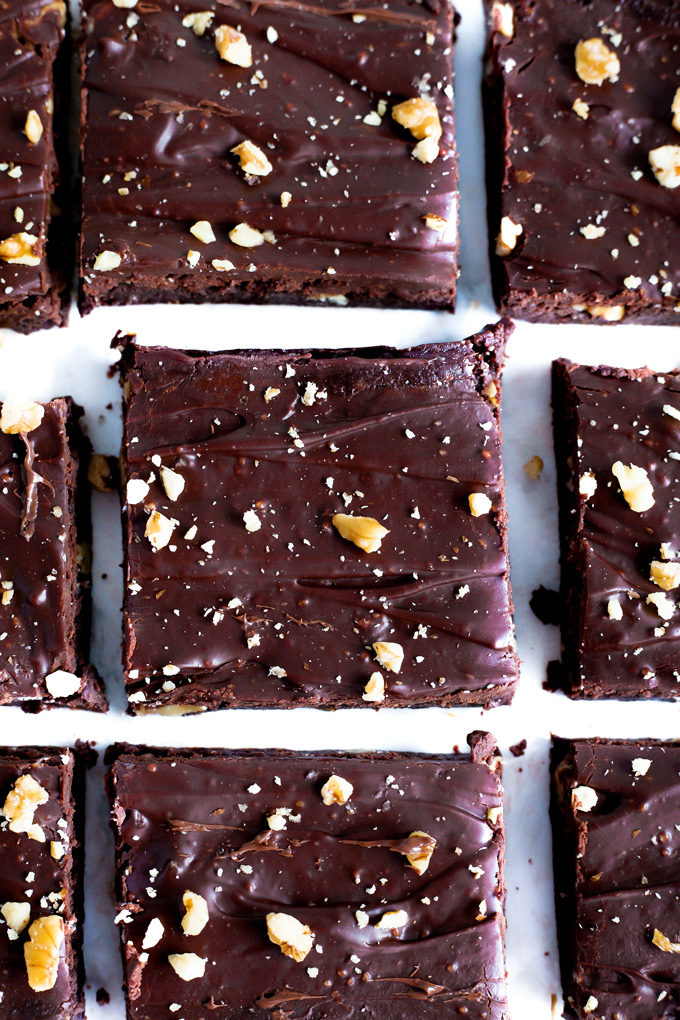 The base is made up of walnuts and dates, two of my favorite things. You can use any nut you like though think almonds, pecans, or cashews. I opted for walnuts because I have like 3 large bags of em' and thought this was just the perfect thing to put them to good use.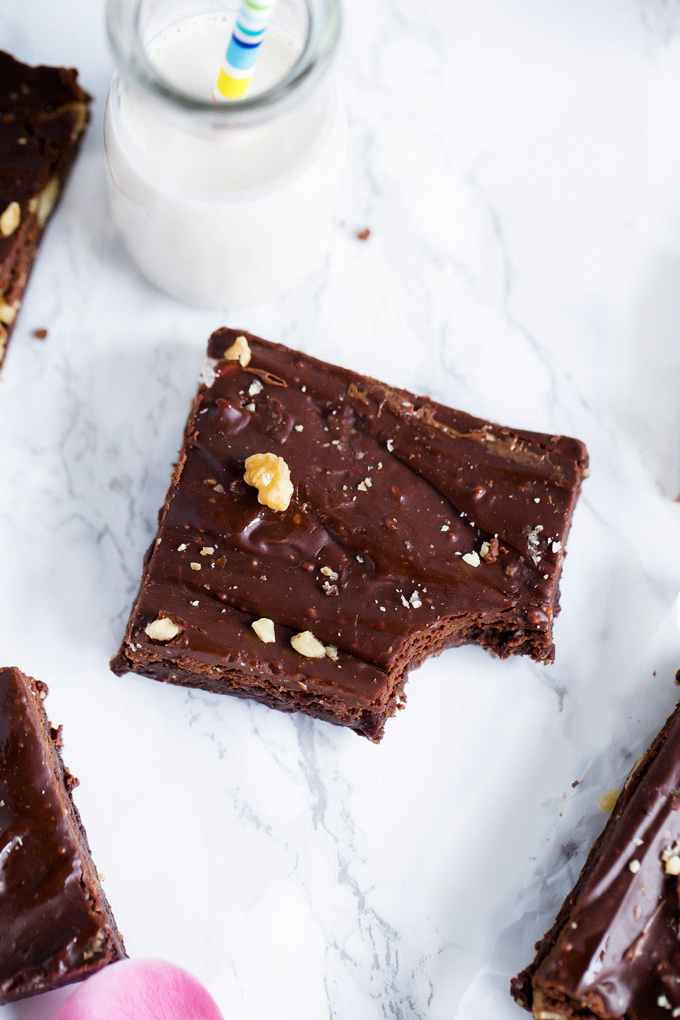 To make them super chocolatey I used a cocoa powder I buy from Trader Joe's. I use this when I don't want to use cacao, which you can totally use but I wanted a more sweet brownie and I feel sometimes cacao, in certain recipes, can come off quite bitter.
For the ganache it's pretty simple. I used vegan chocolate chips, almond milk, some coconut oil, sea salt, and a dash of powdered sugar. You don't have to add the sugar that's optional but highly recommended. I don't always add that in my recipes but I wanted the ganache on the thicker side so I added just two tablespoons.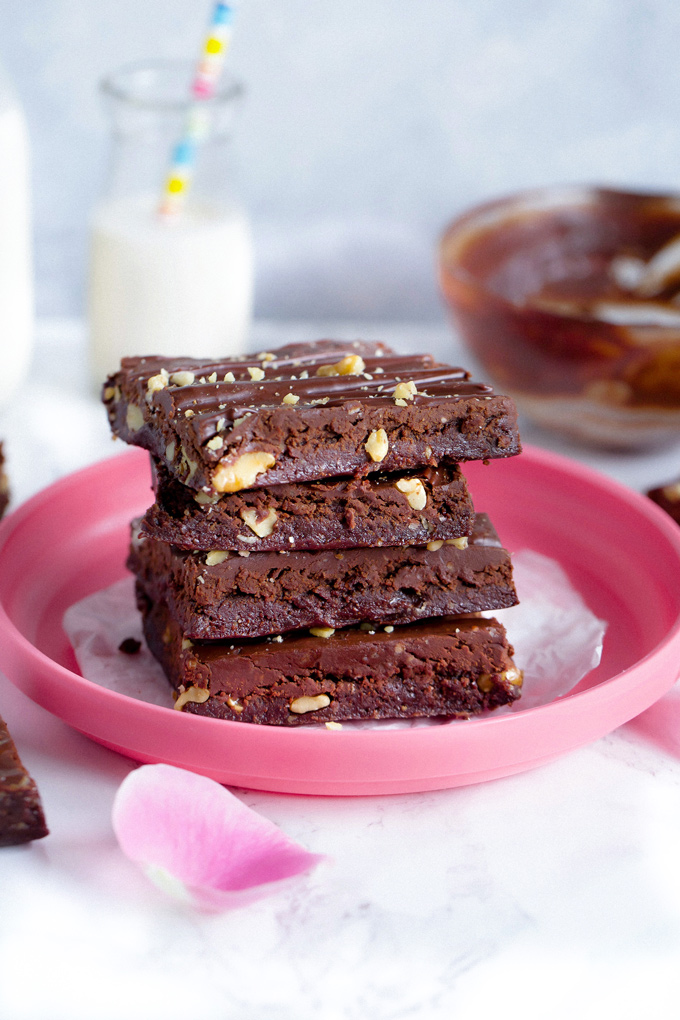 I am very excited today and happy to be able to share this day with all of you. I hope you guys enjoy these brownies as much as I do and know that when you make them it's in celebration of NeuroticMommy and the community we've built here together.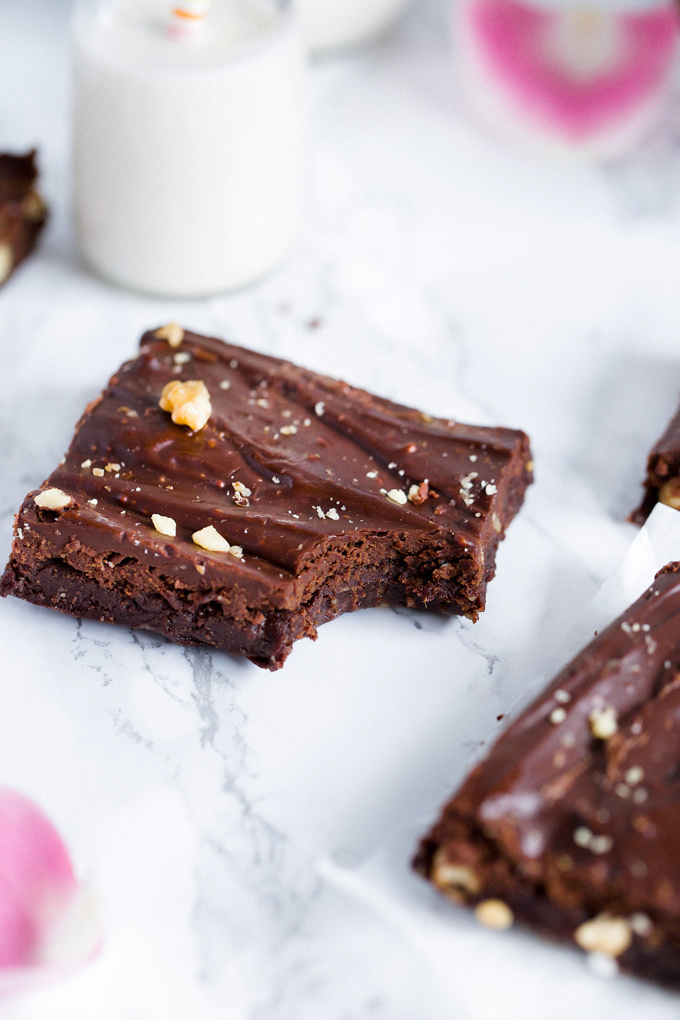 So grab the almond milk and treat yo'self…Enjoy!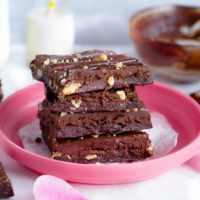 Raw Vegan Walnut Brownies With Chocolate Ganache
Hands down the best no bake vegan brownies EVER! No refined sugars and gluten free.
Ingredients:
Raw Vegan Brownies
2 cups walnuts
24 pitted medjool dates, flash soaked*
3/4 cup cocoa or cacao powder
pinch of salt
handful of extra walnuts to top
Chocolate Ganache
1/4 cup almond milk
1 cup dairy free chocolate chips
2 tbsp coconut oil
pinch of salt
2 tbsp organic powdered sugar (optional)
Directions:
Place walnuts and cocoa powder into food processor and run until finely ground.
Remove walnuts and cocoa powder, place into a large bowl, and set aside.
Add all dates to food processor and run until you get small pieces. It will look like and have the texture of paste.
If your food processor is big enough, add back in the walnuts, cacao, pinch of salt, and run until well combined.
If your food processor is on the smaller side do this in two batches so you don't burn out your processor and all the ingredients will come together nicely.
Line an 8x8" baking dish with parchment paper. Spread the brownie batter evenly in the baking dish, pressing down with your hands or a spatula.
Place in the freezer or fridge for 2o minutes during which you can prepare the chocolate ganache.
Chocolate Ganache
Place the one cup of dairy free chocolate chips into a medium size bowl.
Bring the 1/4 cup of almond milk to a slight boil and pour over chocolate chips. Leave for two minutes so the hot almond milk melts the chocolate.
Stir until you get a nice creamy consistency and add in the two tbsp of coconut oil.
Add in two tbsp of powdered sugar if you want it a bit thicker.
Place in the fridge for the remaining time you have left for the brownies.
Once the brownies are set, evenly pour chocolate ganache on top.
Throw on a handful of crushed walnuts, cut into squares, grab your glass of almond milk, serve and Enjoy!
To flash soak dates simply keep them in boiling water for 15 minutes and don't forget to discard the pits after.
Brownies will last in the fridge or at room temperature in an air tight container for up to 4 days and keeps well frozen for 1 month.
Brownie recipe adapted from PeachyPalate.
Ganache recipe adapted from MinimalistBaker.