Vegan Pumpkin Spice Doughnuts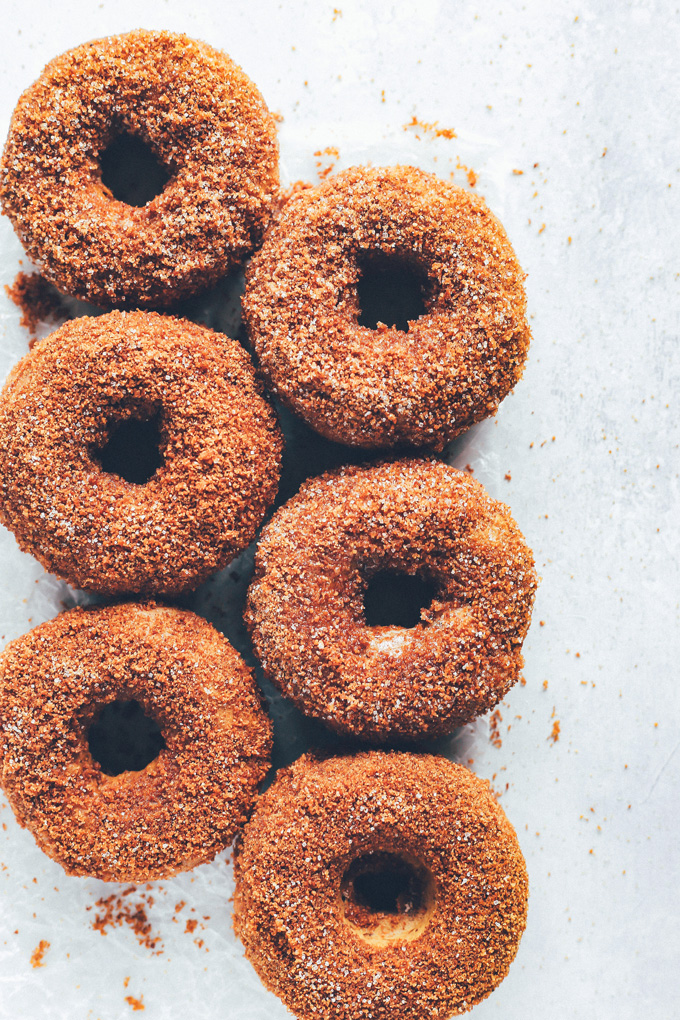 I know I still have my pumpkin lovers with me right? You're not all pumpkined out yet are you? Ok good, phew because these Vegan Pumpkin Spice Doughnuts are all they're cracked up to be I promise.
As you know I love pumpkin anything. My whole house smells like pumpkin as we speak. I have pumpkin vanilla candles going, the whole nine. I can't get enough, it's just so comforting to me this time of year. It literally smells like the holidays, if the holidays had a smell right, this would be it.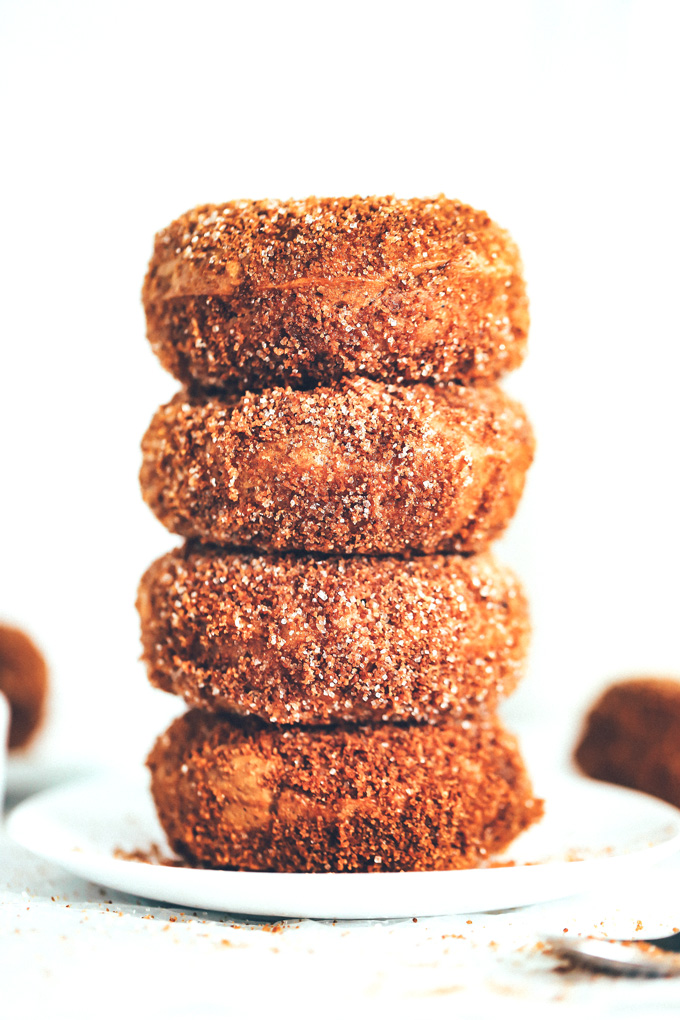 So if you're a lover a pumpkin and a lover of doughnuts then we have a double win here on our hands don't we. I'd say so. They have like the perfect texture too for a vegan doughnut that's not fried but rather baked. They're soft, fluffy, dense and moist all at the same time. The outside is coated in a sticky delicious mix of brown sugar, coconut sugar, regular sugar, cinnamon, and a dash of pumpkin spice as to not over do it. The doughnut itself is not super sweet so if you like that then you can eat them plain. However, if you're like me then you want it sweet to the max and the sugary coating does the trick. It has a hint of caramel to it because of the brown sugar. All sorts of delish going on.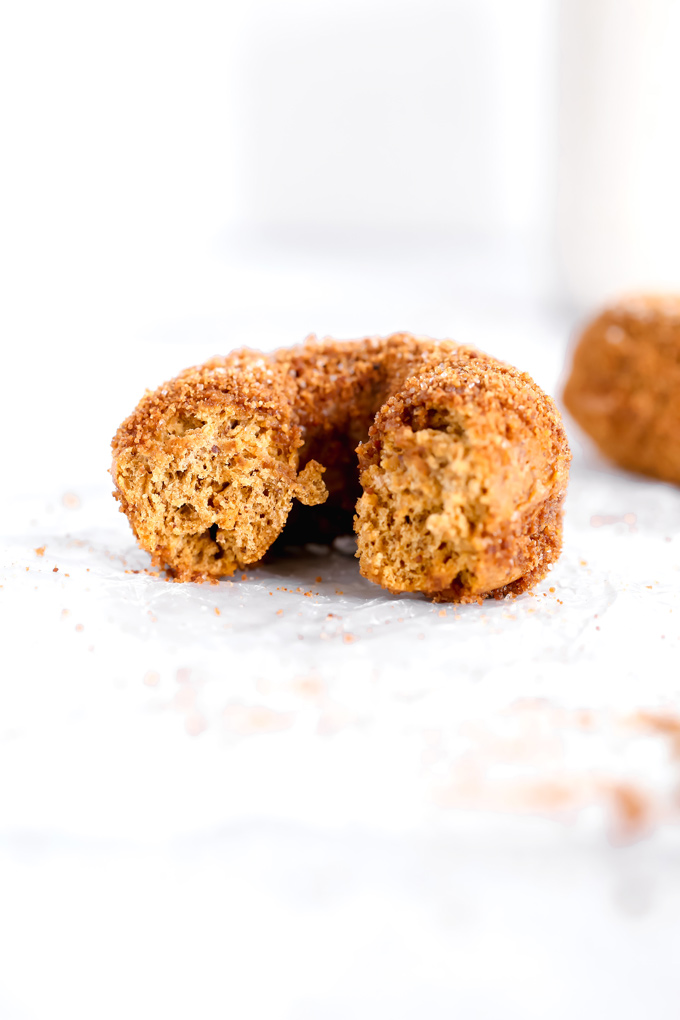 You can actually use this recipe and turn it into a loaf and top it with a nice icing. I love almond milk with organic powdered sugar and a dash of vanilla extract to top too. You can do either or for the topping of the loaf or these doughnuts. And if you really want to get cray fancy, you can do both (*gasps*). That is a splurge indeed!
Also I submerge the doughnuts in melted butter so the sugary coating sticks but make sure it's unsalted. I once made these and dipped them in salted butter and then the taste was all off and kinda gross. We can't have our pumpkin doughnuts going to waste right!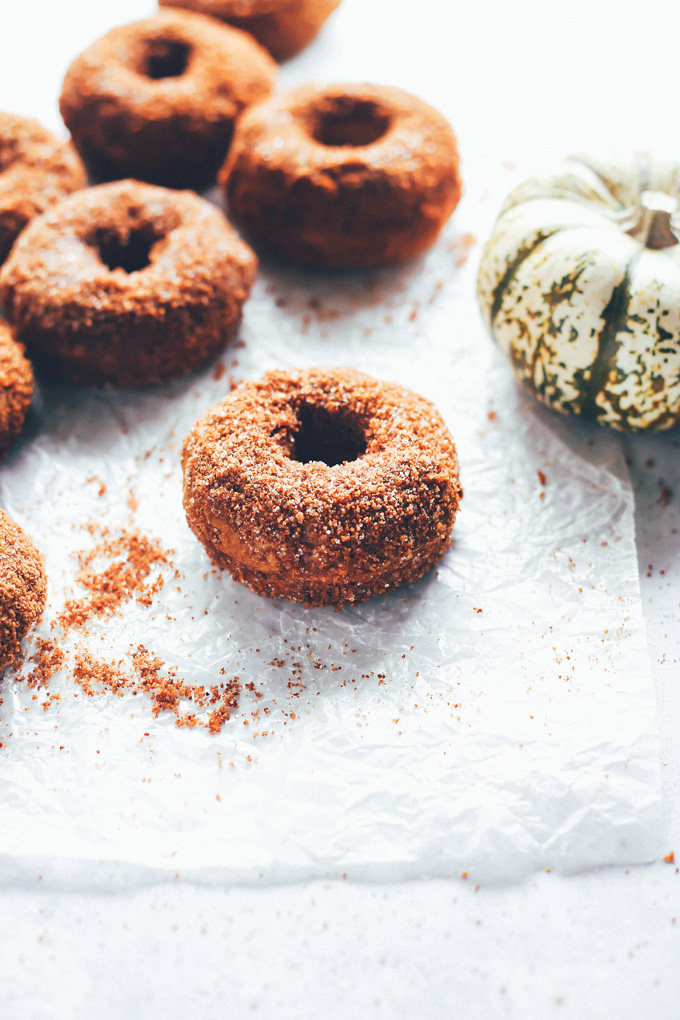 Can you just taste this through the screen! They look so good and I can't wait to make them again myself. I may sound weird here but I like to heat them back up in the oven just for a few minutes so they have a little warmth to them on cold days. They get a little more glaze-y, if that makes sense. Paired with a nice cup of tea or coffee, even just straight up almond milk with do the trick. So. Freakin. Good.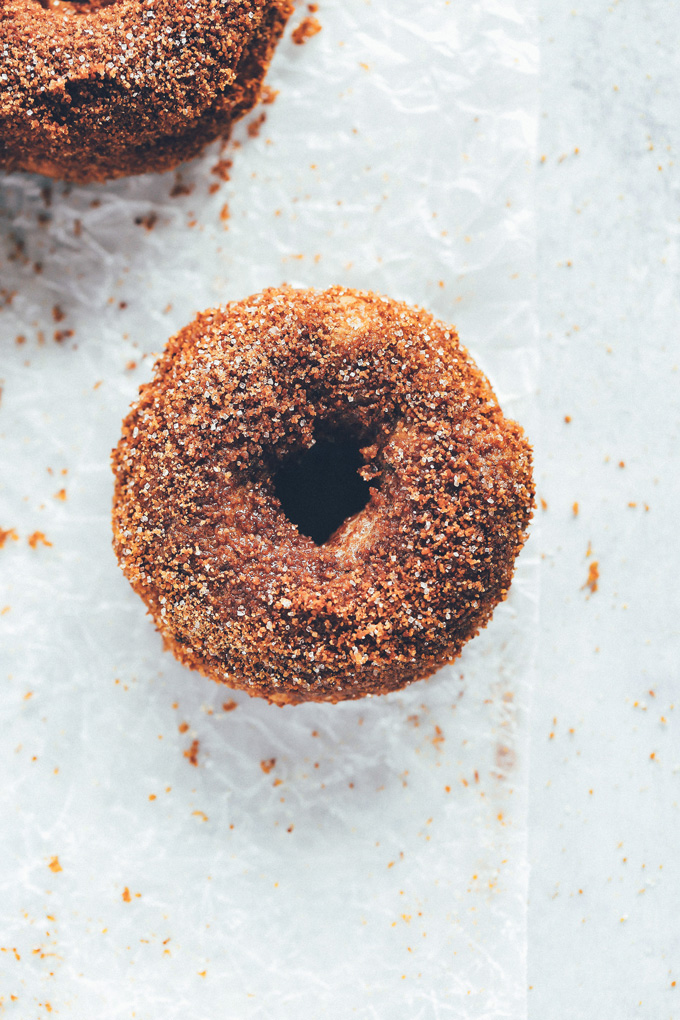 Another little thing I like to add is some shredded coconut to the outside coating. Pumpkin and coconut to me go so good together when paired correctly. But the tiny little shreds just give it that extra yum factor. If you want to add some coconut shreds add it to the coating with the sugars and spices and it will stick to the doughnuts all the same. So much pumpkin goodness going on here, I can't even take it!
You can store these at room temperature in an air tight container or in the fridge. I've done both and they are fine either way. Remember, don't be shy to live your best pumpkin life and ice a few of them with the recommended icing. Mind Blown.
Sounds like a good way to get your day going or Netflix and pumpkin chill?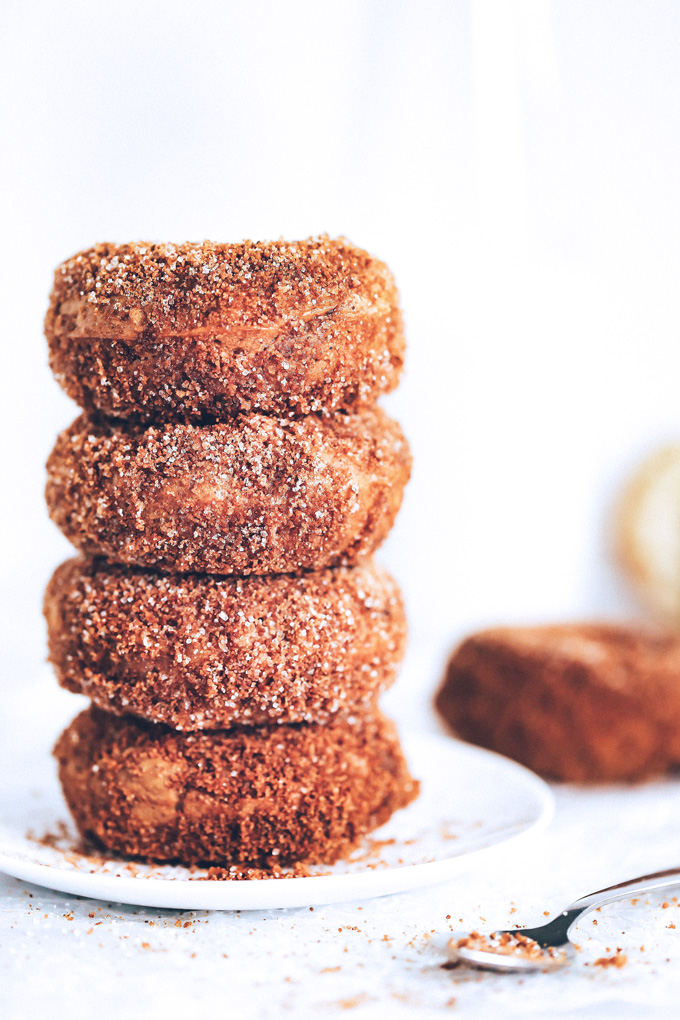 Vegan Pumpkin Spice Doughnuts
They're soft, fluffy, dense and moist all at the same time. The outside is coated in a sticky delicious mix of brown sugar, coconut sugar, regular sugar, cinnamon, and a dash of pumpkin spice. So Good!
Ingredients
2 cups whole wheat pastry flour or all purpose flour
1/2 cup brown sugar or coconut sugar
1 tsp cinnamon
3 tsp pumpkin spice
1/4 tsp baking soda
2 flax eggs
1/4 cup almond milk
1/4 cup vegan butter, unsalted, or an oil like avocado or coconut
1/2 cup pumpkin puree
Sugar Coating
3/4 cup vegan butter, unsalted, melted
1/2 cup brown sugar or coconut sugar
1/2 cup cane sugar
2 tsp cinnamon
2 tsp pumpkin spice
1/2 cup shredded coconut , optional
Instructions
Preheat oven to 375F and spray doughnut pan with non stick cooking spray.

In a large bowl whisk together all dry ingredients.

In another bowl whisk together all wet ingredients fold in wet to dry until mixed in well. You may have to use your hands to almost knead the dough a little bit and make sure all the flour is incorporated.

Put dough into a large pastry bag with a large hole cut off at the tip (or zip lock bag cutting off a large piece of the corner) and pipe dough into doughnut pan.

Wet your fingers to smooth out the tops of each doughnut.

Place in the oven and bake for 12 minutes. Ovens vary so if it needs a couple more minutes that's fine but 12 is perfect for me.

When done let cool for 10 minutes before coating.

Have your melted butter and sugary coating ready. Mix the sugars and spices together one bowl and have the butter in another.

Submerge each doughnut into the melted butter then into the sugary coating making sure all sides are covered. Repeat this till all doughnuts are covered.

Serve with your fave milk, tea or coffee and Enjoy!
Notes
Store in an air tight container at room temp or in the fridge. 
To make a glaze use 1 cup organic powdered sugar to 3 tbsp almond milk and 1/2 tsp vanilla extract. For a thinner glaze add more milk for a thicker glaze add as little milk as possible. I start with 3 tbsp and take it from there!
~Pin This Recipe~