Vegan Magic Cookie Brownie Bars
jump to recipe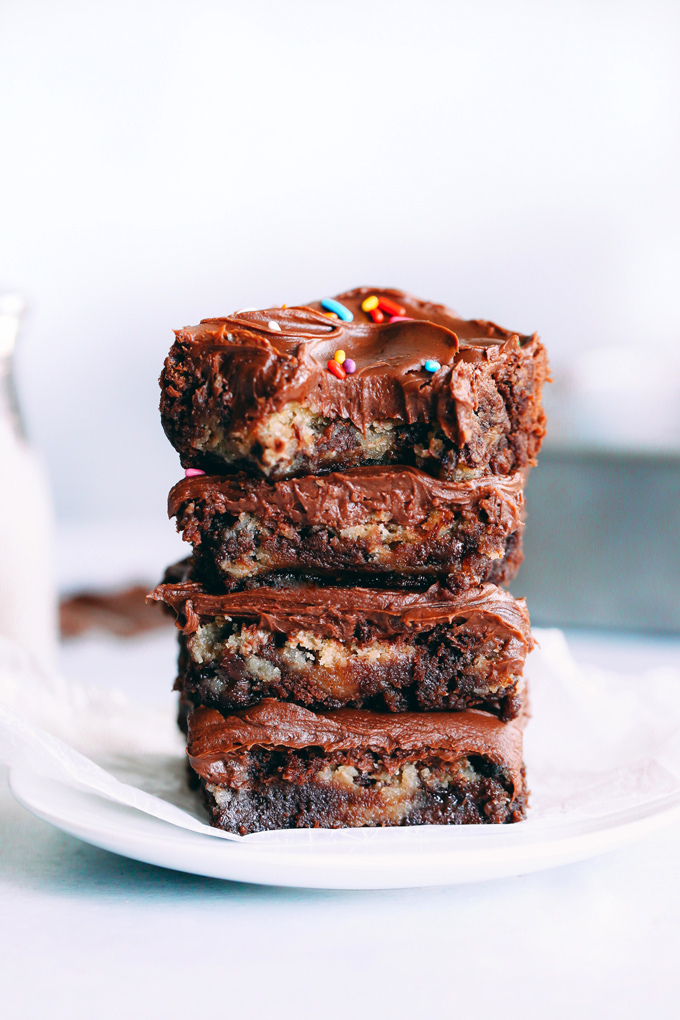 This post contains affiliate links in which I may make a small commission. Opinions are in no way influenced by compensation. You can read our full disclosure policy for more information.
Ahhh yes, Vegan Magic Cookie Brownie Bars where cookie dough is submerged inside chewy chocolate gooey brownies and they become one. Deliciously hidden under a sexy chocolate ganache, one could say this was the best birthday ever!
Yesterday I celebrated my birthday and what a great day it was. I stood home with my sons and hubs and it was super relaxing. My mom, little bro and little sister came over in the evening for a bit but it was very very low key. I'm talking I stayed comfy in my sweats and a hooded sweatshirt the entire day. I chilled cozied up with my boys and loved every minute of it. The whole point was not to do any work but when you work from home that almost becomes impossible. I was on Insta a few times but I didn't get crazy and wrapped up in my to-do list. Anyway, we topped the night off by ordering take out.
As a birthday gift my husband and sons surprised me with a new hot plate from Buzzfeed and a pot set for my food videos. The things that make you go hmmm in your 30's right…haha.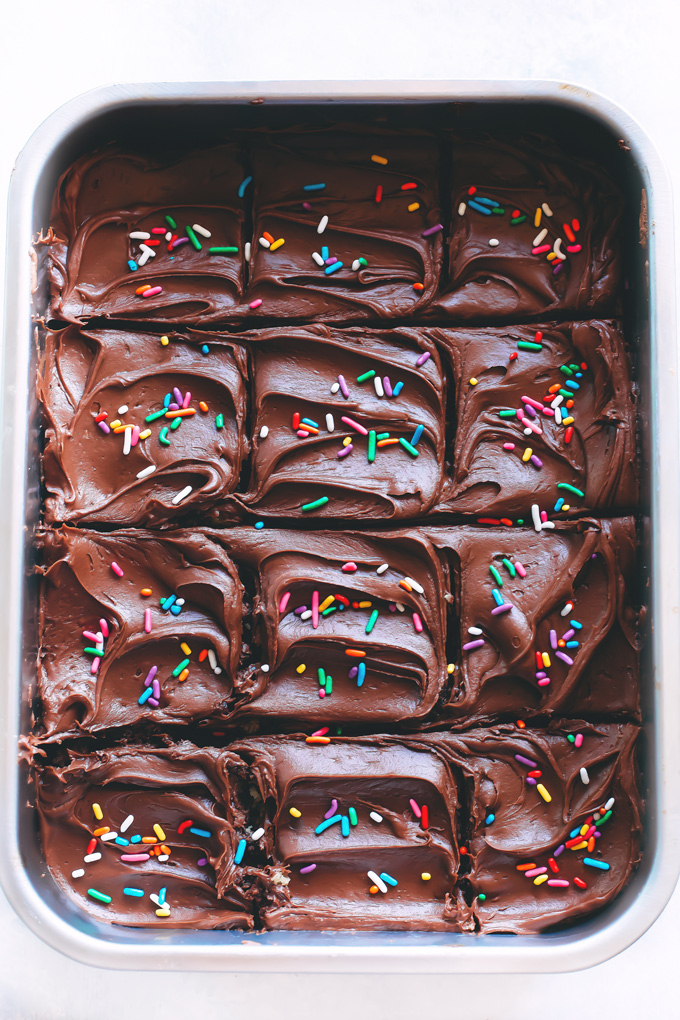 These aren't healthy and they're not meant to be either. They're also my lazy version of the cake I wanted to make but opted to do this way instead. I think you guys can appreciate that. The only thing that's homemade is the chocolate ganache. I love making it and I love the way it tastes.
I bought a box of organic cookie brownie bar mix and used vegan ingredients to make it. So instead of regular butter I used this one and instead of using eggs I used a flax egg. Super super easy swaps. I baked this bad boy for about 35 minutes, topped it with my homemade ganache and viola! Go shawty it's ya birthday…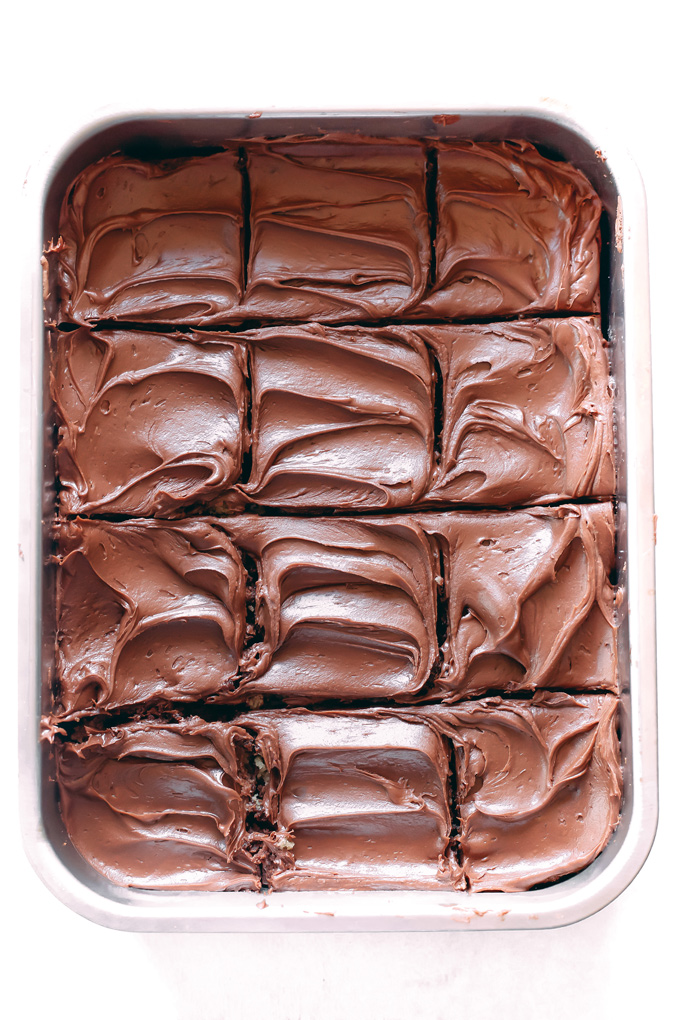 I wanted something super chocolatey, something with chocolate chips, and something with frosting. This was the ultimate winner. I had the best of both worlds. In every single bite there was brownie and chocolate chip cookie and super rich and creamy frosting. Every birthday gal's dream come true.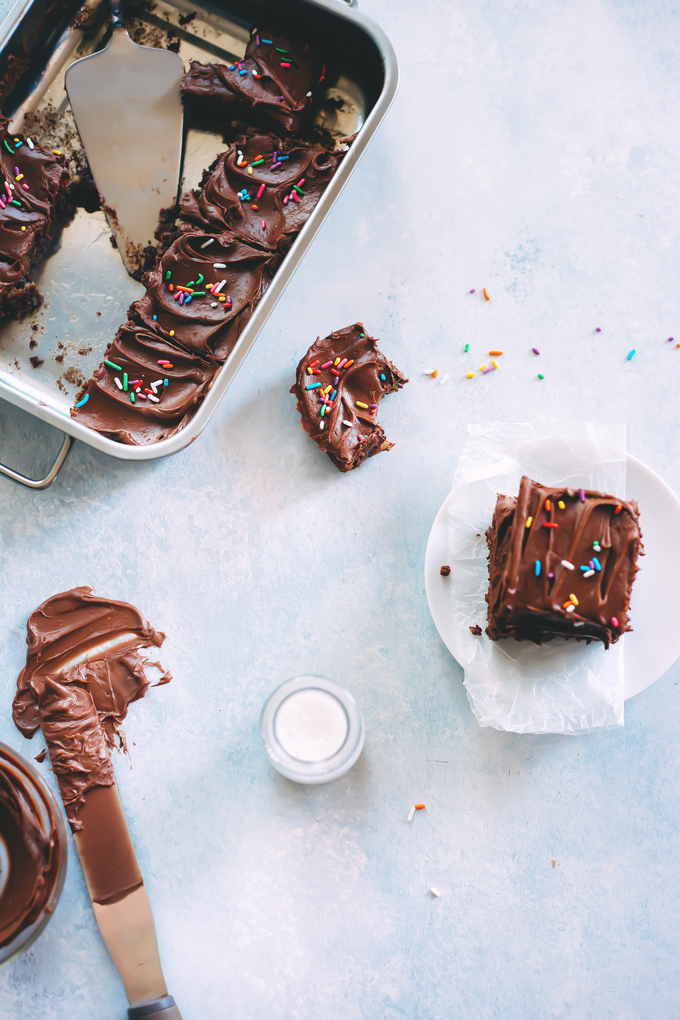 They're gone now and I have mixed emotions about that because on one hand I miss them terribly as they were so good but on the other hand I'm happy they're gone because around them I just can't help myself! UGH I guess you could say YOLO? haha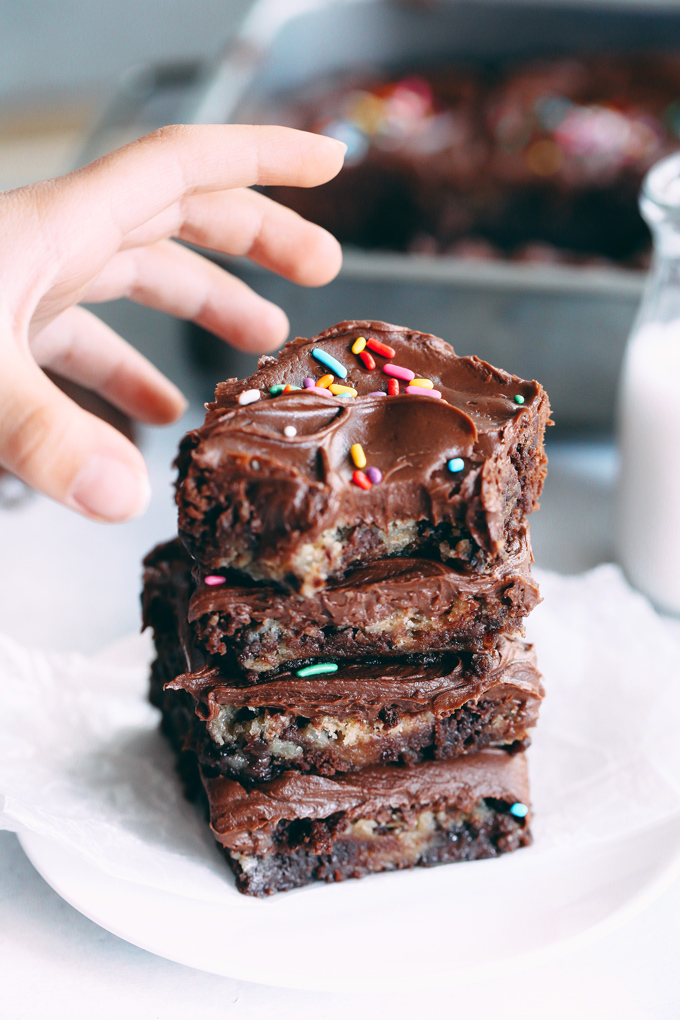 It's ok to sometimes go the box route. Ain't no shame in wanting to make life a little easier on yourself if it's your special day. This hit all the spots and gave me all the feels. I shared it with my family and they were all back in the pan with their sticky little fingers ready for more. Till next time you chocolate chewy delights…Happy Birthday.
Happy Birthday to all my March babies…celebrate the whole month like I do! Any Pisces in da house???…Watchout!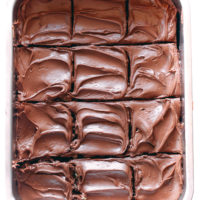 Vegan Magic Cookie Brownie Bars
Vegan Magic Cookie Brownie Bars are my go to lazy mom make. They have double the delicousness where cookie dough meets brownie becoming one. Topped with a delicious chocolate ganache and sprinkles!
Ingredients:
For the brownie
For the cookie
For the ganache
1/4 cup almond milk
1 cup dairy free chocolate chips
2 tbsp coconut oil
pinch of salt
2 tbsp organic powdered sugar (optional)
Directions:
Preheat oven to 350F and spray an 11x7" baking dish with coconut oil spray or non stick cooking spray.
For the brownie mix all ingredients together until smooth. Pour into prepared pan, spreading out evenly.
Stir together cookie mix, 2 tablespoons water and soften butter in another medium bowl until dough forms (dough will be stiff). Drop cookie dough by 9 rounded tablespoonfuls onto brownie batter in 3 rows of 3.
Bake for 32-37 minutes. Let cool then top with chocolate ganache and sprinkles for extra fun. Enjoy!
This post contains affiliate links in which I may make a small commission. Opinions are in no way influenced by compensation. You can read our full disclosure policy for more information.
~Pin this Recipe~