Maple Corn Muffins with Pumpkin Spice Cashew Cream Filling
jump to recipe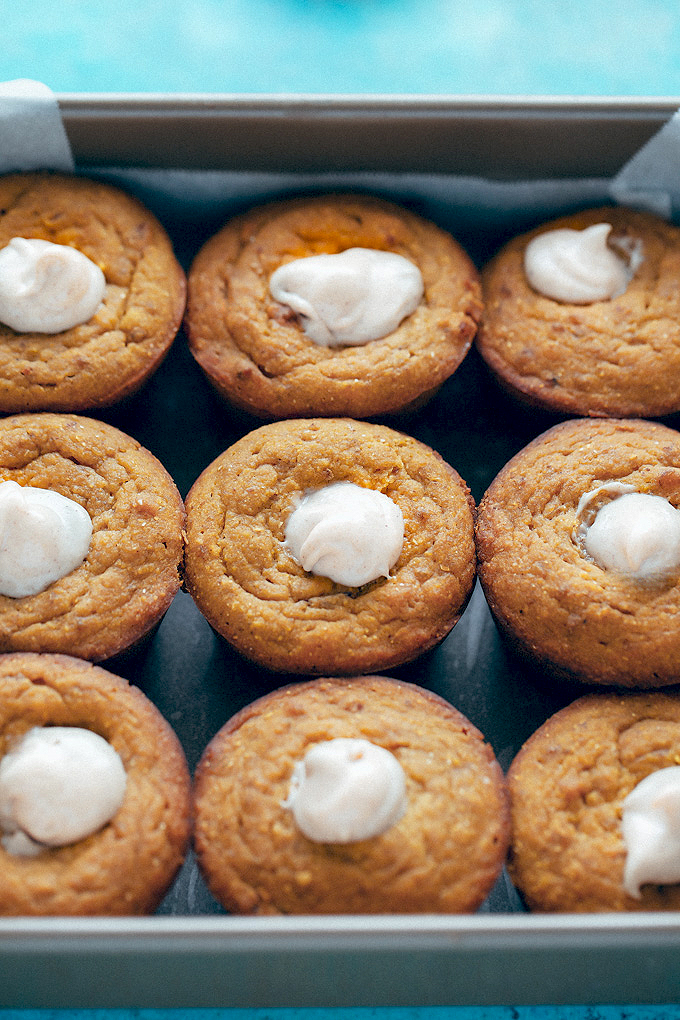 You know what season it is right!? Do I need to remind you!? I would hope I don't have to remind you especially since we're besties and have lots in common. Like loving, absolutely loving all things pumpkin!
These Maple Corn Muffins with Pumpkin Spice Cashew Cream Filling are where it's at 100%. Look no further for your fall fix because I've got you covered in more ways than just pumpkin. We have maple and corn bread muffins up in the mix…hello, it's screams fall. I see you autumn, wink wink.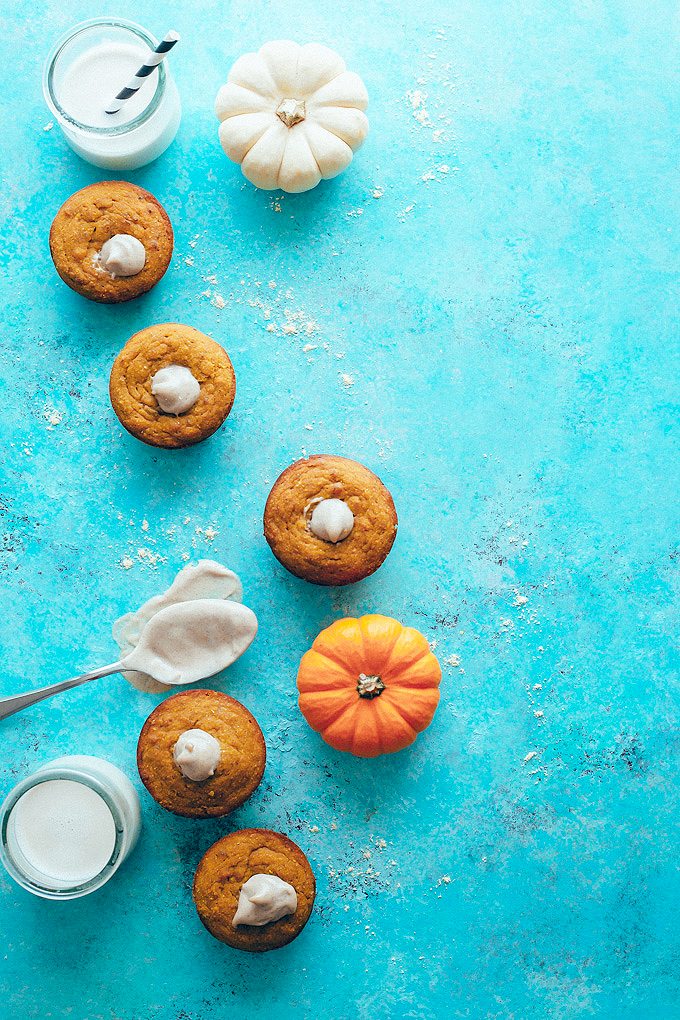 These were an accident to be honest. I made my Maple Pecan Pumpkin Cornbread but instead of using a skillet I turned them into muffins. I then had some cashew cream lying around that I didn't really know what to do with. I knew I wanted to ice something I just didn't know what. Then a light bulb went off in my head and I was all like "Um a pumpkin spice filling would be all amaze inside these corn muffins". And then they were born. And they are delicious. And you're going to love them so make them immediately.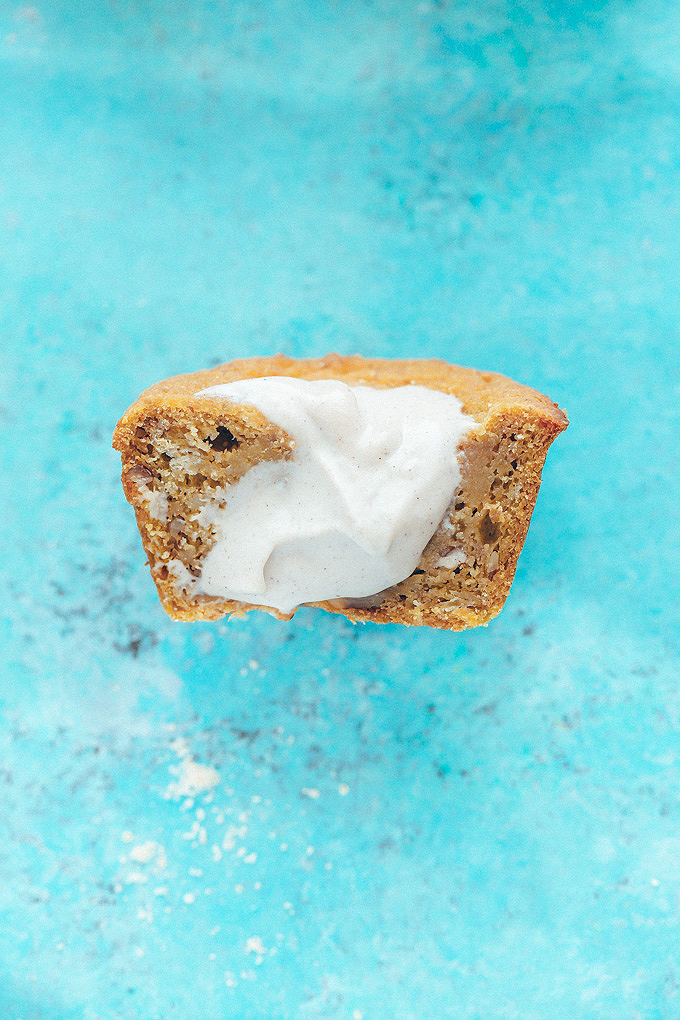 I don't like to skimp out on filling either. If I'm going to stuff something I'm not going to do it half ass or put in a teaspoon amount. That would be ridiculous of me. I filled up a piping bag with the pumpkin spice cashew cream and I stuffed them each to the brim. This above photo is not with "extra" filling smeared on top, this is exactly what they look like when cut or bitten open. Biter be ware! In a delicious way of course.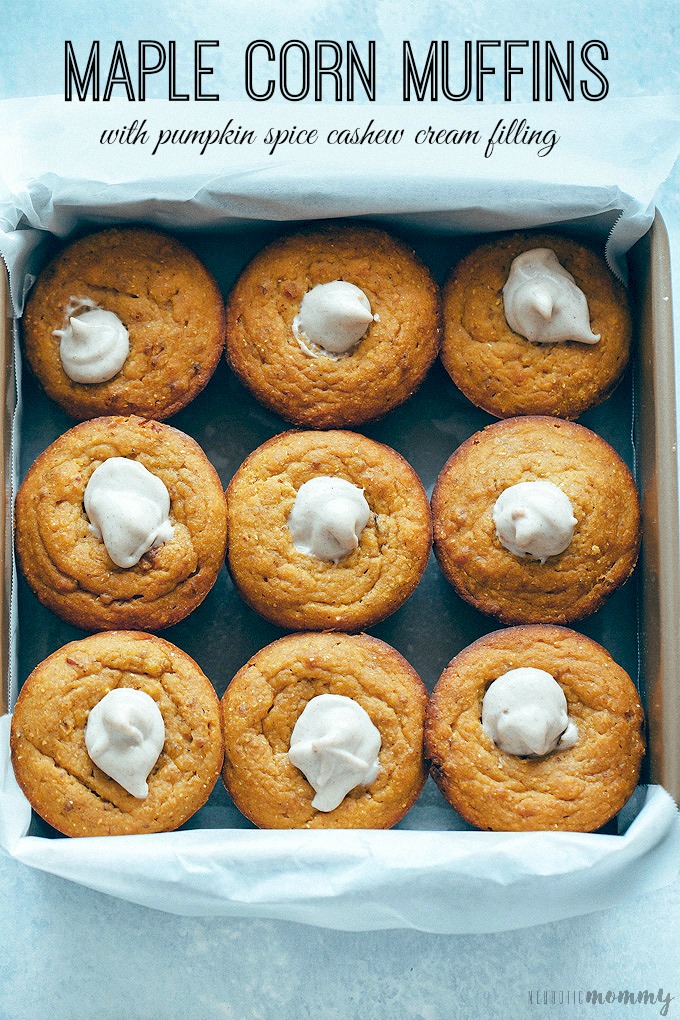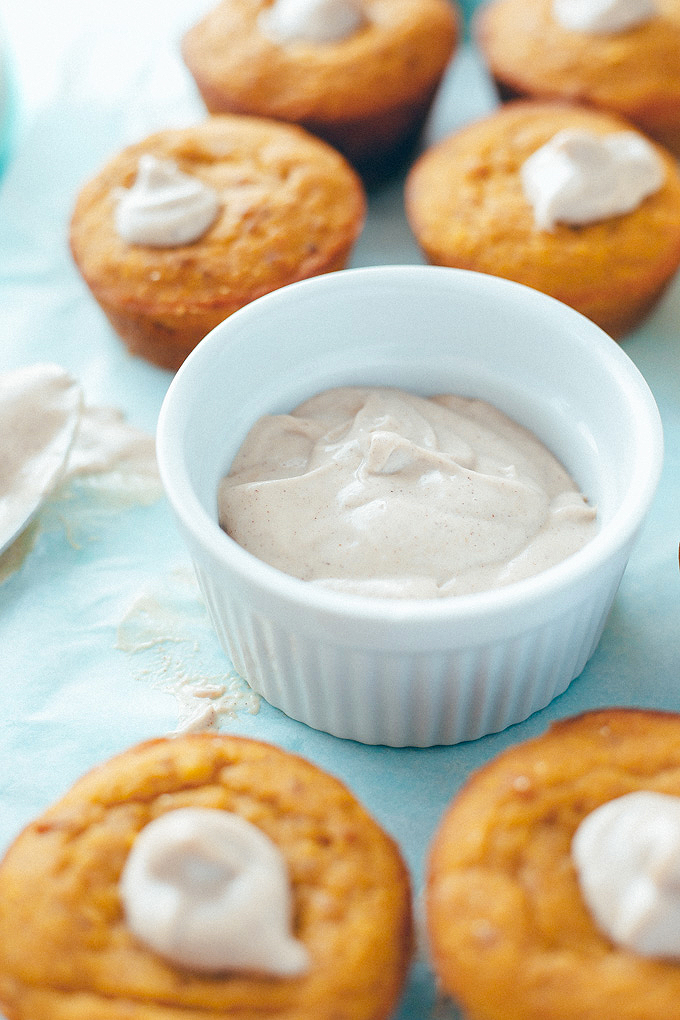 What's really impressive about these (are you ready for this) is that they're completely healthy. There are no refined sugars, no artificial nothing up in these bad boys. They are 100% Vegan and also just happen to be gluten-free. Say word Jenn…Word.
The filling is made up of cashews (obviously, hence the name), pecans, maple syrup, pumpkin spice, vanilla extract, and some pink himalayan rock salt. Fan-freakin'-tastic!
A little tip when making the filling, I initially put all the ingredients in my small food processor but it didn't get it as smooth as I'd liked so I put it all in my Vitamix and within seconds it was super creamy, smooth and silky, which is how you want it to be when using this as an icing or frosting.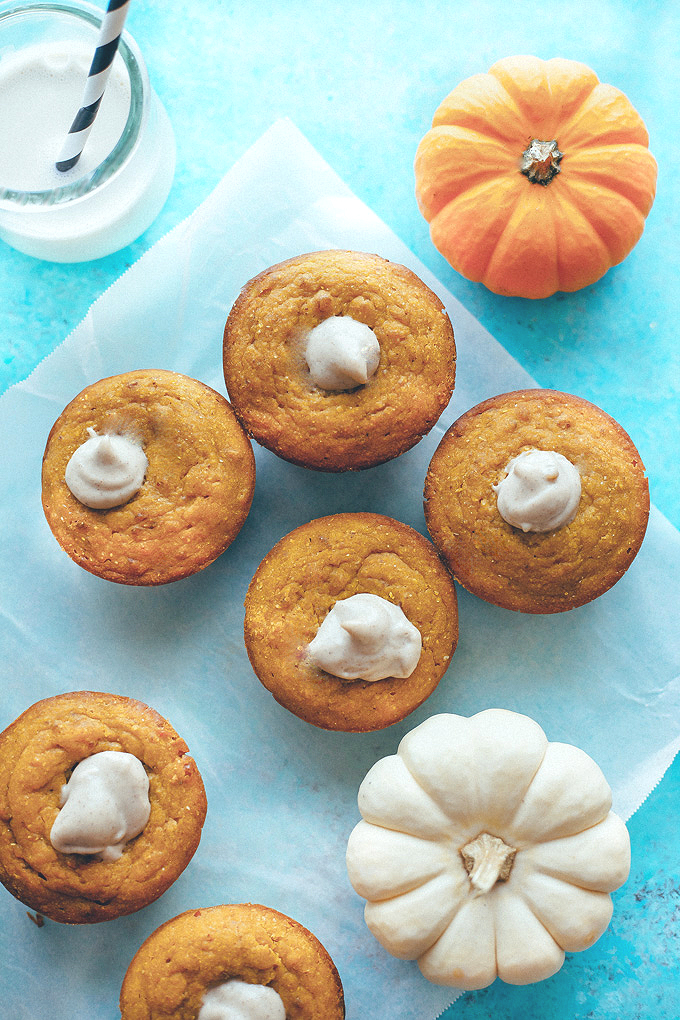 To get the holes in the center of each muffin just take the back of a wooden spoon and press down or you can cut out the middles. I found using the back of a wooden spoon was just easier and more uniformed when filling them up with all that deliciousness.
And as I said before, fill them up to the very very top, do not be shy or try to save some filling for later. You'll have plenty left over anyway I promise.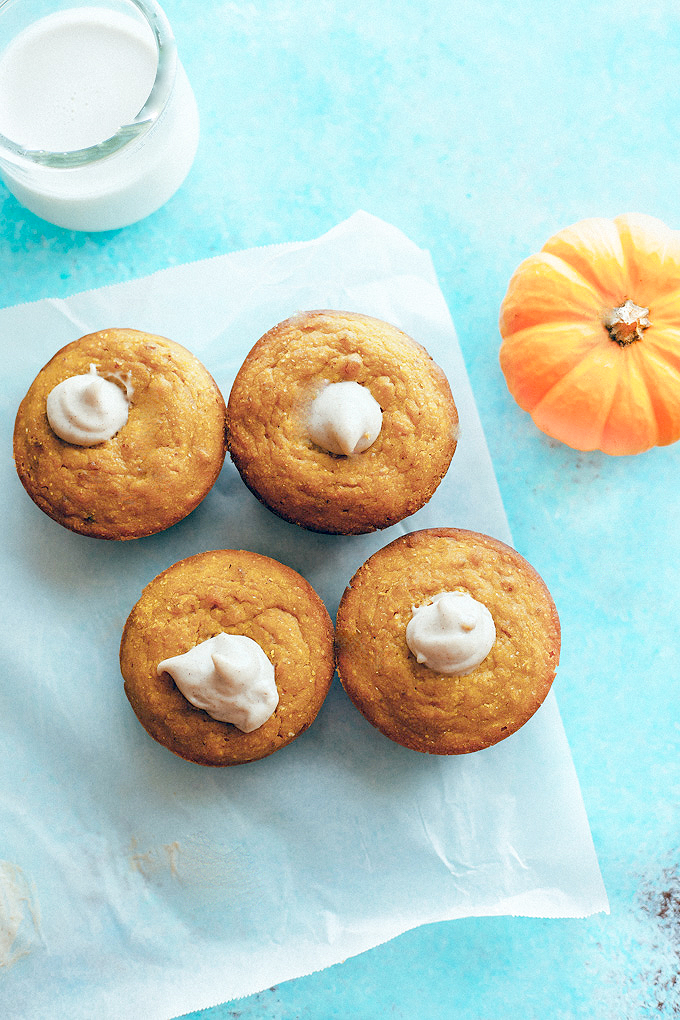 Alternatively you can make this entire thing in a skillet and frost it with the pumpkin spice cashew cream, either way, no matter what you do with this you will be extremely happy. Snacking without the guilt, and eating something that actually tastes awesome…what is this world coming to right!?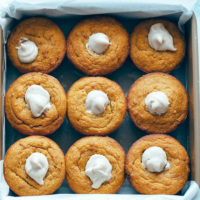 Maple Corn Muffins with Pumpkin Spice Cashew Cream Filling
Healthy corn muffins full of flavor with hints of maple and pecan, they're perfect for fall.
Ingredients:
Maple Corn Muffins
1 cup gluten-free all purpose flour or any flour will work
1 cup organic cornmeal
pinch of pink rock salt
pinch of cinnamon
1/2 tsp baking soda
1/3 cup ground up pecans
1 cup almond milk, unsweetened
1/4 cup apple cider vinegar
1/2 cup coconut oil, melted
12oz pumpkin puree
1/4 cup maple syrup
1/3 cup coconut sugar or brown sugar
Pumpkin Spice Cashew Cream Filling
2 cups cashews soaked overnight or flash soaked* (See notes)
2 tsp vanilla extract
1/4 cup maple syrup (or more for added sweetness)
1 tbsp pumpkin pie spice (adjust to taste)
1/4 cup almond milk
Directions:
Preheat oven to 375F and spray a 12 mold muffin tin with non stick cooking spray or lightly grease it with coconut oil.
In a small bowl, combine almond milk and apple cider vinegar. Set aside.
Sift together all dry ingredients, cornmeal, flour, ground pecans, salt, cinnamon, and baking soda.
In a separate bowl, whisk together all wet ingredients, starting with coconut oil and sugar first, pumpkin puree, maple syrup, and lastly the almond milk apple cider vinegar mixture.
Fold dry ingredients into wet and do not over mix.
Bake for 30 minutes or until tooth pick inserted comes out clean. When finished baking, let sit to cool, off of the oven, for 5 minutes. Use the back of a wooden spoon to insert holes in the middle of each muffin.
While the muffins are baking prepare the cashew cream, it will take you all of 5 minutes.
Put all filling ingredients in a high speed blender and run until smooth and creamy.
Place in the fridge while the muffins are baking and it will set and become thicker.
When muffins are ready to be stuffed you can use a piping bag or cut the corner of a ziplock bag and fill with the pumpkin spice cream.
Squeeze out filling into the middle of each muffin until coming through to the tops. Repeat until all muffins are filled.
Sprinkle tops with pecans, extra pumpkin spice, or cinnamon. Serve and Enjoy!
to flash soak cashews let them sit in boiling water for 15 minutes. When done drain and rinse.
leftover cashew cream can be stored in the fridge for up to 5 days in an air tight container.
muffins can be eaten right away or stored in the fridge for up to 5 days.
This post contains affiliate links.
More fall recipes for you to enjoy!
The Best Vegan Pumpkin Brownies
~Pin this Recipe~