Green Goddess Salad With Roasted Chickpeas
jump to recipe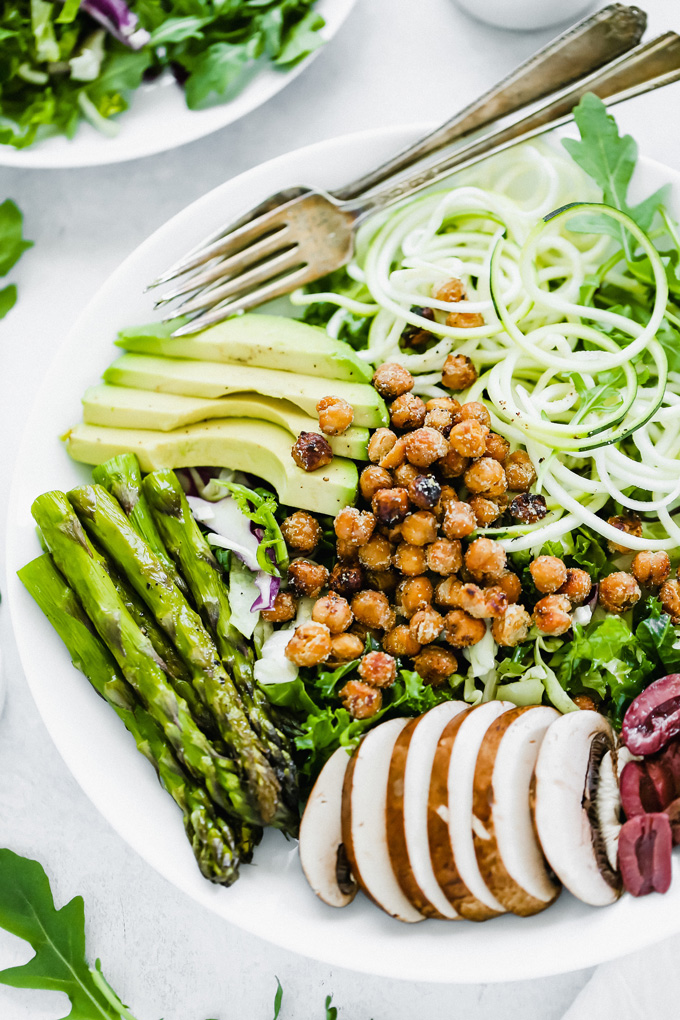 During the summer I like to eat foods that aren't too dense and heavy. I'll save those meals for the rainy, snowy days. Foods like greens on greens on greens in big salads like this Green Goddess Salad with Roasted Chickpeas is what calls to me on most days during the hotter weather.
Salads like this are cooling, filling, super tasty, and packed with nutrition. I can eat this for lunch and be full all the way to dinner, and sometimes even further. It's defintiely true that veggies fill you up although I do have to admit that there's always room for dessert, lol.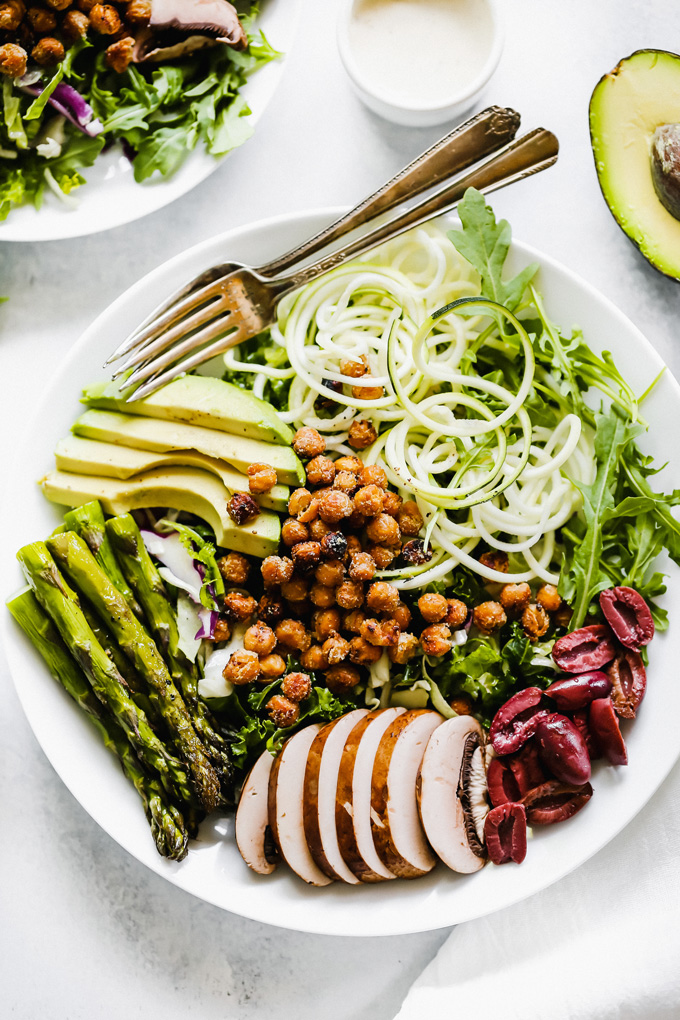 I went through my fridge and took out most of my greens. I had a kale, brussel sprout, broccoli, spinach mix, some fresh arugula, asparagus (totally yum in salads by the way), zucchini that I spiralized, avocado (of course), some baby bellas, kalamata olives, and roasted chickpeas for added crunch, protein, and deliciousness.
*This post contains affiliate links, which means that I make a small commission off all items you purchase at no additional cost to you. I appreciate your support in this way as it helps keep NM up and running.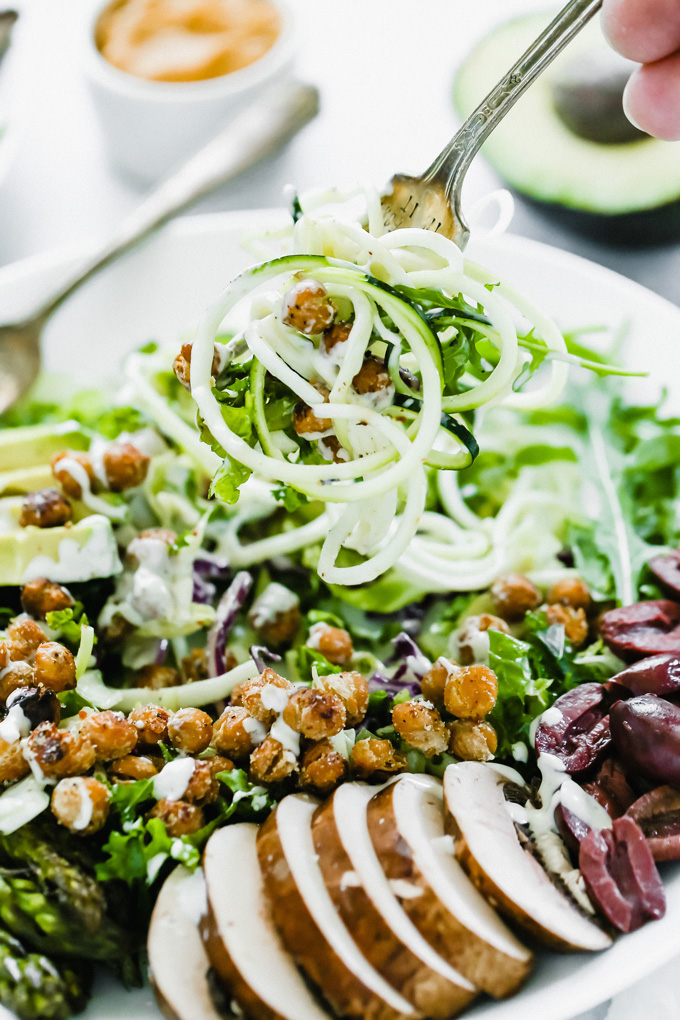 This makes a huge batch that I'm able to split with my son and hubs and still have leftovers for dinner. And is it just me but I feel like a responsible adult when I eat salad and watch my kids eat them too. I just feel like for all the things I probs do wrong at least I got them eating some greens. LOL, the joys of motherhood. This goes for my husband too (who thinks fried eggplant is a healthy meal).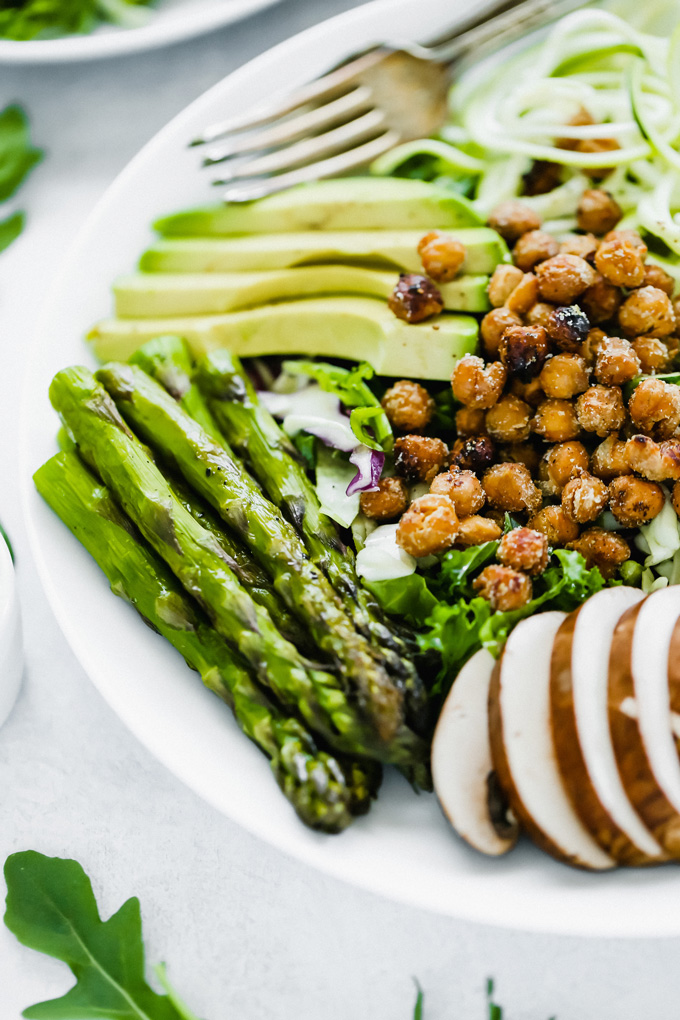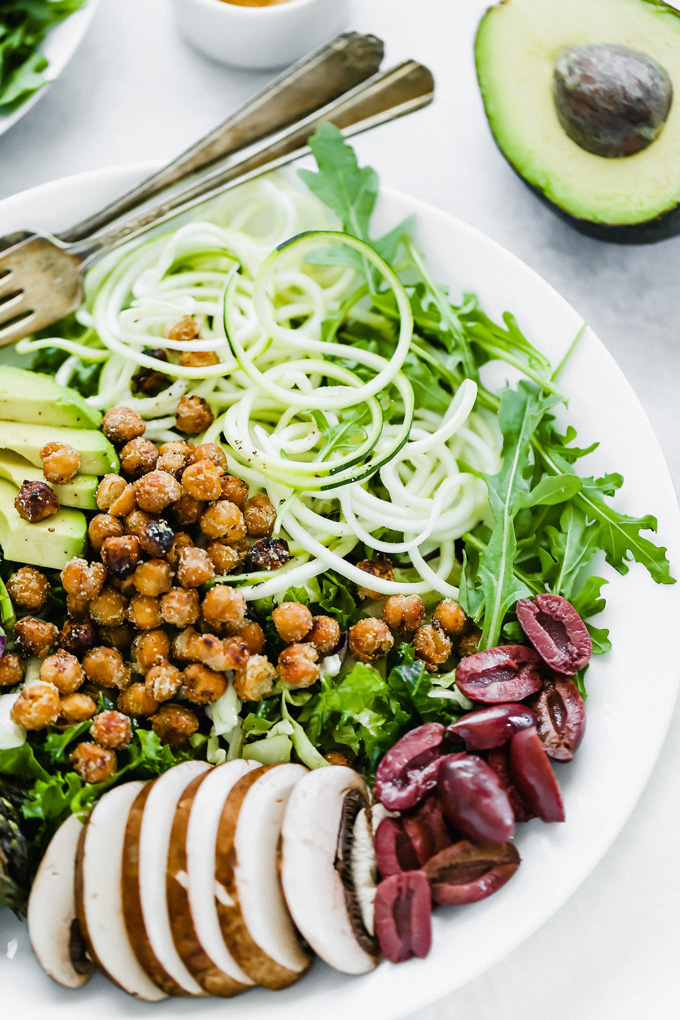 The chickpeas act like croutons. I love seasoning them Italian style for salads like this with some vegan parmesan cheese, oh em gee tastes so good. Little cheesy gems of goodness.
I used kalamata olives because thats what I had on hand but you can use black or green too, I love them too for things like this. Throwing together salads like this will help you not let things go to waste in your fridge. Which totally happens to me sometimes and I get so annoyed that I didn't use whatever produce went bad sooner.
Now I make it a point to go through my fridge and put something like this Green Goddess Salad with Roasted Chickpeas together. It's a win for everyone, fridge space included.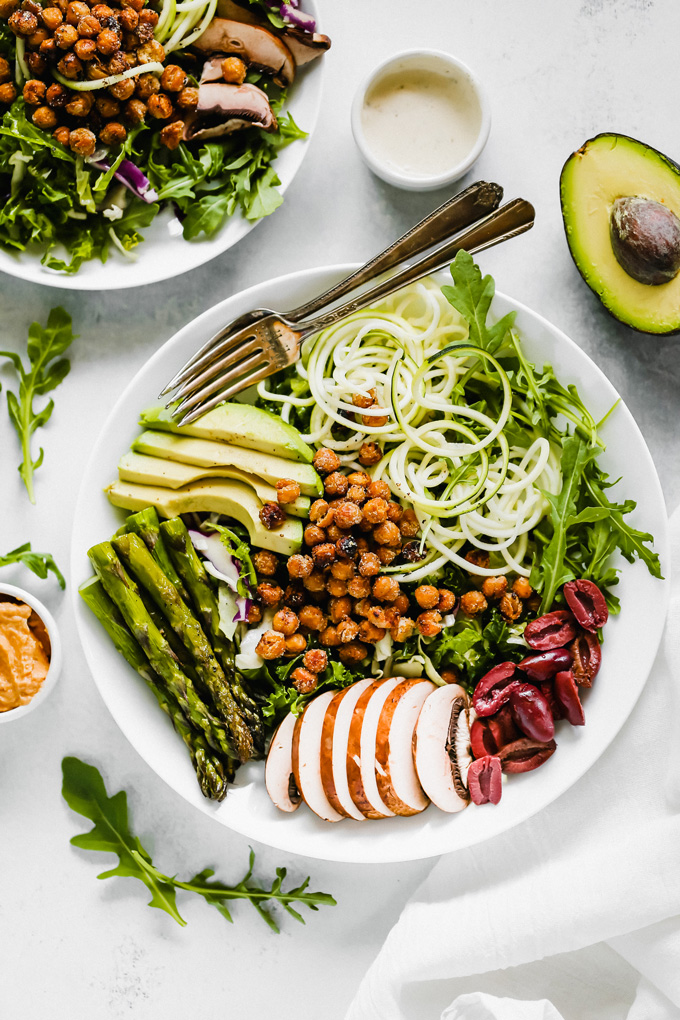 Hope you guys are having an awesome start to the week and are enjoying the first bits of summer. Making salads are easy, they provide quality meals that are full of nourishment and are super tasty. And bonus, this ensures you will use up all your produce too so nothing goes to waste! Don't be shy either, add in some blueberries, strawberries or any other fruit you have on hand to give it some sweetness.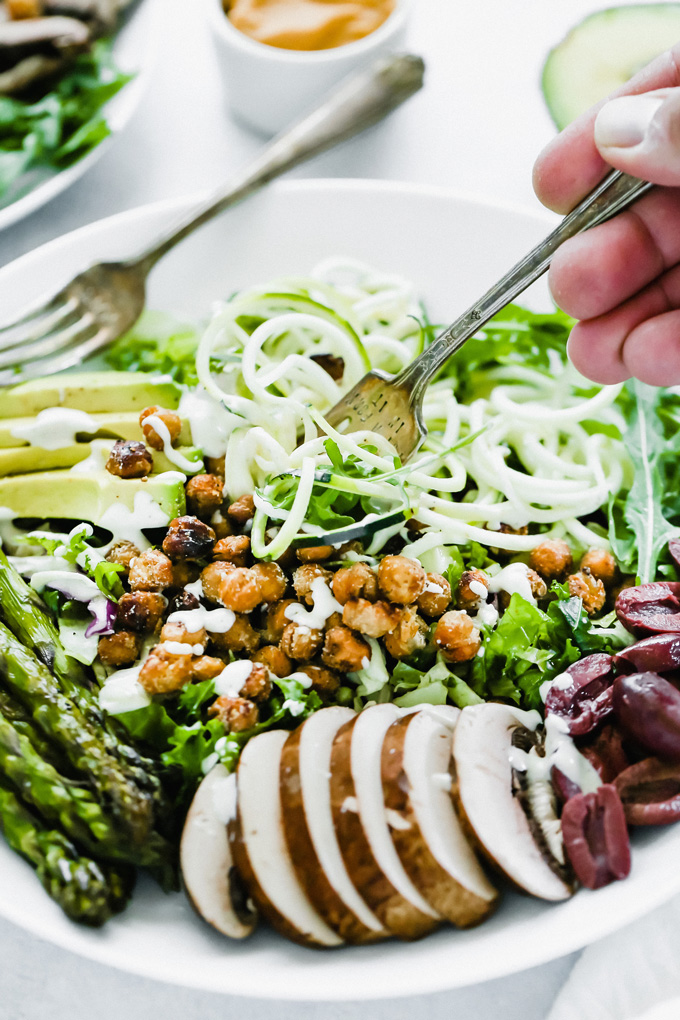 I like to always have a side of some sort of hummus and I love using either lemon juice, balsamic vinaigrette or vegan ranch dressing to top salads with. Also Trader Joe's has a banging avocado pesto type thing that is also amaze, so if you have a TJ near you hit them up for it. Enjoy!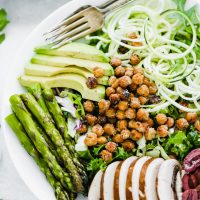 Green Goddess Salad With Roasted Chickpeas
This salad is loaded with plant protein and packed with green goodness that will keep you full all day!
Ingredients:
16 oz mixed greens
1 cup arugula
2 avocado sliced
1 zucchini, spiralized or cut into thin spheres
6-8 baby bella mushrooms, sliced
1 bunch of asparagus, seasoned and baked
15 oz chickpeas, seasoned and roasted
handful of kalamata olives
spoonful of hummus, optional
vegan ranch dressing or lemon juice to top
1 tbsp avocado oil to massage greens with
Roasted Chickpeas and Asparagus
Directions:
Preheat oven to 400 and line 2 baking sheets with parchment paper.
Drain and rinse chickpeas and place them on the baking sheet.
Pat them dry with a paper towel then drizzle with 1 tbsp avocado oil and sprinkle with all the seasonings.
On the separate baking dish line the asparagus up and season them the same way you did the chickpeas. You can hold off on the vegan parmesan if you'd like.
Bake for 20-25 minutes.
While thats baking get all your greens together. Place it all in one bowl and when the chickpeas and asparagus are done throw them in and mix it up good. Serve right away with a side of hummus and vegan ranch dressing. Enjoy!
If you're using kale massage it with some lemon juice or avocado oil. This will make it easier to chew and digest. 
We are a participant in the Amazon Services LLC Associates Program, an affiliate advertising program designed to provide a means for us to earn fees by linking to Amazon.com and affiliated sites.