Creamy Vegan Potatoes Au Gratin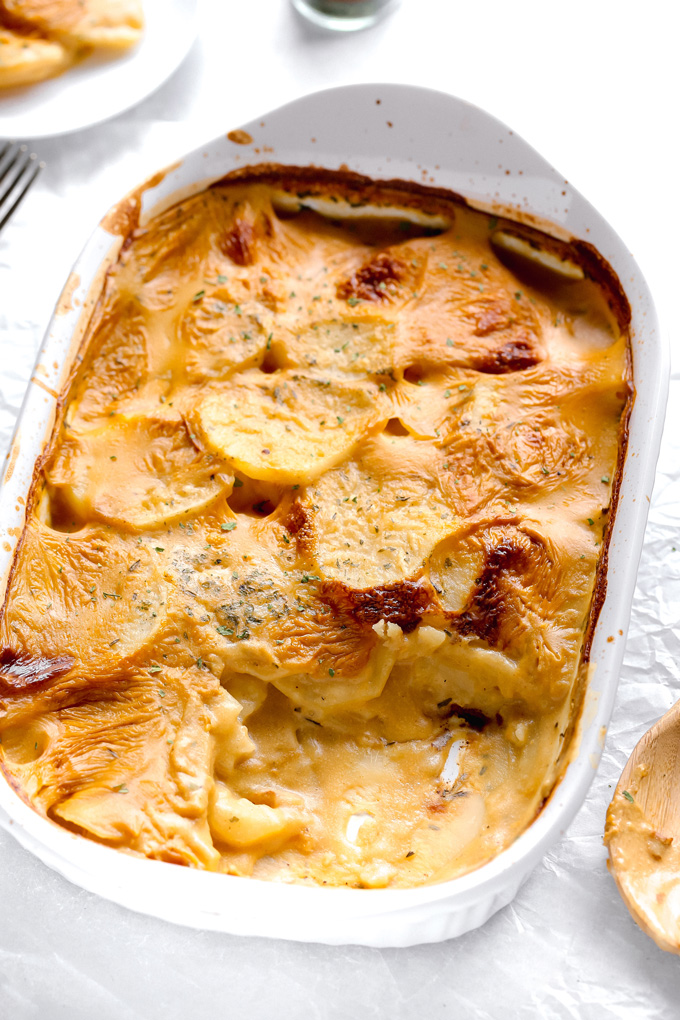 Does it get any more classic than with Creamy Vegan Potatoes Au Gratin? I loved this stuff growing up. At times I thought if I ate any more potato au gratin I would lose my mind or just become a potato for real.
This vegan version is so thick and "cheesy" you would never know for one second it wasn't "the real thing". And it's made from wholesome ingredients everyone can get down with. When I make this, even the big big batch, there are no leftovers, it's that good.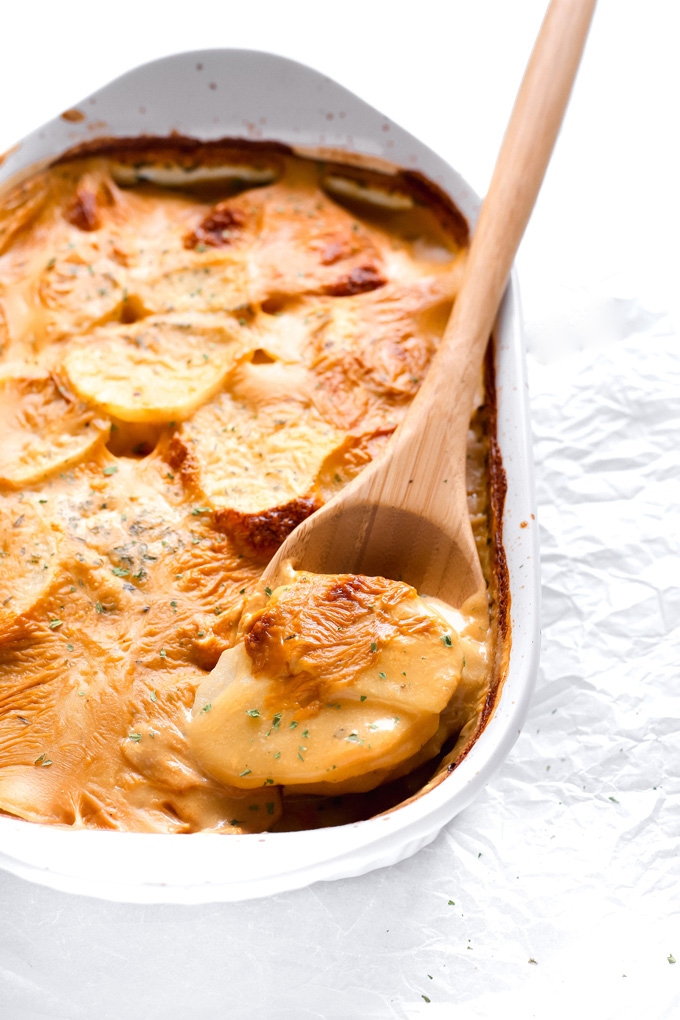 Scalloping potatoes is no easy task. You can cut them by hand but you won't get them evenly sphered and thin as they should be for a recipe like this. But by all means give it a go if you're a skilled chef who knows their way around a knife, but for me I used my trusty food processor with the exact slice system. It cuts them perfectly and the only thing I need to do on my end is wash and peel the potatoes. It's also super safe so you don't really have to worry about cutting yourself while it's slicing. Alternatively, you can use a mandolin slicer.
*THIS POST CONTAINS AFFILIATE LINKS, WHICH MEANS THAT I MAKE A SMALL COMMISSION OFF ALL ITEMS YOU PURCHASE AT NO ADDITIONAL COST TO YOU. I APPRECIATE YOUR SUPPORT IN THIS WAY AS IT HELPS KEEP NM UP AND RUNNING.*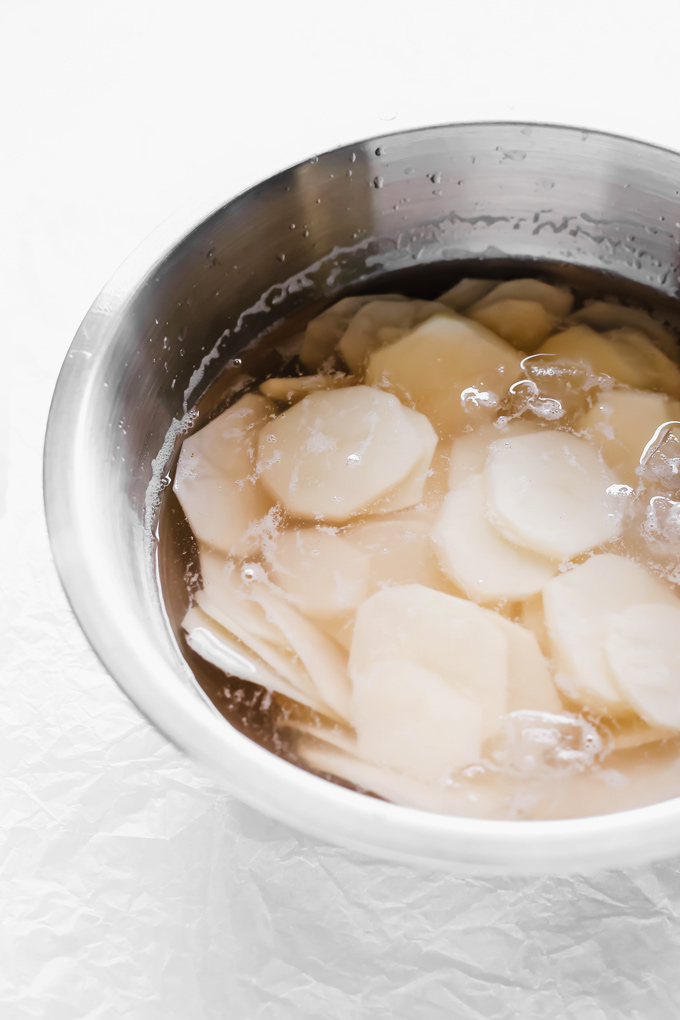 After you've sliced the potatoes, place them in ice cold water so they don't oxidize and turn brown. That happens rather quickly so I usually have my ice water ready. As soon as the potatoes are done being sliced (in minutes) I throw them in the ice bath. Keeps the potatoes nice and fresh. However, a little oxidation never hurt anyone so don't worry if it happens.
For this amount I used a 2qt baking dish. You layer the bottom with scalloped potatoes and pour the cheese mix to cover them and repeat with a second layer of potatoes and pouring the rest of the cheese sauce over it. It will cover it completely. Give it a good shake or whirl to ensure maximum coverage. Then comes the fun part.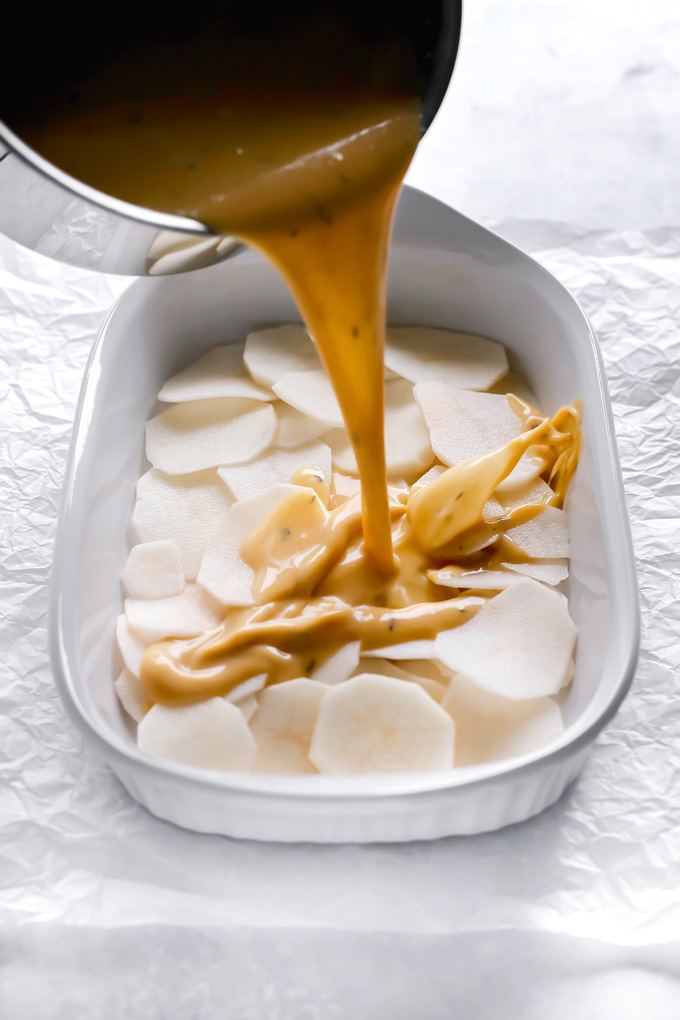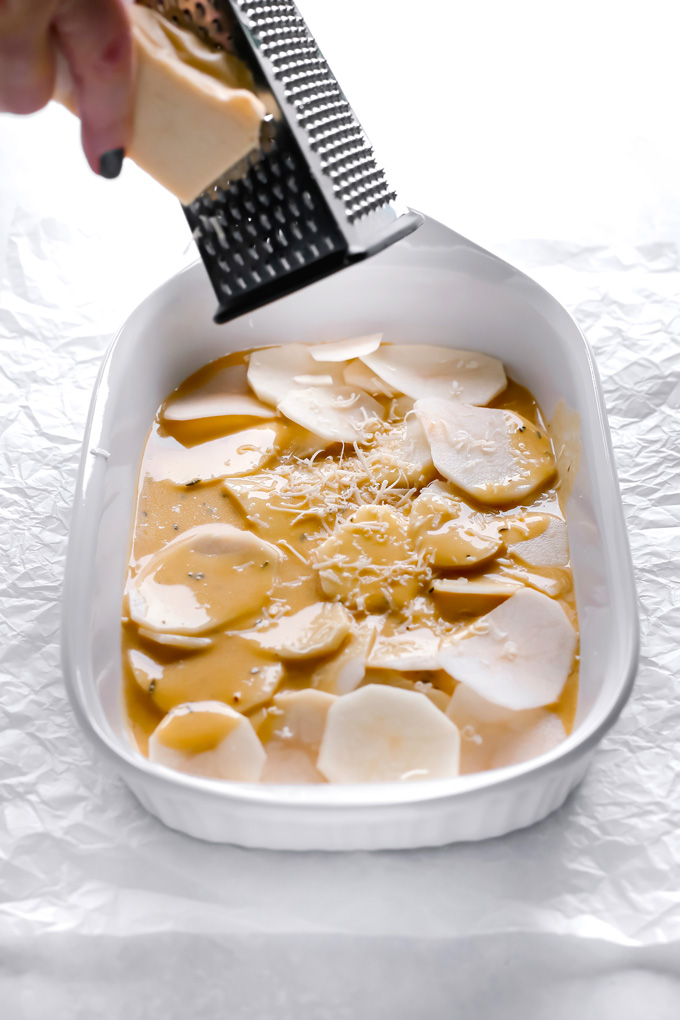 You can dazzle it up with some delicious vegan parmesan cheese. Either homemade or store-bought, both will work just fine. It adds on to the cheesy deliciousness. I sprinkled on some extra parsley too because I love parsley and almost put it in everything. I just like the way it makes my meals taste and it's nice to have in that added herb. It looks so pretty too!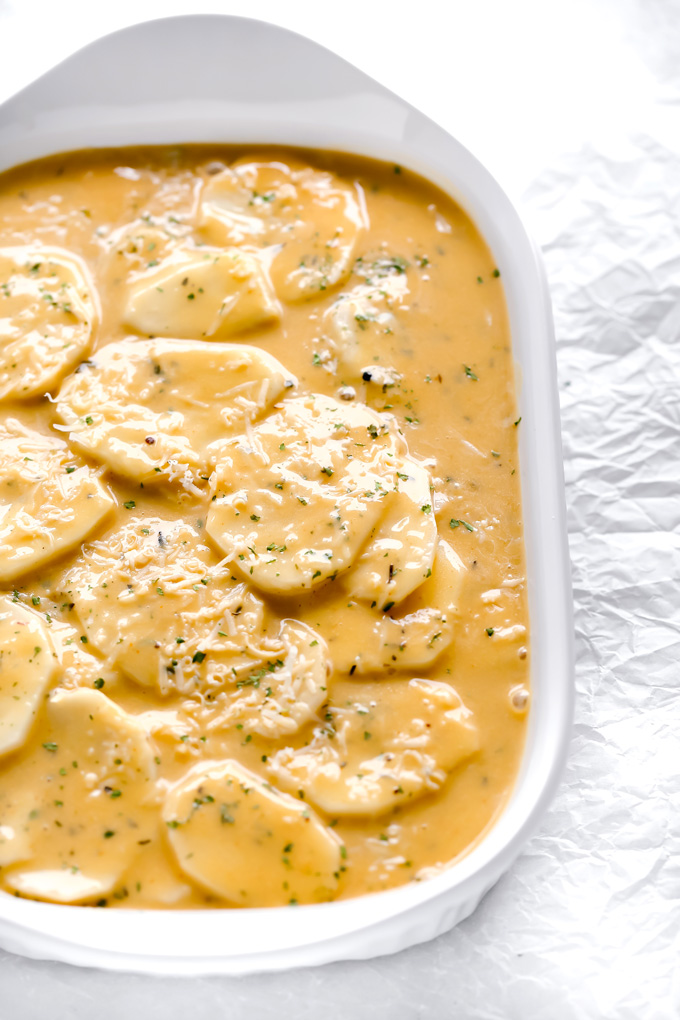 Once you have it ready to go it's time to pop it in the oven. This is probs the hardest part…the waiting. That's usually the most difficult for me because I'm so hungry I just want it right now! Hellooooo….someone needs to practice their patience.
For the first 20 minutes of baking you can cover it with foil (or not if you're totally against foil which is fine). Then for the remainder of the 20 minutes uncover it and let the top get crispy and brown. That is my absolute favorite part! I love the extra crunchy parts on top.
When it's done baking, remove it from the oven and let it sit for 5 minutes before you cut into it (I know, again, super hard, lol).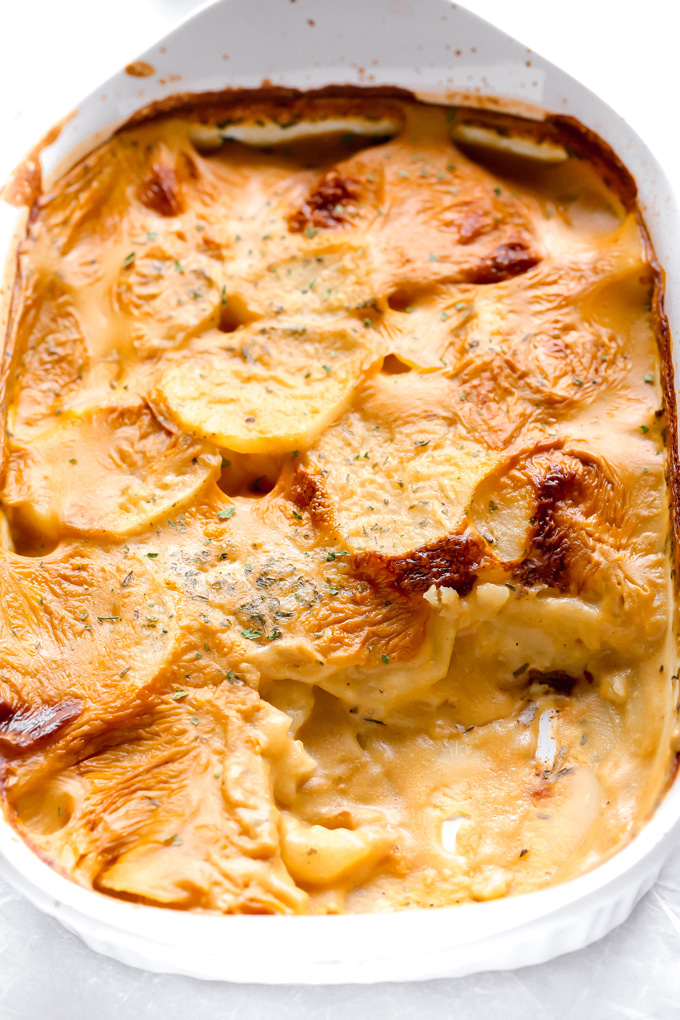 Serve it up alone or as a side dish to your main meal. I like to eat vegan turkey cutlets, broccoli, and these creamy vegan potatoes au gratin on the side. They are just too damn good, I promise.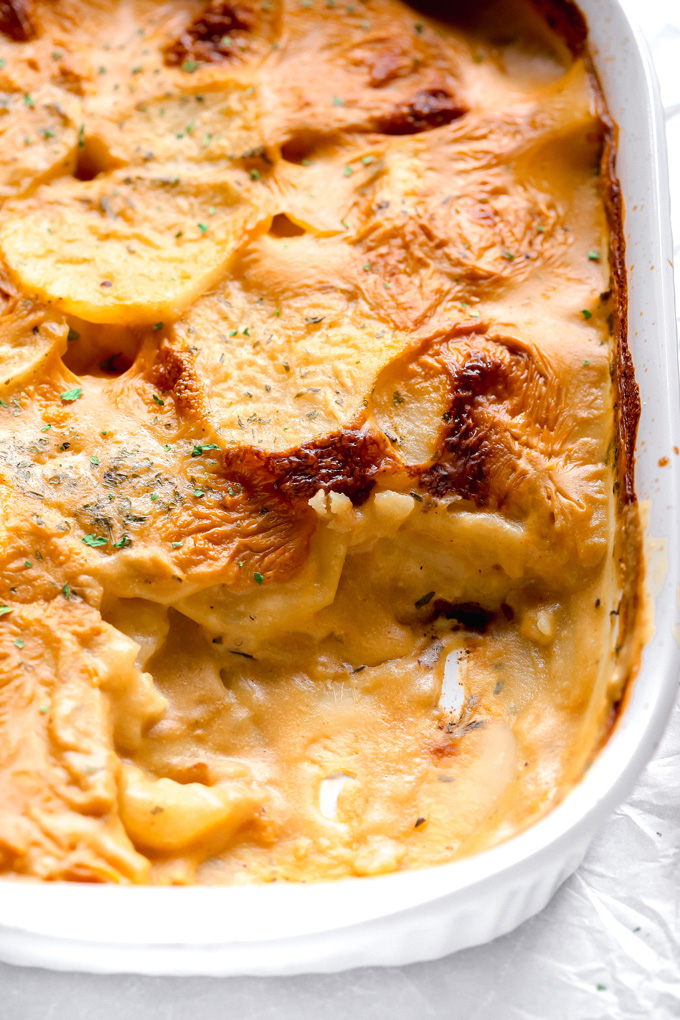 Creamy Vegan Potatoes Au Gratin
The perfect side dish to go with just about anything and you would never know it was vegan. The rich "cheesiness" is even better than the original.
Ingredients
5 russet potatoes, (washed, peeled, and scalloped)
2 cups almond milk, (unsweetened)
1/2 cups low sodium vegetable broth
1 tbsp vegan butter
1/2 yellow onion, diced
1 tsp vegetable bouillon
1/3 cup nutritional yeast
1 tsp onion powder
1 tsp garlic powder
1 tbsp parsley, (and extra to top)
1/2 tsp dried thyme
1/4 tsp turmeric
1/4 tsp paprika
salt/pepper to taste
3 tbsp cornstarch
1/4 cup cold water
Instructions
Preheat your oven to 425F.2. Wash and peel your potatoes before slicing. Use either a food processor with the slicing attachment or a mandolin for evenness. Once potatoes are sliced put them in an ice bath. Cold water and ice so they don't oxidize and turn brown. Leave them in there while you make the cheese sauce.3. In a small to medium sauce pan, on medium heat, whisk almond milk, vegetable broth, nutritional yeast, veggie bouillon, butter, diced onion, and all spices. Lower heat down to a simmer and stir frequently. 4. In a separate bowl mix together the corn starch and water until no clumps are left. Pour that into the cheese mixture and mix well. Stir for 5-6 minutes or until the sauce thickens up. It won't be super duper thick just thicker.5. Layer the bottom of a 2qt baking or casserole dish with potatoes. Pour half the cheese mixture and whirl it around to ensure coverage. Top with second layer of potatoes and remaining cheese sauce. Give it another whirl or shake to ensure coverage.6. Sprinkle top with vegan parmesan cheese for extra cheesiness. 7. Cover with foil and bake for 20 minutes. After 20 minutes remove foil and bake another 20 minutes uncovered. If you want the top extra extra crispy leave it in for another 10 minutes.8. Remove from oven and let sit for 5 minutes before cutting into it. Serve it up with anything you'd like and Enjoy!
~Pin This Recipe~

WE ARE A PARTICIPANT IN THE AMAZON SERVICES LLC ASSOCIATES PROGRAM, AN AFFILIATE ADVERTISING PROGRAM DESIGNED TO PROVIDE A MEANS FOR US TO EARN FEES BY LINKING TO AMAZON.COM AND AFFILIATED SITES.