Baked Sweet Potato Supreme
I don't know about you but I cannot get enough sweet potatoes in my life…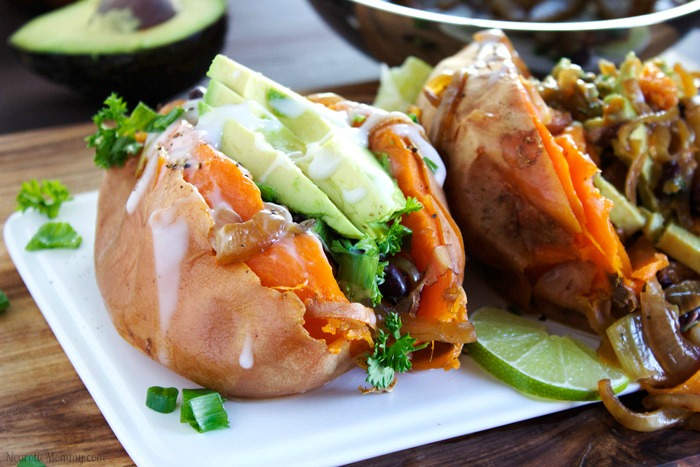 Happy Monday Everyone! If you found yourself on my blog you must be huuungry. Well you landed on the right page because I've got just the meal for you today. Word. Up.
Baked Sweet Potato Supreme in all it's glory. I mean look at em. Deliciously stuffed to the brim with goodness. What do we have up in there, well we have sautéed onions, red beans, scallions, cilantro, avocado and a refreshing lime crema to top. Uuugh I know I know let us all take a moment and have an eye drool shall we?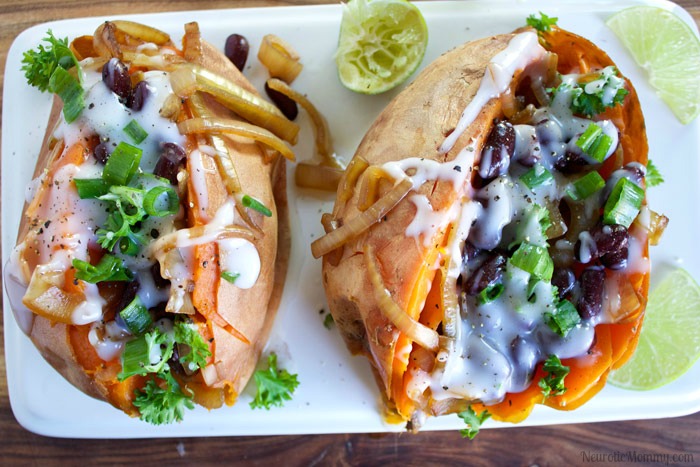 It like literally doesn't get any better than this. With every bite you are not only like "oh dear lawd this is amazing" but you are loading up on vital nutrients! Not one single ingredient in this is "bad for you". Onions-good for the blood stream, cilantro-an antibacterial, lime-an alkalizing forming fruit, unsweetened non dairy yogurt-a probiotic, avocado-healthy fats, beans-amazing source of protein, scallions-b complex vitamins along with more essential minerals. And last but not least um hello, duh the sweet potato!!! Full of iron, calcium, potassium, magnesium and protein. Whoa! (taking a breath)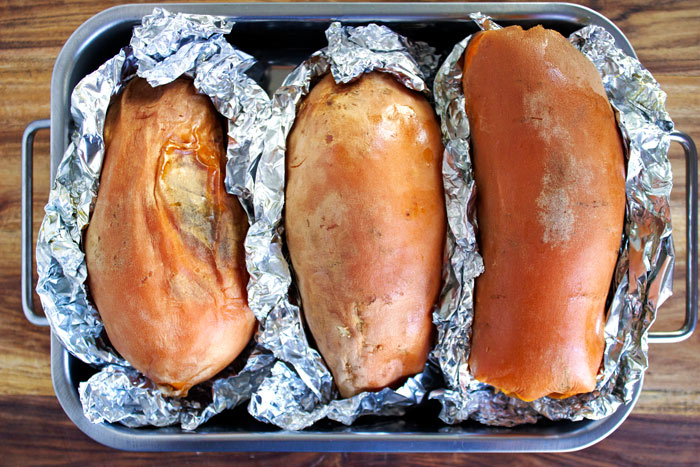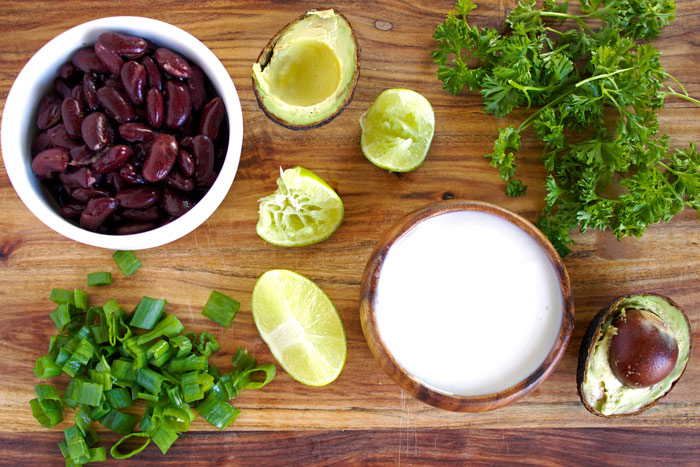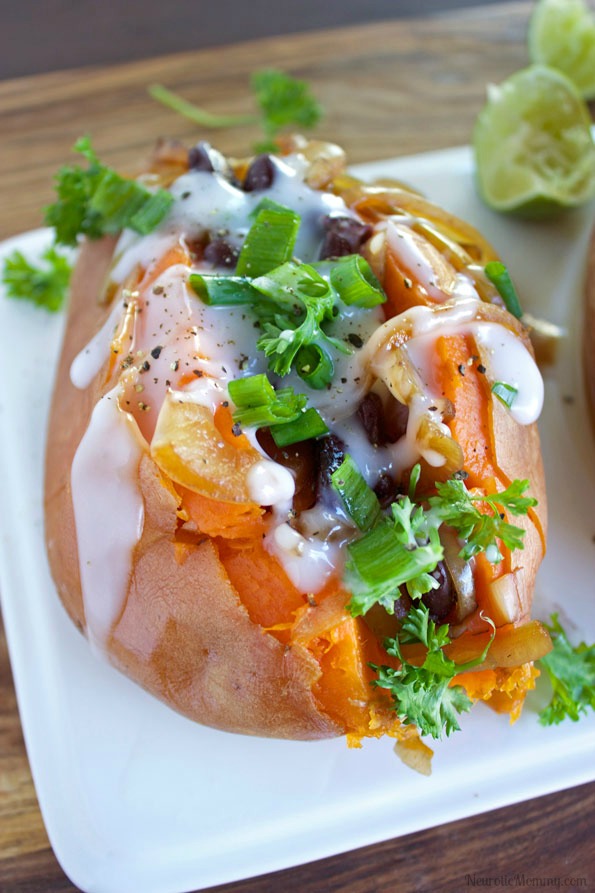 My sweet potatoes were so big I had a hard time getting through just one. Ahhh who am I kidding I ate the entire thing and felt damn good about it and so will you. Pinky promise.
This is what I'm talking about when I tell people to fill up on real whole foods! These types of foods actually fill up your stomach not just pretend to. Why waste the body's energy on junk?! All junk food does is trick the brain into thinking it's full for 15 minutes, use up precious energy that could be working on other important things in our bodies and then that's where we find ourselves binge eating more loads of crap. Hey, it happens we are only human right? I get it but we can bring those happenings down to a minimum. I would take this over any fast food meal, any time of day that's for sure.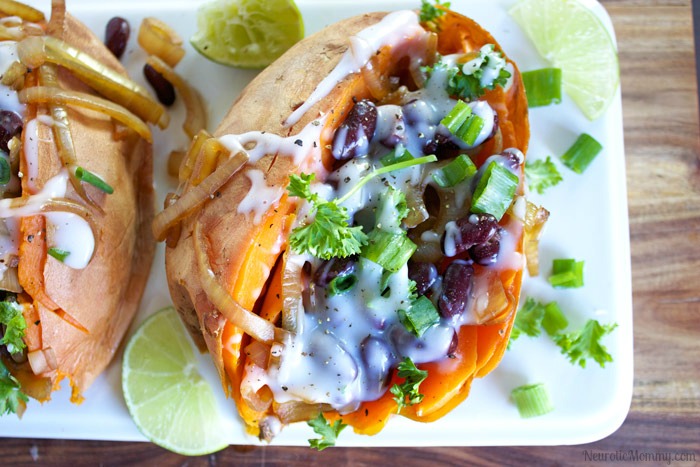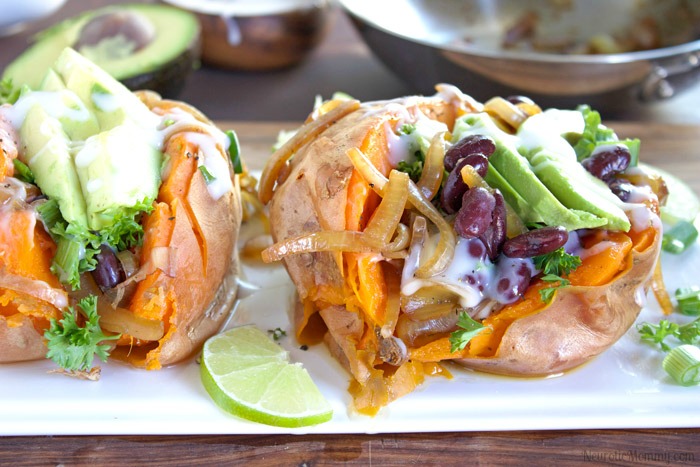 What I think I love most about these sweet tubers is the fact you can make them with anything or for anything. Prepare them as  side or maybe just as your full entree like I did here. Oh and fries how can we forget sweet potato fries! My sweet potato shoestring fries are amaze! They are so versatile. You can even make delicious desserts and smoothies with sweet pots!!! The sweet possibilities are endless (see what I did there).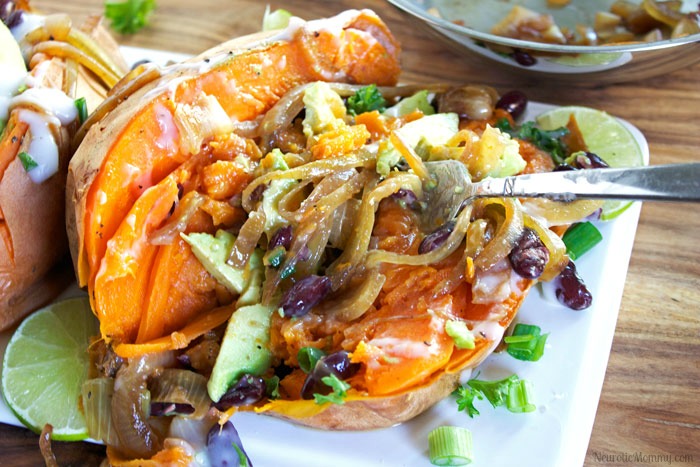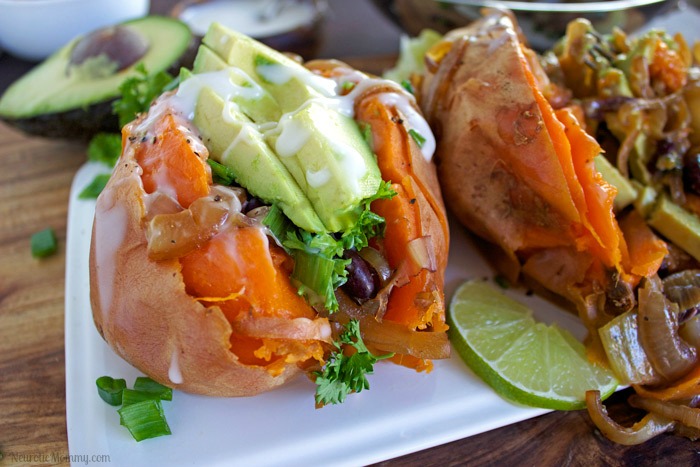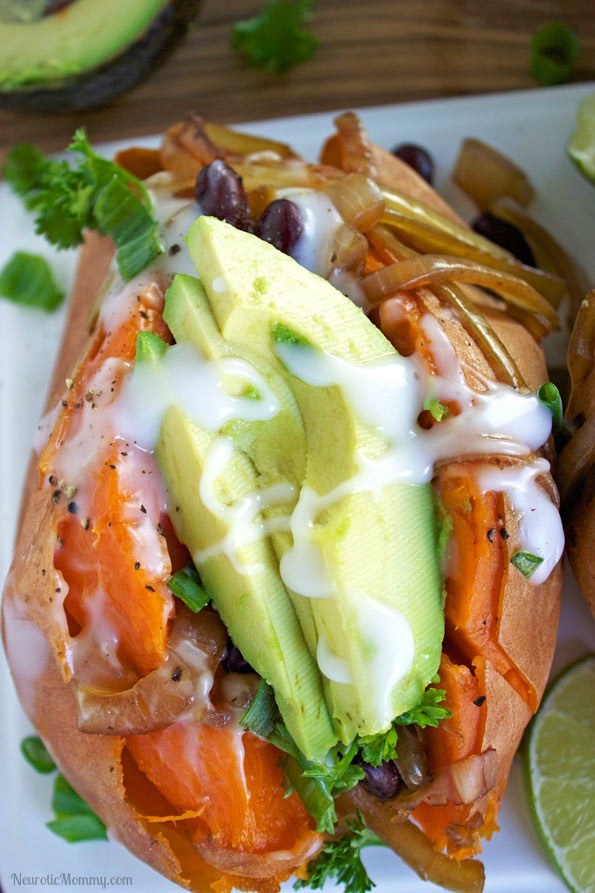 Now that we know how seriously yum-tastic these babies are we can move onto the recipe and get sweet potato wasted, ya dig? Ok me too so let's dig in…
Recipe adapted from Refinery29
Baked Sweet Potato Supreme
Recipe Type: Dinner
Author:
Prep time:
Cook time:
Total time:
Serves: 3
Enjoy a delicious messy meal that will really fill you up but leave your body nourished with a boatload of essential vitamins and minerals. Kids love messy foods! Who said you couldn't have your baked potato and eat it too!?
Ingredients
3 large sweet potatoes
1 yellow onion, sliced thin
4-5 tbsp water
1 avocado, sliced
1 15 ounce can red kidney beans
1 tsp onion powder
1 tsp garlic powder
1 tsp all spice
handful of cilantro for each
handful of chopped scallions for each
salt/pepper to taste
[b]The Lime Crema[/b]
1/2 c unsweetened non dairy yogurt of choice
Juice of 1/2 lime
Instructions
Preheat oven to 400F.
Wrap each potato in foil and place on baking sheet. Bake for 1 hour or more depending on how big your sweet potatoes are. I cooked mine for 1 hour and 20 minutes.
While they are baking slice up the yellow onion and water sauté them. Do this by placing the onions in a fry pan or skillet and cook them until translucent, adding water when necessary so they don't stick. Let them turn brown in color. Remove from heat and set aside.
Warm up beans and add seasonings, onion powder, garlic powder, all spice, salt and pepper. Once done set aside until potatoes finish baking.
Chop up cilantro and scallions for topping.
To make the Lime Crema mix both ingredients together well.
To Assemble
Once sweet potatoes are done slice them open lengthwise. Scrape the potato from the sides.
Start with adding onions, then beans, cilantro, avocado, lime crema and scallions.
Top off with fresh ground black pepper. Enjoy!
Notes
Potato Cook time may vary.