Homemade Peanut Butter Crunch Cereal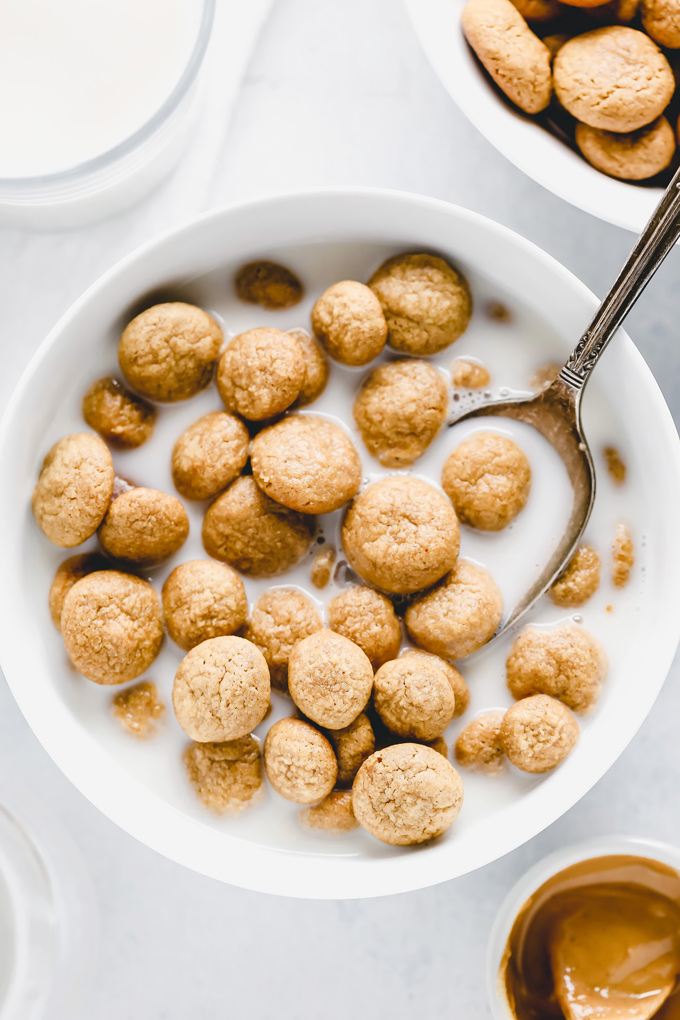 Growing up cereal was a morning staple. I remember having Fruity Pebbles, Rice Krispies, and all the other super famous 80's and 90's cereals. My absolute favorites were Captain Crunch and Chocolate Peanut Butter Puffs. I would love how the peanut butter and chocolate made the milk sweet and you had a not on purpose chocolate milk on your hands. And let's be honest, that's like legit the best part. The milk isn't too cold but it's not warm, it stays at the perfect room temp.  Oh also Pop Tarts were a thing too for on the go breakfasts. Not so nutritious I know, but back then no one really knew any better.
When I made this Homemade Peanut Butter Crunch Cereal that is 100% vegan and has a gluten free option, the joy I felt inside brought me back to my kid days when adulting was far far away (at least till the age of 13, when I started working). I like to make this with a batch of my Homemade Vegan Cocoa Puffs and it gives me All. The. Feels.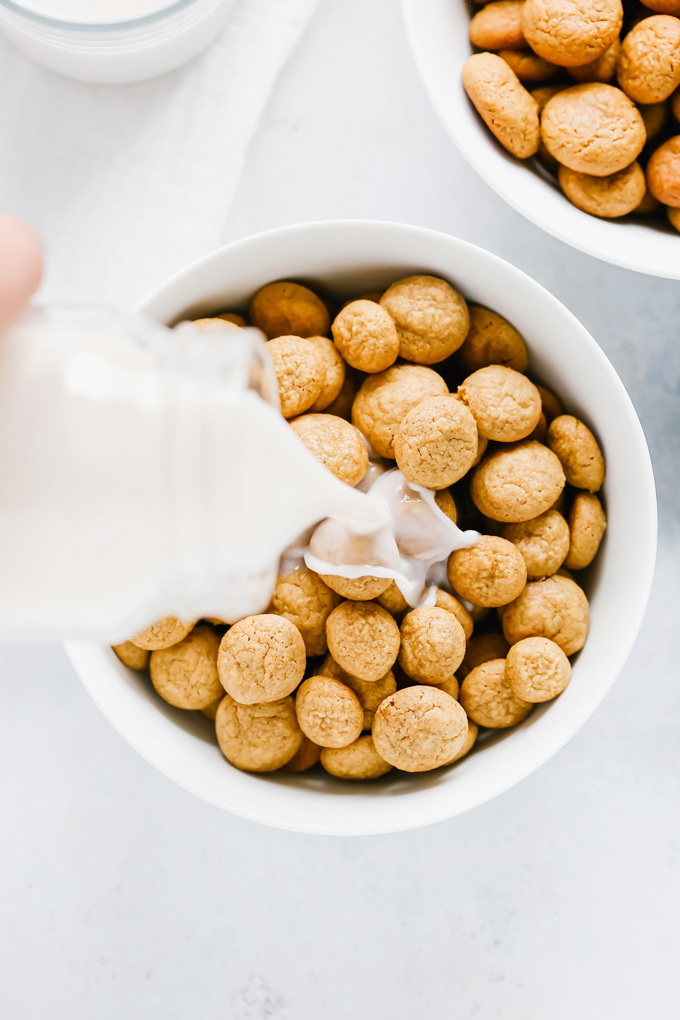 Full disclosure: I ate a bowl of this late night watching Peaky Blinders on Netflix and it was AMAZING!!! It's basically like eating little tiny peanut butter cookies doused in almond milk. It really brings me so much joy and I'm not even over exaggerating.
Only 7 super simple ingredients, one bowl and that's it. No refined sugars no junk, just straight up deliciousness in every bite. You will say buh bye to your boxed cereal and stay together with this one foreves. Also we have options people!!! Add a tablespoon or two of cacao powder and you can make them chocolate!!! I can hear the roars coming from the crowd, it's amazing aint' it!
The Right Amount of Crunch
They start off super crunchy and take in just the right amount of milk. I suggest making them a day ahead so they set and get a bit harder  that way when you do add the milk you don't end up with mush. If you put them in cereal straight out of the oven that's what you'll get. I mean it will be the most delicious mush ever but you won't get that crunch like you do with traditional cereal.  So let it sit a couple of hours at least.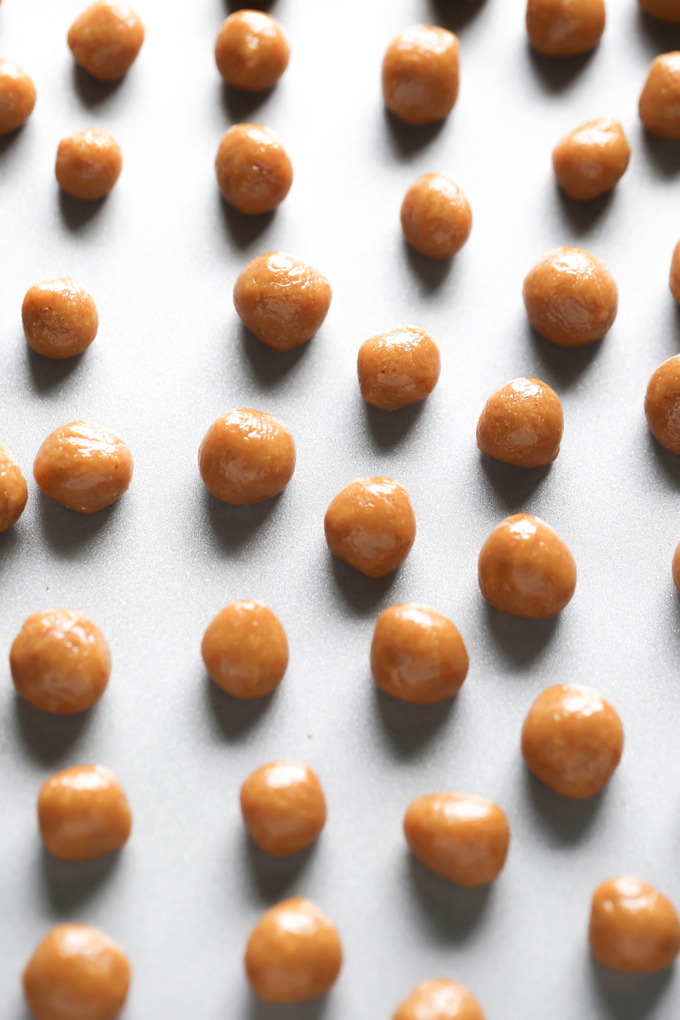 Another option that's so super fun….you can make the dough into cookies too! Just instead of making tiny little balls take tablespoon size portions roll em' out and bake em' up for 10 minutes. You can gently flatten them with the palm of your hand.
Ok and one last thing with this recipe is you can enjoy it "raw" although it's not raw like a standard cookie dough as it has no egg. It just taste really good before getting baked so I find my hand in the bowl "taste testing" more than I should be. I'm all about transparency here friends! LOL.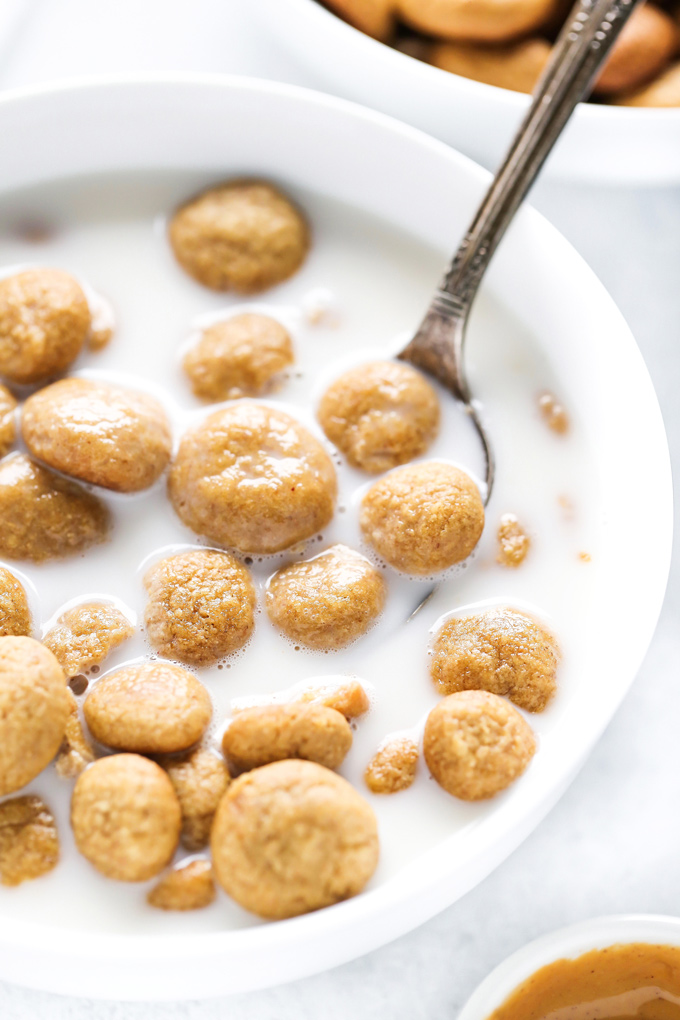 People look forward to breakfast and it can be the most important meal of the day for some, make it special by adding these melt in your mouth, vegan homemade peanut butter gems to the mix. Just 7 easy ingredients and all your cereal dreams will come true.
Homemade Peanut Butter Crunch Cereal
People look forward to breakfast and it can be the most important meal of the day for some, make it special by adding these homemade peanut butter gems to the mix.
Ingredients
2 cups gluten free flour (see notes), spelt flour, or ap flour
1 tsp baking soda
1 tsp himalayan salt
1 cup creamy peanut butter
1.5 tsp vanilla extract
1/4 cup avocado oil, coconut oil, or extra virgin olive oil
1 cup maple syrup
Instructions
Preheat oven to 350F and line baking sheet with parchment paper.

Whisk together all dry ingredients then add in all the wet ingredients. Mix well then let it sit for a few minutes.

To make the cereal take 1/2 tsp size portions and roll into balls. You can go however big or small as you'd like but I like this size for the cereal as it will expand in the oven.

Bake for 10-12 minutes or until golden on the edges. Remove from oven and let cool completely before adding to milk. I suggest waiting a few hours or overnight before adding them to a bowl of milk. You can enjoy them right away however as cookies.

To make regular size cookies take tbsp size portions and roll into balls then gently flatten with the palm of your hand. Bake for the same amount of time 10-12 minutes or until edges are golden.

Serve up with your favorite plant milk and Enjoy!
Notes
Can sub almond butter for peanut butter.
Store in an air tight container or ziplock bag at room temp for up to 5 days. 
Bobs Red Mill or King Arthur make great gluten free flour blends.
 ~Pin This Recipe~