Hey, it's been awhile but I have big news!
Hi!
Jenn, NeuroticMommy here and OMG I know, I know, it's been a minute, but I hope you understand.
A while ago you became a subscriber because you were drawn to something NeuroticMommy offered. Were you looking to connect with loved ones from the other side? Learning how to be your own healer? Delving into a past life to uncover gifts and abilities? Was it my healthy recipes? Or were you a fellow neuroticmommy? Did you love the idea of having a safe space where you would find a lot of like-minded ladies who celebrated your wins? We. Are. Still. Here! I am still here, I just brought in more of me.
Whatever it was that connected us I really do appreciate you and hope you stick around for what's to come. While NeuroticMommy will always be my first love and has allowed me to create and narrate an authentic journey, I believe most mommy's share in it's also given me the confidence and knowledge to follow my intuition and grow. It has been and will continue to be part of my evolvement. Through that evolvement and expansion another extension of myself was born.
Let me introduce you to MotherRealm, a fair trade, ethically sourced crystal/metaphysical shop that offers online crystal shopping plus weekly live sales and unboxings. Passion on top of passion right here for me friends! Starting an online shop to be able to bring you fair trade, high quality, hight vibrating spiritual tools such as crystals, dried herbs, and so much more, has been dreams come true for me. I truly feel like I'm meant to bring forth crystal energy and magic to the world, creating a healing grid everyone will benefit from.
MotherRealm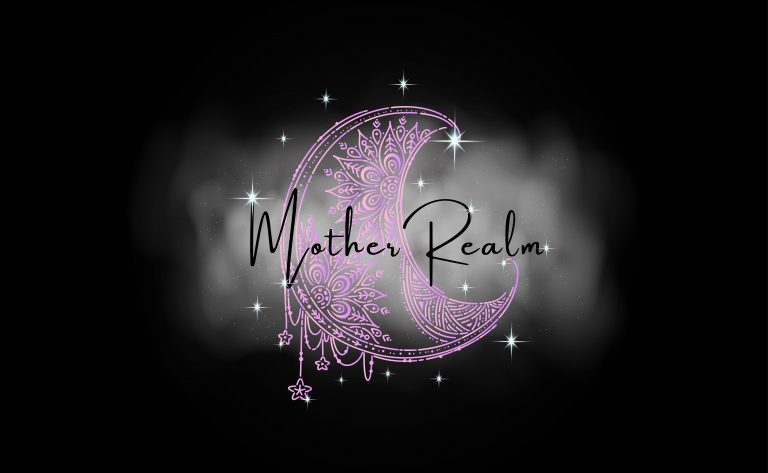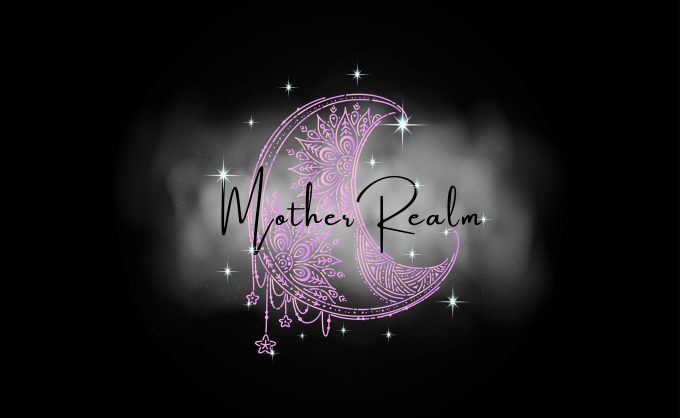 Crystals come filled with magic + light to enhance us from our core and put us in alignment with the best version of ourselves. I love that I am able to invite you to take part in what I believe is truly life altering and transcending.
If you've been out of the loop or haven't joined any of my lives on Instagram, I would love for you to check it out this Friday, April 22nd at 8PM EDT on @MotherRealm on Instagram. This is where I showcase some amazing new crystals and go into detail the meaning and magic of each one along with other incredible products I have to offer.
It is also a very exciting day because we are officially launching the MotherRealm Monthly Subscription Box! *Gasps – and the crowd goes wild*, LOL. This has been years in the making and I am so honored that it came to fruition, and I am able to share it with you today.
MotherRealm Monthly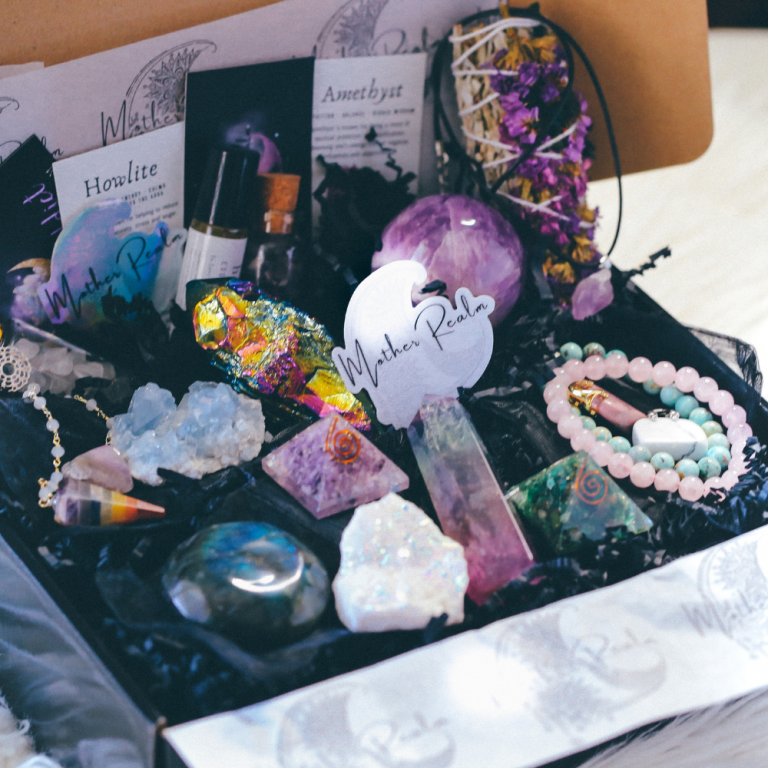 What to Expect: The MotherRealm box will be carefully curated by me, and each month you will receive 3-5 crystals along with the most incredible assortment of spiritual tools, shipped directly to your doorstep. Each month, I will personally, hand pick every item that goes into your box that highlights the months energy and supports you on your spiritual journey. Every month I will include a special offer, discount, or surprise to thank you for your support. This is the subscription you're going to want to be a part of!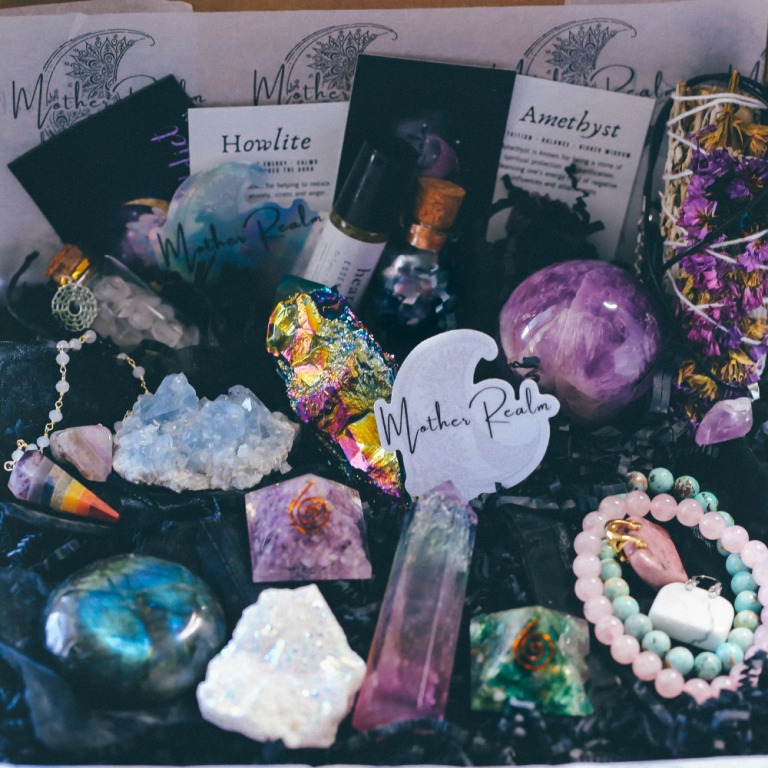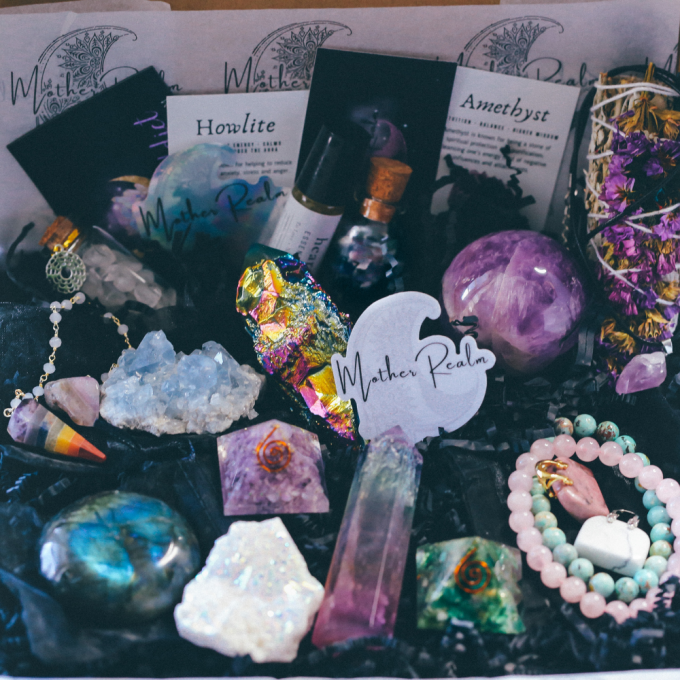 MRM is $54.99 a month with FREE SHIPPING! Once you subscribe, we will place a new order with this product every month. You'll be automatically charged $54.99 for each order. You can easily manage your subscription or cancel it anytime with no additional charges. Sign up for the whole year and get 10% off your entire subscription! That is basically one FREE BOX!
I have missed you over the past few months. I'm excited to say you'll be hearing from me a lot more. I want to use this space as a way to re-connect and support you as well as continuing to bring aspirational and fun content.
I'm so excited to share this part of my journey with you. I hope that it will have you vibrating at your highest potential, living your absolute best freakin' life!
See you over in the Realm!
With Love, Light + Honor,