Berry Marble Tart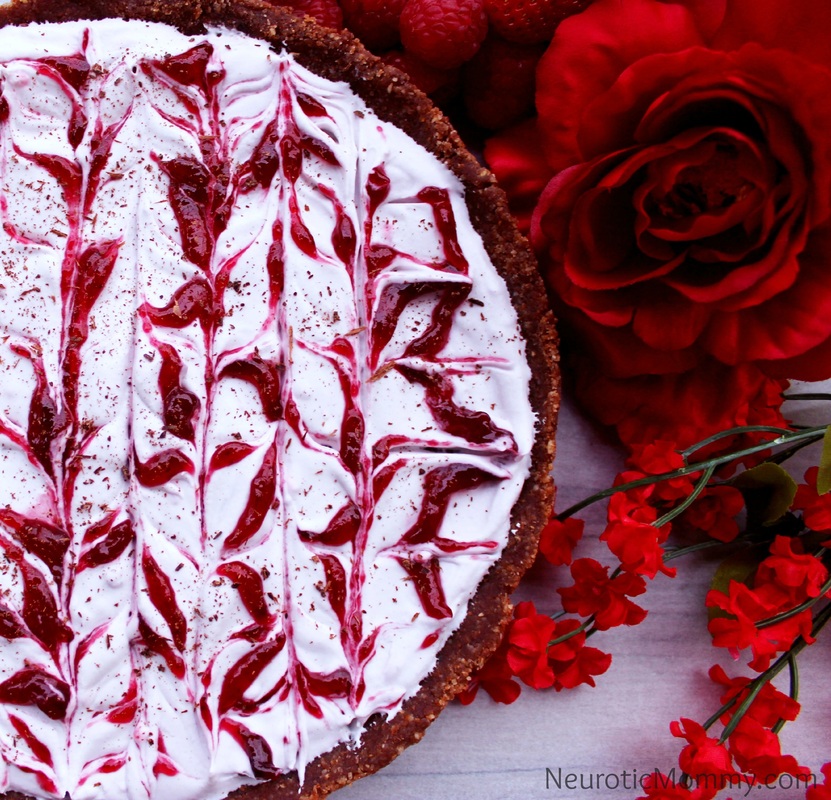 Well hello lovelies! What do we have here you ask? A Mixed Berry Marble Tart! Did those words actually come out of my mouth? They did!!! Go ahead and add this beaut to your list of to make treats because you will be like Whoa, fo sho =)
Vegan

Ingredients
The Crust
3 c almond meal
2 tbsp coconut oil
1 tbsp maple syrup
2 tbsp coconut milk
2 tbsp cacao powder
The Filling
2 cans full fat coconut milk left in the fridge overnight
1/4 c mixed berries (raspberries & strawberries, chopped)
1 tbsp agave nectar
2 tsp vanilla extract
Jam Swirl
1 c fresh raspberries
a handful of blackberries
2 tbsp maple syrup
1-2 tbsp chia seeds
Method
For the crust put all ingredients in a food processor and run until a pliable dough forms.
Line a 9″ round pie or tart pan with plastic wrap. 
Spread the crust evenly in the pan using a spatula.
Place in the freezer while you make the filling
For the filling chill two cans of coconut milk in the fridge overnight. 
The next day the water will have separated from the cream. Scoop out the cream and save the water for smoothies.
Using a hand mixer, mix all ingredients until peeks form and it is fluffy and thick.
The color should turn a pale soft pink
Pour that over the crust and place back in the freezer while you prepare you jam swirl.
Mash the berries with a fork
Combine in the rest of the ingredients.
I leave this in the fridge overnight.
To make the swirl on the top put jam in a piping bag or ziplock back and cup a small tip.
Make vertical lines across your tart. 
Take a butter knife and go horizontally up and down just on the surface. Don't go all the way through. 
Serve right away or store in the fridge. Keeps for about 3 days. Enjoy!