Blueberry Coconut Banana Muffins
Third times a charm…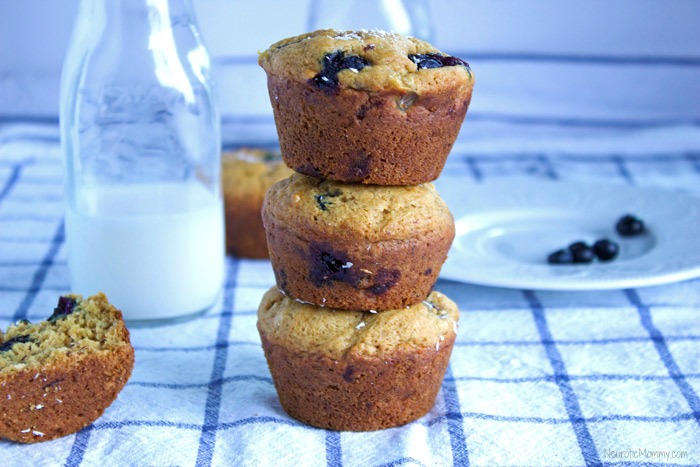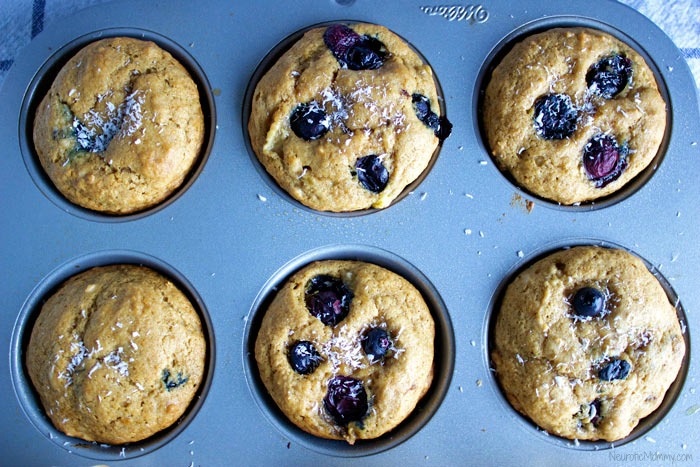 It took me 3 times to make these Blueberry Coconut Banana Muffins! It's all fun and games until someone eats 3 batches! Well maybe not all 3 (or maybe?). If you follow me on Instagram you saw that I posted my recipe fail. I tried making them with a few different flours and sweeteners before I landed on this. When I first tested these out, it was with Almond Meal. It was so so so good but did not hold well at all as a muffin. Then I tried it again with Oat Flour and it just crumbled apart. If you bake with oat flour you know what I mean. It's on the dryer side IMO. So I went with organic whole wheat pastry flour and Boom…delicious, moist flavorful muffins. For realz.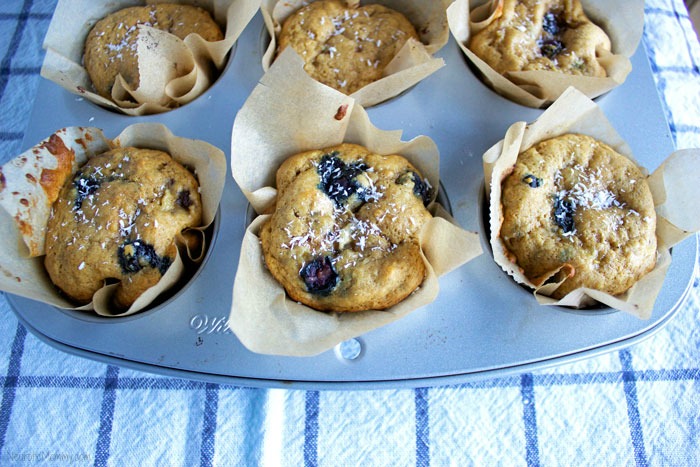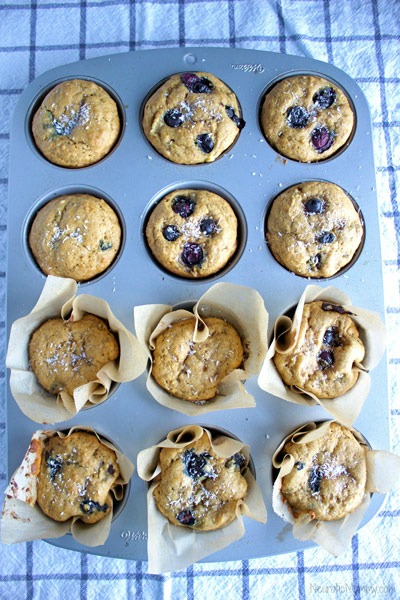 I love the way muffins look wrapped in parchment paper so I was testing out my own cut outs to see how they would work. That's why you see half the pan lined with them and the other half without.  Next time I need to make smaller squares. I had more paper than muffin in some. Oops!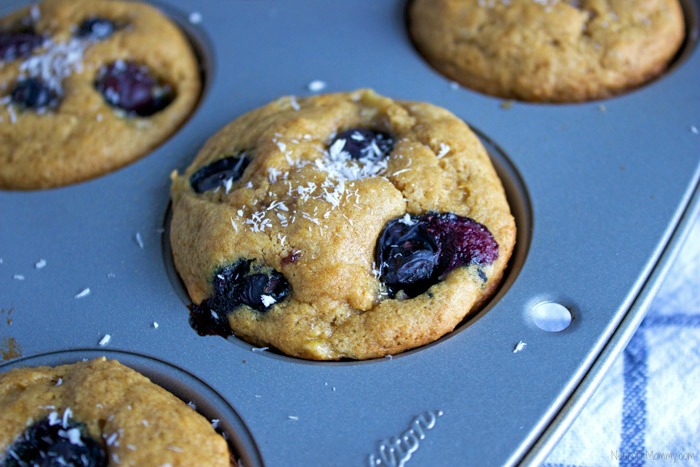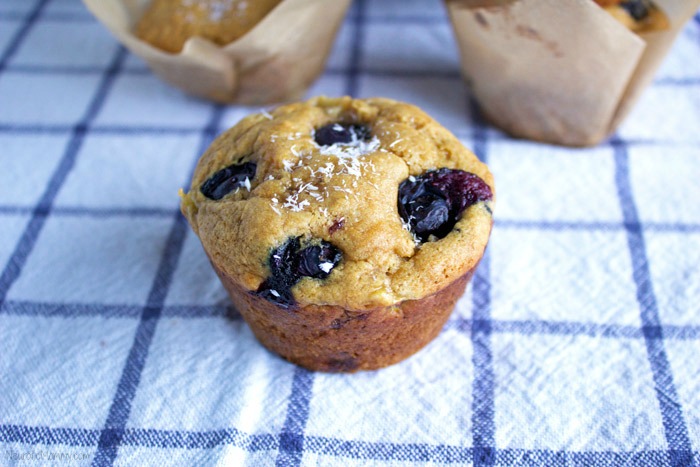 When I use to work in the city, every morning I would pick up an iced coffee with 3 sweet n lows and cream along with a giant blueberry muffin. I thought I was being healthy. Pffft. (IKR!) And I really wanted a chocolate chip muffin but thought blueberry was the healthier choice. Can you even deal with that. Oh the days of being twenty something. I took my blueberry muffin breakfast days for granted then. Well not anymore! I enjoy the heck out of these babies. Plus I added coconut and banana to the mix. Ummm YUM!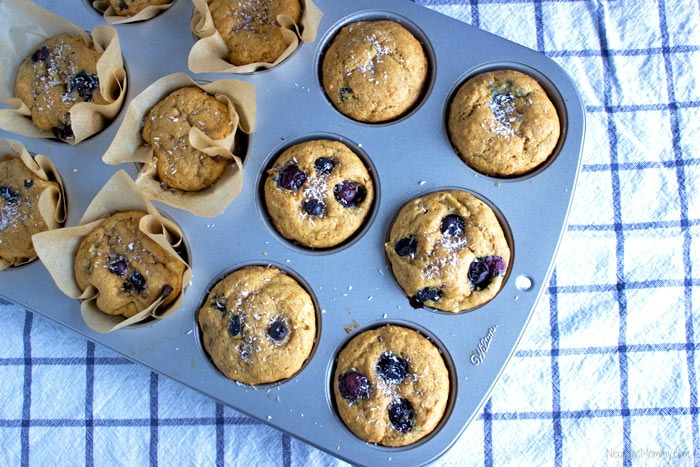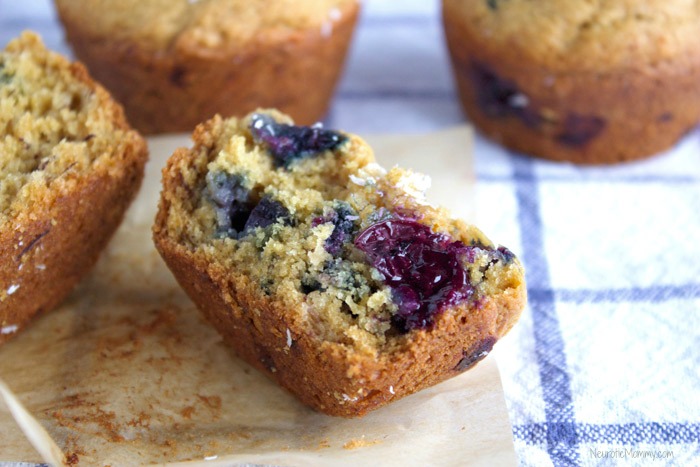 I just wanted to give you all a quick reminder about my Breville Juicer Giveaway! You have 3 different ways to enter and WIN! Check out my previous blog post for details.
Also I wanted to give you guys a heads up I'll be starting my YouTube Channel soon! So many exciting things happening. I want to really connect with you guys. I'm totally relatable and will make you feel right at home! Well you will be home watching but you will feel like you're with me in my home and we've been friends for years. We can have cyber adventures! Oh this is going to be fun.
The remodeling of my kitchen is finally done. And while we were at it we gave our dining room and living room a makeover. So I can't wait to show you that too. We did all the work ourselves and really brought our vision to life. It's so nice to see created what you had imagined. That's how I feel about chocolate cake. I dream about it, make it then eat it and it's glorious. Ok how did we end up on chocolate cake? LOL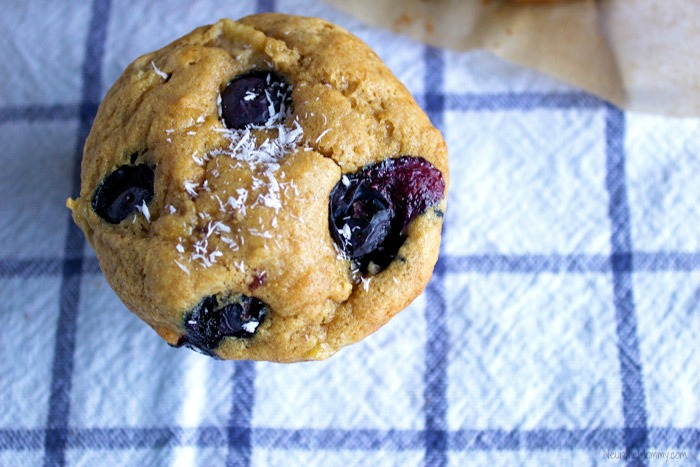 Incredibly delicious muffins that are a breeze to whip up. They are super moist, flavorful, decedent and nutritious! The combination of blueberry coconut and banana really holds the bar high for your average muffin. Out with the old, in with the new! Howdy Healthy Muffins, where have you been all my life!
Blueberry Coconut Banana Muffins
Author:
Prep time:
Cook time:
Total time:
Serves: 12
Not your ordinary muffin. These come packed with nutrients and loaded with flavor.
Ingredients
2 c whole wheat pastry flour
1 1/2 tsp baking powder
1 tsp baking soda
1/4 c shredded coconut (and extra to top)
2 medium ripe bananas, mashed
1 c fresh blueberries
2/3 c maple syrup (or sweetener of choice)
1/3 c coconut oil
1/4 c almond milk
1 tsp vanilla extract
Instructions
Preheat oven to 350F. Spray standard muffin pan with non stick cooking spray or line with parchment paper cups.
Sift together dry ingredients, flour, baking soda, baking powder and shredded coconut in one bowl and whisk together all wet ingredients in another bowl. Mashed bananas, maple syrup, coconut oil, almond milk and vanilla extract.
Combine the wet ingredients to the dry ingredients and mix until well combined.
Fold in blueberries.
Bake for 20 minutes. Let cool in pan for 10 minutes.
Sprinkle tops with extra shredded coconut. Enjoy!