Watermelon Pizza-Easy Fun Snacking
jump to recipe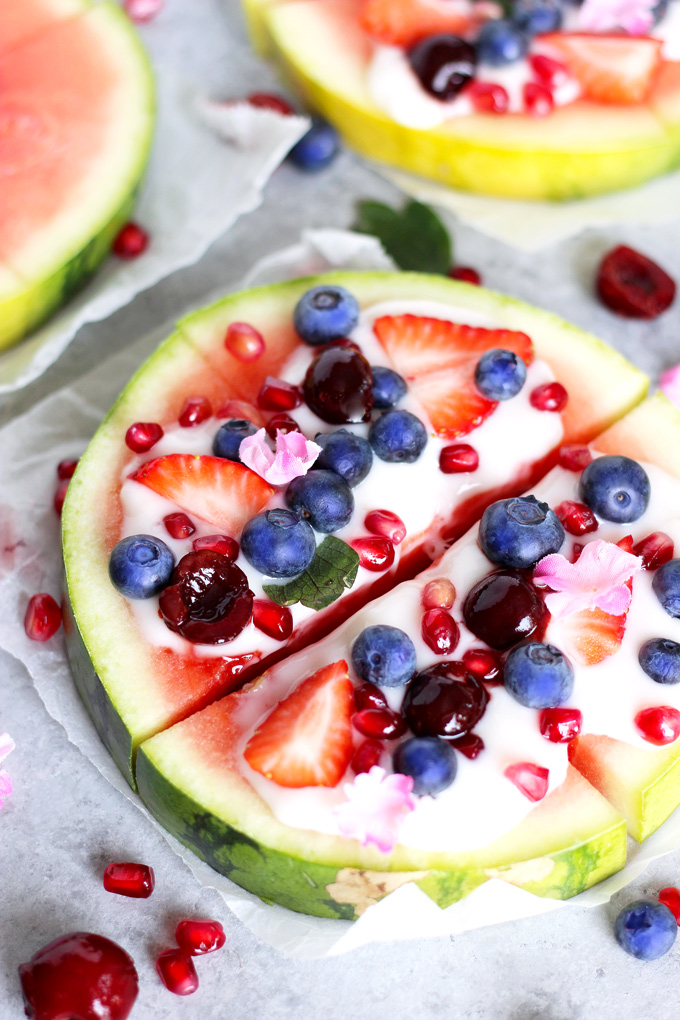 Hi my name is Jennifer and I'm a severe snacker. Yes that's right, I LOVE to snack. It's probably what prohibits me from loosing this (baby) weight I've been trying to lose since my son was born. There's nothing like binge watching your favorite show or movie and eating some snacks. It's like not the same just sitting there doing nada.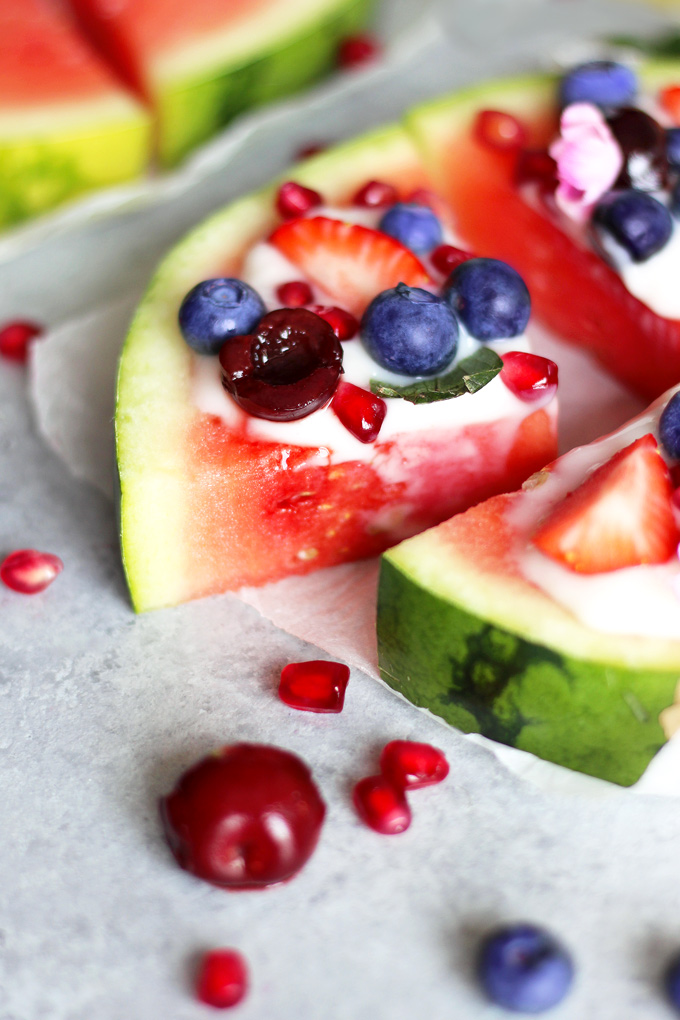 So yea, basically we snack because we're bored 95% of the time. It's like a person who quits smoking cigarettes. Those cigarette breaks they use to take are now empty (thank god right?!), so what's going to take the place of that break now? No one says "Hey, I'm going to have a glass of milk, brb", that wouldn't be considered a break.
Snacking is the same thing. We get into these snacking habits/patterns and it takes ahold of us because in those moments really, what else would we be doing? There are tons of other things we probably can be doing like oh I don't know, read, meditate, write, workout, have a dance party, to name a few. But we want snacks on snacks on snacks!!! I totally get it.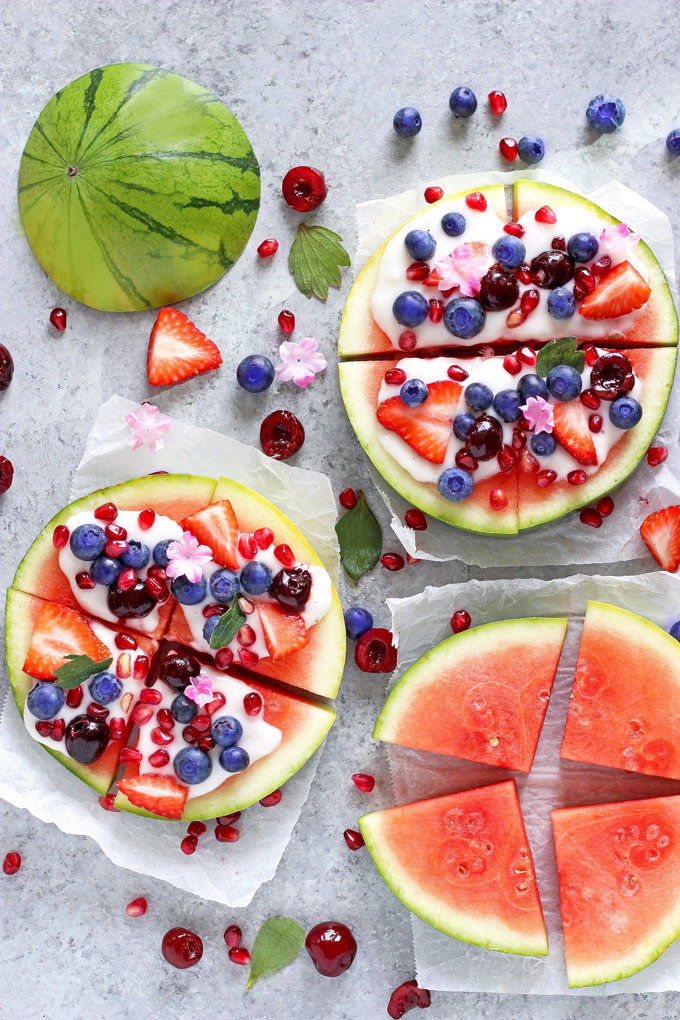 Typically when someone wants a healthy snack they're told "grab a piece of fruit", and usually that person is thinking "BORING!" Because really we want the bad stuff, the cakes, cupcakes, cookies, pizzas, fries, etc. But friends, there are ways to make what you think is boring actually quite fun, healthy, nutritious, and legit guilt free especially if you're aiming to shed some LB's this year, like me.
Watermelon Pizza or pizzas I should say are so easy to put together I promise you. You can put anything you want on top like coconut yogurt, other fruits like blueberries, cherries, pomegranates, strawberries, or anything you have on hand that suits your healthy eating. And if you really want to get sassy, add some dark chocolate drizzle to the mix. I even made a watermelon pizza with sautéed onions, arugula and balsamic vinaigrette! It's pure genius and truly fantastical. I'll post about that one another time.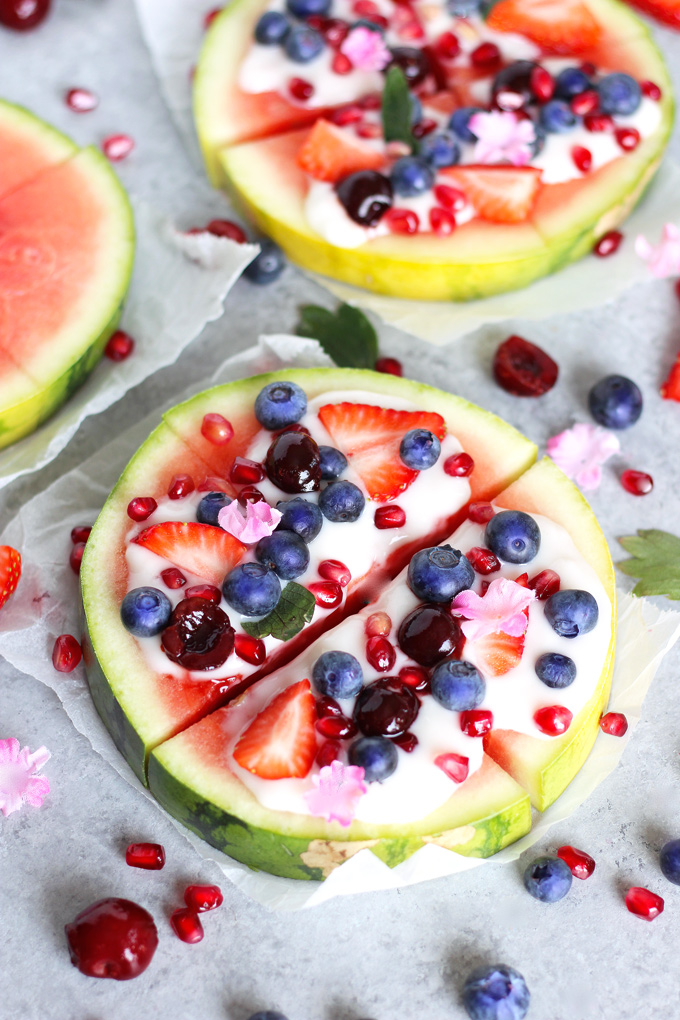 Why this is the better option:
Watermelon is about 94% water, obviously and hence it's name. This entire juicy fruit (even the seeds) have significant levels of vitamins A, B6 and C, lots of lycopene, antioxidants and amino acids. The redder your watermelon gets, the higher the concentration of lycopene becomes. Lycopene is well known for is promotion in heart health, bone health, and even cancer preventative. It contains tons of fiber making it colon friendly, it's hydrating beyond belief making it excellent for detoxing, and has tons of anti-inflammatory properties. It's a low calorie fruit, boosts your brain, and revives the immune system. It's like your immune system getting a spa day! That's why incorporating more watermelon into your life is essential. I'd say aim for 2 to 3 times a week but if you can eat more than that then excellent! The only wrong serving of watermelon…is no servings of watermelon. So while you're snacking not only will you be replacing a once bad habit to a healthier way of living, you will be giving your body quality nutrients to boot. Let's give it up for the watermelon shall we. 👏🏻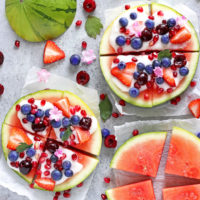 Watermelon Pizza-Easy Fun Snacking
Easy Fun Snacking because snacking shouldn't be a crime! Enjoy this nutritious and fun snack without the guilt!
Ingredients:
1 large watermelon or 2 mini watermelons
non dairy yogurt to top
blueberries to top
strawberries to top
cherries to top
crushed nuts (optional)
coconut flakes (optional)
Directions:
Cut watermelon into pizza slices, easy peasy.
Top with yogurt and fruit of choice. Enjoy!
Don't be afraid to add some dark chocolate drizzle to the mix!