Chocolate Chip Coconut Bars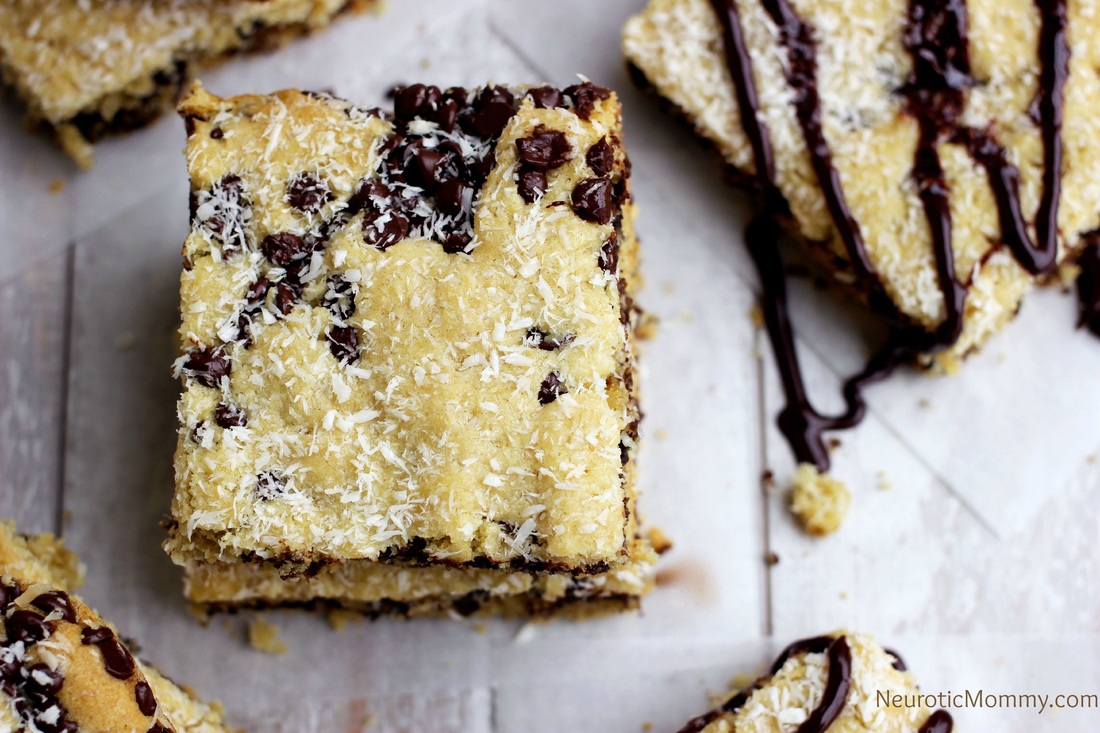 Oh holy yum! I don't even know where to begin in telling you how delicious these babies are. I know I personally love the coconut chocolate combo. It's probably up in my top 5 of good eats.
Anyway the other day I was at a restaurant we frequent (when I don't feel like cooking) and they had these bars that called my name! I swear it even had an exotic accent and I faintly heard "Jenniiiffferrr". Who could resist right?! (Uuugh) So after my intimate moment and we parted ways I said why break up! I'll make them myself and we can be together forever. And by forever I don't mean taking up residency on my ass. (hehehe)
I took out all my real ingredients and started baking. I looked at other recipes online to see who and what I could use to reinvent this magic. Now behold Chocolate Chip Coconut Cookie Bars.
Go ahead, say it again…Chocolate Chip Coconut Cookie Bars. (enter batting eyelashes here).
Vegan, Dairy-free
Let's get started
Ingredients
2 c whole wheat pastry flour or unbleached all purpose flour
1 tsp baking soda
Pinch of Himalayan Pink Salt
1 ½ sticks of coconut butter (12tbsp)
½ c coconut sugar
1/3 c brown sugar (or more coconut sugar)
2 flax eggs or 2 eggs
2tsp vanilla extract
1c shredded coconut
1c chocolate chips (I use Enjoy Life)
Method
1: Preheat oven to 350F. Spray 9×13" baking dish with coconut oil spray or non stick cooking spray.
2: Combine together all dry ingredients
3: In a separate bowl mix together sugars and butter until nice and fluffy.
4: Add in eggs and vanilla and mix until creamy.
5: Fold in the dry ingredients with the wet ingredients until just combined. Don't over mix.
6: Spread half of the batter into the baking dish and cover that with 1c chocolate chips.
7: Mix in shredded coconut with the remaining batter and spread that on top of chocolate chips.
8: Bake for 25-30 minutes or until toothpick comes out clean.
9: Drizzle with your favorite dark chocolate. (optional)
10: Enjoy!