Brown Rice Veggie Rolls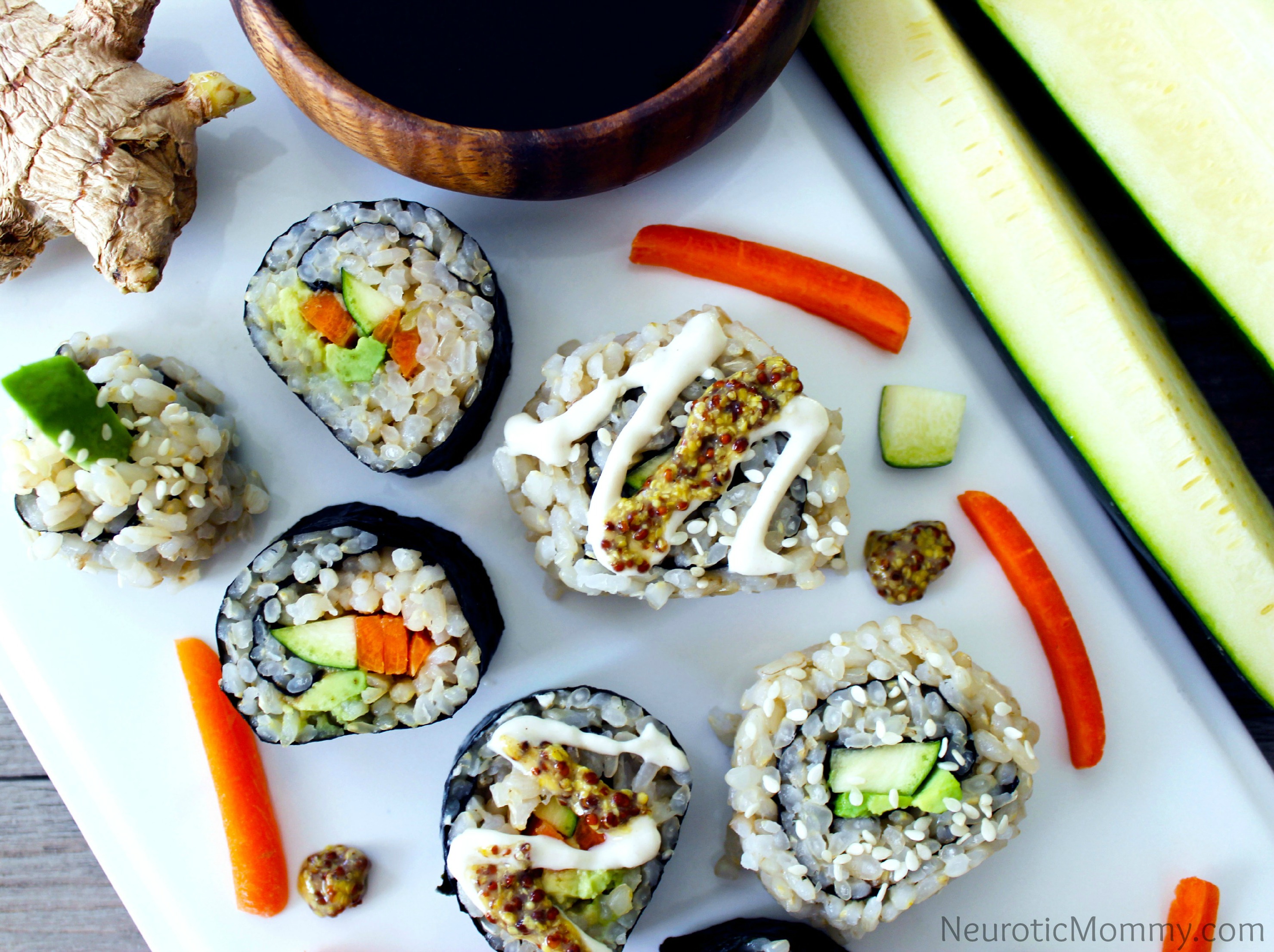 So here's the thing…I love Sushi. And not only because I think I'm rather cool holding chop sticks (skills I've acquired) but because it's super tasty and if made right, good for you. When I made this it was my first time having a hand at rolling sushi. I was proud of myself, Whoop Whoop!
You can choose any veggies you'd like to stuff them with but I just stood with the classic carrots, avocado and zucchini. Instead of using wasabi or regular soy sauce, I used Bragg's Liquid Aminos, Tahini and Spicy Dijon Mustard.
I actually googled "how to roll sushi" just to get a visual of how I should be rolling them. Once you get the hang of it you will not want t stop!
Ingredients
2 c short grain brown rice
3 1/2 c water
2 tbsp rice vinegar
1 tbsp salt
1 tbsp sugar
1/2 c carrots, cut lengthwise
1 zucchini, cut lengthwise
1-2 avocados, sliced
Nori Wraps
1 tbsp Dijon mustard
1 tbsp Bragg's liquid aminos
1 tbsp tahini
Method
Prepare short grained brown rice. For me it measures out to be 2 cups of rice to 3 1/2 cups of water. Cooks for about 30 minutes, until the water gets absorbed and the rice is nice and fluffy.
Once cooked transfer into large bowl.
In a small saucepan add in the following: rice vinegar, salt, sugar and let it get warm about 1 minute. Pour over the rice and let it cool to room temperature.
How to prepare rolls
On a flat surface or cutting board place bamboo rolling mat down. Line with plastic wrap (this aids in rolling).
Place Nori Sheet down and spread rice on it evenly, wetting your fingertips as you go, leaving about an inch out of the side and bottom.
At the very top, line rice with sliced veggies. Don't put too much as that will make rolling harder and it won't come out neat.
Start rolling holding out the plastic wrap and maneuvering the bamboo with your other. I had my husband help me with this the first time. 2 sets of hands are always welcome for first time rollers.
Once you have rolled your sushi, cut 1 inch thick pieces cleaning the knife in between slicing.
Serve with your favorite dipping sauces or use the ones I suggested above. Enjoy!
Jenn's Note***Once you get the hang of rolling, it's pretty easy breezy. However if rolling isn't your thang, don't worry, it's still edible.