Chocolate Chip Cookie Cup Sundae
jump to recipe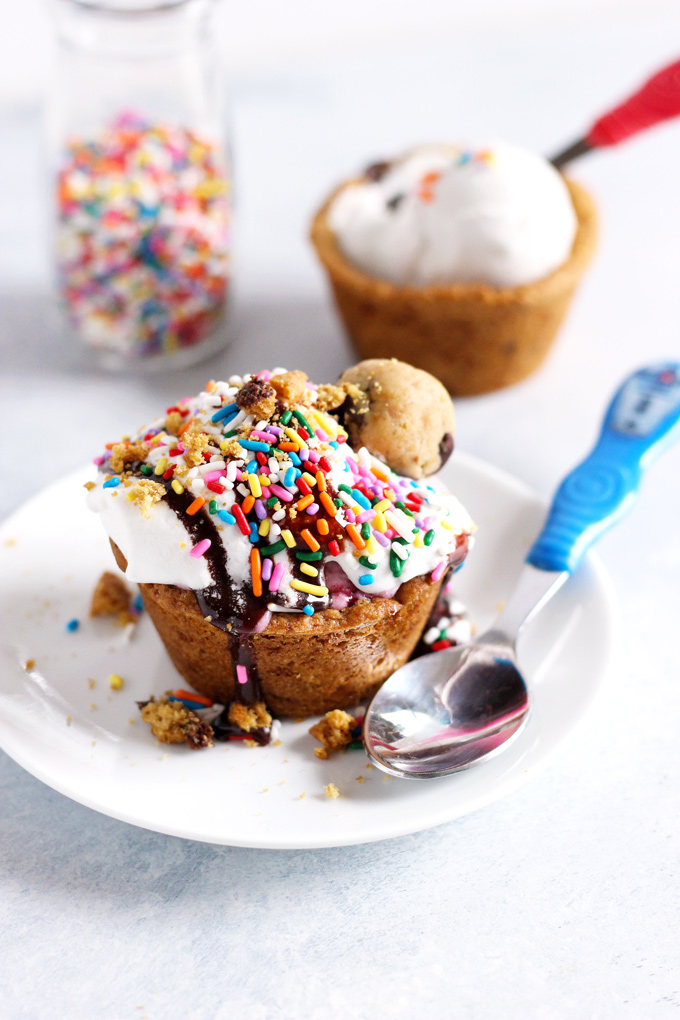 Well hello hello sweetnesses. I'm going to get a little bit cheesy on ya and talk about Valentine's Day. Before I had my son and even before I was married, if I was single I would be all like "Pffft, who needs Valentine's Day, it's such a stupid holiday" and if I was romantically involved I would be all like "Errr ma gawd I wonder what kind of chocolate he's going to get me". I'm not much into jewelry unless is costume so chocolate was the way to my heart (still is).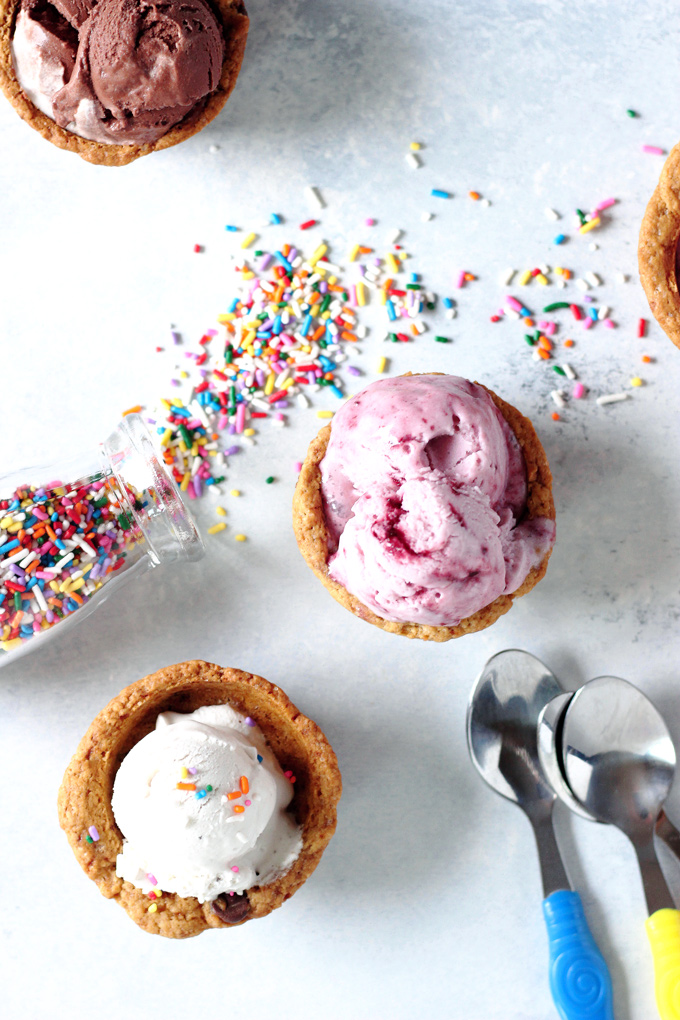 Since I'm hitched going on 7 years now I celebrate Valentine's Day with my boys and it's so much fun. It's like a free pass to eat as much chocolate as you won't on V day, in my opinion. These Chocolate Chip Cookie Cup Sundaes are what fun moments are made of! There is nothing more delicious than eating an edible cookie cup, with vegan ice cream, topped with coconut whipped cream, chocolate sauce, and some colorful sprinkles. The word I think we're looking for here is…Magical.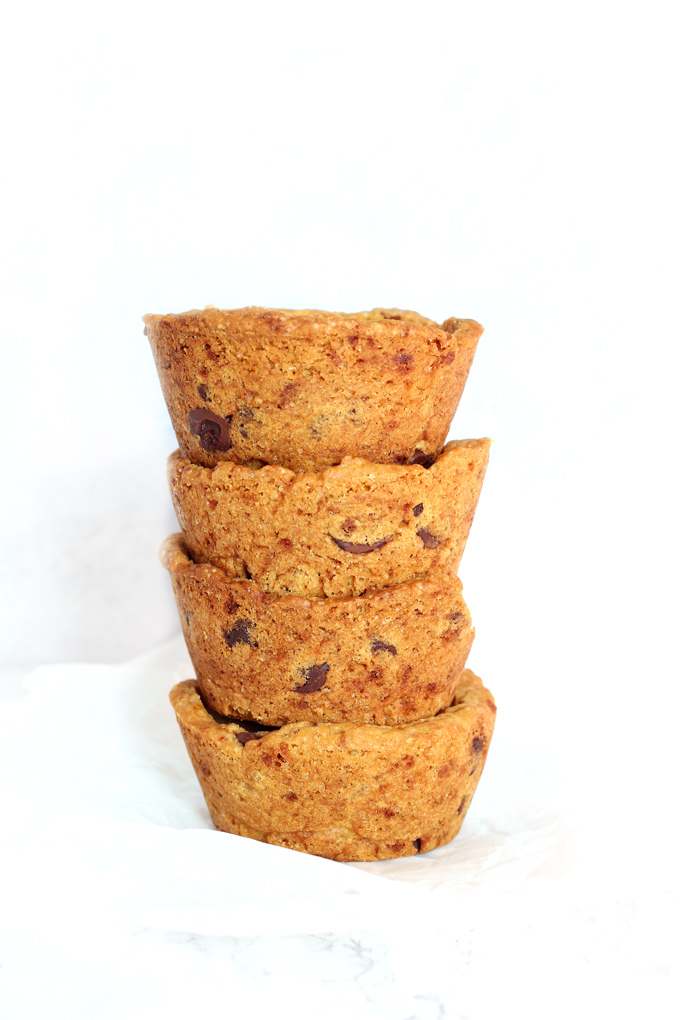 These are not complicated at all. Here's the trick, I used my Chocolate Chip Cookie recipe and instead of turning it into traditional cookies, I used my muffin tin to make cups. The other trick is I placed another muffin tin on top of the muffin tin with the dough to act as a weight and keep the dough from coming up. They still rose a bit but the muffin tin on top gave them a cup like shape and I just needed a little dent to be able to scoop in some ice cream.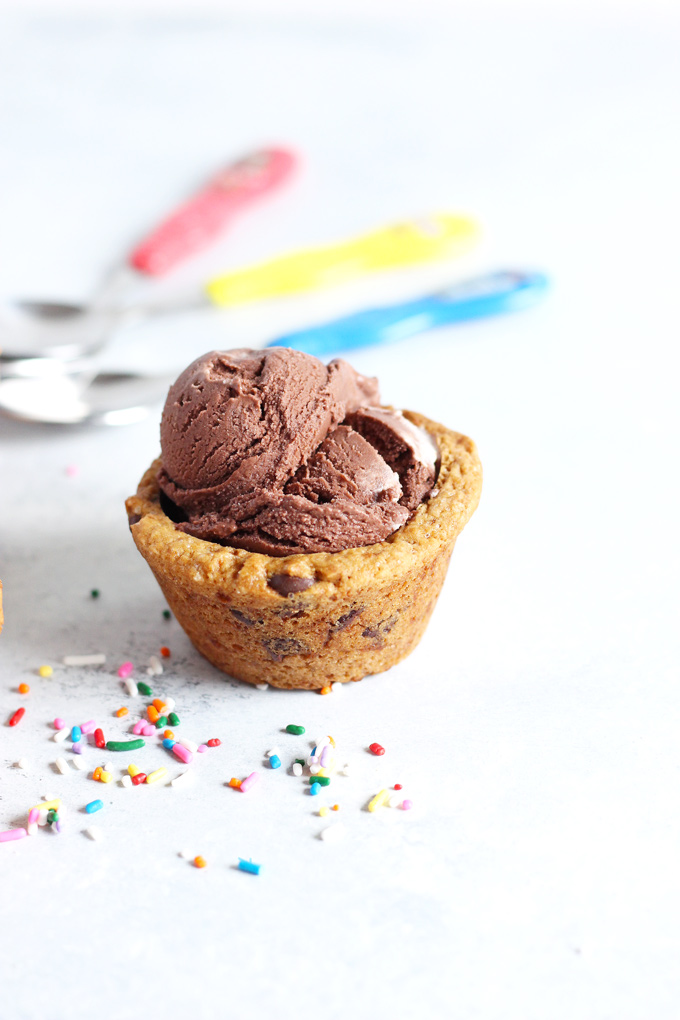 Another thing I did was I used 3 different flavors of dairy free ice cream, chocolate, strawberry, and vanilla. You can find vegan or dairy free ice cream in almost every grocery store. I think the colors of the ice cream go well with the holiday an plus you know I love options. One day it's vanilla, the next day it can be strawberry, you get it.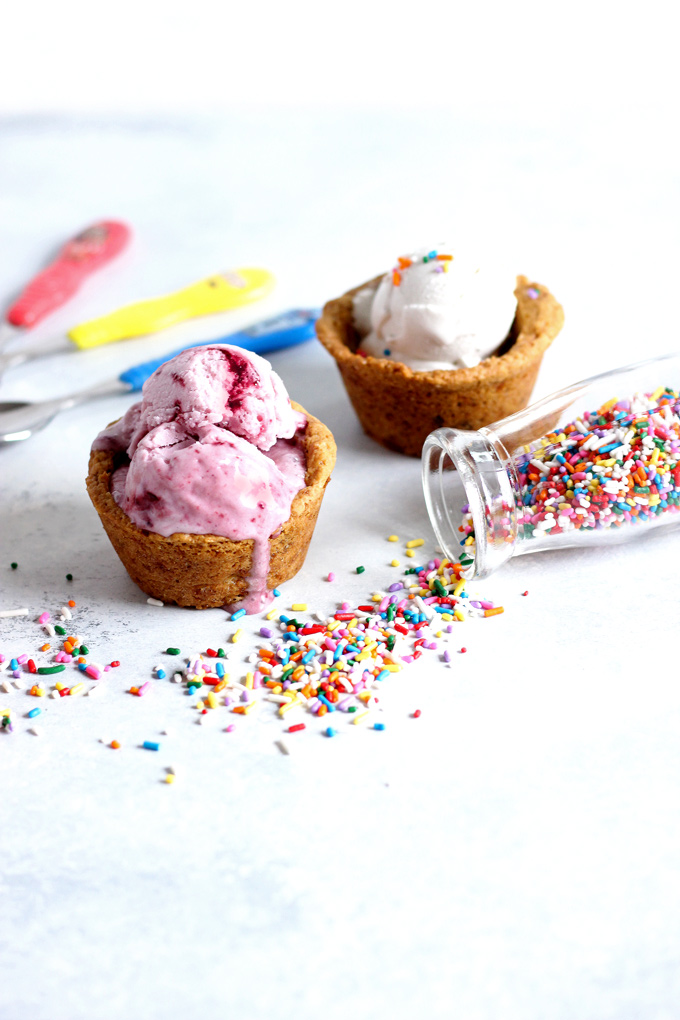 If you have the ice cream out ready and waiting, once the cups are done, you can take them out of the oven and scoop the ice cream right on top so it gets all melty (my favorite part). You're also not limited with toppings. I save some of the cookie dough and kept it "raw", rolled little cookie dough bites and put them on top of the sundae's. Um talk about a hit. I also see caramel sauce in the near future. I mean you can lay on the works people!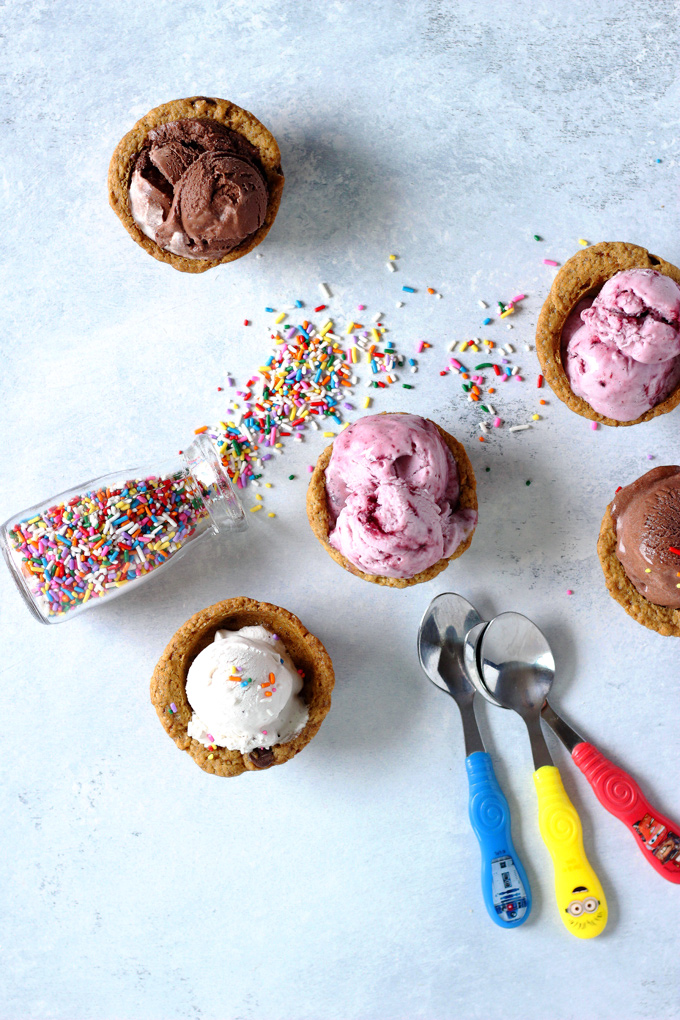 So this Valentine's Day you don't have to settle for a measly piece of chocolate. Make one of these bad boys and you won't even have to share because everyone can have their own! Kids love to put this together too so let them have at it.Smooches😘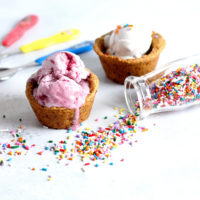 Chocolate Chip Cookie Cup Sundae
Don't settle for a measly piece of chocolate this year when you can have one of these bad boys. No sharing required.
Ingredients:
Cookie Cups
2 cups organic all purpose flour
1 tsp baking soda
1 tsp baking powder
1/2 to 1 tsp himalayan pink rock salt
1/2 cup organic sugar like Florida Crystals
1/2 cup coconut sugar
1/2 cup coconut oil, melted at room temperature
1/2 cup almond milk, unsweetened
2 tsp vanilla extract
1 cup dairy free chocolate chips
Toppings
dairy free ice cream of choice. I used chocolate, strawberry, and vanilla
chocolate sauce (store bought, make sure it's dairy free)
coconut whipped cream
sprinkles
Directions:
Preheat oven to 350F and spray standard muffin tin with coconut oil spray or non stick cooking spray.
In a mixing bowl cream together coconut oil and sugars. Add in the rest of the wet ingredients and mix until creamy.
In a separate bowl add together all dry ingredients, flour, baking soda, baking powder, and salt.
Mix dry ingredients into wet ingredients until well combined.
Fold in chocolate chips. If the dough is a bit too crumbly add more almond milk.
Roll tablespoon size balls and press into the bottom of each muffin mold. Take extra dough roll it  so you have a mini log and press it around the sides of each muffin mold. (As seen in the video tutorial).
Spray the outside of the other muffin tin with coconut oil spray or non stick cooking spray and place it on top of the muffin tin with cookie dough. The coconut oil spray will stop the dough from sticking to the second muffin tray.
Bake cookies for 10 to 12 minutes. Mine were perfect at 12.
Remove from oven and let cool 5-10 minutes. The top muffin tray will pop right off and you should be able to pick up the cookie cups with your fingers.
Scoop ice cream of choice into center of a cookie cup. Top with all the fixins': chocolate sauce, coconut whip, and sprinkles.
Store remaining cookie cups in the fridge. Enjoy!