Vegan Green Goddess Griller
The Grill Cheese that holds a piece of my heart…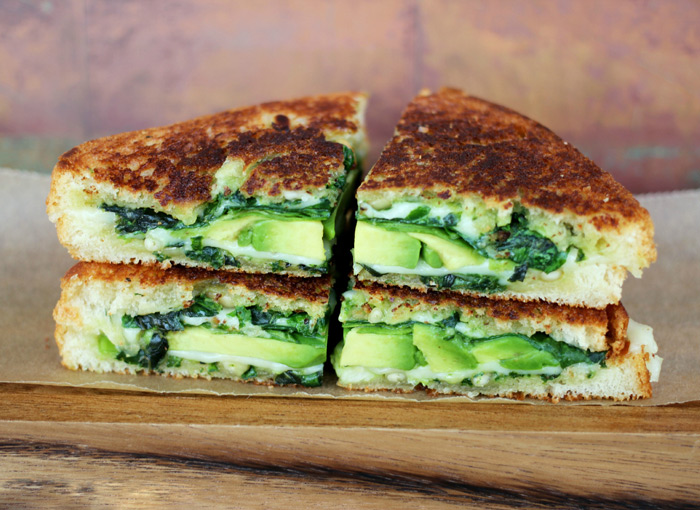 I've always loved grilled cheeses growing up. But now that I'm a little older (and a lot wiser) I know that stuffing my face with cheese is probably not the best idea. This sandwich is Abso-freakin-lutely Amazing. I'm not just saying that because I made it either. I mean, look at it! Secret ingredient? Pesto!
I am a true Pesto lover. Throw it in a macaroni salad, a pasta dish and you got me hooked. It's just one of those things I can't get enough of. So if you are a true pesto lover as I am then this sandwich will perhaps have you in oooh la la land for a bit. Trust me, it happens. It's no ordinary sandwich I can tell you that.
Let's talk Basil for a minute…
Basil is known for its anti-stress, anti-aging, anti fungal, antibacterial, antioxidant and anti inflammatory properties. This herb is part of the mint family and has been known for its medicinal purposes for thousands and thousands of years. Studies have shown that this herb adapts in the body and helps in areas that need it the most making it an adaptogen. In Hinduism basil is known as "Mother Medicine of Nature", Whoa.  It has high levels of beta-carotene (Vitamin A) and is loaded with Vitamin K which is known to strengthen bones. The minerals found in Basil are magnesium, potassium, copper and is an excellent source of iron and calcium. Just two tablespoons a day is what it takes to benefit from what this beautiful plant has to offer.
MmmHmmm
Stay connected with NeuroticMommy:
Instagram | Facebook | Pinterest | Twitter
Don't forget to hashtag #neuroticmommy on Instagram so I can see all your creations!
Vegan Green Goddess Griller
Recipe Type: Sandwich
Cuisine: Vegan
Author:
Prep time:
Cook time:
Total time:
Serves: 1
The best damn vegan grilled cheese, EVER!
Ingredients
spelt bread
1/2 avocado, sliced
1/2 c spinach
vegan cheese such as Daiya
1-2 tbsp coconut butter
[b]Pesto[/b]
1/3 c basil, chopped
1/4 c pine nuts
1-2 garlic cloves
1 c kale, chopped
1/4 c extra virgin olive oil
salt/pepper to taste
Instructions
To make pesto add all ingredients to a blender and run until combined.
Spread pesto sauce on both slices of bread.
On one slice of bread add cheese, avocado and spinach.
Top with the other piece of bread pressing it gently together.
In a small fry pan heat up coconut butter.
Cook sandwich on both sides for 4-5 minutes or until golden.
Cut in half or in fours.
Enjoy!