Mother's Day Peach Coconut Waffles
Mother's Day is a special kind of day…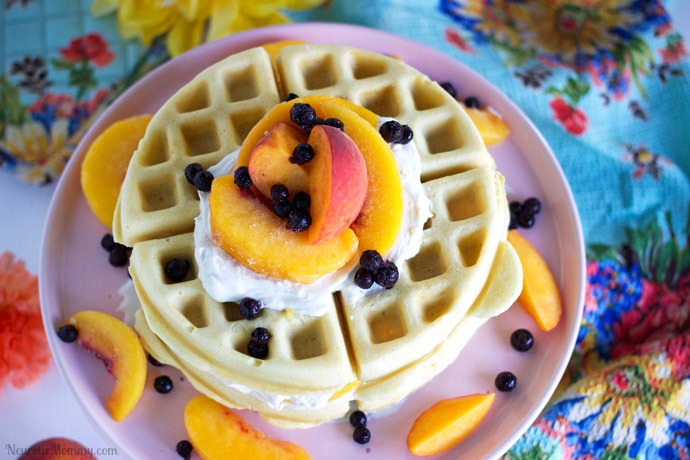 Moms are amazing. We create another life inside our bodies (that in itself is magical) then we nurture our tiny beings into men and women. Like hello thats major whoa. Since having my son I've accepted the fact that I will forever be in a constant state of worry. (LOL) It will never end so I now embrace it. Being a Mom most say is a full time job but I have to say I never look at it as a "job".  I know it's just a phrase but for me a job you can quit or hate and I don't feel that towards my Nugget. Being an active mother means you are completely devoted to the life you've given willingly. I don't set my alarm at 7AM and think ok I have to wake up for work now. My son wakes me up and I'm delighted and happy to see him and be with him. I tell him even when he's sleeping I miss him. He's my bestest friend ever. Now don't get me wrong I'm not saying it's not hard work because we do work at taking care of them, feeding them, wiping their butts, cleaning their faces, school, bath time, answering every single "Why?" and any chance you get to sit down you have to get right back up. It's more like cardio if you ask me and we should all be totally fit walking around in size 4's. hahaha There are times I look in the mirror throughout the day and am like "I've been looking like that today?"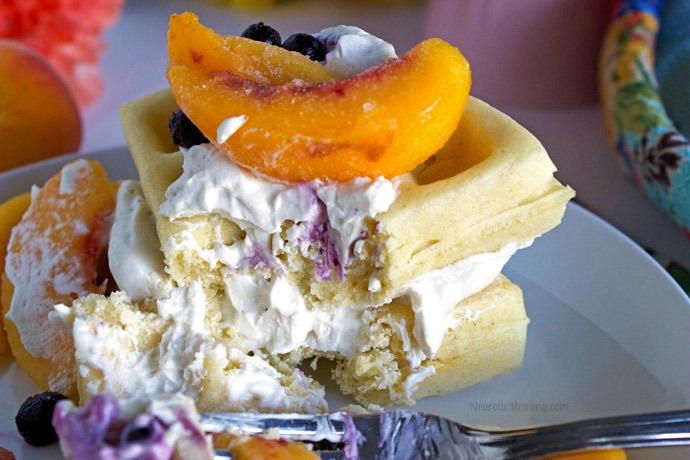 So want to know how you can make this Mother's Day even more special? For starters make your mom these oh so fantastical Mother's Day Peach Coconut Waffles and let her eat it all by herself!
Let's all take a moment shall we? Peach and Coconut? Oh heck yes. Like heck yes (and another yes). This combo leaves you feeling like you should be swinging on a hammock effortlessly rocking back and forth while being fanned and fed grapes. Like that's how good they are. I swear it tastes like cake and we all know how I feel about cake. And no I didn't eat this on my own although I could. And would. And want to (again). Oops did I say that out loud?!
I know us Moms love breakfast in bed. Heck I like pretty much everything in bed. Bed is so comfy and cozy. Add this to the mix and you may need some personal time. I know that after I ate me some of this I was a little flushed in the face with satisfaction. 50 shades of who???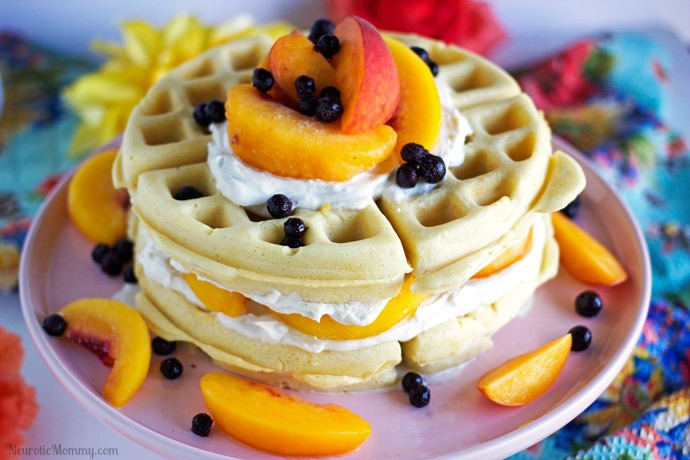 I turned to my good ole pal Arrowhead Mills organic, gluten free pancake and waffle mix. This just takes less time and I add my own yummy healthified ingredients. I threw together some coconut whipped cream and had some frozen peaches and blueberries on hand. They totes came in handy don'tcha think? Those colors right!!!
(Not an endorsement just what I use.)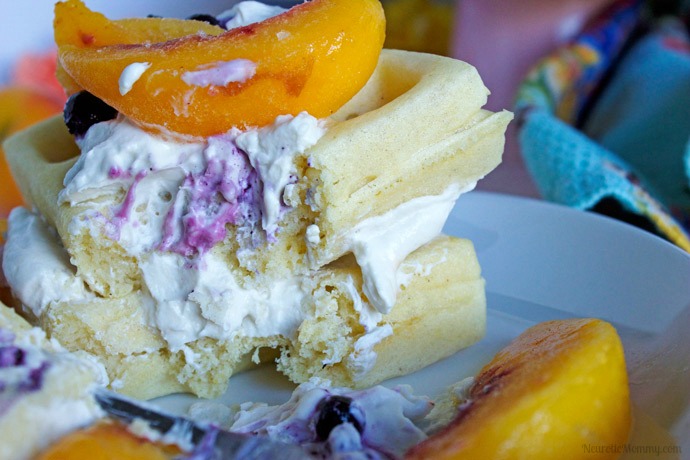 This takes me 5 minutes to whip together and then 5 minutes to cook in my waffle maker. They come out super fluffy and moist. The coconut whip cream I make the night before and keep it in the fridge. I always like to have that made anyway because my son loves to dip his fruit in it as do I.
I enjoy making fun things like this for the family. It's nice to spruce up breakfast because having the same ole same ole can get bleh.
So if you're looking for ideas on what to make Mom for breakfast this weekend I think you've landed in the right spot. Moms work so hard right?! We deserve a waffle stack like this. And who says breakfast is the limit? This can totally be your surprise dessert too! Gosh the waffle possibilities are endless.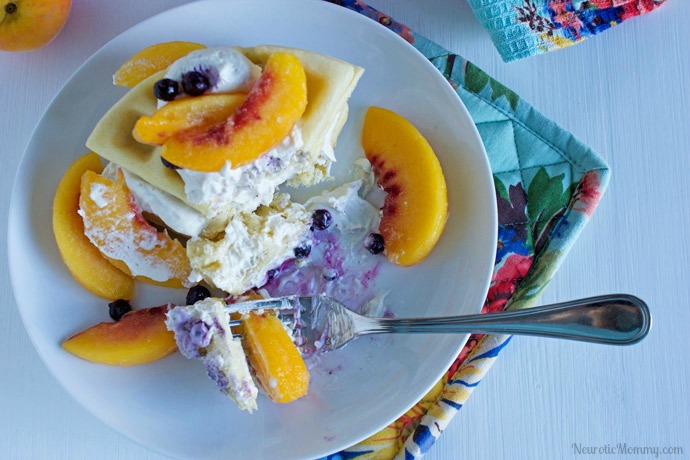 These easy and insanely delicious waffles are super fluff with a light and airy coconut whipped cream. Topped with seasonal fruits and of course made with a tremendous amount of Love.
Enjoy your Mother's Day all you super awesome Moms out there!
Mother's Day Peach Coconut Waffles
Recipe Type: Breakfast
Author:
Prep time:
Cook time:
Total time:
Serves: 8
Insanely delicious waffles that are super fluff with a light and airy coconut whipped cream. Topped with seasonal fruits and of course made with a tremendous amount of Love.
Ingredients
[b]Waffles[/b]
2 cups Arrowhead Mills Organic Pancake and Waffle mix
2 tbsp coconut oil
2 egg replacers or 2 eggs
1/2 c almond milk (or any nut milk)
[b]Coconut Whipped Cream[/b]
2 cans full fat coconut milk left in the fridge overnight
4 tbsp maple syrup
2 tsp vanilla extract
Instructions
Turn on your waffle maker and let it heat up.
Spray with non stick cooking spray for each use.
Mix all waffle ingredients together until there are no clumps.
Cook in waffle maker until desired texture. I like mine right in the middle so they stay fluffy and don't get hard.
Prepare your coconut whipped cream by scooping out the cream from the cans left in the fridge overnight. Add in maple syrup and vanilla extract. Using a hand mixer, mix until light and fluffy consistency is formed.
Place waffles down on a plate or cake stand. Scoop as much coconut whipped cream on top of waffles, add peaches and close with the second set of waffles. Top with more cream, peaches and blueberries.
Enjoy!
Notes
If you are using a different pancake/waffle mix please follow package instructions. This can still be assembled the same way.[br][br]This recipe makes 8 small triangular waffles. You can double or lessen the recipe for more or less waffles.[br][br]If you do not own a waffle maker you can make this waffle cake by using pre made waffles. Just make the whipped cream and cook waffles according to package instructions.