Caramel Chocolate Chip Cookies
Let me just tell you…these cookie like cakes are out of this world…not even kidding.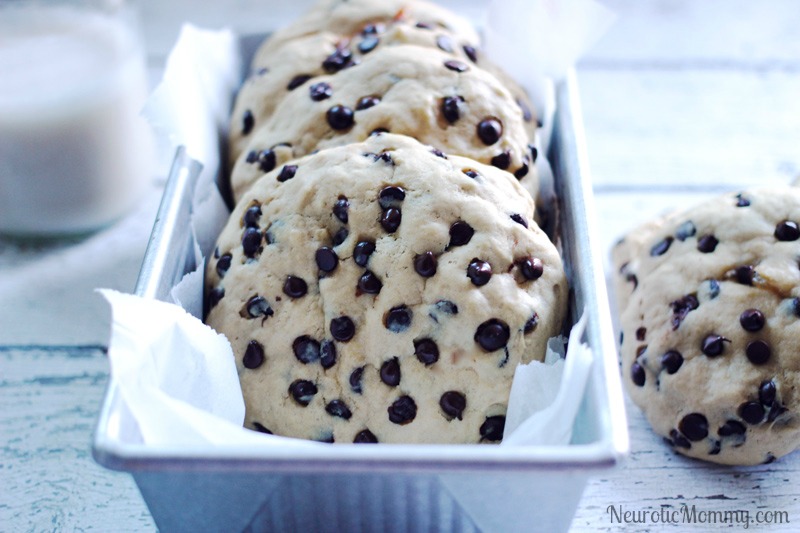 To think they are filled with a caramel center is even more awesome. But first I have to tell you I'm starting a cleanse today. Uuugh I know I know. What am I going to do with all this temptation right?! To tell you the truth I have no clue! I bake and cook all the time so I'm always around food, goodies, treats, you name it. Granted I am a healthy eater but I did pack on some pounds over the holidays. What can I say I do love my sweets (Hellooo it happens people).
I figured as a last hoorah I'd make these for my hubs and Nugs. (For those of you that don't know I call my son Nugget but his name is Michael.) So yesterday basically consisted of me stuffing my face like a while boar because I knew I was starting my cleanse today. Is that terrible? haha Well at least I admit I acted like an animal. But I love animals so it's all good.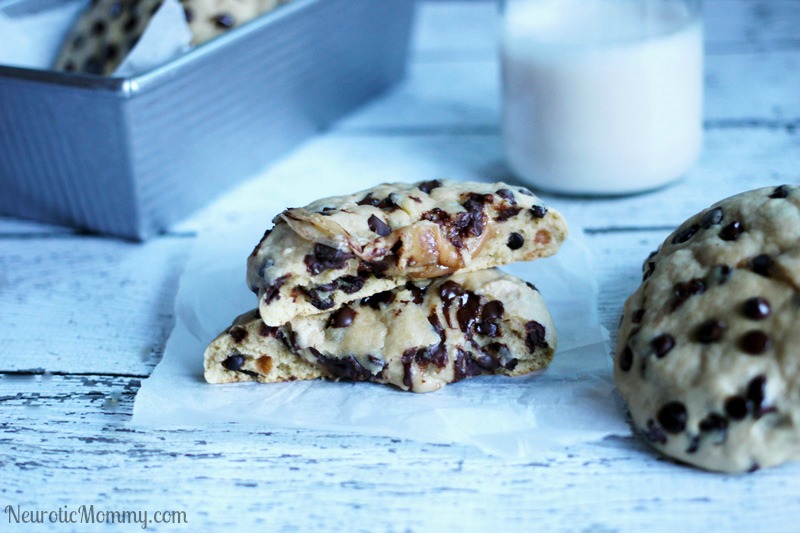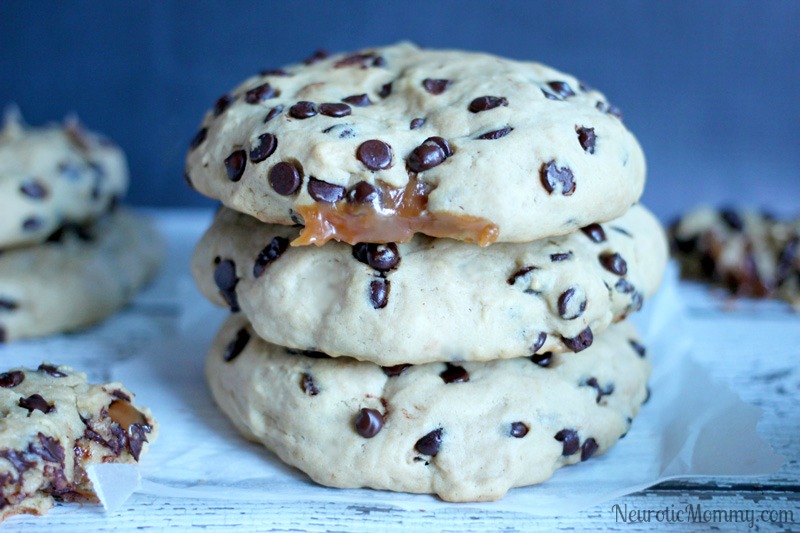 (See that melty delicious caramel oozing out…yuuum-mazing)
Just to explain why I'm doing a cleanse real quick is well because I want to get rid of the toxins that have taken up residency inside my bod. I've only switched to organic, non gmo, plant based about 3 years ago so you're talking I have about 29 years of crap built up inside of this mommy machine. It needs a good cleaning. I try to do them twice a year and I'm very selective with which ones I do. When I'm finished and if all goes well (please dear lord give me the strength to stay away from chocolate) I will be writing a post of what I used, my results and how I felt.
When cleansing you are going to detox and I'm not looking forward to it. Hopefully it's not that bad. Ok how ironic is this I'm talking about a cleanse to rid myself of toxins yet I'm also talking about cookies stuffed with caramel. (Way to torture yourself Jenn! AHHH!) I gotsta have that will power. Anyone else cleansing?
Ok rant over enough about that lets get on to the goodies you (and myself) are drooling over.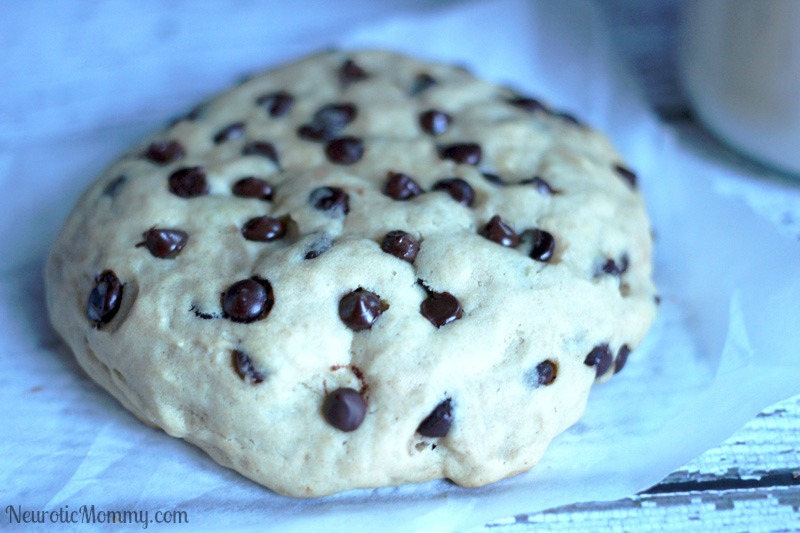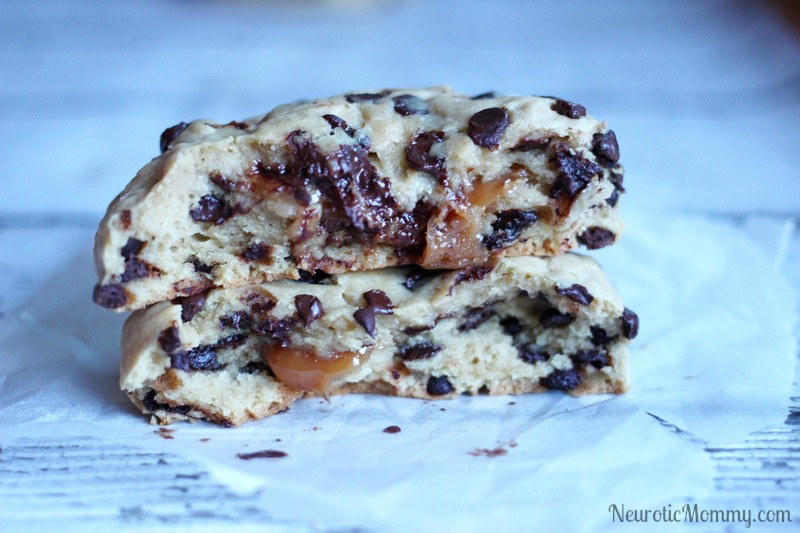 This cookies are HUGE! I'm telling you they are like mini cakes. It's truly magic. I still feel like I can tweak the dough a bit more but they still taste fantastic and you will fall in love. You may perhaps make these your new boyfriend. It's all good walking around with you and your baby cakes. Ha! I joke I joke (or am I?)
What you need to know is that this isn't like rolling your typical cookie. Usually you take 1 tablespoon size dough, roll into a ball and place on baking sheet. Well, not these guys. You have to take 2-3 tablespoons roll the whole thing into a ball, press a caramel square (found at Trader Joe's), then take another 2 tablespoons and smash it on top of the caramel square and again roll it into a ball. It's no joke. A bit messy but totes worth it. You know I always come through. I made so many I still have some in the house I need to get rid of…any takers? LOL Ok with that being said don't be surprised by the instructions.
Just a heads up these aren't the healthiest. Surely you can understand my perdicament. I mean, we're cool here right? And one ain't gonna hurt ya. But if you're trying to steer clear of the goodies like me then these are something to look forward to as a treat for that day of indulgence. I know some say we aren't dogs and shouldn't reward ourselves with "treats" but if that's the case then I want to be a dog. Ruff freakin' Ruff. Belly rubs please!!!
MmmHmm…email me after you eat one so we can talk about them like people do in book clubs. It can be like our cookie club. Say Whaaat!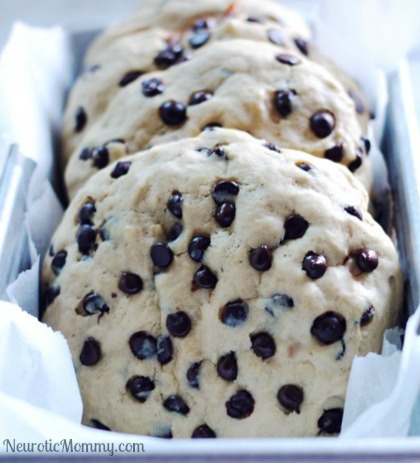 Alright Alright here's the recipe. (Enter cheesy smile here)
These Salted Caramel Chocolate Chip Cookies were adapted by the lovely Tiffany from Creme de la Crumb
Caramel Chocolate Chip Cookies
Recipe Type: Dessert
Cuisine: American
Author:
Prep time:
Cook time:
Total time:
Serves: 12
[b]A Delicious Treat[/b]
Ingredients
12 tablespoons coconut butter or any vegan butter, softened
3/4 c brown sugar
1/4 c regular sugar
1 egg replacer such as EnerG or one egg yolk for vegetarians
1 tsp vanilla extract
3.4 ounces instant vanilla pudding
3-4 c all purpose flour
1 tsp baking soda
1 tsp himalayan pink salt
2 c vegan chocolate chips
12 caramel squares
Instructions
Preheat oven to 350F. Lightly grease baking sheet with non stick cooking spray.
In a large bowl beat butter and sugar until fluffy, about 2 minutes.
Add in egg, vanilla extract and mix until well combined.
Make instant vanilla pudding. I used Almond milk in mine instead of whole milk and works just the same.
In a separate bowl sift together all dry ingredients.
Add pudding to the dry ingredients and mix until well incorporated.
Pour dry mixture in with wet ingredients and mix well.
Fold in chocolate chips, cover and chill in the fridge for a little more than an hour. About an hour and 15 minutes.
Once chilled remove from fridge.
Take 2-3 tablespoon size portions of the dough and roll into balls.
Press caramel square in the center then take another 2 tablespoon size portions of the dough, roll that into a ball then place it on top of the caramel square and roll the entire thing into a large ball. Repeat process as necessary.
Place cookies 3 inches apart from each other on baking sheet.
Bake for 15 minutes. They will be slightly undercooked but thats ok. They will cook through while sitting on the baking sheet for 5-10 minutes. Then move to a cooling rack. Enjoy!
Notes
The caramel squares are optional. You can make regular cookies with this dough and bake for 10 minutes or until golden brown. Once I saw how big these cookies were I used the rest of my dough for regular size cookies without the filling. But it is rather delicious to bite into a cookie and caramel just comes oozing out like whoa.[br][br]-The original recipe called for 2 cups of flour but my dough was so runny I had to add two more cups.[br]-Also I did not include the hour in prep time because that's no work needed on your part.