Sweet Potato Shoestring Fries
Hello Lovers…(to the fries of course)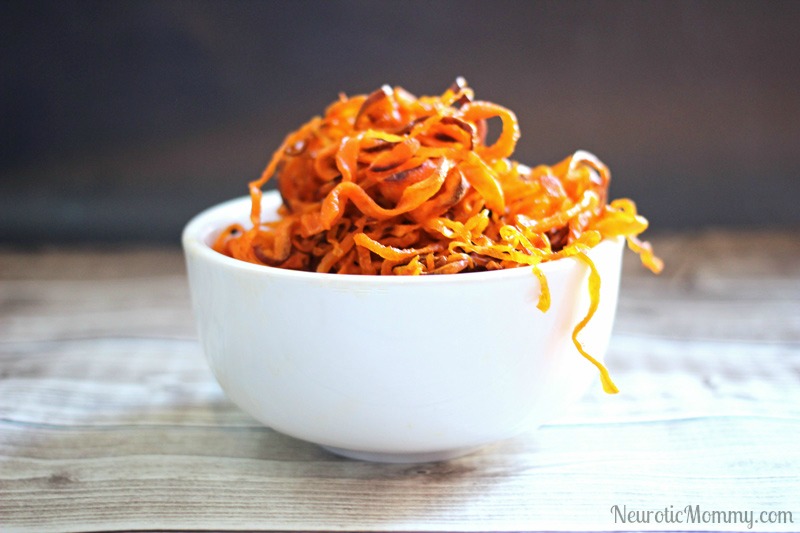 So you guys know I've been cleansing right? Well if you've been following me or not I've been doing a little cleaning house of the good old mommy machine. I'm eating extremely clean for a month to rid myself of toxins that have built up over the years. By that I mean no sweets, caffeine and things like that. As you can tell I absolutely Love chocolate. Who doesn't?! But I have to shed those LB's cuz lets face it, the fat ain't gonna trim itself.
I look at it like this, for so many years I have neglected my body. I never cleansed or ate really healthy. Anyway, now that I know a few things in my day (wink wink) I know that cleaning house is necessary. For me at least. So for the past 3 years I've taken the time out to do a little dance and a little detox. Which sucks by the way. Anyone else deal with that annoying headache in the beginning?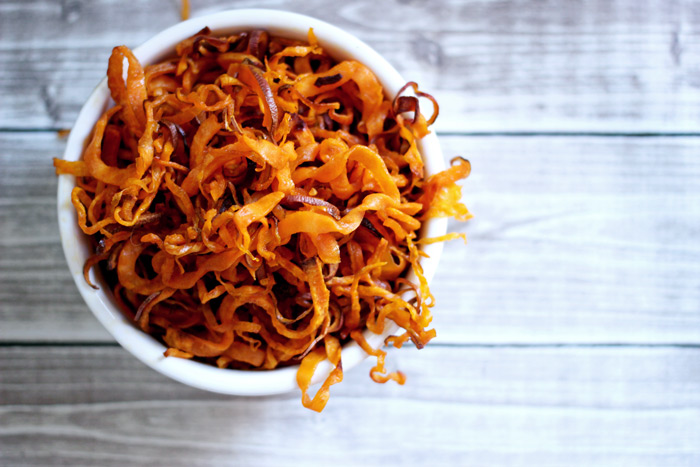 Well anyway, the simple things are really the best aren't they? Shoestring fries gone healthy? (Word up) Nothing but a potato up in this piece. I know I know how is this possible right?! Well…ok ok I'll tell ya. It's really easy, all you need is a spiralizer, extra virgin olive oil and a sprinkle of Himalayan pink salt. Now don't get all cray on me if you don't have a spiralizer. You can cut these up any way and still enjoy them just the same. But I do love my spiralizer and suggest you get one. And no I didn't get paid to say that. haha.
Can you even believe though this was one potato?! This fella was just a nice medium size guy looking to get baked. (hahaha hahaha. It's ok to laugh at my own corny jokes right?)
So all my peeps out there who thought fries were gone forever because it's 2015 and you're "eating clean" not to fear they are still here. (And I bust out rhymes too…Boom)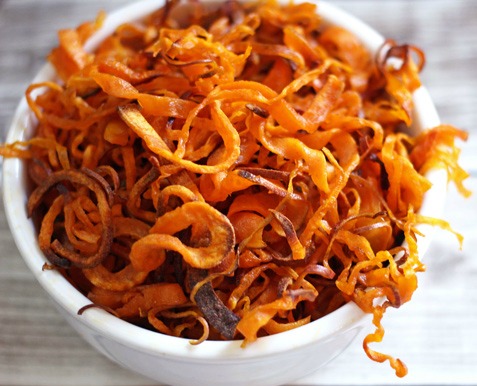 Sweet Potato Shoestring Fries
Recipe Type: Snack, Side
Cuisine: American
Author:
Prep time:
Cook time:
Total time:
Serves: 2 servings
Shoestring fries gone healthy
Ingredients
1-2 medium size sweet potatoes
1 tbsp extra virgin olive oil
pinch of himalayan pink salt
Instructions
Preheat oven to 350F and line a baking sheet with parchment paper.
Spiralize potatoes or cup them up in a fry like shape. If you happen to have a fry cutter you can use that too.
Drizzle extra virgin olive oil, pink salt and toss fries around.
Bake for 20 minutes or until desired crispiness.
Enjoy!
Notes
If spiraling you can have this as a pasta too!!! WooHoo