Vegan Cauliflower Buffalo Bites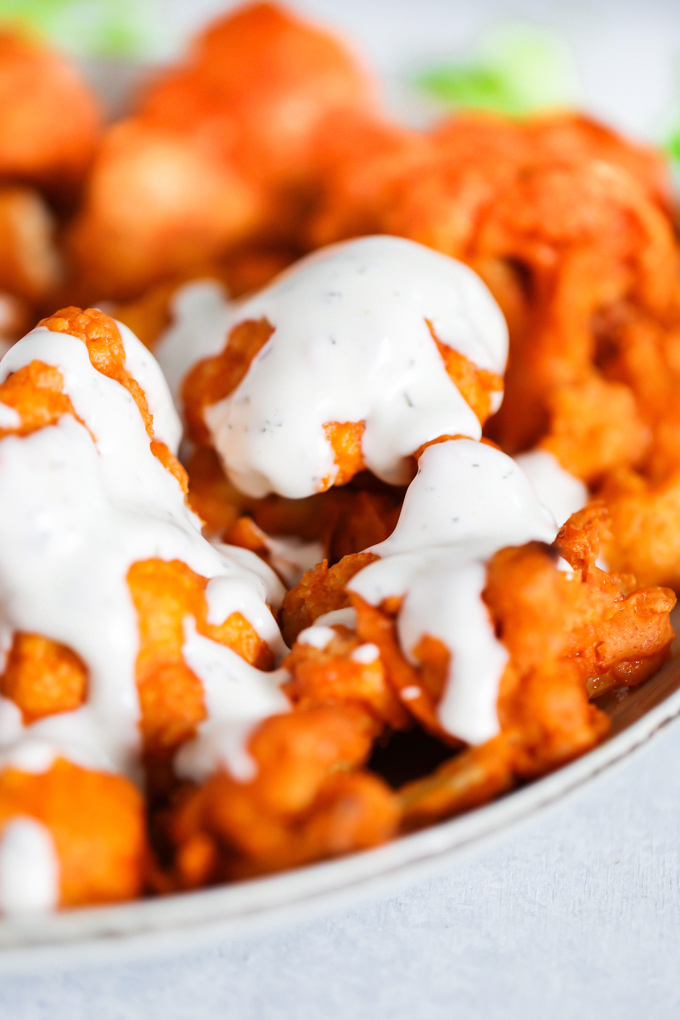 Vegan Cauliflower Buffalo Bites are all the rave these days. I have to admit, I've been on a kick myself lately with them too. This and my BBQ Jackfruit Sliders I can't get enough of, but anyway. I've been posting the cauliflower to my Instagram Stories left and right, and smothering them in vegan blue cheese like a champ. Everyone kept asking how I make them so I thought to obviously post them here.
It's like what can't cauliflower bring to the table?! It's low carb and super high in nutrients, I almost want to BE cauliflower it's so amazing.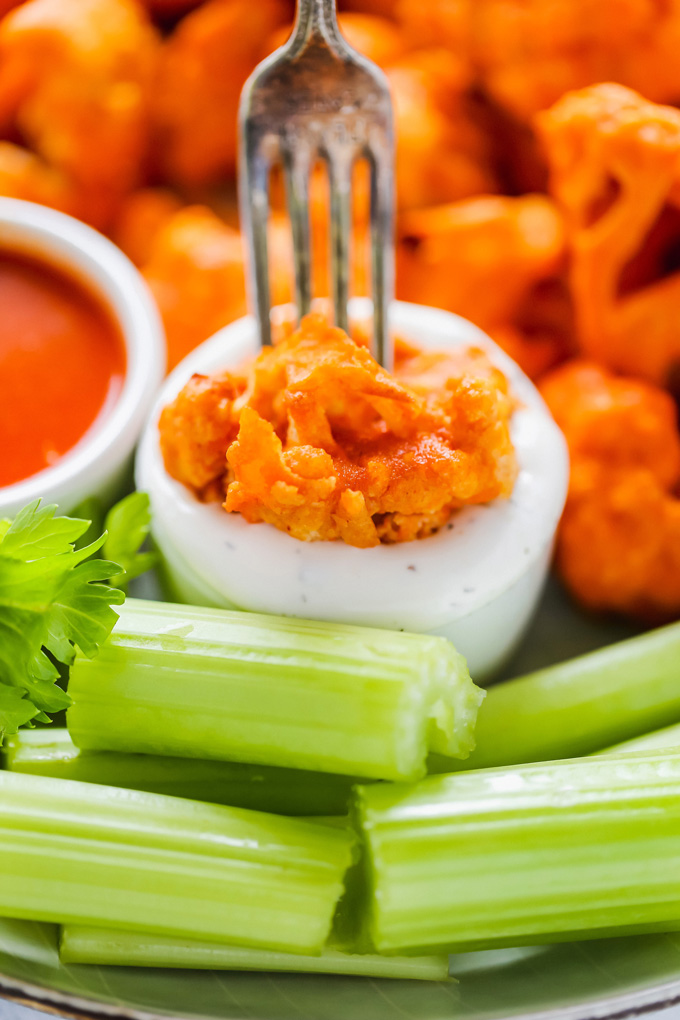 I bake my bites because I love the texture and the crunch it gives the cauliflower plus baking is way healthier. Although I have tried this version of cauliflower fried and daaaayum, that's good too but at home I'll stick to baking.
To get them started you need these 3 simple ingredients: water, chickpea flour, and smoked paprika. I like how chickpea or garbanzo bean flour bakes up, it doesn't make them soggy and the cauliflower stays firm. You can use any flour but I found chickpea to be my fave. I also don't precook or steam my cauliflower. The cauliflower bakes up in the oven.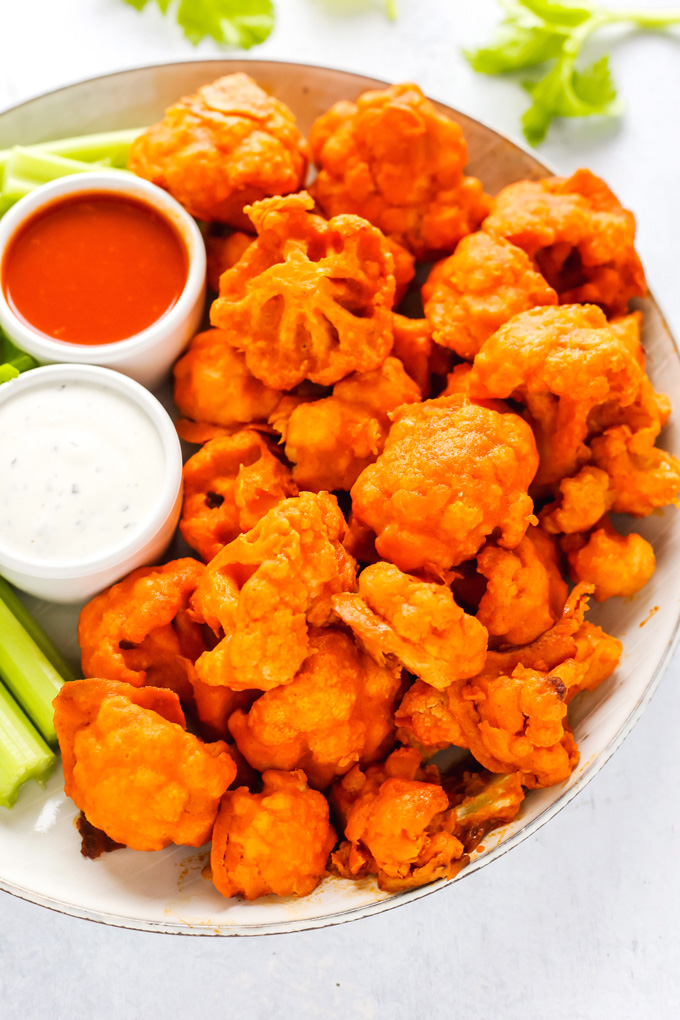 For the buffalo sauce I use Frank's Red-hot with a mix of vegan butter and a couple teaspoons of Sriracha to really give it a kick. You can omit the Sriracha if you don't want it too mouth burning. I keep it out sometimes because the hot sauce itself brings enough heat for me but for my hubs he likes when I crank up the heat. But with the way I smother it in vegan blue cheese, it kinda helps me better handle the spice.
But let me tell you, both times I was pregnant all I did was crave spicy food. It had to be like super duper spicy. If I ate the spicy food now that I ate when I was pregs I'd be in so much mouth pain, haha.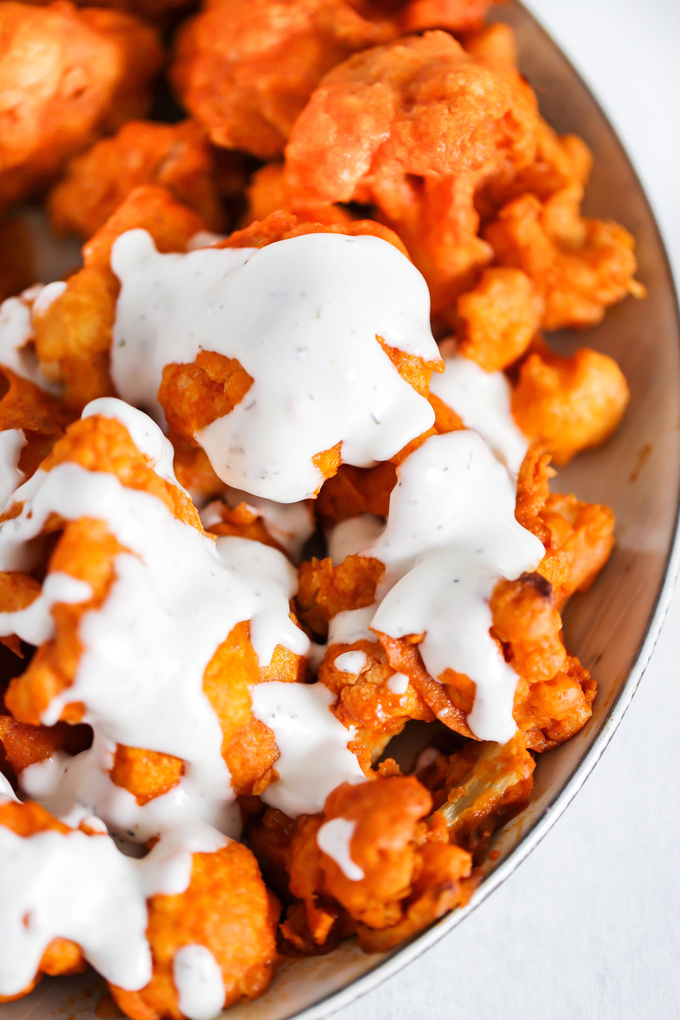 Why You Need These In Your Life
These Cauliflower Buffalo Bites are baked to perfection and are ready in just under 30 minutes.You can have these for lunch, as an appetizer, put em' in a taco, an enchilada, a sandwich, on a pizza, the possibilities are clearly endless. We all know cauliflower can basically do it all, it's such a show off right, pffft, lol. Enjoy!
Vegan Cauliflower Buffalo Bites
Baked to crunchy perfection and smothered in vegan blue cheese, this is ready and set to go in under 30 minutes.

Ingredients
1 head organic cauliflower, trim and cut into florets
1 cup chickpea or garbanzo bean flour
1 cup water
1 tsp smoked paprika
1 cup hot sauce
3 tbsp vegan butter
3 tsp Sriracha , (optional)
salt/pepper to taste
Instructions
Preheat oven to 425F and line baking sheet with parchment paper.

In a large bowl whisk together the water, chickpea flour, smoked paprika, and salt and pepper. Add the cauliflower florets inside the bowl and cover with batter. You may have to work in batches here.

Using a fork, lift up the florets and let the excess batter drip off then place florets on baking sheet. Once all florets have been in the batter bake for 20 minutes.

Make the buffalo sauce by adding the hot sauce, butter and Sriracha in a medium sauce pan and cook on low to medium heat till it's heated through.

When the cauliflower is done baking remove from oven and place in hot sauce mixture, submerging each piece completely. Using a fork or a slotted spoon remove from buffalo sauce and place back on baking sheet with parchment paper and bake for 5 more minutes.
~Pin This Recipe~