Vegan Chocolate Pudding Orange Jack O' Lanterns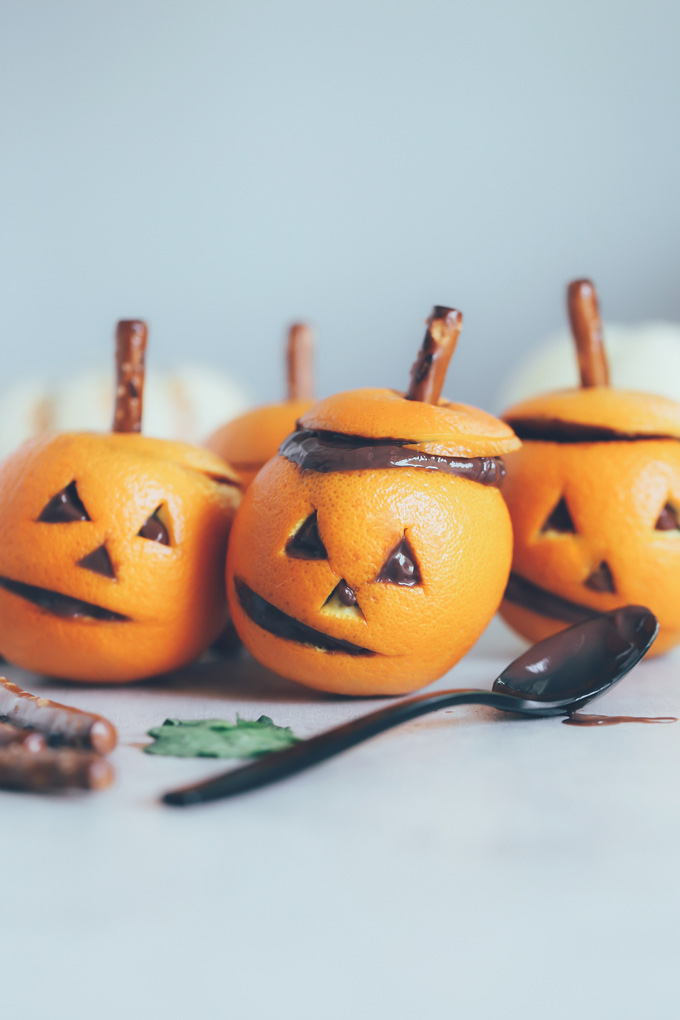 If you're looking for a last minute, quick and fun Halloween activity to do with or for the kids this is it! Vegan Chocolate Pudding Orange Jack O' Lanterns are super fun, delicious, and might I say healthy! They're totally cool and spooky, kids just absolutely love em'.
I found this idea on Pinterest (leave it to good ole Pinterest, right) and thought how super awesome to add to the festivities. Plus, chocolate…duuuuh. Perfect way to include the easiest vegan chocolate pudding that I've literally been making (and eating) for years.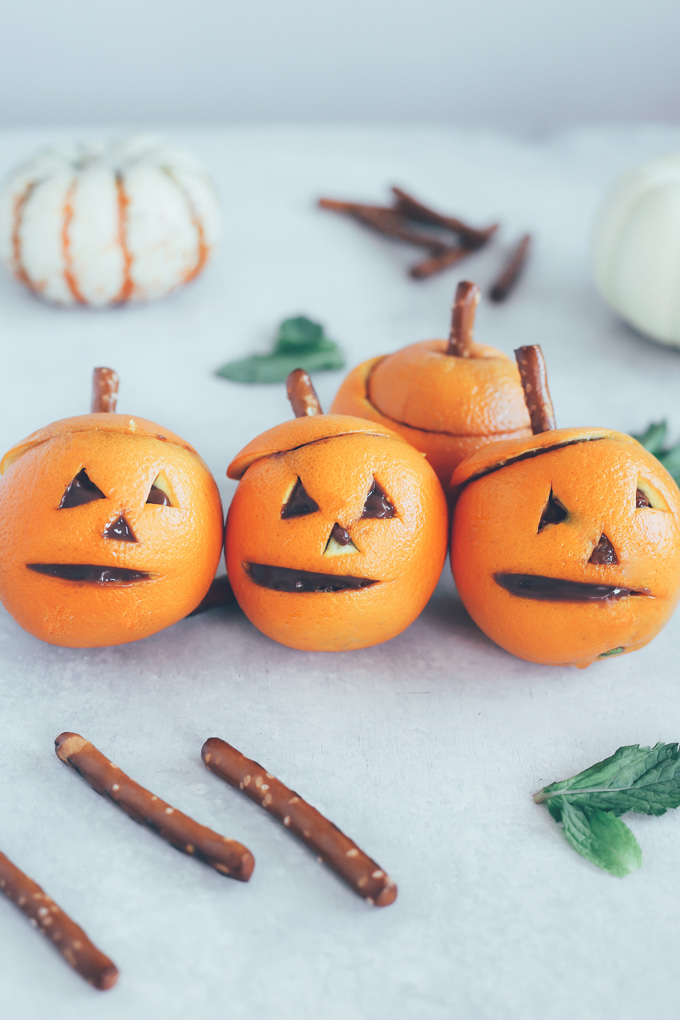 Takes 5 minutes or so on the stove and a couple of hours to chill. You can make the chocolate pudding ahead of time, like tonight, and have it ready to fill your orange Jack O' Lanterns tomorrow. Alternatively you can use store bought vegan chocolate pudding too, no harm no foul.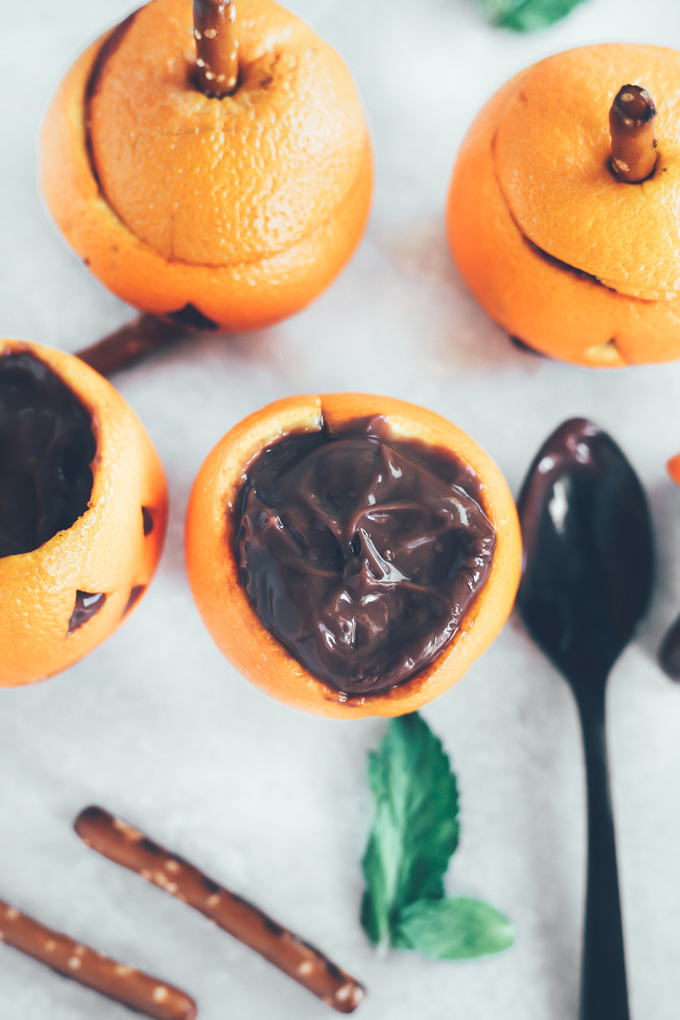 Now onto the funny faces. To start, take some oranges and rinse them off. Cut off the top in a circular motion so it's nice and round. With a large spoon, scoop out the orange in the middle leaving the peel. This is where it will get a little messy and juicy because oranges right, but just pour the juice into a bowl or large mug along with the orange so you can enjoy both later. I was sipping on fresh OJ while I started to carve these babies out. Also, about my carving…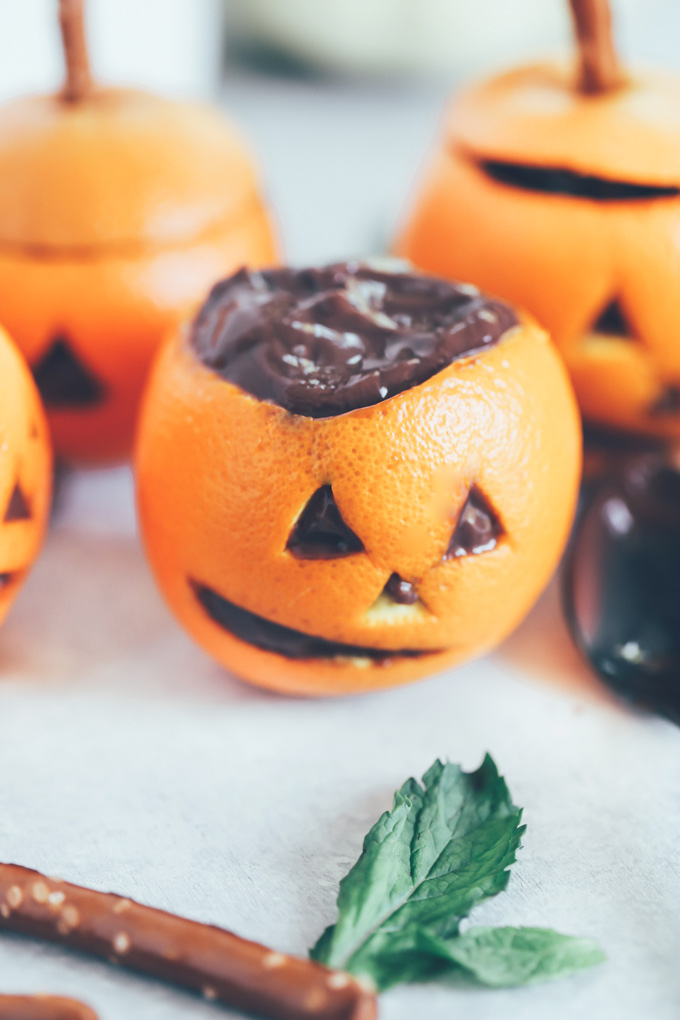 My cutting or carving skills aren't one of Michael Angelo, Picasso or whoever (you get the gist) but it's all for the love and fun for the kiddos, obvi. I did my best as will you and just make it your own. I don't have a special carving knife, I just used the smallest, pointiest one I had and traced little triangles on the outside of the oranges. You can tell I had a rhythm going because they're all leaning to one side, smiling to one side, and if you look long enough, winking from one eye, haha.
It's all good though because my son had a blast making these. His job was to put the pudding in the orange cups and then he stuck pretzel sticks through the "hat" part making these Jack O' Lanterns part witch I'm assuming.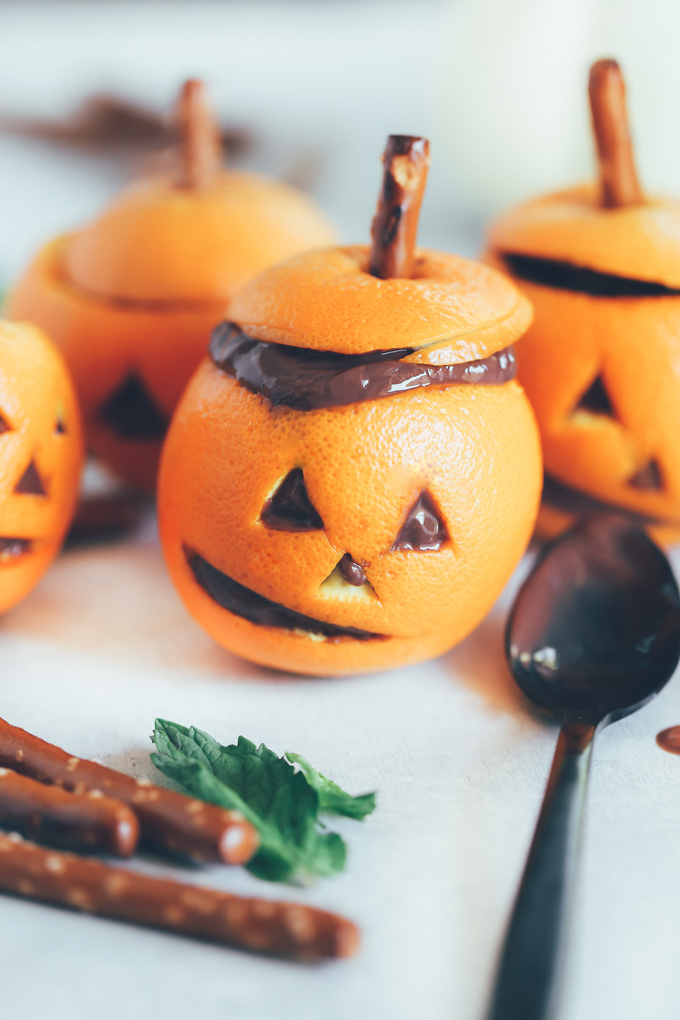 These are a lot of fun to make. They're fairly simple, taste great and gives you an excuse to make da best vegan chocolate pudding. You can totally play it off like you're totes crafty even if you're not. Happy Halloween friends. Stay safe, have fun and enjoy!
Vegan Chocolate Pudding Orange Jack O' Lanterns
Oranges filled with vegan chocolate pudding making this a fun healthy snack option for Halloween!
Ingredients
3 cups almond milk, (or any plant based milk)
2/3 cups cacao or cocoa powder
5 tbsp organic cornstarch
3/4 cup maple syrup
pinch of salt
1 tsp vanilla extract
4-6 large naval oranges, rinsed and dried off
pretzel sticks, for decoration (optional)
Instructions
In a large sauce pan whisk together almond milk, cacao powder, organic cornstarch, maple syrup and salt.

Bring to a rolling boil for a minute then lower down to a simmer stirring frequently so it doesn't stick to the bottom of the saucepan.

Once it has thickened up remove from heat and stir in vanilla extract.

Pour in bowls or glasses to chill and set in the fridge for 2 hours or more. You can leave it overnight too.

Take your freshly cleaned oranges and remove the tops. You can trace a circle with the tip of your knife around the top so you have a guide to follow and your knife will slide right through. Set tops aside.

Scoop out the orange from the peel. This part gets messy because oranges are super juicy. You can store the juice and fruit in a mason jar and save it for later or enjoy it while you're working.

Once you have all the orange scooped out and just the peel is remaining, trace with the pointy part of your knife or with a toothpick little triangle eyes, a nose if you wish, and a slick smile. Facial expressions are totally optional.

Once you have the oranges carved and your pudding is ready it's time to bring the two together.

Pour vegan chocolate pudding in the orange cups and fill to the top.

Poke a hole in the "hat" part of the orange you cut off and stick a pretzel stick through it. It adds character.

You can eat and enjoy right away or wrap them up in plastic wrap and keep them in the fridge until ready to serve.

Doesn't have to be perfect, just have fun and enjoy - Happy Halloween!
Need more chocolate pudding ideas? Try my
Instant Chocolate Banana Chia Seed Pudding or my Chocolate Peanut Butter Sandwich Cookies
~Pin This Recipe~