Vegetarian French Onion Soup
Vegetarian French Onion Soup because it keeps ya warm in the winter…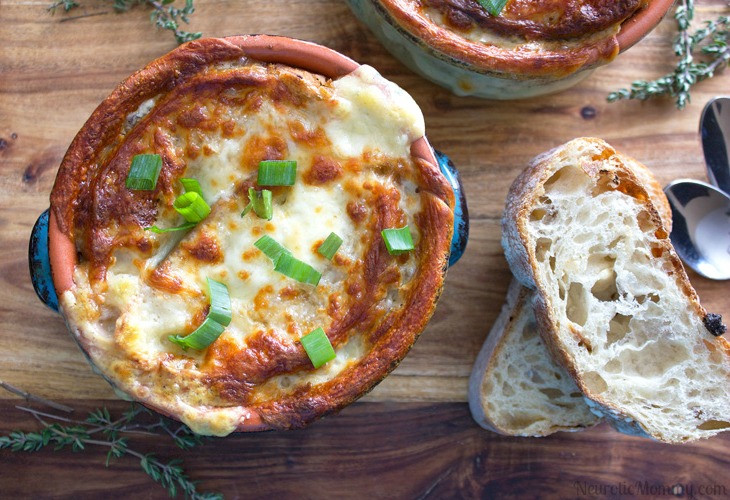 What I'm about to say I say a lot. But (there's always a but) it's true. I really do love this soup. When you go out to eat this is always on the menu. It's a classic fave. Nine out of ten people order this soup. It's a comfort food for sure and it makes you reminiscent of your favorite bar or pub. Then you head to that favorite pub and chow down on this bowl of comfort.
The original base of this soup is beef stock or broth. I did a lot of research and checked which vegetarian versions out there were the best and leaned on the healthier side. Being that my hubs is a vegetarian I make him all the things he likes and he loves this. There are a ton of different vegetarian variations for this and my head was spinning. I took ingredients from each recipe and put them together. These ingredients are what I thought would work best for this particular recipe to make it the healthiest version possible whilst maintaining the true flavor of the traditional french onion soup. Minus the cheese. One slice isn't so bad but restaurants tend to top this bowl like cray with cheese. But again it's your preference. Without cheese is the bomb diggity too. Put a little vegan mutz (mozzarella) on top and you're good to go. Badda Boom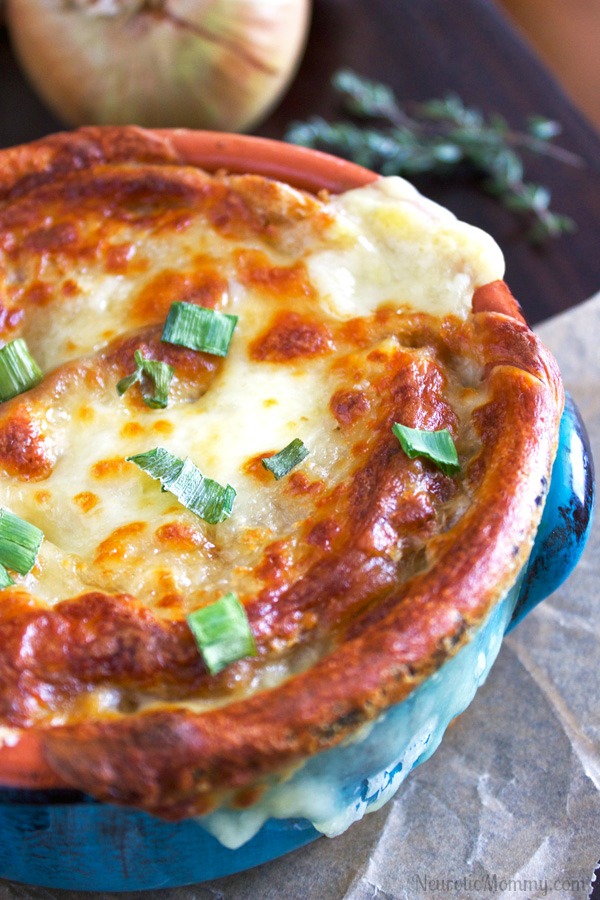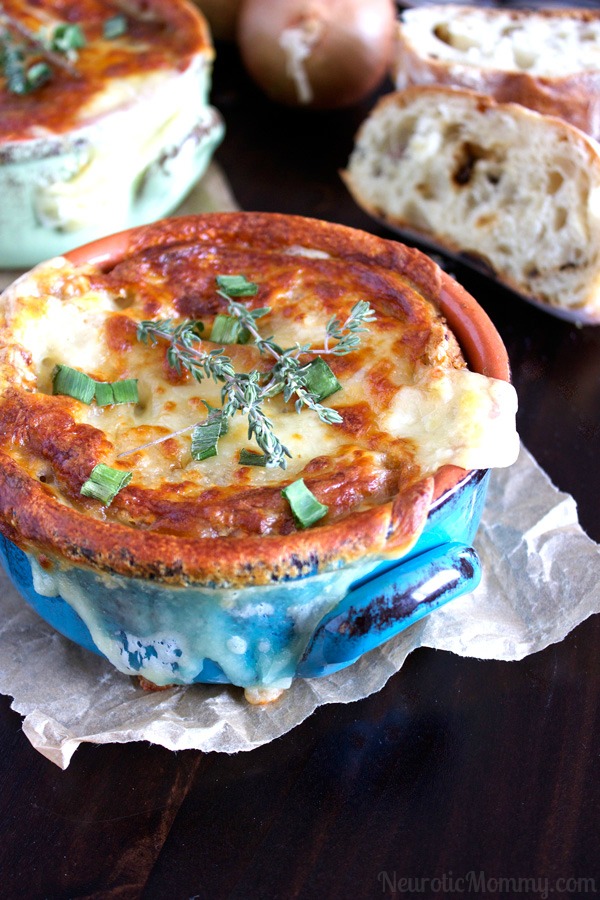 To make this recipe I suggest you prep it the night before or on a day you don't have much going on because it is time consuming. But sooo totally worth it. Plus this makes a big batch and it will last you for days.
Let's talk bread…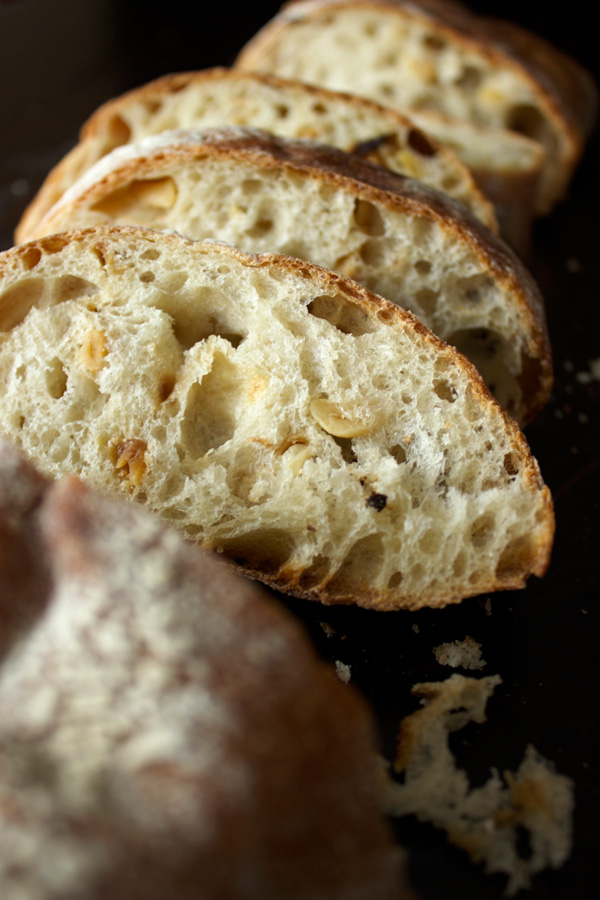 A baguette is usually the choice for this dish but I went with a garlic ciabatta bread. Errr ma gawd it is amaze! I'm so happy I went with this bread because it gave it that extra garlicky kick. You want to be sure to cut the bread into generous thick slices so it lays nicely on top of the soup. I love when it comes out of the oven and the bread has absorbed the broth. MmmHmm
So ok let's get down to bid-ness. I was torn between using a water base or a vegetarian broth. I decided to go with low sodium veggie broth because I figured the added flavor couldn't hurt. Next I used a coconut butter spread (my go to non dairy butter and also my fave…I have a lot of faves I know). You start by putting the butter in a large soup pot or dutch oven if you have one. I don't have one so I used my large soup pot. You need 3 to 4 pounds of onions for this. I know that seems like so much but when the onions cook down you're going to be like where did ma flippin' onions go! haha.
On low to medium heat let the butter melt then add garlic, thinly sliced onions with a pinch of sugar and salt. Coat all the onions as best you can with butter, cover and let cook for 10 minutes leaving it on medium heat. You'll see the onions softened right away and become translucent. Uncover and let the onions cook for 50 minutes give or take. You must must must must stir them frequently. The bottom of your pan will start to brown and we want that. What we don't want is the bottom of the pan to start burning (Houston we'd have a problem). When the bottom of the pan starts to brown add a tablespoon of water as needed to loosen it up. The onions will turn a light brown then a darker brown. That's when you add in flour, dijon mustard or yellow mustard and stir well letting the onions cook just until they get slightly darker.
They will look something like this.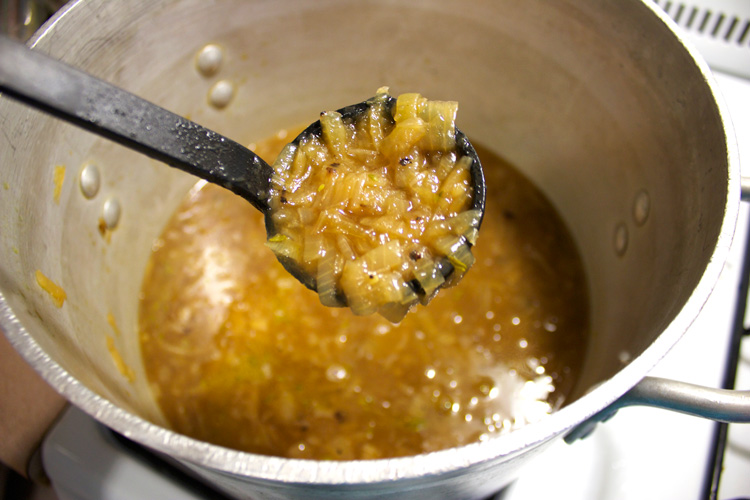 At this point add 6-8 cups of vegetable broth. Bring to a full boil then bring to a simmer, cover and stir occasionally for 15 minutes. When that's done stir in balsamic vinaigrette and let simmer another 10-12 minutes. I used balsamic vinaigrette in place of dry white wine or sherry vinegar. Some people use white vinegar but I had balsamic on hand and it worked great.

Add any extra seasonings like garlic powder and pink rock salt. Throw in 2 sprigs of thyme and 4 bay leaves. I like the added herbs to the pot. (not that pot)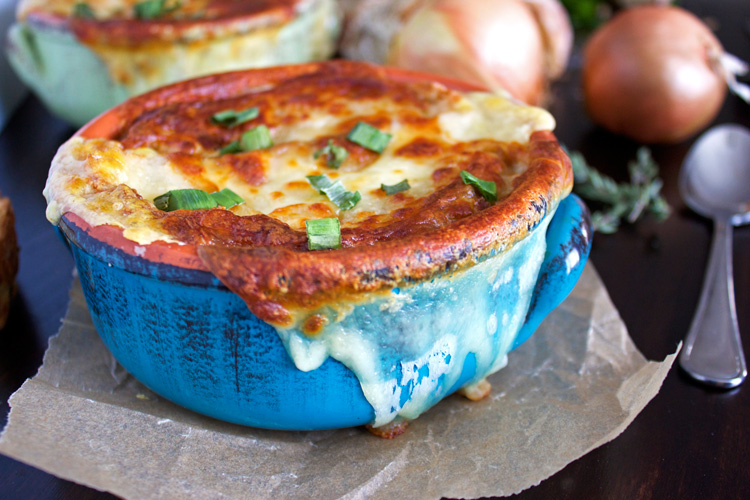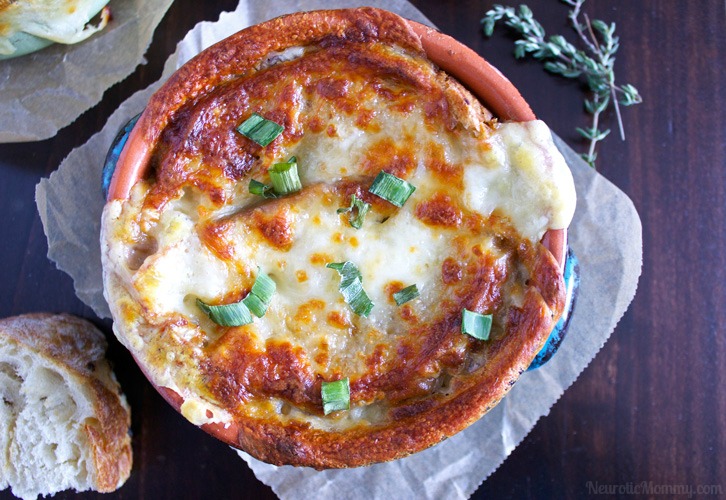 While your soup is now simmering for its last 15 minutes preheat the oven to 350F. This serves 6 at 2 cups per each bowl. So get your oven safe bowls ready my friends. Quick tip, I feed a family of three. My son, hubs and myself. So I just prepped 3 bowls and stored the rest in an air tight container and had it as leftovers. O my G even better the next day because then the flavors really come together because they've been sitting all night.
Fill each bowl with 2 cups of soup and top with one thick slice of garlic ciabatta bread or a thick slice of a french baguette. Cover that with one slice of provolone cheese and a thick slice of gruyere. (You can do one or the other or both cheeses. I chose provolone because it's cheaper. I picked up a very small piece of gruyere just to add more flavor.) Place bowls on a baking sheet and bake for 10 minutes. The cheese will start to bubble. Remove from the oven and turn your oven on to broiler mode. My broiler only fits two bowls at a time. Place bowls into broiler (be sure to wear oven safe mitts) and broil for 3-5 minutes. The goal is to brown the top of the cheese not burn it like char. It's meant to brown so it's crispy and edible as shown in the pictures. (See recipe notes for other options for this section.)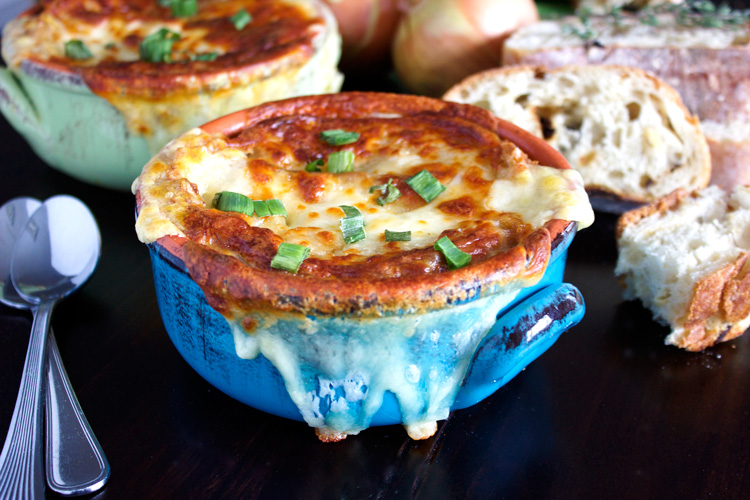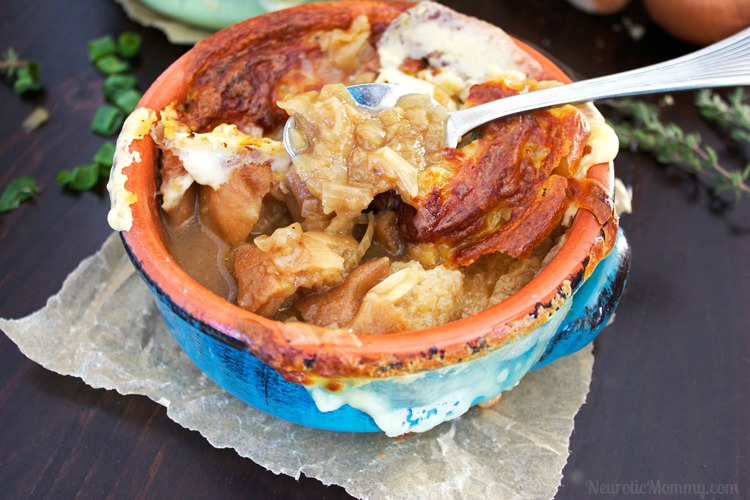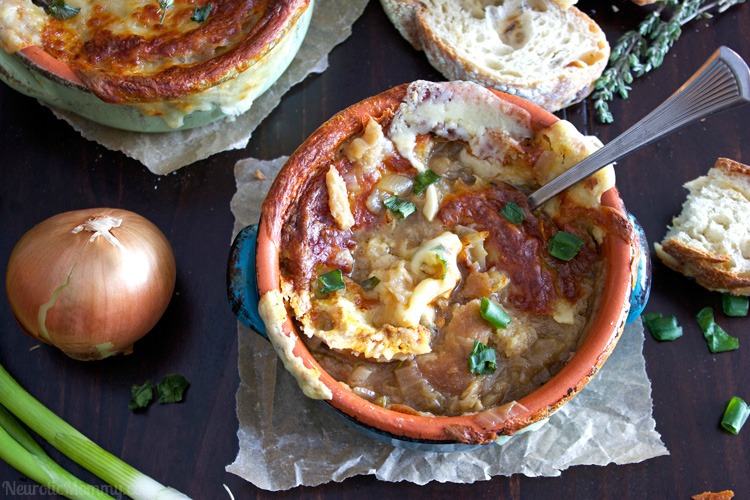 Since it's been one hell of a winter in my hood with snow left and right a soup like this really hits the spot. The ingredients are whole and simple. The flavors are rich and the caramelized onions are what give this savory dish it's sweetness. Have a fab weekend!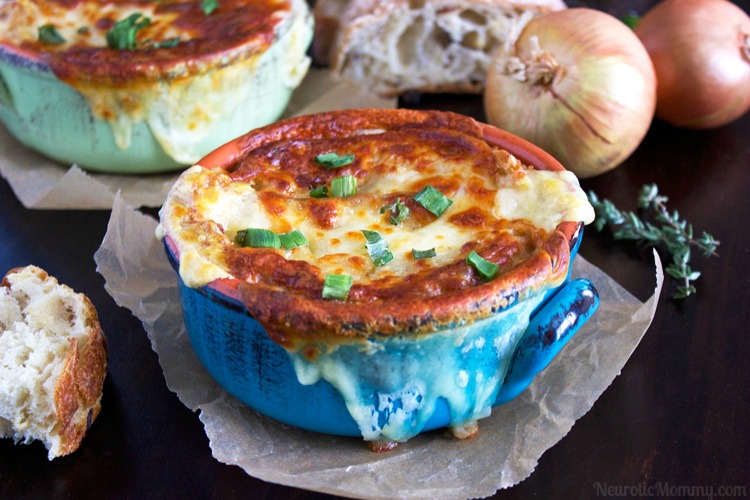 Vegetarian French Onion Soup
Recipe Type: Soup
Author:
Prep time:
Cook time:
Total time:
Serves: 6
The ingredients are whole and simple. The flavors are rich and the caramelized onions are what give this savory dish it's sweetness.
Ingredients
3-4 pounds sweet yellow onions (about 5 onions), thinly sliced
3 tbsp non dairy butter or any butter of choice
1 tsp pink rock salt
2 cloves garlic
1 tsp sugar
2 tbsp all purpose flour or any gluten free flour such as brown rice flour
1tsp dijon mustard
6-8 c vegetable broth
1/3 c balsamic vinaigrette
1 tbsp garlic powder
1 tsp pink rock salt or to taste
2 sprigs thyme
4 bay leaves
6 slices of garlic ciabatta bread cut thick
6 slices of provolone cheese or gruyere
green onions to garnish
Instructions
Cut bread into thick slices and set aside for later.
Melt butter in a large soup pot or dutch oven.
Add onions, garlic, salt, sugar and coat onions well.
Cover and cook on medium heat for 10 minutes.
Remove cover and onions will have softened. Continue to cook onions till they begin to turn a light brown then a darker brown.
Add water, a tablespoon at a time to loosen up the brown stuff at the bottom. Remember browned not burnt so stir frequently. Onions will take approx. 50 minutes to reach desired consistency.
Once onions reach a dark even brown in color add in flour, mustard and stir frequently for 2-3 minutes. The flour gives the soup a slightly thicker texture but not too thick.
Pour 6-8 cups of vegetable broth to onions.
Bring to a boil then lower to a simmer, cover and cook for 15 minutes stirring occasionally.
Stir in balsamic vinaigrette and let simmer uncovered for 10-12 minutes.
Mix in the rest of the seasonings, garlic powder, pink salt (as needed), thyme sprigs and bay leaves.
Simmer for an extra 10 minutes covered.
Preheat oven to 350F. Line oven safe bowls on baking sheet.
When soup is done fill 2 cups to each bowl.
Top with a thick slice of garlic ciabatta bread, 1 slice of provolone or gruyere or both.
Bake for 10 minutes or until the cheese starts to bubble.
Remove from oven and turn oven to broiler mode.
Place oven safe bowls in broiler and and broil for 3-5 minutes until tops are crispy.
Let cool down for 2 minutes before serving. Serve hot.
Enjoy!
Notes
To take 10 minutes off the baking time simply skip the baking part and put the soup bowls directly into the broiler and broil for 5 minutes or until cheese turns brown and bubbly.[br][br]For the Vegan option simply substitute the dairy cheese for vegan shredded mozzarella, place on top, bake for 10 minutes then broil for 3-5 minutes. Same directions as original recipe just with vegan cheese. Vegan cheese doesn't melt quite like dairy cheese but it's still just as delicious and that's how I eat mine.